Published October 2023
Alkyl Amines in India, Asahi Kasei in Japan, INEOS in the United States and three producers in mainland China (Jiangsu Sailboat, Shanghai SECCO and CNPC Jilin) are the major players in the global acetonitrile market; together, these six producers account for about 46% of global capacity in 2023.
World acetonitrile consumption has continued to grow at an average annual rate of 5%-6% over the last five years, thanks to the increasing production of engineered drugs, generic pharmaceuticals and pesticides. This trend is expected to continue during 2023–28. Mainland China is currently the largest consumer, closely followed by the Americas, India and Europe.
The following pie chart shows world consumption of acetonitrile in 2023: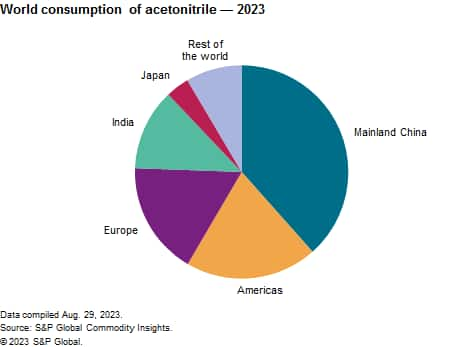 The pharmaceutical industry is the largest end use for acetonitrile, which uses it as a reagent, reaction solvent or extraction solvent. Acetonitrile is used as a starting material to synthesize vitamins A and B1, cortisone, carbonate drugs and some amino acids. Moreover, acetonitrile is also used as a solvent in the production of insulin and antibiotics, including third-generation cephalosporins. The use of acetonitrile in pharmaceutical products has grown rapidly in recent years, boosted by improved living standards in industrialized countries
The second-largest use of acetonitrile is as a mobile phase in high-performance liquid chromatography (HPLC). HPLC systems have major growth prospects in the separation of chiral systems in the pharmaceutical industry. Minor uses include agricultural chemicals, butadiene extraction and the production of intermediates. Acetonitrile is also used as a solvent in UV spectroscopy and polarography.
The current acetonitrile supply situation is rather tight because of production losses resulting from weak demand for the coproduct acrylonitrile.
World consumption is forecast to continue to grow at about 5%-6% per year over the next five years. The highest growth rate (about 9% per year) is expected for mainland China, while consumption in Europe (including Switzerland), Japan and the United States will grow moderately during 2023–28. Consumption of acetonitrile for pharmaceuticals will continue to grow during the next five years.
For more detailed information, see the table of contents, shown below.
S&P Global's Chemical Economics Handbook –Acetonitrile is the comprehensive and trusted guide for anyone seeking information on this industry. This latest report details global and regional information, including

Key benefits
S&P Global's Chemical Economics Handbook –Acetonitrile has been compiled using primary interviews with key suppliers and organizations, and leading representatives from the industry in combination with S&P Global's unparalleled access to upstream and downstream market intelligence and expert insights into industry dynamics, trade and economics.
This report can help you
Identify trends and driving forces influencing chemical markets
Forecast and plan for future demand
Understand the impact of competing materials
Identify and evaluate potential customers and competitors
Evaluate producers
Track changing prices and trade movements
Analyze the impact of feedstocks, regulations, and other factors on chemical profitability