Our ESG
Solutions
Discover multiple layers of ESG data intelligence, built by investment practitioners to more precisely capture the ESG factors expected to have an impact on a company's growth, profitability, capital efficiency and risk exposure - powered by the deep heritage of the S&P Global Corporate Sustainability Assessment (CSA).
Learn More About the CSA
---
ESG Scores and Data
Unlike any other ESG dataset available in the market today, S&P Global ESG Scores – and the CSA research process that underpins them – form the basis of a unique ecosystem that actively drives corporate disclosures and raises the bar on sustainability standards over time.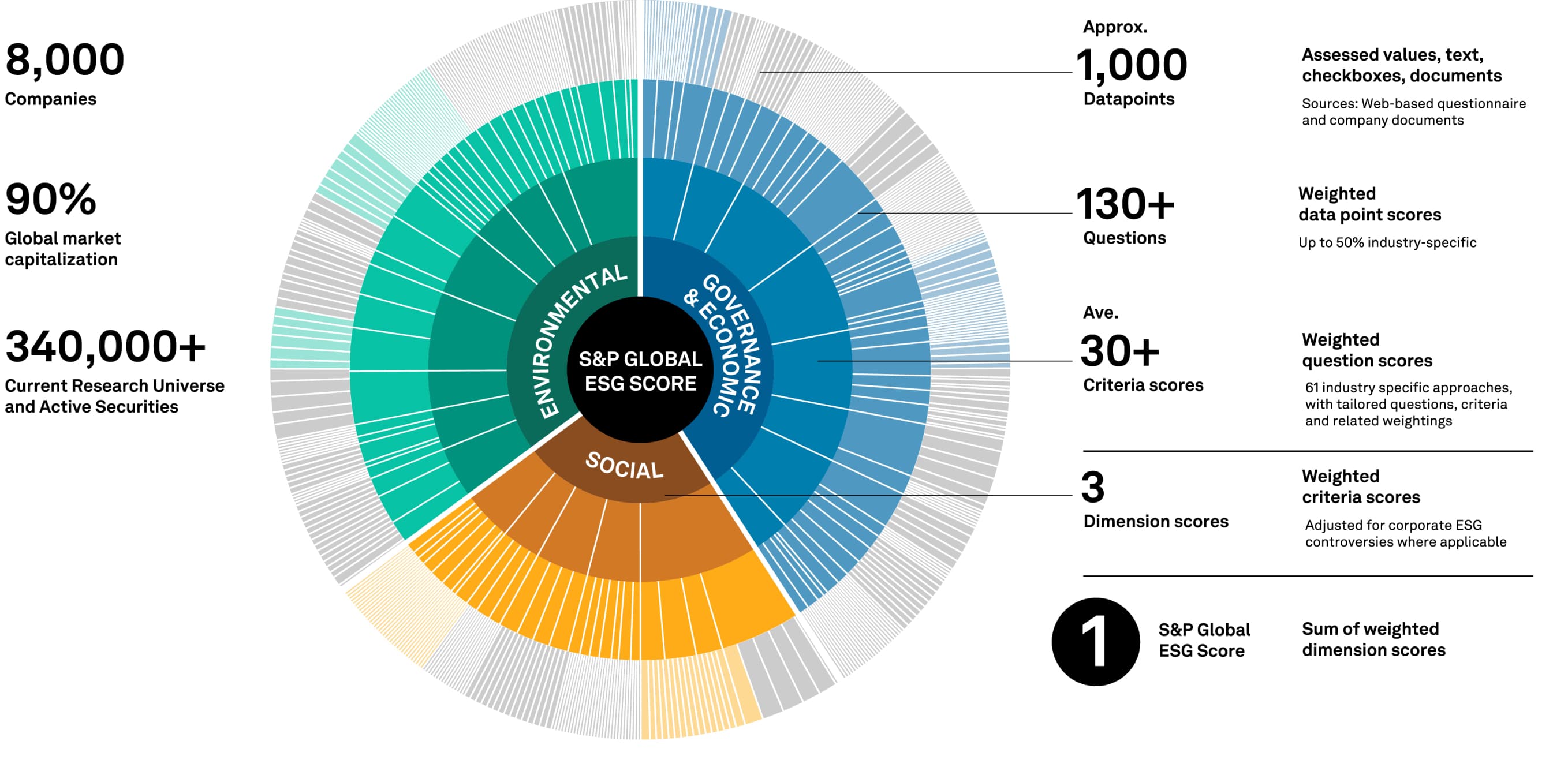 Source: Exclusive company disclosure and exclusive disclosures via the S&P Global CSA Coverage as of September 2021. The 2021 methodology cycle will cover more than 11,500 companies, representing 99% of global market capitalization once it concludes.
LEARN MORE
ESG Analytics
Prepare for future ESG risks and opportunities and communicate your long-term value creation strategy to stakeholders with a forward-looking ESG Evaluation from S&P Global Ratings analysts.

Learn More
ESG Indices
Our core ESG indices include best-in-class indices, such as the Dow Jones Sustainability Indices (DJSI) that target the top 10% of ESG performers, as well as broader market indices, such as the S&P 500 ESG Index, designed to closely track its parent index with a similar risk and return profile and low tracking error.

Learn More
Want to accelerate your sustainability journey?
TALK TO A SPECIALIST
Why S&P Global?
Accelerate Your Sustainability Journey
Gain unparalleled insight into critical topics like ESG performance, net zero, energy transition, sustainable financing, regulatory compliance and more.
Discover End-to-End Market Perspectives
Leverage intelligence that is tried-and-tested throughout the global value chain, applying deep knowledge of corporate sustainability assessments that scales analytics for asset owners, investment managers and banks.
Connect Your Workflows
Link sustainability data with financial data and market intelligence, and dig deep with screening tools, real time updates, data visualizations and customized dashboards.
Increase Your Productivity
Access data when and how you want it with flexible delivery options that include a leading desktop solution, APIs, data feeds and cloud access, underpinned by robust data linking, AI and machine-learning technologies.
Rely on a Deep Heritage of Innovation
Put 20+ years of experience behind your sustainability strategy, getting ahead of disclosure trends with active corporate engagement and granular data modelling, and delivering enhanced solutions recognized by numerous industry awards.
Enjoy Superior Customer Service
Know you have 24x7x365 backup and specialist assistance from ESG specialists and research analysts across our global offices.
Solutions for every need across S&P Global