Regulation is shaping the sustainability agenda and changing the way companies do business in different jurisdictions, but keeping pace with constant regulatory updates has become a mammoth task for businesses and investors. In this recurring series, S&P Global Sustainable1 presents key developments on regulations and potential disclosure standards from around the world.

In this month's update, we look at moves to close the gender pay gap in the EU, the launch of green taxonomies in South Africa and Colombia and efforts by Malaysia to improve governance at state-backed investment firms.

Europe Africa Latin America and the Caribbean United States and Canada Asia-Pacific
---
Europe
European Commission adopts SFDR standards
The European Commission on April 6 adopted technical standards to be used by financial market participants when disclosing under the Sustainable Finance Disclosures Regulation. The SFDR has been phased in since March 10, 2021, and requires asset managers, pension funds and insurers to disclose how they consider ESG risks in their investment decisions. The standards specify what information needs to be disclosed under the SFDR and how it should be presented, the Commission said. The standards are set to come into force on Jan. 1, 2023, and are now subject to final scrutiny by the European Parliament and the Council of the EU, made up of government ministers from the 27 EU member states.
EU Parliament votes in favor of European Commission proposal on gender pay gap
The EU Parliament said on April 5 it had voted in favor of a proposal by the European Commission to close the gender pay gap, which would oblige companies to report on the differences in salaries between men and women. The Commission proposed the directive in March 2021, noting at the time the EU's gender pay gap stood at 14%. The EU Parliament said it was requesting that companies with at least 50 employees, compared to the Commission's proposal of 250, disclose information on pay levels. Companies would have to conduct a pay assessment and develop a gender action plan if the salary gap is at least 2.5%, compared to 5% in the Commission's text, the Parliament said. It is now ready to enter into negotiations on the proposed law as the Council adopted its position in late 2021, the Parliament said.
Percentage of EU companies that disclose pay analysis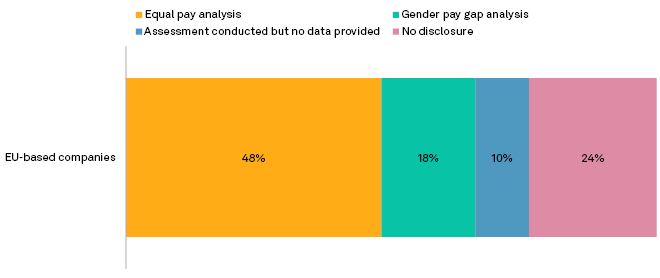 Data as of May 6, 2022
Analysis includes 316 EU-based companies that participated in the 2021 Corporate Sustainability Assessment.
Source: S&P Global Sustainable1
Green bond standard proposal moves ahead after EU Council agrees on position
The Council of the European Union on April 13 agreed on its position for the European Commission's proposal to create an EU green bond standard. The council's permanent representatives, made up of heads or deputy heads of missions from EU member states, gave the green light for the council's position on the proposed regulation, which would create common standards for green bond issuers labelled "EU GBS". The council said it was now ready to start negotiations with the European Parliament on the final text.
European Commission launches consultation on ESG ratings and ESG factors in credit ratings
The European Commission on April 4 launched a targeted consultation to gather information on how ESG ratings are used in the EU and what role ESG factors play in credit rating decisions. The Commission will conduct an impact assessment based on responses from market participants, which would help determine whether it needs to enact policy on ESG ratings and sustainability factors in credit ratings. The consultation closes on June 6. The European Securities and Markets Authority, or ESMA, said in February it was seeking information about the work of ESG ratings providers in the EU. See our February tracker for more.
European regulator launches climate stress test for occupational pensions
The European Insurance and Occupational Pensions Authority, or EIOPA, kicked off its first climate stress test of the European occupational pension sector on April 7 to determine environmental risks among the EU's workplace pensions, EIOPA said in a statement. EIOPA said it would test the pensions' resiliency with a climate change scenario developed together with the European Systemic Risk Board, which monitors and assesses systemic risks across the EU financial system, and the European Central Bank. It will test how occupational pension firms' investment portfolios would cope in a sudden transition scenario caused by a delay in enacting climate policies, leading to a sharp rise in carbon prices and thus impacting the overall economy, EIOPA said. The scenario breaks down sector-specific shocks and the corresponding impairment of investments, EIOPA said. The results of the stress test are expected in December 2022.
U.K. mandatory TCFD disclosure requirements come into force
From April 6, the U.K.'s largest companies are subject to mandatory climate disclosure in line with recommendations from the Task Force on Climate-Related Financial Disclosures, designed to guide companies in how to report on climate risks. More than 1,300 U.K.-registered companies and financial institutions have to disclose climate-related financial information, including many of the country's largest publicly traded companies, banks and insurers, the U.K. government said. Private companies with more than 500 employees and £500 million in revenue are also subject to the new requirements.
---
Africa
South Africa launches green taxonomy
South Africa on April 1 launched a green taxonomy to help the financial sector combat climate change and support sustainable development, the country's National Treasury said in a statement. The taxonomy will act as a classification system detailing what assets, projects and sectors can be defined as environmentally friendly, the Treasury said. Investors, issuers, banks and other financial market participants will be able to use the taxonomy to "demonstrate the credentials of their green activities in a more confident and efficient way," according to the Treasury. Taxonomies have been springing up globally as a means to steer investment into sustainable activities. Much of sub-Saharan Africa will face significant exposure to heat waves even under a moderate emissions scenario, though a handful of countries including South Africa could be less affected by this physical risk, according to a recent S&P Global Ratings report on vulnerability to economic losses from physical climate risks.
---
Latin America and the Caribbean
Colombia launches green taxonomy
Colombian President Iván Duque launched the country's green taxonomy at the New York Stock Exchange on April 11, with a goal of directing public and private investment into green projects and investments, the Colombian presidency said in a press release. Colombia is the first country in the Americas to create a green taxonomy and is positioning itself as a leader in sustainable finance in the region, the presidency said. The taxonomy will have a particular emphasis on land use because forestry, agriculture and livestock farming are responsible for 59% of Colombia's greenhouse gas emissions, according to the presidency.
---
United States and Canada
Canada to require climate disclosure for financial institutions
Canada's Office of the Superintendent of Financial Institutions, or OSFI, which regulates the country's banks and insurers, will require financial institutions to publish climate disclosures from 2024, Canada's federal government announced in a 2022 budget document. The disclosures will be based on the Task Force on Climate-related Financial Disclosures, a voluntary framework designed to guide companies in how to report on climate risks. An increasing number of countries are making TCFD-aligned climate disclosures mandatory. The government said the OSFI would consult financial institutions on climate disclosure guidelines in 2022. It also said it would start looking at ESG disclosure requirements, including climate-related risks, for federally regulated pension plans.
California court strikes down state law aimed at increasing board diversity
A Los Angeles court on April 1 struck down a California state law aimed at increasing board diversity at publicly traded companies headquartered in the state, ruling that the statute was unconstitutional. The law, which went into effect in 2020, required companies to have at least one board director "from an underrepresented community," and additional requirements were set to come into force by the end of 2022. The judge ruled that the law violated the equal protection clause of the California Constitution by treating similarly situated individuals — qualified potential corporate board members — differently based on whether they belong to particular racial, sexual orientation or gender identity groups.
Roughly half of US firms consider gender when nomination board directors
Percentage of US-based companies that actively consider diversity aspects in their board nomination process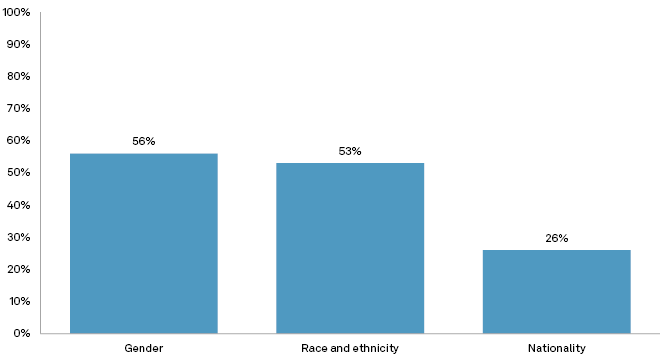 Data as of May 6, 2022
Analysis includes 1,153 US-based companies covered in the 2021 Corporate Sustainability Assessment.
Source: S&P Global Sustainable1
New Maryland climate law aims to slash emissions by 60%
The state of Maryland enacted a new climate law on April 9 that aims to cut its greenhouse gas emissions 60% by 2031 from 2006 levels. The new law, which will come into force from June 1, also requires the state to become net zero by 2045, making it the only U.S. state to have a net zero target enshrined in law. The climate law requires all state-owned passenger cars to be electric by 2031. Half of all other light-duty vehicles purchased by the state between 2031 and 2032 must be zero-emission. The new law will also create a Climate Catalytic Capital Fund with initial three-year funding of $15 million for clean energy and energy storage capacity projects financed by green bonds.
---
Asia-Pacific
Malaysia seeks to improve governance at state-backed investment firms
Malaysia's government-backed investment firms will be subject to more stringent governance under new Principles of Good Governance for Government-Linked Investment Companies, the country's Ministry of Finance said April 15. The principles aim to ensure the companies' boards are composed of qualified and responsible members and that investments are managed effectively. They also recommend the establishment of a governance structure for ESG criteria in investments. There are six state-backed investment firms, with assets totaling 1.7 trillion Malaysian Ringgit, or $393 billion, and they play a key role in Malaysia's economy.
Bangladesh's central bank tightens corporate social responsibility reporting
Bangladesh Bank on April 10 published a revised corporate social responsibility reporting format that will require banks and financial institutions to comply with more demanding ESG-related obligations. It replaces a previous requirement introduced in 2015. Banks and financial institutions will have to report twice a year on the corporate social responsibility programs they have undertaken. They must spend at least 30% of their corporate social responsibility funds on education, including scholarships for students from low-income families, at least 30% on the health sector — for example, for the provision of safe drinking water — and 20% on climate change mitigation and adaptation, including solar energy.
This piece was published by S&P Global Sustainable1 and not by S&P Global Ratings, which is a separately managed division of S&P Global.
This list is not exhaustive, and information is current as of the publication date. If there are additional significant regulatory developments we should cover going forward, please reach out to Jennifer Laidlaw at jennifer.laidlaw@spglobal.com. We welcome feedback.
Navigate the regulatory landscape with essential intelligence.
ACCESS NOW