Today, investors who deliberately apply an ESG lens to investing are growing rapidly worldwide as more come to realize the risks of separating such issues from business fundamentals. The lack of consistency, standards, and forward view of the majority of ESG information providers result in widespread difficulties for investors looking to integrate ESG factors into their investment decisions.
S&P Global Ratings ESG Evaluation is for companies looking to help their investors gain a better understanding of their strategy, purpose and management quality. The forward-looking ESG Evaluation, is a relative analysis of their ability to operate successfully now and in the future using both public and private data confidentially provided to our team of analysts rooted in a company's business and industry. As a result, the final output S&P Global Ratings' assessment of an entity's sustainability efforts that may help them attract short and longer-term investment as needed.
The ESG Advantage - Exploring links to corporate financial performance
The Importance of ESG Evaluation for Investors
Gain deeper insights into the risk and opportunities facing businesses you are investing in
Balance risk adjusted financial returns with sustainability benefits
Meet your clients' needs and requests, and satisfy your ESG mandates
Adhere to climate finance and regulatory investment targets and disclosure standards
Investors believe ESG factors could translate to financial impact over a long term time horizon, for both fixed income and equity investments
Investors believe that integrating ESG could help improve the investment outcome in terms of return enhancement or risk reduction

---
The Importance of ESG Evaluation for Entities
Help your investors better understand your company's strategy, corporate purpose, and management quality
Benchmark your performance to understand your areas of strength and weakness and enhance your risk management processes
Differentiate your sustainability efforts from your peers in the eyes of your investors and the community
Send a strong, pro-active message to stakeholders and appeal to more women and millennials as employees and customers
Positioning your entity well in ESG could help you access a broader source of capital
Be proactive and be prepared as more and more investors are requesting specific objectives around an entity's ESG strategies and monitoring their progress

---
---
S&P Global Ratings ESG Evaluation

S&P Global Ratings ESG Evaluation is a cross-sector, relative analysis of an entity's capacity to operate successfully in the future and is grounded in how ESG factors could affect stakeholders and potentially lead to a material direct or indirect financial impact on the entity.
Environmental, Social, And Governance Evaluation Analytical Approach
FAQ: How We Apply Our ESG Evaluation Analytical Approach
---
Profile

Profile development assesses the exposure of an entity's operations to observable ESG risks and opportunities, accounting for the governance structure in mitigating risks and capitalizing on opportunities.
ESG Risk Atlas
S&P Global Ratings has created the ESG Risk Atlas to provide a view of relative environmental, social, and governance (ESG) risks we see around the world. The Atlas, which takes the form of an online infographic, reflects our observations about various ESG risks that different sectors and geographies face.
The Risk Atlas Sector and Regional Rationales and Scores

---
Preparedness

Preparedness assesses a company's capacity to anticipate and adapt to a variety of long-term plausible disruptions.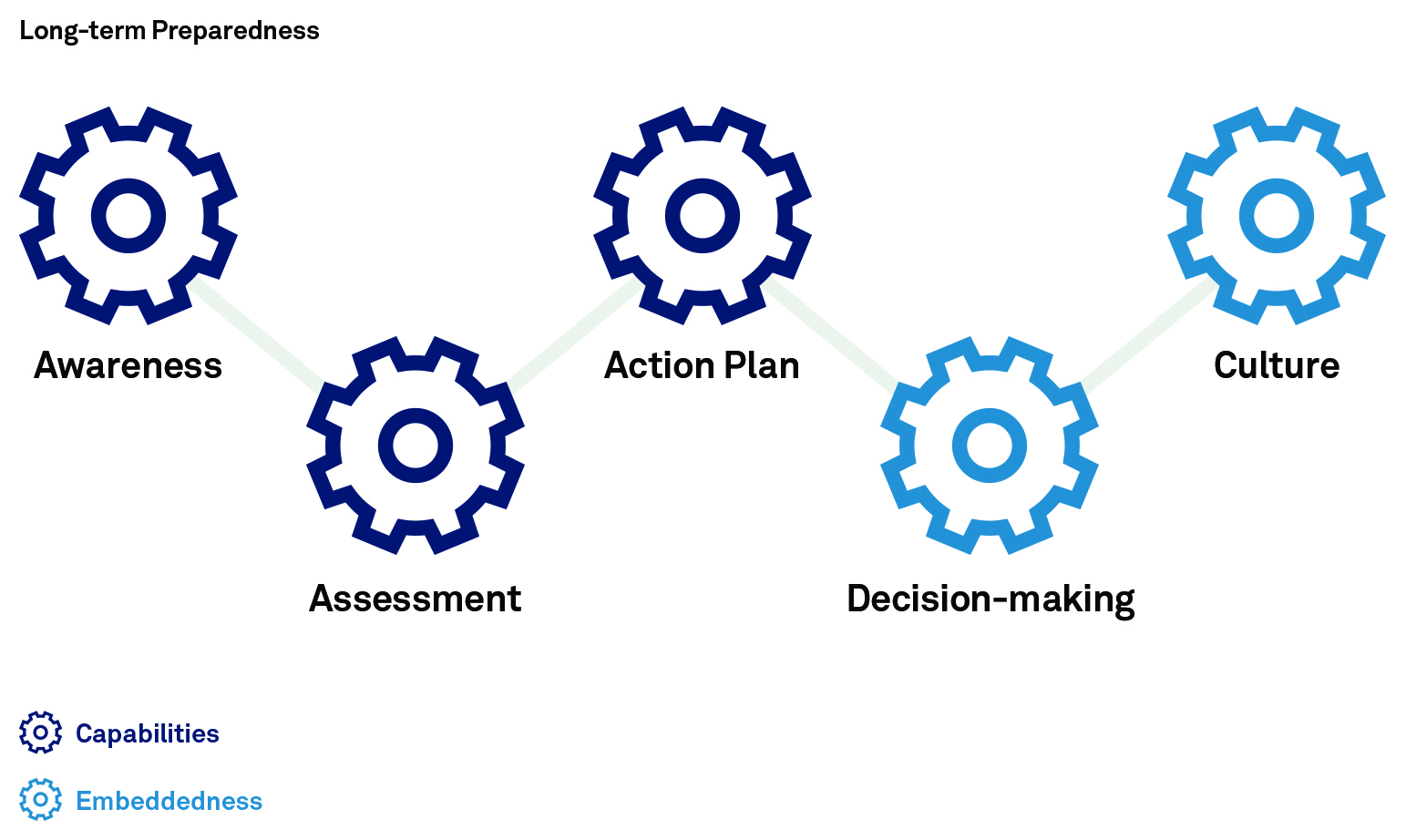 ---
Final ESG Score
The S&P Global Ratings ESG Evaluation report sets out our analysts' view of the ESG Profile of the company and its Preparedness assessment.

The ESG Profile reflects the entity's current activities and starts by applying the outputs from the S&P Global Ratings ESG Risk Atlas to the entity's sector and regional footprint. Our company analysis reflects our view of the extent to which the company has mitigated these risks. The Preparedness assessment evaluates the entity's capacity to anticipate and adapt to a variety of long term plausible disruptions. Our analysis draws on the industry expertise of our global team of analysts and discussions with the management and board. It provides a relative overall ESG Score which allows comparison with other entities globally, including sector peers.

If requested, S&P Global Ratings may assess an entity against TCFD disclosure standards.
ESG Evaluation Report
ESG Evaluation - NextEra Energy, Inc.
ESG Evaluation Case Studies
---
ESG Sector Report Cards
Each ESG sector report card summarizes the ESG factors that are material to the credit ratings in that sector. Additionally, each report card provides extracts of the ESG sections from S&P Global Ratings analyses of 20-50 companies.
---
Why get an ESG Evaluation from S&P Global Ratings?
Ongoing and open dialogue with our analysts throughout the process allows you to highlight any data points that may require further explanation.
Our ESG Evaluation captures insights from our credit analysts based on deep sector knowledge and information gained from interactive meetings with an entity's management.
Our analytical team initiates population of the ESG Evaluation diagnostic survey, then passes the survey on to the entity for review and final completion. The entity has the opportunity to update the diagnostic survey annually.
Our ESG Evaluation incorporates both public and private data, combines both quantitative and qualitative analysis, and considers both the near-term and longer-term risks and risk mitigants.
Our ESG Evaluation helps investors to assess an entity's adaptability through our assessment of each industry's sector-specific ESG risks and opportunities, geographic risk, management engagement, and our assessment of the entity's preparedness for potential disruptions due to ESG factors in the longer term.
If requested, our ESG Evaluation may opine on whether or not the entity's financial disclosures are aligned with the recommendations of the Task Force on Climate-Related Financial Disclosure (TCFD).
---
---
Or contact your local S&P Global Ratings Sustainability representative:
Americas

Enrique Gutierrez

+1 (212) 438-0328

EMEA

Julien Thomas

+33 14-420-7358

APAC

Alan Kwan

+852-2532-8016