Published April 2023
Carbon reduction policies are pushing the replacement of fossil fuels with renewable energy. Solar power and wind power are regarded as the two pure renewable energies, and specialty materials are consumed to support the manufacturing of solar panels and wind turbines. Installations of solar modules and wind turbines are growing rapidly, driven by incentive policies in regions from Europe and the Americas to mainland China and other Asia. The global outlook for these specialty materials is very optimistic with good growth in the next five years.
The following pie charts shows world consumption of specialty chemicals consumed in in the manufacture of solar panels and wind turbines on a value basis: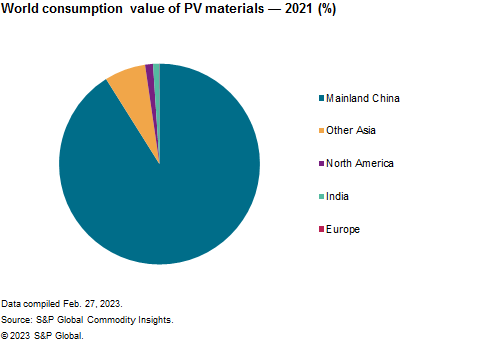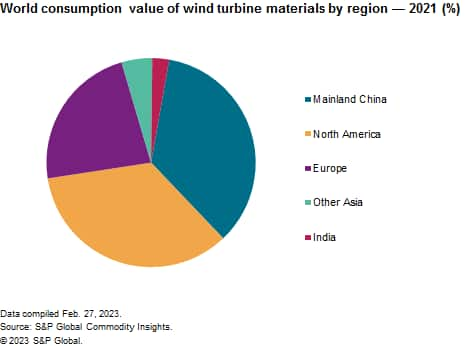 The photovoltaic (PV) materials covered in this report include the following:
Cell materials, including polysilicon, single silicon and silver paste.
Backsheet materials, including fluoropolymers, PET and polyolefins.
Encapsulant materials, including EVA and POE.
The manufacturing of PV modules starts with the production of wafers, which are then assembled into cells and then to modules. Worldwide, nearly 97% of the wafers are produced in mainland China and shipped worldwide for assembly into PV cells and modules. To reduce the cost of renewable power, photovoltaic module technology is progressing very fast. One side is to continuously improve the conversion rate of the PV cells, while the other is to reduce the manufacturing cost of the modules. The industry tends to focus on innovations on the module side, to reduce unit material demand and material prices at the same time. Module costs fell more than 70% in the past six years.
The specialty chemicals consumed in the production of wind turbine components are divided into four categories: blade composites, specialty coatings, specialty lubricants and other specialty chemicals. Blade materials and special coatings are top categories of wind turbine materials, accounting for nearly 75% of the total value. For wind turbine generators, turbine upscaling is focused on the generator power rating. Increased wind turbine nominal rating has been one of the main drivers behind lower wind energy costs and the consumed specialty materials.
For more detailed information, see the table of contents, shown below.
S&P Global's Specialty Chemicals Update Program – Green Power Materials is the comprehensive and trusted guide for anyone seeking information on this industry. This latest report details global and regional information, including

Key benefits
S&P Global's Specialty Chemicals Update Program – Green Power Materials has been compiled using primary interviews with key suppliers and organizations, and leading representatives from the industry in combination with IHS Markit's unparalleled access to upstream and downstream market intelligence and expert insights into industry dynamics, trade, and economics.
This report can help you
Identify the competitive environment and key players
Assess key issues facing both suppliers and their end-use customers
Understand industry integration strategies
Keep abreast of industry structure changes, regulatory requirements, and other factors affecting profitability
Identify new business opportunities and threats
Follow important commercial developments
Recognize trends and driving forces influencing specialty chemical markets