Published August 2023
This report focuses on the market for specialty chemicals in water management. The chemicals covered are grouped into four categories: membranes, ion exchange resins, organic polymers and formulated products. The organic polymers included in this study are polyacrylamides, polyamines, and quaternary ammonium polymers, which are consumed as coagulants and flocculants. The formulated products are further broken down into corrosion inhibitors, scale inhibitors, biocides and foam control agents.
The report includes expanded information on the use of membranes in water management. In the last decades, membrane processes have gained rapid acceptance as a cost-effective method for water and wastewater treatment, in response to increasingly stringent regulations. Membranes with diverse pore sizes, materials and module configurations have been developed to meet the requirements of diverse applications, environments and legal standards. Today, membrane technology has become an established part of municipal and industrial water treatment methods.
Ion exchange resins are used to change the ion composition and organoleptic properties of water. They have the characteristics of OEM chemicals rather than consumer chemicals. Styrene-divinylbenzene polymer is the most widely used ion exchange resin, followed by polymethacrylate and polyacrylate resins. Ion exchange resins are used in the demineralization of boiler feedwater, boiler condensate polishing, water softening, removal of organic impurities and heavy metal residues, and production of ultrapure water.
Organic polymers are used to clarify water by aggregating and separating microscopic particles in water. Flocculants are used to dewater sludge. Formulated products are necessary to ensure the efficient operation of cooling and boiler systems in industrial and commercial processes.
The following pie chart shows world consumption of specialty water management chemicals by value, including membranes: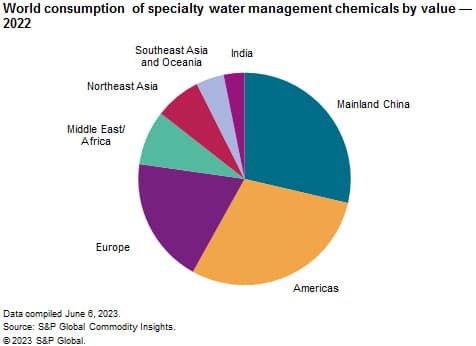 In the developed regions, the rate of consumption of specialty chemicals is slowing because emphasis is increasingly placed on minimizing dosing levels and cost reduction. In contrast, the emerging markets, especially India, have the best potential for growth. India's industrialization and growth of the urban population created an unprecedented increase in demand for clean water.
Global water management industry growth is dependent on regulatory drivers, industrial development requiring high-quality process water and drinking water improvement projects motivated in part by drinking water scarcity.
Desalination is becoming more important in some coastal communities in the western United States and in southern Europe. In the Arabian Peninsula and other portions of the Middle East and North Africa, modern life depends on desalination. Wastewater closed-loop recycling and wastewater recovery and reuse (ultrafiltration of wastewater for direct use) strategies are increasingly being implemented because of increased occurrences of drought and deteriorating quality of water sources.
For more detailed information, see the table of contents, shown below.
S&P Global's Specialty Chemicals Update Program –Water Management Chemicals is the comprehensive and trusted guide for anyone seeking information on this industry. This latest report details global and regional information, including

Key benefits
S&P Global's Specialty Chemicals Update Program –Water Management Chemicals has been compiled using primary interviews with key suppliers and organizations, and leading representatives from the industry in combination with S&P Global's unparalleled access to upstream and downstream market intelligence and expert insights into industry dynamics, trade and economics.
This report can help you:
Identify the competitive environment and key players
Assess key issues facing both suppliers and their end-use customers
Understand industry integration strategies
Keep abreast of industry structure changes, regulatory requirements, and other factors affecting profitability
Identify new business opportunities and threats
Follow important commercial developments
Recognize trends and driving forces influencing specialty chemical markets