Published December 2021
High-performance thermoplastics (HPTPs) are high-priced, low-volume polymers that are sold for use in specialized applications that require a combination of extraordinary properties (the most important being that of high-heat-temperature tolerance and performance). Moreover, these HPTPs can replace metal parts and are considered lightweighting materials in industry. These polymers represent a very small subset of the entire thermoplastics industry, which consists primarily of high-volume commodity thermoplastics (e.g., polyethylene, polypropylene, polyvinyl chloride, and polystyrene) as well as medium-volume engineering thermoplastics (e.g., nylon 6 and 66 resins, polyacetal resins, polyethylene-terephthalate, polybutylene terephthalate, polycarbonate, acrylonitrile-butadiene styrene, and polymethyl methacrylate).
This report explores the main HPTPs presently in use, the major players, and the major markets for each HPTP (neat resin basis), and presents a global overview of HPTPs by major country/region. The major HPTPs covered in this report include high-performance polyamides of polyphthalamides, nylon 46, and polyarylamides; polyphenylene sulfide resins; sulfone polymers; liquid crystal polymers; aromatic ketone polymers; polyetherimide; and others such as PCT, polyarylate, and other thermoplastic polyimides.
The following chart presents world consumption of high-performance thermoplastics by type on a value basis: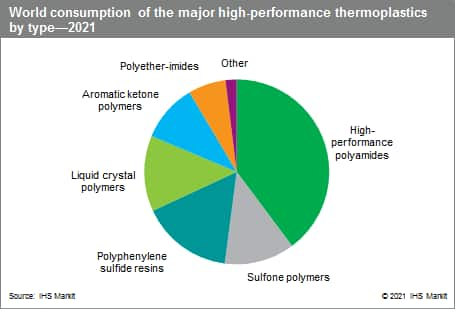 The largest-volume HPTPs are the high-performance polyamides (HPPAs). HPPAs are designed for use in applications where engineering thermoplastic nylons are unsuitable such as automotive engine coolant pumps, impellers, valves, and other applications. HPPAs can withstand high operating temperatures and continuous contact with fluids because they are not prone to absorbing water. An important factor driving the high-performance polyamides market is high demand for automotive weight reduction resulting from stringent regulations in some countries for environmental protection and lower CO2 emissions. The need for improved strength, enhanced durability, increased thermal performance, and simplified processing is another strong driver for using HPPAs. HPPAs have also gained popularity in the electrical/electronics industry (e.g., handheld devices).
The main markets for HPTPs are electrical/electronics, automotive, aircraft/aerospace, industrial (including oil and energy), and health (medical/dental). A few of the key drivers for the growth of HPTPs are as follows:
Electrical/electronics. Continuing drive for miniaturization, higher temperature generation and greater stresses, consumer demand, increased durability, and the pervasive daily usage of mobile electronic devices.
Transportation (mainly automotive and aircraft). Replacement of metals with plastics, high demand for weight reduction in vehicles and aircraft, stronger heat requirements, more compact design engineering, increased flame retardant specifications, increased production of electric vehicles, increased aircraft fleet production, greater use of composites; in general, recyclability, greater environmental considerations (increased fuel efficiency, lower CO2 emissions), and legislation.
Industrial, including oil and energy. Harsher and more demanding operating conditions, stronger heat requirements, lower systems cost and less maintenance, increased resistance to chemicals, better performance, and increased lifetime durability.
Medical. Aging global population, stronger heat requirements, biocompatibility for implants, use of more aggressive cleaners and disinfectants, increased sterilization and disinfection compatibility, and increased lifetime durability.
The high-performance thermoplastics business is international in scope. The industry leaders have worldwide marketing, distribution, and technical service capabilities, although in many instances, they may manufacture HPTPs at only a few sites. Companies that do not manufacture locally generally supply product through regional compounding facilities, and sales and distribution centers. The companies may also supplement their marketing activities with regional alliances. Most HPTP producers compound their polymers with glass fibers, mineral, or carbon fiber reinforcement to add significant value to the base polymer by developing proprietary and/or technology-intensive processing capabilities, as well as to accelerate development into new markets.
Historically, the United States, Europe, and Japan were the only countries/regions that had production capability for high-performance thermoplastics (neat resins). Presently, others such as India, South Korea, and mainland China have established a domestic presence for production and compounding of HPTP neat resins. This is highly favorable in terms of market strategy on a company and country level. Several producers have established a presence and joint venture partnerships for HPTPs in India, South Korea, and mainland China. In the last decade, many mainland Chinese companies have also added production facilities for HPTPs, including aromatic ketone polymers, high-performance polyamides, liquid crystal polymers, polyphenylene sulfide resins, and sulfone polymers.
The European region was the largest HPTP-consuming region (volume basis), at 26% of total global consumption in 2021. On an individual country basis, mainland China overtook the United States in the last three years and became the leader in terms of global HPTP consumption at roughly one-quarter of global consumption in 2021; the United States was in the second place and Japan was the third position. World consumption of HPTPs is expected to grow at an average annual rate of 4.8% during 2021–26.
For more detailed information, see the table of contents, shown below.
S&P Global's Specialty Chemicals Update Program –High-Performance Thermoplastics is the comprehensive and trusted guide for anyone seeking information on this industry. This latest report details global and regional information, including

Key benefits
S&P Global's Specialty Chemicals Update Program –High-Performance Thermoplastics has been compiled using primary interviews with key suppliers and organizations, and leading representatives from the industry in combination with S&P Global's unparalleled access to upstream and downstream market intelligence and expert insights into industry dynamics, trade, and economics.
This report can help you
Identify the competitive environment and key players
Assess key issues facing both suppliers and their end-use customers
Understand industry integration strategies
Keep abreast of industry structure changes, regulatory requirements, and other factors affecting profitability
Identify new business opportunities and threats
Follow important commercial developments
Recognize trends and driving forces influencing specialty chemical markets