Published September 2020
Flame retardants are materials or chemicals that are used to deter or extinguish flame propagation in resins, elastomers, textiles, coatings, adhesives, and sealants. The most important product categories are brominated compounds, organophosphorus compounds, chlorinated compounds, aluminum trihydroxide, antimony oxide, boron compounds, magnesium hydroxide, and "other" flame retardant products. In 2019, the most important flame retardant product types by volume were aluminum trihydroxide, with 38% of the total market, followed by organophosphorus compounds (18%), brominated compounds (17%), and antimony oxides (9%). The product mix varies widely by region.
The flame retardant industry is highly affected by regional regulations and standards (and differences) for construction and electrical/electronic applications. An increase in high-rise fires around the world has shown the need for improved safety standards for aluminum composite panel cladding used in building siding (or a method for upgrading older building materials [with older standards] to newer standards) using flame retardants for improved safety. Some flame retardants, especially brominated flame retardants, have restricted production and consumption. For example, hexabromocyclododecane (HBCD), is no longer allowed to be used in Japan (2014), the European Union (2015), and Canada (year-end 2016). This led to different timings on the use of a HBCD replacement developed by Dow Chemical Company (now DowDuPont after the merger between Dow Chemical Company and E.I. du Pont de Nemours & Company on 31 August 2017), BLUEDGE™ Polymeric Flame Retardant Technology (also known as PolyFR and under the trade names GreenCrest™ [Albemarle], FR-122P™ [ICL-IP], and Emerald Innovation™ 3000 [LANXESS]). Recently, the use of decabromodiphenyl ether (deca-BDE) was restricted in many countries and was replaced with other flame retardants.
The following pie chart shows world consumption of flame retardants: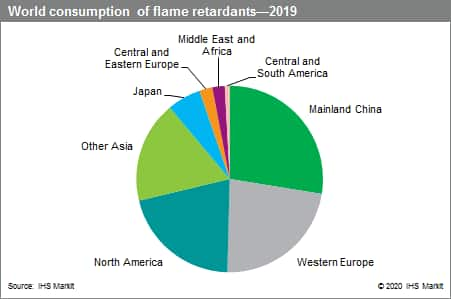 In Mainland China, flame retardants have been experiencing rapid development following growth in the plastics market and also as a result of policy requirements. Brominated flame retardants were once the largest flame retardants segment consumed in mainland China. However, as a result of environmental issues, the use of brominated compounds has been restricted gradually in recent years. Production and consumption of and trade in hexabromocyclododecane (HBCD) have been banned since 2016 except for some applications. The mainland Chinese government has highlighted the importance of halogen-free flame retardants, which is affecting flame retardants market in mainland China.
Consumption of flame retardants in Europe, the Middle East, and Africa is driven primarily by regulations in many industries, such as the building and construction (including housing, public, and commercial buildings) and transportation industries (automobiles and buses). These regulations are implemented predominantly on a national level, which means there are no EU-wide unified fire protection regulations in place. Regulations differ from country to country within Europe, the Middle East, and Africa. The disastrous fire at the Grenfell Tower on 14 June 2017 in London showed that there are still areas where fire protection needs to be improved in order to avoid such disasters in the future.
The most important product segment in North America in terms of value is brominated compounds. As in most other regions, this segment is moving toward greater volumes of polymeric and reactive (chemically bound into polymer or other end-use product) brominated products. The fastest growing flame retardant segments are organophosphorus compounds and aluminum trihydroxide.
For more detailed information, see the table of contents, shown below.
S&P Global's Specialty Chemicals Update Program –Flame Retardants is the comprehensive and trusted guide for anyone seeking information on this industry. This latest report details global and regional information, including

Key benefits
S&P Global's Specialty Chemicals Update Program –Flame Retardants has been compiled using primary interviews with key suppliers and organizations, and leading representatives from the industry in combination with S&P Global's unparalleled access to upstream and downstream market intelligence and expert insights into industry dynamics, trade, and economics.
This report can help you
Identify the competitive environment and key players
Assess key issues facing both suppliers and their end-use customers
Understand industry integration strategies
Keep abreast of industry structure changes, regulatory requirements, and other factors affecting profitability
Identify new business opportunities and threats
Follow important commercial developments
Recognize trends and driving forces influencing specialty chemical markets