Published June 2023
Feed additives are specialty chemical compounds added to animal feed in order to improve the quality of the feed and the quality of food derived from animals that consume it. Additives improve animals' health and performance in many ways; for example, they support bone formation, strengthen the immune system, promote growth, enhance the digestibility of feed materials and promote egg laying and milk production.
Phosphate supplements dominate the global feed additives market by volume, followed by amino acids. Amino acids are the leaders in terms of value, followed by phosphate supplements and vitamins. Nonprotein nitrogen (NPN) supplements, enzymes and carotenoids account for remainder of the market value.
The following chart shows global consumption of feed additives by region in 2023: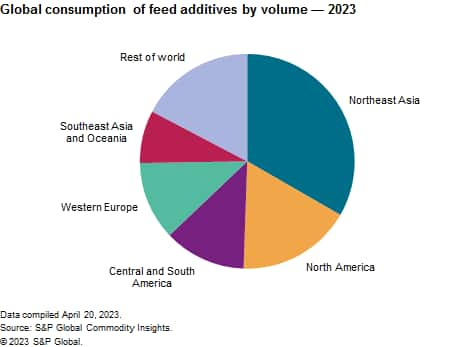 Northeast Asia (including mainland China) is the largest consuming region, followed by North America; together, these regions account for about half of world consumption of feed additives. The main growth drivers for feed additive consumption are human population growth and increasing per capita wealth in developing countries and regions.
The feed additives sector has become increasing competitive as producers in mainland China and South Korea expand their product offerings and geographic coverage. Fermentation processes are gaining share compared with classical chemical synthesis.
Strategies for growth and business expansion include offering tailored solutions (based on customer needs and local conditions) and innovative premixes, developing value-added products for core markets (e.g., poultry and swine), investing in services, expanding distribution to farmers and participating in the retail market.
For more detailed information, see the table of contents, shown below.
S&P Global's Specialty Chemicals Update Program - Feed Additives is the comprehensive and trusted guide for anyone seeking information on this industry. This latest report details global and regional information, including

Key benefits
S&P Global's Specialty Chemicals Update Program - Feed Additives has been compiled using primary interviews with key suppliers and organizations, and leading representatives from the industry in combination with S&P Global's unparalleled access to upstream and downstream market intelligence and expert insights into industry dynamics, trade, and economics.
This report can help you
Identify the competitive environment and key players
Assess key issues facing both suppliers and their end/use customers
Understand industry integration strategies
Keep abreast of industry structure changes, regulatory requirements, and other factors affecting profitability
Identify new business opportunities and threats
Follow important commercial developments
Recognize trends and driving forces influencing specialty chemical markets