in-person Market Intelligence /marketintelligence/en/events/in-person/the-kagan-media-summit events-detail__hero js-detail-hero
Conference
The Kagan Media Summit
Produced by the Knowledge Center, an executive conference from S&P Global Market Intelligence
Formerly the TV & Radio Finance Summit, Kagan, a research division within S&P Global Market Intelligence, will be hosting our annual conference on Thursday 20th June in New York City, NY. Hear industry overviews from our leading research analysts, as they provide essential insights into future trends that could shape financial activity across the media industry. Hear also from industry influencing figures as they discuss the current climate of the Technology, Media and Telecommunications sector.
For more conference information and speaking opportunities, please email niral.patel@spglobal.com.
Register Now
Speakers
The confirmed speaker list will be announced shortly. Please continue to visit the website for updates. If you wish to join industry leading figures, please write us a note expressing interest to be a conference speaker to Niral.Patel@spglobal.com
Clients

$795

/ delegate

$595

/ delegate

Non-Clients

$995

/ delegate

$795

/ delegate
Sponsorship: Sponsorship opportunities exist at this industry leading conference. Get yourself positioned above your competitors and share your expertise with key decision makers. Please contact Brian Hodges at +1 (434) 951-7628 or at Brian.Hodges@spglobal.com
Frequently Asked Questions
Alex, please download the S&P Networking App
The Platts Events mobile app puts conference navigation and networking at your fingertips. Available one week before the event, the mobile app gives delegates :
Advance access to the attendee list
Live agenda updates and networking activities
Immediate access to speaker presentations
Essesntial, real-time event details and notifications
Upload a profile photo, set up a meeting, amd more
* Platts attempts to secure as many speaker presentations as possible, however some speakers choose not to share their materials. Therefore some presentations may not become available. Additionally speaker presentations for this event are only available for download from the networking mobile app and web link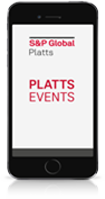 Don't miss out. Reserve your spot now
Register Here
This Event Has Ended.