Key Takeaways
At the U.N. conference, asset managers, governments and companies aligned on the use of nature-based tools to tackle climate change.

Nearly $20 billion in public and private funding was pledged to halt deforestation.

There was widening support for blue bonds, which allow ocean-dependent economies to use the proceeds for marine conservation.
Calls to slash energy-related greenhouse gas emissions have been a common refrain at the U.N.'s annual climate summits, and COP26 was no different. At this year's meeting in Glasgow, however, many asset managers, corporations and policymakers embraced a much broader theme: Preserving and harnessing nature to fight climate change.
One reason delegates gave for the sharp focus on nature is the continuing impact of COVID-19. The disease, caused by a virus that possibly emerged from the natural world, has upended lives, stock portfolios and entire economies. And at a higher level, governments and businesses are realizing they cannot fix the climate problem unless they halt the decline of natural systems.
Direct emissions and the destruction of nature are continuously reinforcing each other. Biodiversity loss, for example, affects the climate by changing carbon, nitrogen and water cycles. Destroying forests to clear land for agriculture and urban development also releases a vast amount of previously stored CO2, further heating the air, land and oceans. If tropical deforestation were a country, it would rank third in CO2 emissions behind China and the U.S., based on data from a 2016 study cited by the World Resources Institute.
Global warming, in turn, triggers more droughts and wildfires, killing plants and animals. Warmer seas hurt corals and other marine life. Restoring nature is therefore indispensable to tackling the climate problem — a strategy that risk managers and corporate boards are increasingly starting to accept.
"At this conference, nature has come alongside energy [emissions reduction] as being one of the great solutions to the climate change problem and keeping our planet safe," Andrew Mitchell, a co-founder of the Task Force on Nature-related Financial Disclosures, or TNFD, said at a panel discussion held during COP26 and moderated by S&P Global Sustainable1.
Deforestation's carbon impact
The idea is that by regrowing forests, restoring coastal wetlands and making agriculture more sustainable, a large quantity of CO2 can be captured from the air and sequestered in plants, soil and sediments. According to an estimate published in the science journal Nature in May 2021, ramping up nature-based solutions quickly could avoid the emission of 10 gigatonnes of CO2-equivalent per year — more than what's emitted by the entire global transportation sector.
The momentum behind nature-based strategies has accelerated in recent months. The TNFD launched in June and aims to deliver in 2023 a framework for companies and other organizations "to report and act on evolving nature-related risks." In October, at the first phase of a U.N. biodiversity conference in Kunming, China, more than 100 countries committed to putting biodiversity on a path to recovery by 2030. Although that declaration wasn't a binding agreement, it was a spur for new commitments unveiled at COP26.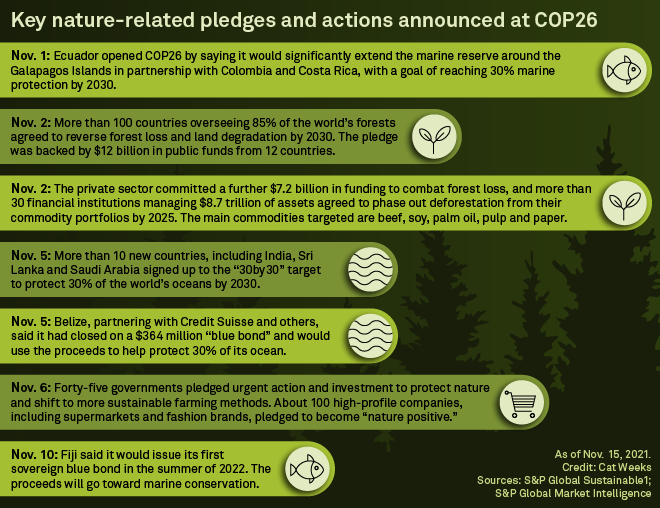 The long-term challenge is persuading companies to eliminate deforestation completely from their supply chains, while eventually putting a price on nature's bounty that they currently use free of charge.
A Nov. 8 report from S&P Global Ratings noted that although the Amazon rainforest helps regulate the earth's climate, extensive deforestation — mainly to clear land to raise cattle for beef — had turned parts of it into a net source of carbon instead of a sink. Beef producers have not priced in the flora, fauna or climate-stabilizing effects that were lost.
"Had the cost of nature loss been incorporated as a cost of production it would have represented around 12% of these companies' revenues in 2020," or about $4 billion, the report said. "In other words, for every US$100 sale of beef-related products in Brazil there is potentially an additional unpriced cost of US$12."
Combatting deforestation in South America was the focus of another private sector financial commitment at COP26. The U.N.-backed Innovative Finance for the Amazon, Cerrado and Chaco initiative, or IFACC, announced that several large companies were investing $3 billion to shift commodity production in the region to more sustainable models. The group is aiming to disburse at least $200 million by 2022.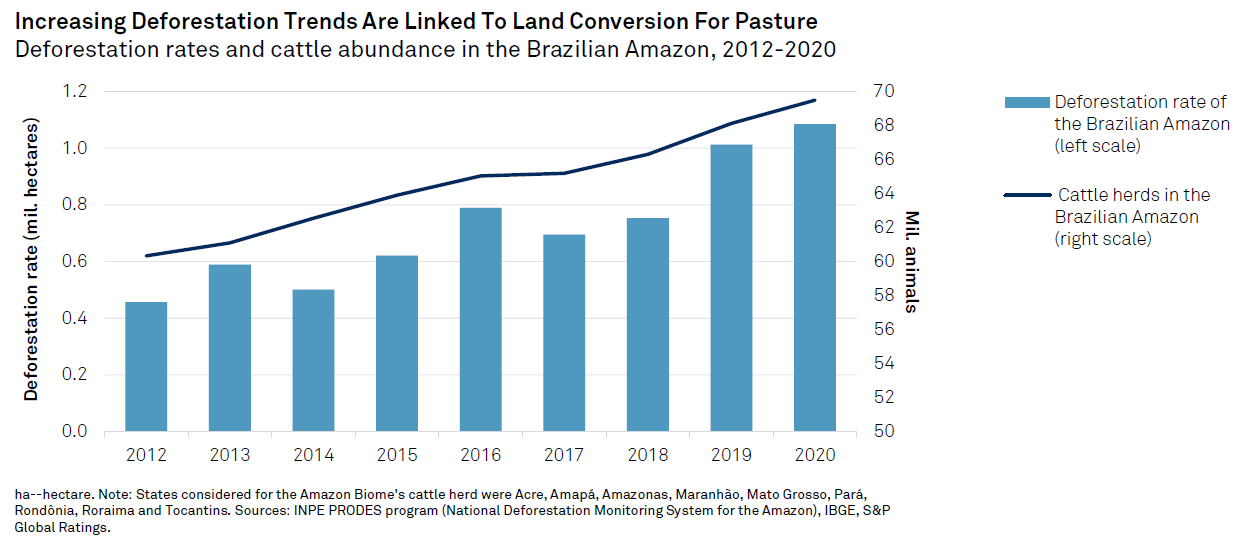 Forest pledges and blue bonds
Policymakers and businesses have taken some initial steps to redress nature's plight, though a lot more needs to be done.
At COP26, on Nov. 2, countries including Canada, Russia, Brazil, Indonesia and the Republic of the Congo, which together encompass 85% of the world's forests, agreed to reverse forest loss and land degradation by 2030. The pledge was supported by $12 billion of public finance from 12 countries, including the U.K., for the 2021 to 2025 period. The money will help developing countries restore degraded land, tackle wildfires and support indigenous communities.
Private investors stepped in with a further $7.2 billion. More than 30 financial institutions with over $8.7 trillion of global assets also promised to phase out deforestation from their commodity portfolios by 2025. The commitments target products that are closely linked to deforestation, including beef, soy, palm oil, pulp and paper.
The deforestation pledges are projected to deliver a 3.5 gigatonne annual reduction of CO2, one of the largest components of the overall 9 gigatonne CO2 reduction promised by governments at the meeting, according to the Energy Transitions Commission.
"That commitment is a huge step forward; delivering it [is] a crucial priority," said Adair Turner, chair of the commission, in comments made at COP26.
Other announcements followed. On Nov. 6, the U.K. said it would provide £500 million to support the Forest, Agriculture and Commodity Trade Roadmap in which 28 countries are working together to protect forests while promoting development and trade. A further £65 million will support a "Just Rural Transition" to help developing countries, the U.K. said. About 100 companies also pledged to become "nature positive." Sainsbury's, on behalf of the big five U.K. supermarkets, said it would halve the environmental impact of the average U.K. shopping basket by 2030.
The oceans got some attention, too. On Nov. 1, the first day of COP26, Ecuador said it would significantly extend the marine reserve around the Galapagos Islands in partnership with Colombia and Costa Rica, with a goal of reaching 30% marine protection by 2030.
A few days later, Belize, in partnership with Credit Suisse, the U.S. International Development Finance Corporation and the Nature Conservancy, said it had closed on a $364 million blue bond and would use the proceeds to help protect 30% of its ocean. On Nov. 10, Fiji said it would issue its first sovereign blue bond in the summer of 2022. The proceeds will go toward marine conservation.
At the Glasgow summit, IDB Invest, the private sector institution of the Inter-American Development Bank Group, also said it had issued a 50 million Australian dollar, 10-year fixed rate bond — the first blue bond in Latin America and the Caribbean. James Scriven, CEO of IDB Invest, which manages $13.1 billion in assets, said IDB had taken on the task of making such opportunities more attractive to overseas asset managers.
Many international investors "have a threshold of investment grade below which they do not or cannot invest," said Scriven, at the Nov. 3 panel hosted by Sustainable1. "So when [a project in a developing country] is already up and running, and the risk is no longer there, we are able to crowd in international investors that are looking for that ESG investment."
This piece was published by S&P Global Sustainable1 and not by S&P Global Ratings, which is a separately managed division of S&P Global.