From cable to broadcast, OTT to telecom, and the technology behind it, S&P Global Market Intelligence's TMT coverage provides the critical insights you need to stay ahead of your competition.
Subscribe to the Newsletter
---
ESG
Sustainability in Hollywood: COVID-19 Leaves Impact on Production, Environment
Though the industry has taken great strides to change that in recent years, new requirements for social distancing, medical testing and personal protective equipment are challenging filmmakers to hold onto those gains in sustainability.

But in light of the environmental and cost savings associated with green measures, proponents hope the period is only a temporary setback.


Diversity in Hollywood: New Oscar Rules, Box-Office Profits Driving Change
Very recently, in a galaxy not at all far away, Hollywood had a gender and racial diversity problem. And many industry groups, including the Academy of Motion Pictures Arts and Sciences, believe it still does.
Leonard, also a voting member of the Academy, was referring to the recent civil unrest associated with protests following the death of George Floyd in Minneapolis. That unrest gained steam globally as protesters sought justice in other minority deaths associated with police and championed civil rights movements like Black Lives Matter.
Read the Full Article
Measuring Recovery
Reassessing The Pace Of Recovery For U.S. Media
As the first COVID-19 cases hit the U.S., S&P Global Ratings began to speculate on the extent of the economic downturn and the impact on the media and entertainment industry. Today, the U.S. remains mired in the pandemic, with no real clear line of sight back to normal. S&P Global Ratings' 2020 advertising forecast is for a decline of 9.4% (revised from a decline of 12.4%) and growth of 10.3% in 2021 (previously 14.2%).

The expected recovery path for most media subsectors is largely unchanged from June, but theme parks and movie exhibitors will take longer to recover to pre-COVID-19 metrics. Companies with less tolerance to handle these changes (rated 'B' and lower) could face additional rating actions. The rate of decline of linear television will accelerate, speeding up the importance of streaming services.


Default, Transition, and Recovery: The Travel And Entertainment Business Faces Elevated Default Risk Despite Easing Market Pressures
The number of global weakest links decreased to 572 as of Aug. 31, from 589 since our last report. Weakest links are issuers rated 'B-' or lower by S&P Global Ratings with negative outlooks or ratings on CreditWatch with negative implications, and they typically default at a rate 8x that of speculative-grade companies.
Read the Full Article
U.S. Information Industries Saw Job Gains Jump as Theaters Reopened in September
U.S. information industries in September recorded the largest job gains since the pandemic began hitting the country, driven largely by a rush of movie theaters reopening for the first major box office release in months.
Read the Full Article
The Future Of Film
Regal Theater Closures Present a 'Very Serious' Problem for Retail Landlords
A potential cascade of movie theater closures presents a major problem for mall and shopping center landlords already contending with an overflow of retailer tenant bankruptcies and anemic space demand, according to an expert in lease restructuring.


Further Film Delays Leave U.S. Theater Owners 'High and Dry' – Analysts
With "Tenet" having failed to breathe life back into the U.S. box office and studios delaying future film releases, theater owners remain in critical condition, according to analysts.
Read the Full Article
Cineworld Must Dig Deep to Survive Closures, Avoid Bankruptcy – Analysts
Regal cinemas owner Cineworld Group PLC may require up to $500 million in additional liquidity to survive its latest round of closures and avoid bankruptcy, according to analysts.
Read the Full Article
Gaming Grabs Control
Chinese Livestreaming Merger to Strengthen Tencent's Gaming Dominance
The proposed merger of the two Twitch-like livestreaming platforms in China, DouYu International Holdings Ltd. and HUYA Inc., will see lower content acquisition cost and strengthen Tencent Holdings Ltd.'s dominance in the online gaming sector in China, analysts said.


Listen: MediaTalk Episode 16: State of the Video Game Industry Amid COVID-19 – S&P Podcast
As companies and businesses around the globe continue to grapple with financial losses amid the COVID-19 pandemic, the video game sector has remained an outlier.
People sheltering at home due to the pandemic increasingly turned to video games, resulting in revenue spikes for gaming firms and record sales for consoles, speakers said on the latest episode of "MediaTalk," an S&P Global Market Intelligence podcast.
Listen and Subscribe to the Podcast
China
China Leads APAC 2020 Box Office Thanks to August Blockbuster
The COVID-19 pandemic has created an unprecedented level of uncertainty and regulatory action in North America. Throughout the United States and China's 2020 box office revenue rose from $98.1 million at the end of July to $623.8 million at the end of August thanks to blockbuster "Ba Bai," according to data from S&P Global Market Intelligence and OPUSData.


China 2020 Survey Summary: COVID-19 Crisis Accelerated Media and Tech Trends
China was the first country to be hit by the COVID-19 pandemic. The first cases were traced to the city of Wuhan, in Hubei province, in late December 2019, and the disease quickly spread through China as people traveled to their hometowns ahead of the Chinese New Year holidays in January 2020.
Read the Full Article
China COVID-19 Trends In TV, Video
The CCTV Spring Festival Gala, aired annually for the Lunar New Year holiday, streamed live to almost 170 countries and registered 1.23 billion viewers in 2020, according to gala broadcaster China Media group, up 59 million from 2019.
The holiday in mainland China occurred around the time of the lockdown in Wuhan, and the Spring Festival Gala special saw a new segment added at the last minute to pay tribute to frontline workers in the battle against the pandemic.
Read the Full Article
Europe
European Box Office Revenues Down 69% YOY Through August
Europe's film box office is experiencing a slow recovery from coronavirus lockdowns, data from OPUSData and collated by S&P Global Market Intelligence shows.

Box office revenue in the region totaled $1.43 billion in the first eight months of 2020, down 69.0% year over year, according to the data.


Pandemic Sees Europe's Defensive TMT Sector Accessing More, but Cheaper, Debt
Technology, media and telecom companies in Europe are unsurprisingly taking out more debt this year than last, although investor returns from the sector's borrowing remain below the average, according to data from LCD, an offering of S&P Global Market Intelligence.
Read the Full Article
UK Theater Credit Rating Downgrades Reflect Sustained COVID-19 Hit to Box Office
S&P Global Ratings downgraded U.K.-based cinema operators Cineworld Group PLC and Vue International Bidco PLC and placed the two firms on a negative outlook for the year as box office forecasts were hit by virus fears.Global cinema attendance is not expected to recover to pre-pandemic levels until 2022, partly as a result of public caution regarding out-of-home entertainment venues and Hollywood studios pushing back major film releases, the rating agency said.
Read the Full Article
TV
Economics of Broadcast TV Retransmission Revenue 2020
Amid the COVID-19-induced recession fueling an ongoing trend in households dropping traditional multichannel video subscription in favor of cheaper virtual alternatives, we have revised down our projections covering U.S. TV station owners' retrans fees from traditional and virtual multichannel service providers.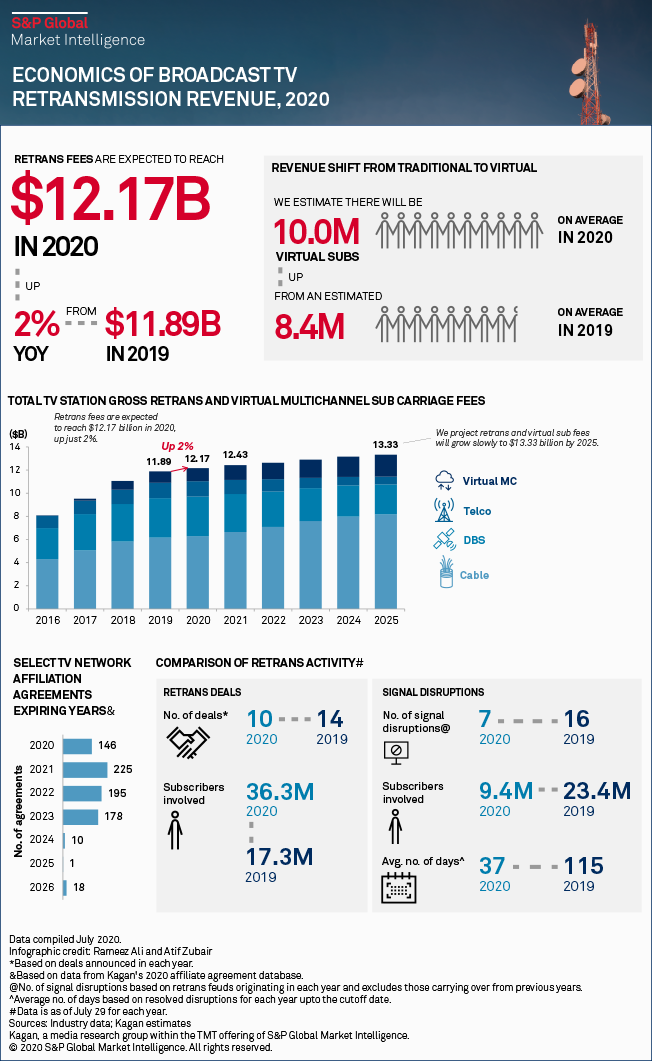 Activist Shareholder Stirs Up U.S. Cable Business
Comcast Corp.'s stock performance amid the coronavirus pandemic is a tale of two diverging business segments, a dilemma that has attracted the attention of activist investor Trian Fund Management LP.
The hedge fund, which describes itself as "a highly engaged shareowner," bought up 20 million shares of Comcast, the largest U.S. cable operator. A Trian spokesperson said it believes Comcast's stock is undervalued.
"We have recently begun what we believe are constructive discussions with Comcast's management team," the Trian spokesperson said in an emailed statement. Comcast declined to comment on the matter.
Read the Full Article
Market Leaders
Tech, Media CEOs Dominate Highest-Paid List in 2019
It may seem like a world away now, but fiscal 2019/20 was a good year for business, stocks and, ultimately, CEO pay.

It was a particularly good year for leaders of technology, media and telecommunications, or TMT, companies. The average total CEO compensation in the U.S. TMT sector topped all other sectors at $26.3 million in 2019.


NBC Sports Wagers Big on Sports Betting with PointsBet Partnership, Investment
NBCUniversal Media LLC's NBC Sports has partnered with PointsBet Holdings Ltd. to help the programmer capitalize on the burgeoning sports betting market.
As part of a five-year deal that makes the Australian-based sports betting operator the official sports betting partner across its properties, NBC Sports has purchased a 4.9% stake in PointsBet. The sports programmer, whose properties include NBCSN (US), Golf Channel (US) and Telemudo Deportes, also has the option to obtain another 25% over the length of the deal.
PointsBet has committed to $393 million in total media spending on NBC Sports outlets, with the outlays escalating over the term of the deal. Many of those dollars will be expressed on regional sports networks, David Preschlack, president of NBC Sports Regional Networks and executive vice president of content strategy at NBC Sports Group, said in an interview.
Read the Full Article
Advertising
Pandemic Continues to Weigh on Ad Agencies, Though Some Q3 Improvement Expected
The continuation of the pandemic is expected to weigh on the advertising market through the rest of the year, though analysts anticipate third-quarter earnings at ad agencies to show some sequential improvement.


Ad Agencies Struggle to Survive Second Quarter of 2020
The advertising industry, closely tied to macroeconomic conditions, is going through one of its biggest crises ever.
Read the Full Article
With TV Advertising Hard-Hit, Video Companies Turn to AVOD for Hope
The second quarter hit advertising hard, leaving ad-supported video-on-demand platforms caught between strong growth in usage and sharp declines in ad budgets.
Read the Full Article
---