What sets S&P Global ESG Scores apart?
Unlike ESG datasets that rely simply on publicly available information, S&P Global ESG Scores are uniquely informed by a combination of verified company disclosures, media and stakeholder analysis, and in-depth company engagement via the S&P Global Corporate Sustainability Assessment (CSA) , providing unparalleled access to ESG insights before they reach others.
Companies collectively contribute hundreds of thousands of hours in every assessment cycle, while S&P Global analysts validate disclosures for both accuracy and relevance, discuss methodologies and measurement best-practices, and provide ongoing feedback. Unlike any other ESG dataset available in the market today, S&P Global ESG Scores – and the CSA research process that underpins them – form the basis of a unique ecosystem that actively drives corporate disclosures and raises the bar on sustainability standards over time.
More data. Deeper analysis. Clearer picture.
Informed by investment practitioners with investment processes in mind.
Built on company engagement working with companies for >20 years.
Used by companies to derive measurable change.
Well balanced methodology combines disclosures and forward looking metrics.
In-depth scoring allows for precise differentiation of companies.
Independent assurance of analytical processes provides quality assurance.
Discover multiple layers of ESG data intelligence
S&P Global ESG Scores provide an unparalleled depth and breadth of ESG insight, built upon multiple layers of ESG data, and underpinned by a rich bedrock of underlying data intelligence captured by the S&P Global Corporate Sustainability Assessment (CSA).
Our scores provide transparency to drill down into material environmental, social and governance criteria scores for up to 30 focus areas across sub-industries; question-level scores covering 130 sustainability topics; and up to an additional 1,000 underlying data points per company — powering investment decisions and client workflows with granular precision and clarity.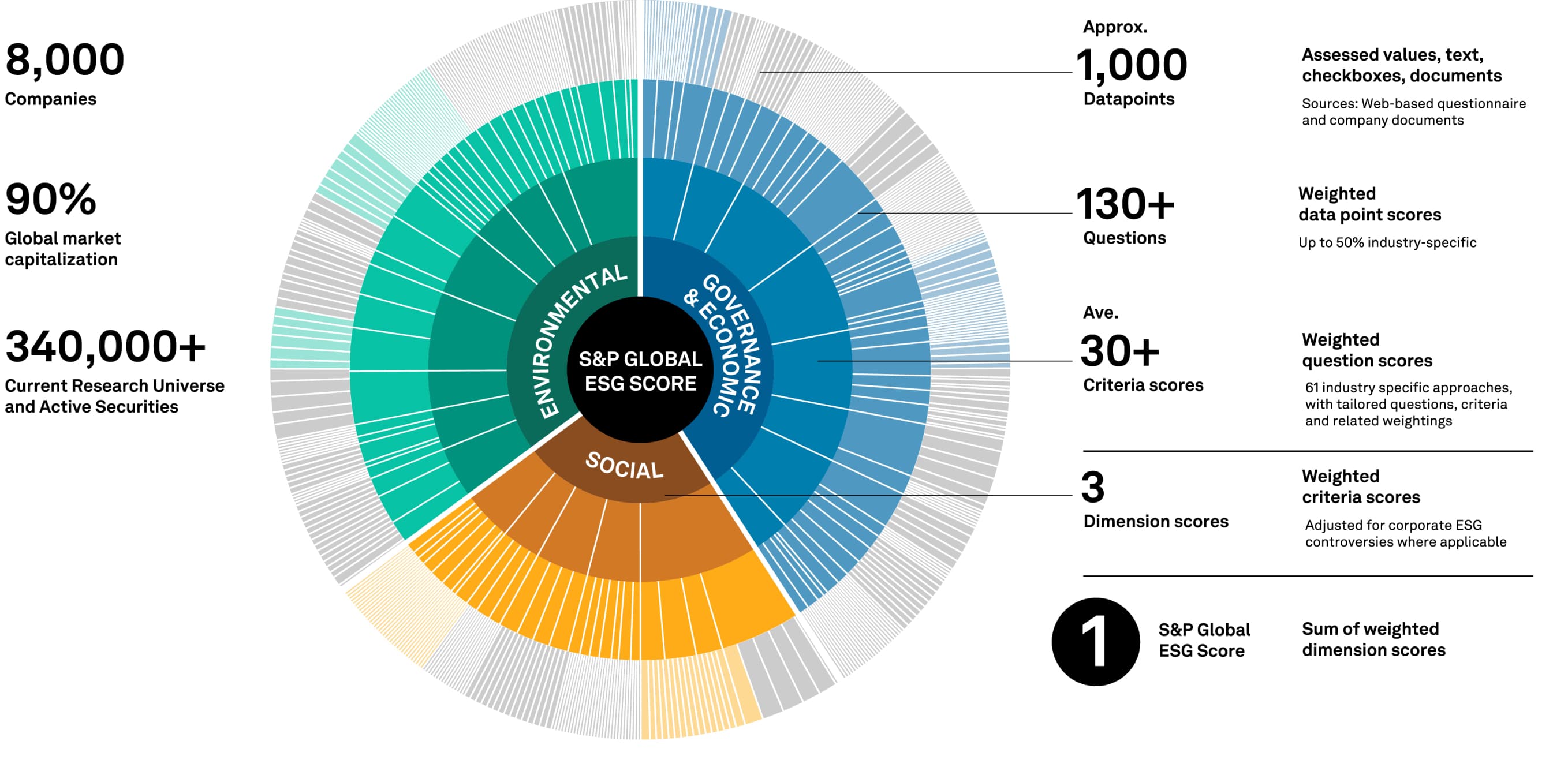 Source: Exclusive company disclosure and exclusive disclosures via the S&P Global CSA Coverage as of September 2021. The 2021 methodology cycle will cover more than 11,500 companies, representing 99% of global market capitalization once it concludes.
Driven by a focus on materiality
We identify financially material factors as those that may have a present or future impact on a company's value drivers, earnings capacity, competitive positioning, or long-term value for its shareholders and if those factors have a significant impact on society or the environment. Material ESG issues are those that can affect the entity's business operations, cash flows, legal or regulatory liabilities, access to capital or reputation, as well as relationships with key stakeholders, the environment, or society more broadly — either directly or through its value chain (both upstream and downstream).
We thus consider double materiality as an integral part of the analysis of corporate sustainability performance. But while hundreds of sustainability criteria might apply, only a handful of critical ESG factors usually impact the future success of companies' business models in practice. Naturally, these highly-material factors vary significantly across industries. While some generic ESG topics are financially relevant to all industries — such as corporate governance, risk management or business ethics — the industry-specific portion of each questionnaire is built upon S&P Global's industry materiality matrices for each of the 61 sub-industries that we cover.
---
Delivering unparalleled accuracy and relevance
The CSA delivers unparalleled insight into corporate sustainability practices, drawing on decades of engagement with thousands of companies each year. It goes far deeper than simply determining how transparent companies are by also uncovering how well they really manage the ESG risks and opportunities they face - including those new and underreported topics of growing importance that have yet to reach the disclosure agenda.
S&P Global ESG Scores thus provide the deepest possible insight into companies' ESG performance, with accurate assessments not swayed by readily available data, while also playing a leading role in shaping the sustainability landscape by introducing new topics and advocating for improved standards and disclosure over time.
View our S&P Global ESG Scores Brochure
---
Ahead of the curve
Underreported topics captured by the S&P Global CSA long before they reach the disclosure agenda
---
Need essential sustainability intelligence?
TALK TO A SPECIALIST
Why S&P Global?
Accelerate Your Sustainability Journey
Gain unparalleled insight into critical topics like ESG performance, net zero, energy transition, sustainable financing, regulatory compliance and more.
Discover End-to-End Market Perspectives
Leverage intelligence that is tried-and-tested throughout the global value chain, applying deep knowledge of corporate sustainability assessments that scales analytics for asset owners, investment managers and banks.
Connect Your Workflows
Link sustainability data with financial data and market intelligence, and dig deep with screening tools, real time updates, data visualizations and customized dashboards.
Increase Your Productivity
Access data when and how you want it with flexible delivery options that include a leading desktop solution, APIs, data feeds and cloud access, underpinned by robust data linking, AI and machine-learning technologies.
Rely on a Deep Heritage of Innovation
Put 20+ years of experience behind your sustainability strategy, getting ahead of disclosure trends with active corporate engagement and granular data modelling, and delivering enhanced solutions recognized by numerous industry awards.
Enjoy Superior Customer Service
Know you have 24x7x365 backup and specialist assistance from ESG specialists and research analysts across our global offices.
Solutions for every need across S&P Global