Start every business day with our analyses of the most pressing developments affecting markets today, alongside a curated selection of our latest and most important insights on the global economy.

Commodity Supercycle – Is This a Thing?
There are many definitions for a "commodity supercycle." All interpretations generally agree that it is a sustained period of between five years and 20 years in which high demand, or other factors, leads to high prices across a range of commodities. Commodity supercycles don't move with the normal currents of bear and bull markets. Instead, they reflect some structural change. The economic boom in China, which began in the early 2000s and ended with the financial crisis in 2008, is thought to have driven the last supercycle.
"Supercycles are caused by a shift in the proportion of the world's capital into applications that are commodity intensive," Jay Tatum, co-founder and portfolio manager for commodities hedge fund Valent Asset Management, told the Daily Update. "This shift brings about a multi-year appreciation in price beyond the typical boom and bust cycle. The driver of this effect is the asynchronous nature of demand increases and supply response, which takes much longer."
According to S&P Global Commodity Insights, there is some debate going back to at least 2021 on whether we are in a commodity supercycle. Some proponents point to the broad increase in energy prices that followed Russia's invasion of Ukraine. However, with energy prices retreating from their 2022 highs, the continued impact of the pandemic and the prospect of a recession, the belief in a supercycle driven by geopolitical upheaval is under question.
"Commodity prices shot up after Russia's invasion of Ukraine. However, [tepid] economic growth in [countries of the Organisation for Economic Co-operation and Development] with the talk of global recession, combined with weak demand in China due to COVID-19 lockdowns, has led to [a] significant drop in commodity prices in recent weeks," Atul Arya, chief energy strategist for S&P Global, told the Daily Update. "We may see a supercycle in critical minerals after the passage of the Inflation Reduction Act in the U.S. and resulting demand boom in clean energy technologies. However, a supercycle across a broad set of commodities is not fully baked in."
Some market participants believe the energy transition will lead to a commodity supercycle focused on specific commodities. Markets are taking a hard look at a range of metals essential to the energy transition, including nickel, cobalt, copper and various rare earth elements.
"Supercycles need not affect all commodities equally," Valent's Tatum said. "While the industrialization of a major economic region might affect all commodities, the electrification of the world will be more isolated to metals."
Perhaps the definition of a commodity supercycle doesn't really matter. Commodity markets seem to be following the lead of U.S. Supreme Court Justice Potter Stewart, who eschewed definition in a different context, declaring, "I know it when I see it." Some market participants see a commodity supercycle; others do not.
Today is Friday, August 12, 2022, and here is today's essential intelligence.
Written by Nathan Hunt.
Economy
---
China Securitization Performance Watch 2Q 2022: Tough Economic Conditions Weigh On Issuance And Asset Performance
China's securitization market continues to struggle amid challenges in the property sector and weaker economic activity. S&P Global Ratings therefore expects new issuance to remain soft over this year. Issuance declined in 2Q 2022 in a market that has been subdued since the second half of 2021. The asset performance of securitized pools is likely to be under pressure, given a resurgence in local COVID-19 cases and ensuing lockdowns in various regions in China. Recent mortgage strikes are adding to the stress.
—Read the report from S&P Global Ratings
Access more insights on the global economy >
Capital Markets
---
Liberty Mutual, Farmers, Allstate Make Large Homeowners Rate Hikes In H1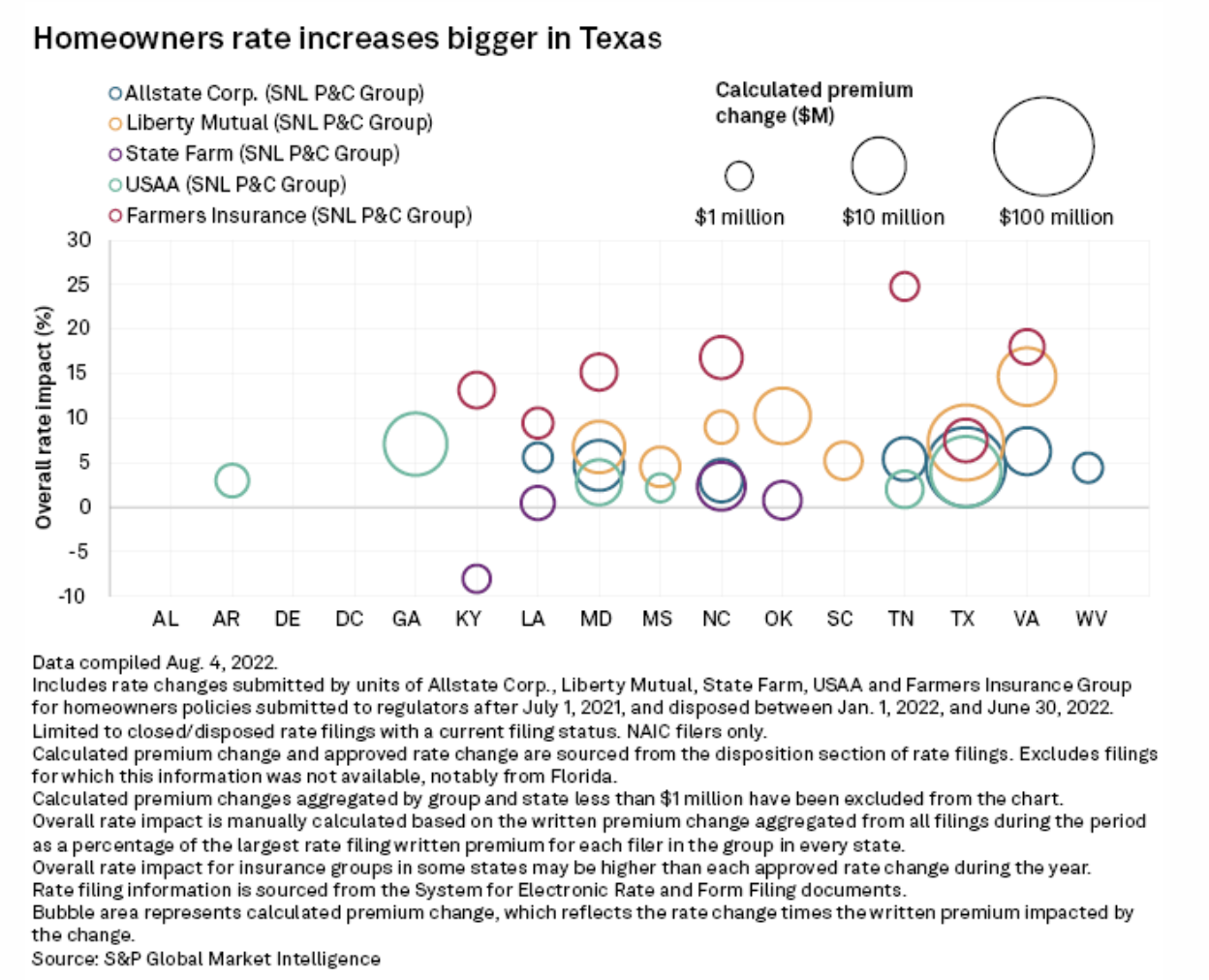 Liberty Mutual Holding Co. Inc., Farmers Insurance Group of Cos., and The Allstate Corp. received the highest number of approvals for homeowners insurance rate increases during the first half of 2022. The three carriers had a combined 382 rate increases approved by state regulators in the period. Liberty Mutual led the field with 154, while Farmers Insurance received 127, and Allstate was approved for 101 increases.
—Read the article from S&P Global Market Intelligence
Access more insights on capital markets >
Global Trade
---
Listen: Gasoline Shipments On Colonial Pipeline Are In High Demand As Imports Decline
Even after U.S. gasoline prices reached historic highs during the coronavirus pandemic, they somehow found more room to rise in 2022 after Russia invaded Ukraine. Strong demand and a lack of imports into the U.S. Atlantic Coast resulted in unprecedented interest to ship barrels on Colonial Pipeline. The only problem? It wasn't enough. Light ends manager Andrea Salazar and U.S. gasoline reporters Anna Trier and Jordan Daniel discuss how gasoline prices have fared in this tight market and whether prices are seeing any relief.
—Listen and subscribe to Oil Markets, a podcast from S&P Global Commodity Insights
Access more insights on global trade >
ESG
---
Virginia Says No To Anti-Gas Ban Bill, Still Aims To Protect Gas Users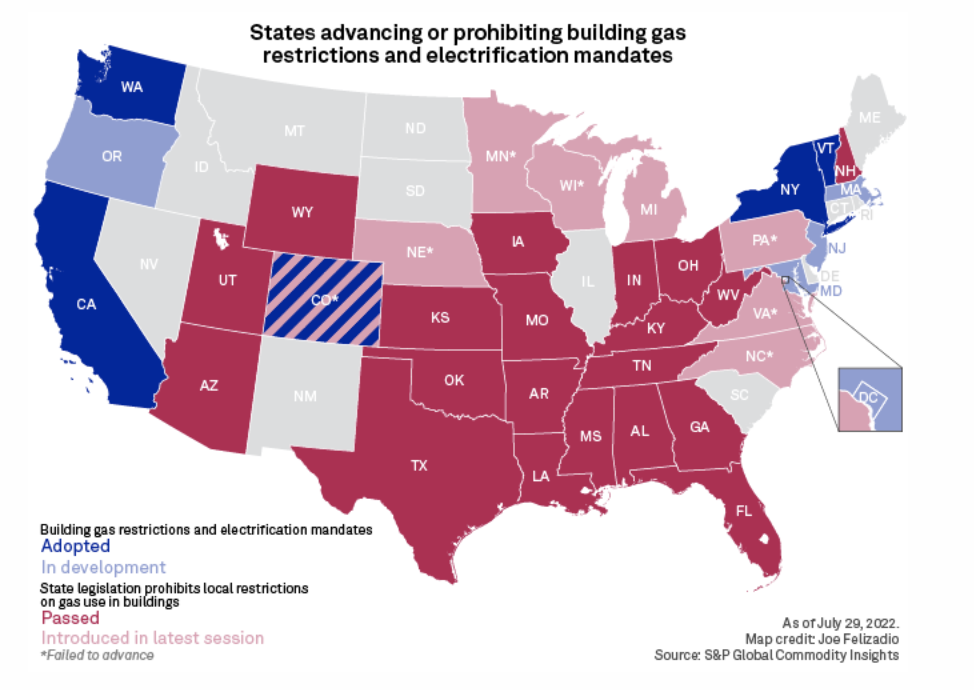 The Virginia General Assembly took steps to prevent a sudden shutdown of municipal natural gas utility service in cities combating climate change, but lawmakers opted against joining at least 20 other states that have prohibited local governments from restricting gas use in buildings. The passage of Virginia House Bill 1257 was the latest sign that the push to adopt gas ban preemption bills, known as fuel choice laws among supporters, may have plateaued. While these bills have attracted some bipartisan support, Republican proponents have suffered a series of defeats in politically divided states over the past year.
—Read the article from S&P Global Market Intelligence
Energy & Commodities
---
Sri Lanka Waking Up To Reality Of Food Shortages After Failed Organic Farming Dream
The repercussions of banning chemical fertilizer imports in Sri Lanka with little planning has weighed heavily on the country's farming industry. Sri Lanka now faces an impending food shortage resulting from reduced domestic production, along with the financial inability to import supply.
—Read the article from S&P Global Commodity Insights
Access more insights on energy and commodities >
Technology & Media
---
China 2022 Survey Report: iQiyi, Tencent Video Tops In Online Video
Results from the Kagan 2022 China Consumer Insights survey, completed in June 2022, show that 92% of internet adults watch paid or free online video. Over two-thirds (68%) of internet adults said they use iQiyi, owned by online search engine giant Baidu, followed closely by 66% using Tencent Video. Douyin, the Chinese version of TikTok, is also extremely popular with six out of 10 (61%) internet adults using the service. Bilibili is a video-sharing website, and Youku is an online video service owned by e-commerce giant Alibaba. Mango TV is an online video service operated by the Hunan Broadcasting System.
—Read the article from S&P Global Market Intelligence
Access more insights on technology and media >
---