New climate funds could be announced during key climate finance discussions at the UN Conference of the Parties (COP26) in the week starting Nov. 1, Deputy Director General of International Renewable Energy Agency Gauri Singh said Oct. 27.
Not registered?
Receive daily email alerts, subscriber notes & personalize your experience.
Register Now
A $1 billion philanthropy fund was among the significant funds likely to be announced at COP26, along with some others, Singh said, speaking to journalists on the sidelines of the 7th Asia LNG & Hydrogen Gas Markets Conference.
"The philanthropy capital is very important money because it is patient capital and it is also able to take higher risk," Singh said. "It can attract other sources of funding to come in."
The $100 billion a year climate fund promised by developed nations to help developing countries advance clean energy technologies was likely to be a major topic of discussion at the event next week, as developing countries lie in wait for the funds that were to materialize in 2020, Singh said.
"You can't talk about just transitions and not talk about the development finance that needs to come to countries... there are developing countries that are looking forward to technology transfer, technical assistance and climate finance," she said.
Under the 2015 Paris Agreement on climate change, 197 countries committed to cutting greenhouse gas emissions and restrict global warming to below 2 degrees Celsius, preferably to 1.5 degrees Celsius, compared with pre-industrial levels.
Countries need about $4.4 trillion a year to limit global warming to 1.5 degrees Celsius, but only half of those funds are currently available.
As per new official pledges to the UN, nations will cut only 7.5% off the projected 2030 emissions, the United Nations Environment Programme, or UNEP, concluded in an Oct. 26 report. A 55% cut is required to reach the milestone of limiting global warming to 1.5 degrees Celsius, UNEP said.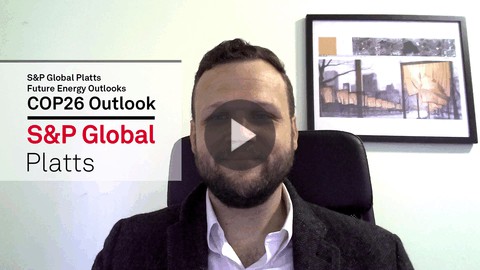 Renewables gain traction
Higher gas prices that have driven up electricity rates and roiled the global energy markets were unlikely to slow investments in the renewables industry because the sector was pretty "resilient", according to Singh. Worldwide renewables capacity growth jumped by 50% year over year in 2020 to hit a record high.
As much as 260 GW of renewable energy was operationalized in 2020, with the ASEAN seeing close to $212 billion in investments in renewables, she said.
The socio-economic benefits of climate action and just transitions were likely to be another major topic of discussions at the COP26, she said.
"The political intent is there in the table" but the "shift in allocation also needs to happen," she said referring to climate investments. Just 15% of total global investments in renewables were channelized into emerging and developing countries, Singh said.