Key Takeaways
COP26 is a crucial deadline for setting emissions targets that will stave off the worst climate change scenario, according to New York Climate Week speakers.

Net zero targets will require trillions of dollars in investment.

Translating the outputs of climate models into specific potential impacts is far from straightforward, more so when considering the financial materiality of climate events.

The green energy transition needs buy-in from developing nations.
COP26 might be the "last best chance" for nations to commit to curbing global emissions enough to meet a 1.5 degrees C trajectory.
That was the main message coming out of New York Climate Week.
The upcoming 26th U.N. Climate Change Conference in Glasgow, known as COP26, will mark five years since much of the world signed the Paris Agreement and set historic carbon reduction targets. But those targets were still too low to put the world on a path to limiting global temperature rise to 1.5 degrees C below preindustrial levels, the target scientists say must be hit to avoid the worst-case climate change scenario. The Paris Agreement signatories agreed to update their targets in five years, making COP26 in November a crucial deadline for more aggressive action.
The U.N.'s IPCC has found that net human-caused carbon dioxide emissions would need to fall by about 45% from 2010 levels by 2030, in order to have any hope of achieving net zero emissions by 2050 — a goal that means reducing emissions as close to zero as possible, then using carbon offsets or sequestration technologies to net out the remainder.
More than 2,000 governments and businesses have taken the net zero pledge. The United Nations Race to Zero Campaign, for example, includes a coalition of about 1,675 businesses, 85 large investors, and more than 470 cities. In June, the G7 group of nations — the U.K., the U.S., Canada, Japan, France, Germany and Italy — committed to reach net zero emissions no later than 2050 and to halve its collective emissions in 2030 compared to 2010. G7 leaders also said they would submit new reduction targets, known as Nationally Determined Contributions, "as soon as possible" ahead of COP26.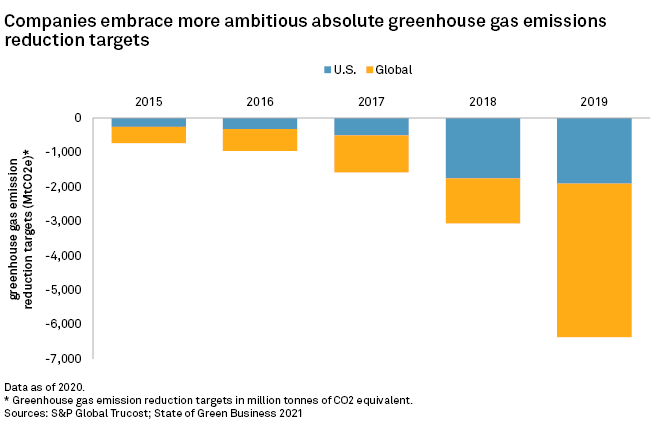 Companies have also been reducing their emissions and setting more ambitious targets. S&P Global Trucost data shows there was nearly an eightfold increase in companies' greenhouse gas reduction targets between 2015 and 2019. But that figure only represents 18% of the total emissions made by the 1,200 largest global companies in 2019, according to the State of Green Business 2021 report. In other words, more ambitious targets are still needed.
At New York Climate Week, there was a call for countries, corporations, and investors to put firm investment commitments on the table at COP26, as evidence of climate change becomes starker. A sobering report published in August from the U.N.'s Intergovernmental Panel on Climate Change found that the world could reach 1.5 degrees in the early 2030s under all emissions scenarios, 10 years sooner than previously projected.
"COP26 has to be the moment where we ensure that we are keeping 1.5 degrees within reach," Alok Sharma, president designate of COP26 and a U.K. member of parliament, said during a session on Sept. 21. The conference will be "the last best chance of getting it right," Sharma said.
Investment needed
Turning targets into reality will take a combination of policy measures and billions of dollars in spending, which could create opportunities for investors and companies.
Some 80% of investments required by the green energy transition will need to come from the private sector, Feike Sijbesma, chairman of Dutch electronics giant Philips, told the World Economic Forum's Sustainable Development Impact Summit on Sept. 21.
Global emissions declined by 6.5% in 2020 because of the coronavirus pandemic, and the world needs to reduce emissions annually by 7% until 2050, Christopher Weber, global head of climate and sustainability research at BlackRock, told a New York Climate Week session on net zero and financial services on Sept. 24. Energy, food, transportation and industrial systems would need to be overhauled simultaneously by 2050.
"The transformation is going to create a huge historic investment opportunity. This is going to take a lot of capital investment to make all these changes happen," Weber said.
Limiting warming to 2°C by 2050 will require $3 trillion annually in investment, according to a 2018 estimate by the IPCC. That means annual investment in low-carbon energy technologies and energy efficiency needs to be increased by roughly 5x compared to 2015 levels by 2050. Financing for climate-related projects is growing rapidly. Global issuance of green bonds — debt that funds projects like solar power or wind farms — surged in the first half of 2021 to $202.09 billion, making up more than 60% of the $313.42 billion of green bonds sold in all of 2020.
S&P Global Ratings, the ratings arm of S&P Global, in August said that sustainable bond issuance — including green, social, sustainability, and sustainability-linked bonds — could collectively exceed $1 trillion in 2021.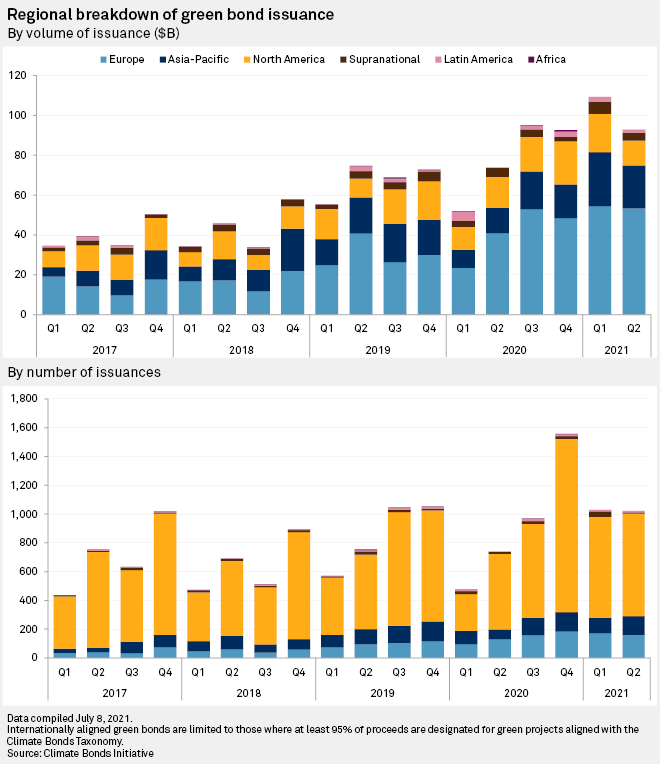 According to an International Energy Agency report published in May, based on a joint analysis with the International Monetary Fund, a net zero trajectory would boost total annual energy investment to $5 trillion by 2030, adding an extra 0.4 percentage points a year to global gross domestic product growth.
"The jump in private and government spending creates millions of jobs in clean energy, including energy efficiency, as well as in the engineering, manufacturing, and construction industries. All of this puts global GDP 4% higher in 2030 than it would reach based on current trends," the IEA said.
A just transition
The theme of a just and equitable transition also ran through New York Climate Week, with some participants underlining the fact that Western nations need to exit fossil fuels if they want developing nations to do so. Emerging nations can't be expected to stick to tough net zero targets at COP26 if the developed world is still using oil, gas, and coal to meet their energy needs, some said.
At a New York Climate Week session called "Building the Green Consensus" on Sept. 20, Kenneth Rogoff, professor of public policy and economics at Harvard University, explained the need for a fair transition that high-growth, developing economies will support.
The creation of a world carbon bank run like the World Bank or the International Monetary Fund could address those concerns, he said. The bank would disburse $100 billion to $200 billion annually to help developing countries phase out fossil fuels, particularly coal plants, he said.
"If you don't stop the greater pollution coming from the developing world, particularly Asia, nothing is going to help," he said. "So there really needs to be a rethink more broadly of the economic contract, not just the environment."
This piece was published by S&P Global Sustainable1 and not by S&P Global Ratings, which is a separately managed division of S&P Global.