Apr. 24 2019 — Following the unexpected nosedive in fourth-quarter 2018, the U.S. leveraged loan market--along with the equity and high-yield segments--reinvigorated early in 2019, led by a pricing rebound in the secondary market. However, for the primary market, the story is far from a full comeback. While total issuance (including both pro rata and institutional) was up slightly in January from the same time last year, the cumulative first-quarter total was down close to 25% from the same quarter last year and a more substantial 38% from the record-breaking first-quarter 2017 total, according to S&P Global's Leveraged Commentary & Data (LCD). The volatility in the last few months underscores just how exposed the current state of the leveraged loan market is to investor sentiment, even when economic conditions are stable.
From a recovery rating prospective, the sharp tightening in issuance at the tail end of 2018 did not appear to leave a lasting mark. After a short-lived reversal, the average recovery estimates deteriorated again (though marginally) in the first quarter of 2019, retreating to the mid-60% range. Lenders cautiously resumed their typical risk appetite in the marketplace--but this time with a renewed emphasis on borrowers' stability and resilience.
Lower-Rated Issuers
The downward recovery ratings migration we've discussed in previous quarterly updates has come alongside the dominance of riskier, smaller, and (in many cases) sponsor-owned corporate issuers in the U.S. and Canada. As of the beginning of March, about half of the outstanding, non-financial corporate issuers were rated in the 'B' category (with 'B+' accounting for 9%, 'B' 24%, and 'B-' 15%, see chart 1). Many of the recent 'B-' issuers have borrowed in the past under extremely favorable terms. They are susceptible to an economic slowdown, as their debt-servicing capacity could drop when the cycle turns and the pricing environment gets tough.
Issuers rated in the 'CCC' category or lower are the most sensitive to interest rate movements and prone to defaults. For this reason, we examine this group to identify any industry concentrations, shared characteristics, and implications for first-lien recoveries. By definition, these issuers are dependent upon favorable business and economic conditions to meet their financial commitment. They account for 6% of the outstanding issuers.
The sectors with the highest numbers of 'CCC' and lower ratings are not surprising: oil and gas and restaurants/retailing (see Chart 2). Whereas the concentration of 'CCC' category or lower ratings averages 7% of speculative-grade entities across all sectors, oil and gas and restaurants/retailing have significantly higher shares at about 15% each. Together, these two sectors make up approximately one-third of issuers rated 'CCC' or lower.
Naturally, oil and gas obligors' valuation is closely tied to fluctuations in hydrocarbon prices, which in many cases indirectly determine their borrowing capacity. Smaller oil and gas producers tend to be highly leveraged, using reserve-based facilities for working capital and expansion purposes and having issued secured or unsecured notes to pay for the assets acquired. These issuers' underlying assumption appears to be that rising commodity prices will continue to afford access to working capital and to provide a more favorable environment for new financing and refinancing existing debt. From a business perspective, continued fluctuations in oil and gas prices could suppress such valuations, leaving many of these companies highly leveraged and--in a worst-case scenario--facing disruptions to their working capital. From a recovery perspective, reserve-based lending facilities are typically paid out before regular first-lien debt claims in the waterfall and thus have a significant effect on first-lien recovery. Consumer products, telecommunications, and the cyclical chemical sector make up the Tier Two group with 10%-11% of ratings in the 'CCC' category or lower, which is significantly above the industry average.
On the other hand, real estate companies--including real estate investment trusts (REITs) and real estate operating companies--are a sector that has traditionally been stable. There have been very few defaults, and only about 3% of speculative-grade ratings in the sector are in the 'CCC' category or lower. Furthermore, the existence of strong credit protections in the real estate sector--primarily covenants that restrict leverage and secured debt levels--are also a favorable factor in our recovery analysis. That said, REITs that are heavily exposed to retail properties have been under pressure in the last few years. For instance, in February we downgraded Washington Prime Group Inc. to 'BB' from 'BBB-' and CBL & Associates Properties Inc. to 'BB-' from 'BB' due to headwinds related to these mall operators' ongoing tenant bankruptcies, store closures, and rent concessions.
Recovery prospects are highly relevant for low-rated issuers, as per our criteria we generally expect these obligors to default within a shorter timeframe than those with higher credit ratings. A look at these issuers' recovery prospects provides little comfort to lenders. Here, we focus exclusively on first-lien issues (see Chart 3). Issuers rated 'CCC' and lower tend to have lower recovery ratings than all speculative-grade issuers. On average, only about 6% of first-lien senior secured debt is expected to recover less than 50%, but for issuers rated 'CCC' or lower, this share is more than triple at 21%. This is in part attributable to the highest concentrations of 'CCC' category credits being in sectors where we have lower recovery expectations, including retail and oil and gas.
The table below touches on 'CCC' and lower obligors' private equity ownership, debt structure, and liquidity profile. The average cushion is higher than it normally would be because of the over-representation of oil and gas credits, which traditionally have higher-than-average subordination. However, despite the larger cushion, their first-lien recoveries are often depressed due to high reserve-based borrowing.
Characteristics Of Issuers Rated 'CCC' Or Lower
Characteristic
% of 'CCC' and lower issuers with this characteristic
Private equity sponsor
63
No cushion
11
Adequate liquidity
31
Less than adequate liquidity
49
Weak liquidity
20
To assess the recovery implications, in 80% of the cases we used an EBITDA multiple valuation approach, as we expect most of these companies to restructure and emerge following a hypothetical default. We applied a discrete asset valuation (DAV) approach when we expect liquidation or if the company is asset-intensive and we believe a DAV approach provides a better estimate of its realizable value. The sector-specific valuation (see Chart 4) mostly applies to real estate companies (an income capitalization approach) and oil and gas exploration and production companies (PV10).
Our approach has evolved with our updated view of an obligor's most likely hypothetical default scenario. Recently, bankrupt retailers have been more likely to end in liquidation. Payless ShoeSource, for example, wound-down its stores and e-commerce operations in North America after struggling to find a buyer for its U.S. business. And last month, Specialty Retail Shops Holding Corp. (Shopko) announced that it's contemplating an orderly liquidation under an asset-sale restructuring. Against this backdrop, for retailers currently in distress, we are increasingly switching our approach from EBITDA multiple to DAV when we believe there is a material risk of liquidation.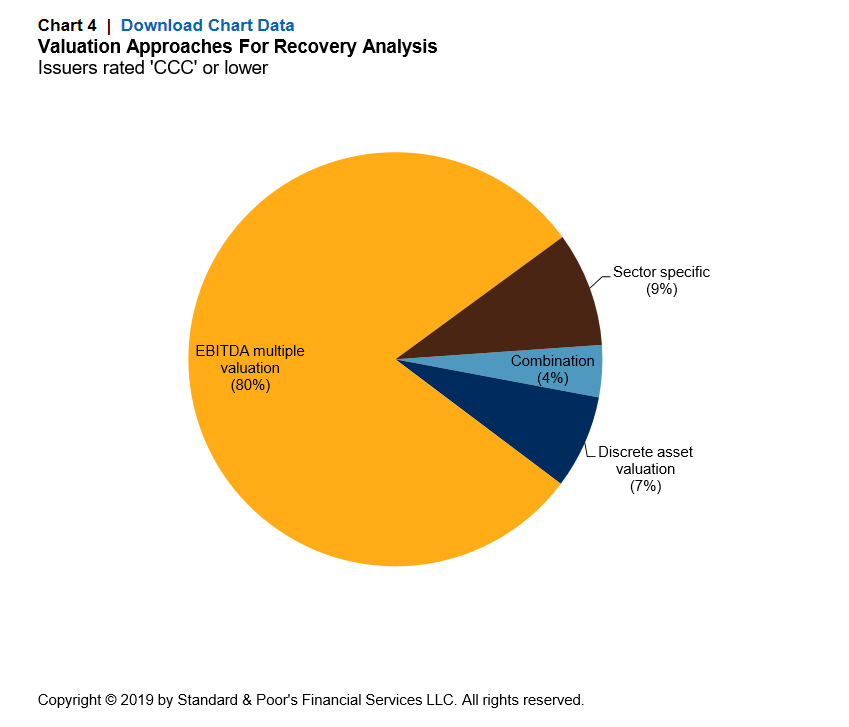 Leveraged Loan Volumes and Trends
Despite issuance volume being down from the same time last year, M&A and LBO activities continue to draw issuers (and lenders) to the marketplace. Combined, 67% of new institutional issuance in the first quarter related to M&A and LBO transactions (based on LCD data). One borrower that particularly stood out by size is automotive battery company Power Solutions, which financed the carve-out of the business from Johnson Controls through a dual-currency, multi-tranche mega offering. M&A has been flourishing on the back of the stable growth of loan issuers. According to LCD, EBITDA growth across public filers in the S&P/LSTA Leveraged Loan Index was 10% in fourth-quarter 2018, down only slightly from the seven-year high of 13% in the third quarter.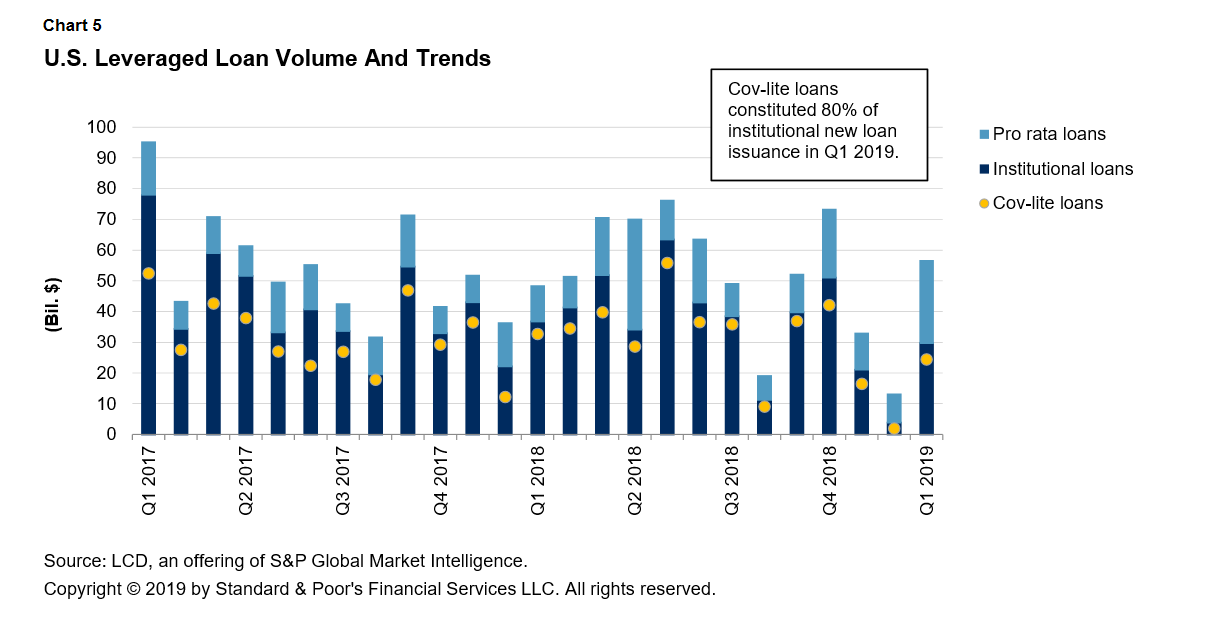 Recovery Trends
Recovery trends for the first-lien secured debt inched up in the last three weeks of 2018, but such improvement quickly came to a halt as investors regained some confidence in the leveraged loan market. In the first quarter of 2019, the issue-weighted recovery estimates deteriorated marginally, retreating to the mid-60% range. Overall, the recovery outlook has deteriorated meaningfully over the past two years on a quarter-to-quarter basis. On a full-year basis, recovery estimates averaged about 65% in 2018 compared with 68% in 2017. Though less noticeable, about 11% (by tranche count) of this first-lien new issuance total are senior secured notes. Secured notes now nearly triple the role they played in the last three months of 2018 (4%), a trend that looks to persist as investors start to favor fixed-rate debt amid the growing consensus that rate hikes will pause.
Resoundingly, a cross-time comparison with earlier default metrics would put recent estimates below historical norms. The actual recovery rates for first-lien debt averaged 80% for rated companies that filed and emerged from bankruptcy between 2008 and 2017. Of the more recent five-year cohort (2013-2017), the average stayed roughly unchanged at 82% based on an aggregate $66 billion of defaulted first-lien debt (from 155 rated debt classes), which accounts for 43% of total defaulted debt.
Perhaps more telling is the recovery rating distribution. A '3' recovery rating--indicating meaningful (50%-70%) recovery in the event of a payment default--remains the most common for first-lien new issuance at 64%, the highest level in two years. It came at the expense of higher categories; the share of first-lien debt with a recovery rating of '2' (substantial recovery; 70%-90%) or '1' (very high recovery; 90%-100%) decreased to 34% from 37% in the previous quarter. This is attributable to the continued trend of a shrinking junior debt cushion, with first-lien debt representing a greater proportion of overall debt capitalization.