Looking Ahead
Supply Chain Strains and Rising Costs Will Pressure Profitability in 2022
Global nonfinancial corporates appear to be taking supply chain disruptions and soaring cost inflation in their stride. S&P Global Ratings' analysis suggests that in 54 out of 78 global sectors, most companies are finding it very easy or somewhat easy to pass on costs. Based on the last 12 months' results, EBITDA margins look set to hit a new high in 2021.

Cost increases have been absorbed or negated in a variety of ways – demand offsets, demand shifts, product mix adjustments, hedging, indexation, positive operational gearing, cost pass-throughs, and keeping pay growth low. In S&P Global Ratings' view, profit margin pressure will start to ratchet up in 2022. S&P Global Ratings' analysts expect supply disruption will persist until the end of 2022 for more than half of all sectors.

Pay barely above 2019 levels is unlikely to be sustainable amid strong growth and rising costs, and signs of upward pay pressure are particularly apparent in North America.

While the global hard-stop triggered by COVID-19 and its associated restrictions proved a difficult operating environment for the corporate sector, the global restart has not been without its challenges. Clearly the direction of travel has been positive, with vaccines easing health risks and a barrage of fiscal and monetary policy helping companies avoid drastic labor cuts, providing supportive financing conditions and boosting revenues.

Nonetheless, the sheer scale of pandemic-related disruption and altered consumption patterns, along with existing political pressures on supply chains, have created considerable difficulties. Input and freight costs have risen dramatically, shipping volumes have surged and created bottlenecks, and lead times for manufactured goods have worsened.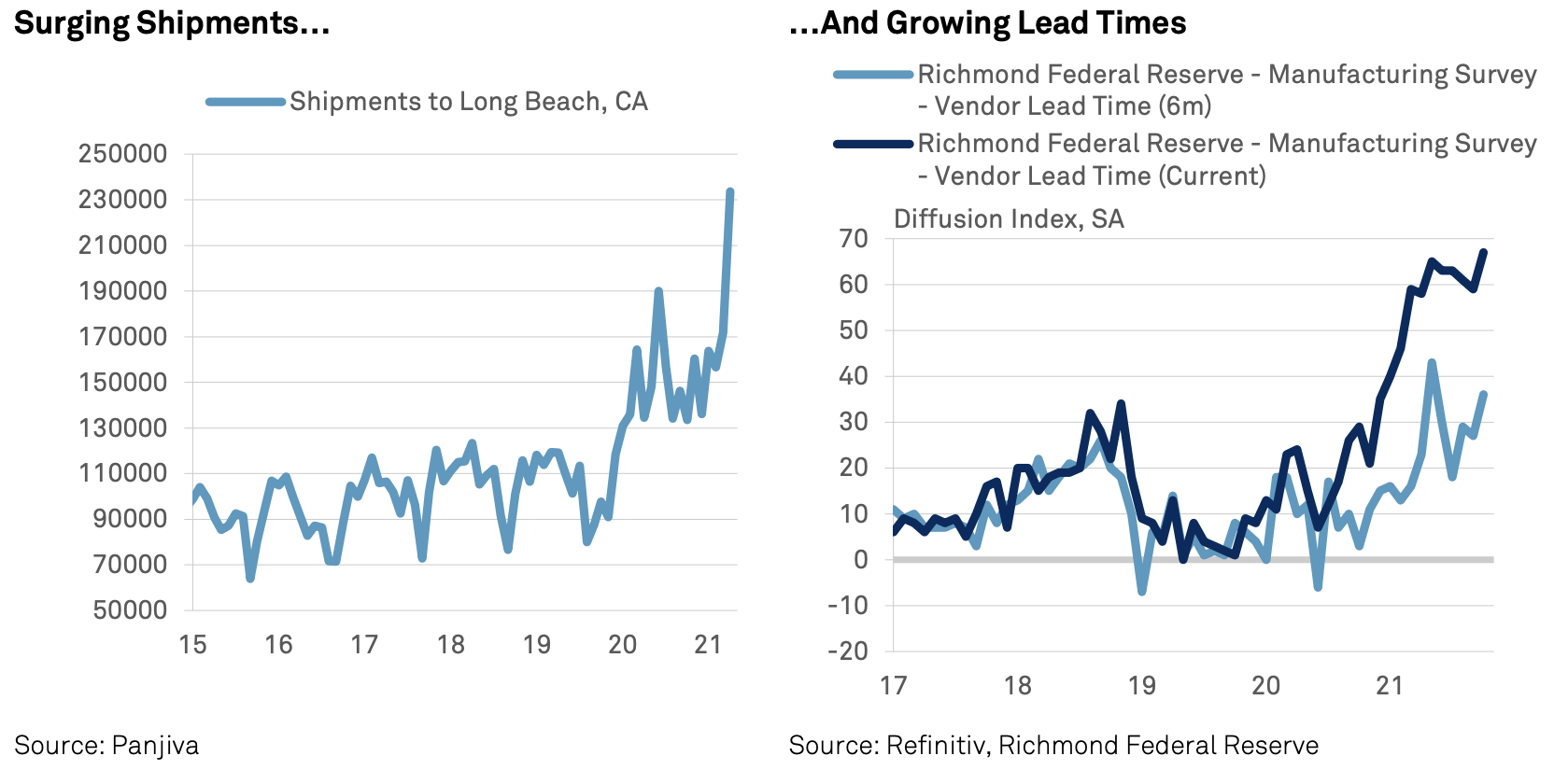 Input Costs Have Soared Above Pre-Pandemic Levels

The magnitude of input cost inflation in the past couple of years is extraordinary and has taken the prices of a swathe of key production inputs far beyond their pre-pandemic levels.

S&P Global Ratings research shows the percentage changes in prices for a global basket of input costs, encompassing agricultural goods, energy, forest products, metals and precious metals, and key technology items. Of the 52 items shown, prices for only two fell (wool and cocoa), and for another two (palladium – used in catalytic converters – and coffee) rose less than 10%. The average increase versus pre-pandemic levels has been 95% and the median 52%. Even if rates of increase slow, these are substantial level changes in input costs.

Equally large rises in the freight costs of moving these items also add to the greater input-cost burden.
Early Signs Indicate Supply-Side Pressures Are Easing
The recent surge in the growth rate of consumer prices to a 30-year high sparked calls from the market for the Federal Reserve to move much faster on raising rates, with markets pricing in the first rate hike at its June 2022 meeting, with more priced in later in the year.
READ THE FULL REPORT
Amazon, Large Retailers Well-Positioned to Weather Holiday Supply Chain Pain
Persistent supply chain constraints are expected to have an uneven impact on e-commerce this holiday season, with Amazon.com Inc. and other large retailers better positioned to meet demand than smaller merchants, retail experts say.
READ THE FULL ARTICLE
'Exceptional Market' Conditions in Shipping to Persist Until Q1 2022, Says Maersk
A.P. Moller-Maersk – the largest shipping company in the world -- expects the ongoing exceptional market situation caused by the global supply chain disruptions to continue until the first quarter of next year, it said Nov. 2.
READ THE FULL ARTICLE
Labor and Supply Chain Woes Chill Retail Spirits for Holidays and Beyond
An ongoing merchandise supply-and-demand imbalance and labor shortages will pressure retailers' performance and profitability well into 2022.
READ THE FULL REPORT
Retail Market: Supply Issues May Haunt Holidays After Sales Rise in September
Ongoing supply chain issues may hamper consumers' ability to spend during the upcoming holiday shopping season after better-than-expected retail sales in September, economists said.
READ THE FULL ARTICLE
Semiconductor Shortage
Global Auto Sales Forecasts: Supply Disruption Slows Recovery
S&P Global Ratings is revising downward their expectations for global light vehicles sales in 2021 and 2022 in light of the intensifying shortage of semiconductors, which resulted in material unit losses during the third quarter. Visibility remains low because the supply-demand imbalance of chips continues to be amplified by some further negative events, such as the production shutdowns and resurgence of COVID-19 in Malaysia. Because the chip shortage has spread to consumer electronics, S&P Global Ratings assumes that auto production will continue to be constrained into 2022 before gradually returning to normal in the second half of next year.

In S&P Global Ratings' revised scenario they now expect light vehicles sales will increase moderately by about 2%-4% this year (versus our previous projections of 8% to 10%). This translates to sales just below 80 million units in 2021 compared to 83-85 million units in our previous projection in May this year. Based on the limited visibility on semiconductor supply since the crisis first emerged, S&P Global Ratings expects the shortage will extend into 2022. This has led S&P Global Ratings also to revise downward their projection of light vehicle sales for 2022 to 84 million units (from 87 million in our projection earlier this year). S&P Global Ratings nevertheless assumes supply constraints will ease gradually, leading to a recovery of light vehicle sales to 90 million by the end of 2023. This is because macroeconomic conditions remain fairly supportive globally, notwithstanding a flatter-than-expected recovery from the COVID-19 shock.

S&P Global Ratings doesn't believe the supply-chain crisis on its own will affect auto manufacturer ratings. Despite the persisting lack of visibility combined with the sizable unit losses to production year-to-date, S&P Global Ratings still considers the semiconductor crisis as a temporary supply shock at this stage, exacerbated by other negative events this year that have also led to unexpected production downtime. However, a more prolonged crisis, with major production shortfalls exceeding S&P Global Ratings' 2022 horizon, could lead to more profound revisions to our forecasts of issuers' earnings and cash flows, which could increasingly affect ratings. In S&P Global Ratings' view, the crisis highlights the critical importance of supply-chain management for original equipment manufacturers (OEMs) and has exposed areas of vulnerability. Microchip bottlenecks are all the more acute because of the increasing tech content of more digitized and connected vehicles coming onto the market. This is leading to an increasing number of partnerships in this area (such as VW-Infineon, Hyundai-Magnachip, GM/Qualcomm, Renault-Qualcomm, Mercedes-Nvidia, Toyota-Panasonic, and Stellantis-Foxconn) not just to secure future supply, but increasingly also to gain greater control over the design and development of semiconductors. S&P Global Ratings doesn't, however, expect OEMs to produce in-house.


U.S. Automakers Provide Varied Production Outlooks Amid Chip Crunch
U.S. automakers expressed varied opinions during third-quarter earnings calls regarding the timeline of their respective inventory recoveries after months of production outages in 2021 caused by the global semiconductor shortage.
READ THE FULL ARTICLE
Around the Tracks: Vehicle Makers Lower Annual Forecasts Amid Parts Shortage
A global semiconductor shortage affected vehicle makers over Q3 as they struggled to maintain production to meet firm demand.
READ THE FULL ARTICLE
Apple Set to Power Through Chip Shortages with Steady Growth
The global chip shortage is plaguing companies around the globe, and Apple Inc. is no exception. But several industry analysts who follow the company think it will fare better than its competitors due to the combined strength of its market power and burgeoning services business.
READ THE FULL ARTICLE
U.S. New Vehicle Prices Surge Amid Global Chip Shortage with No End in Sight
On Sept. 14, the U.S. Labor Department reported that new vehicle prices in August climbed 7.6% from 12 months earlier, the largest annual percentage increase in more than 40 years. New vehicle prices have climbed an average of 3.4% each month from December 2020 through August 2021 and have not declined on a year-on-year basis since June 2020, the data shows.
READ THE FULL ARTICLE
Chip Shortages Stick Around While the World Waits for More Capacity
The pandemic-fueled global semiconductor shortage has broadly affected the consumer electronics, computing and telecommunications equipment segments, and a quick resolution is complicated by infrastructural challenges endemic to a sector long accustomed to boom-bust cycles.
READ THE FULL ARTICLE
---
---
Battery Supply Chain
China's Energy Shortage Fuels Inflationary Pressure on Battery Supply Chain
China's energy shortage is curbing lithium and battery production, adding to inflationary pressures and supply tightness throughout the supply chain.

China sits at the center of the battery supply chain, refining the majority of the world's lithium, cobalt and rare earth elements, while also producing the bulk of the battery anodes, cathodes and electrolytes needed for electric vehicles. However, in a rush to preserve dwindling coal supplies and to ease heightened pollution levels, China has asked several industries to hit the brakes and lower their electricity use. The disruption is hitting battery suppliers and lithium suppliers, and it could drive up prices amid already tight supply conditions.

"We are rapidly seeing material price increases percolating down the value chain with some Chinese [battery] cell suppliers," Alla Kolesnikova, head of data and analytics at Adamas Intelligence, told S&P Global Market Intelligence. Raw materials represent the bulk of the total cost of a battery. The cost of certain lithium-ion batteries declined by nearly two-thirds between 2014 and 2020, from $290/kWh to $110/kWh, according to Benchmark Mineral Intelligence data. But that trend could reverse in the coming months, as prices for lithium and other battery materials have surged recently.

The Chinese battery-grade lithium carbonate price shot up 113.5% between Aug. 1 and Oct. 22, largely due to supply tightness, according to Market Intelligence research. In addition, Benchmark Mineral Intelligence's battery cathode price index, which tracks the prices of materials used in cathodes, has increased 62.4% in 2021, as of Oct. 27.


Regionalization of Battery Supply Chains Advances, but Challenges Persist
Increasing investment in so-called battery gigafactories in the West is a natural step towards regionalizing supply-chains, but it will take more than just funds to topple China's dominance in the battery industry.
READ THE FULL ARTICLE
EV Impact: Battery Disruptors are Jolting Metal Supply Chains
As electric vehicle sales ramp up around the globe, key battery metals such as lithium, cobalt and nickel are already facing supply chain constraints.
READ THE FULL ARTICLE
U.S. Needs its Own Supply Chain of Key Minerals – Perpetua Resources CEO
Perpetua Resources Corp. aims to satisfy about 35% of U.S. demand for the critical mineral antimony, a key ingredient in batteries, solar panels and wind turbines, in the first six years of production at its Stibnite operation at a former mine site in Idaho.
READ THE FULL INTERVIEW
China Mining, Battery Companies Sweep Up Lithium Supplies in Acquisition Blitz
Chinese companies are snatching up lithium projects worldwide, ensuring access to supplies of the metal amid worsening global shortages and surging prices.
READ THE FULL ARTICLE
Carmakers Try to Head Off Supply Crunch with Battery Recycler Investments
Investors are pouring hundreds of millions of dollars into recyclers of battery materials, hoping to ease metal shortages, localize supply and make the electric vehicle industry more sustainable.
READ THE FULL ARTICLE
Shipping Delays
Los Angeles, Long Beach Ports Delay Congestion Fee on Sliding Dwell Times
The ports of Los Angeles and Long Beach have again delayed their implementation of fines against shipping lines for containers that have remained too long at the terminals, now until Nov. 29, the ports said Nov. 22.

The fines was set to take effect Nov. 15, and were initially delayed until Nov. 22, for unloaded containers slated to leave by the ports truck and remaining for nine or more days and to leave by rail and remaining for six or more days.

"In recent weeks, clearing our docks of imports and empties has been a top priority," Port of Los Angeles Executive Director Gene Seroka said in a statement. "As a result, we've seen a marked improvement of fluidity on our marine terminals, which allows more vessels to be processed."

Neighboring Los Angeles and Long Beach are the U.S.' two largest container ports. Since Oct. 25, the ports have seen a decline of 33% in cargo still at the terminals.

"Before the pandemic-induced import surge began in mid-2020, on average, containers for local delivery remained on container terminals under four days, while containers destined for trains dwelled less than two days," the Port of Long Beach said in the statement.

Major ocean carriers servicing the port complex have already stated than any excess fees would be passed on to shippers.

"It's more carrot than stick, but there was way too much haste in the implementation," a U.S.-based freight forwarder said. "The issues are not at the port, but with the infrastructure."
Los Angeles/Long Beach Ports Delay Dwelling Fees Despite Record-High Container Ship Queue
The Ports of Los Angeles and Long Beach in Southern California delayed imposing escalating new fees for containerized cargoes that dwell too long in terminals to Nov. 22 from Nov. 15 despite a queue that has grown to a record of 87 ships waiting to berth at the dual ports.
Read the Full Article
Indonesia's Tangguh, Bontang Warn LNG Buyers of Delays, Cancellations
Indonesia's LNG producers from its two main terminals—Tangguh and Bontang LNG—have warned customers in recent weeks of potential cargo deferrals, or cancellations, for deliveries scheduled from late 2021 through to early 2022, according to multiple trade sources and affected utilities.
READ THE FULL ARTICLE
Evolving Freight Situation Continues to Disrupt Asia-to-West Africa Rice Trade
Rising freight rates and the shift away from container shipments have continued to make waves in the Asia-to-West Africa rice trade in recent weeks.
ACCESS THE TOPIC PAGE
---
The global economy has never been so connected nor so prone to disruption. Geopolitics, international events, extreme weather, and supply chain pressures can cause ripple effects across countries and industries.
ACCESS THE TOPIC PAGE
---
Implications for Commodities
European Mobility Hit by Latest COVID Surge as Supply Disruptions Drag
Oil demand markers in most major European economies continued to fall in the week to Nov. 15, as governments react to rising COVID-19 cases in most countries while supply chain disruptions continue to drag on activity.

Mobility in Europe's top five economies in the week to Nov. 15 averaged 13.7% below pre-COVID levels, according to the latest Google data, down slightly on the week and well below a high of 7.2% below pre-COVID levels in mid-September.

France saw the biggest fall week on week while the UK was the only country to show an increase, the data shows. UK mobility is hovering around post-pandemic highs of 19% under pre-COVID levels and its road fuel sales remain stable at around 90% of pre-COVID levels, according to the latest official weekly data.

The World Health Organization on Nov. 16 said that coronavirus deaths in Europe rose 5% in the previous week, making it the only region in the world where COVID-19 deaths had increased.

Germany introduced tighter COVID-19 restrictions on unvaccinated citizens from Nov. 18 after new cases hit record highs, and cases have surged in Belgium and the Netherlands. Austria is to impose a general lockdown from Nov 22. and Italy has tightened its green pass mobility rules.

GDP growth forecast in major European economies over the next three quarters has slowed over the last month, sliding to a six-month low in October.

"This reflects the challenges created by higher energy costs and the impact of supply chain disruptions," the International Energy Agency said in its latest monthly oil market report on Nov. 16. "These factors will limit the potential for European demand to approach 2019 levels next year. The threat of renewed restrictions on activity, because of recent rises in COVID-19 cases in several European countries, could put a further drag on growth."




Product cracks fall

With reduced mobility hitting fuel sales in the region, road fuel stocks have risen and fuel product cracks have suffered large falls in recent days.

Gasoline inventories in the Amsterdam-Rotterdam-Antwerp trading hub rose 3% to 869,000 mt in the week to Nov. 18, the first build in three weeks, while naphtha stocks jumped 36.3% to 263,000 mt, according to Insights Global data.

The Eurobob gasoline benchmark saw its crack spread to Dated Brent slump to $7.29/b on Nov. 18 from an average of $12.49/b in October. Ultra-low sulfur diesel's premium to Dated Brent dropped to $10.08/b from $12.21/b in October while the jet crack to Brent in Rotterdam is down to $7.62/b from $11.46/b last month.

Meanwhile, Kpler shipping data shows that gas exports from Northwest Europe to the US Atlantic Coast are also set to fall to a 15-month weekly low in the week started Nov. 15.
Stretched Supply Chains Spur Commodities Prices Higher
The S&P GSCI, the broad commodities benchmark, rallied 5.8% in October. Performance was solid across sectors, with energy-related commodities continuing to outperform and grains and metals regaining some of their recent weakness.
Read the Full Article
When Will Global Polyethylene Markets Return to Normalcy?
Global polyethylene prices and trade flows have been hit by challenge after challenge, from the coronavirus pandemic since early 2020, the deep freeze in the U.S. in February, to the recent container shortage that has driven freight rates to record highs.
LISTEN TO THE PODCAST
Nigeria's Dangote Refinery to be Operational by Early-2022 Despite Shipping Constraints
The 650,000 b/d Dangote refinery in Nigeria— set to be Africa's largest— is on track to be operational from early next year despite some delays caused by shipping constraints, Devakumar V.G. Edwin, an executive director at Dangote Industries, told S&P Global Platts on Nov. 1.
READ THE FULL ARTICLE
EU's Steel Supply Chain to Face Extra Scrutiny Under New U.S. Trade Rules
The U.S.-EU agreement to drop steel and aluminum related tariffs announced Oct. 31 will force manufacturers to scrutinize their supply chains to avoid high-carbon emitting steel and ensure tariff-free products headed to the U.S. are largely made inside the EU.
READ THE FULL ARTICLE
DR Horton Says Supply Chain Problems, Tight Labor Decrease Home Sales
DR Horton's net sales in fiscal fourth-quarter 2021 fell 33% as the largest U.S. homebuilder faced building material shortages and a tight labor market, CFO Bill Wheat said Nov. 9.
READ THE FULL ARTICLE
European Mobility Hit by Latest COVID Surge as Supply Disruptions Drag
Oil demand markers in most major European economies continued to fall in the week to Nov. 15, as governments react to rising COVID-19 cases in most countries while supply chain disruptions continue to drag on activity.
READ THE FULL ARTICLE
Supply Chain Finance
Supply Chain Finance Industry Ramps Up as Greensill Memory Fades
A major failure in supply chain finance has proven to be just a bump in the road for the nascent sector.


A Trade Finance Firm Ups Its Game With Supply Chain Intelligence
Members of the trade finance team had been relying on data available in the public domain, as well as insights provided by suppliers and other business partners, to identify good candidates for loans.

This was very time consuming and lacked the analytical rigor needed to build an attractive pipeline of opportunities, while minimizing risks for the firm.
Read the Full Article
---
---