Executive Summary


Robert Litan - Former Director, Economic Studies, Brookings Institution
Ella Bell Smith - Professor of Business Administration, Tuck School of Business at Dartmouth
Matthew Slaughter - Paul Danos Dean of the Tuck School of Business at Dartmouth
Robert Lawrence - Albert L Williams Professor of International Trade and Investment, Harvard Kennedy School and Non-Resident Senior Fellow, The Peterson Institute for International Economics

The thoughts expressed in this Guest Opinion are those of the writer and do not necessarily reflect the views of S&P Global.
Published: October 21, 2021
As the United States recovers from the worst pandemic since 1918, the nation is confronted with a set of major challenges, some long in the making, but all of which have new urgency: reversing decades-long trends toward greater inequality of income, wealth, and opportunity (by households and by region); addressing climate change; eliminating systemic racism; and reinvigorating our democracy in a highly polarized political environment.
Federal policies can and should help address each of these challenges. But federal policies cannot be expected to do so all alone. By design, our federalist governmental system empowers states both to make policy and to enforce it. Today, state and especially local politics is less polarized and thus more capable of meeting society's needs than the federal government. Businesses and non-profit organizations can also contribute toward meeting social challenges, because of their experience meeting the needs of consumers and different stakeholders.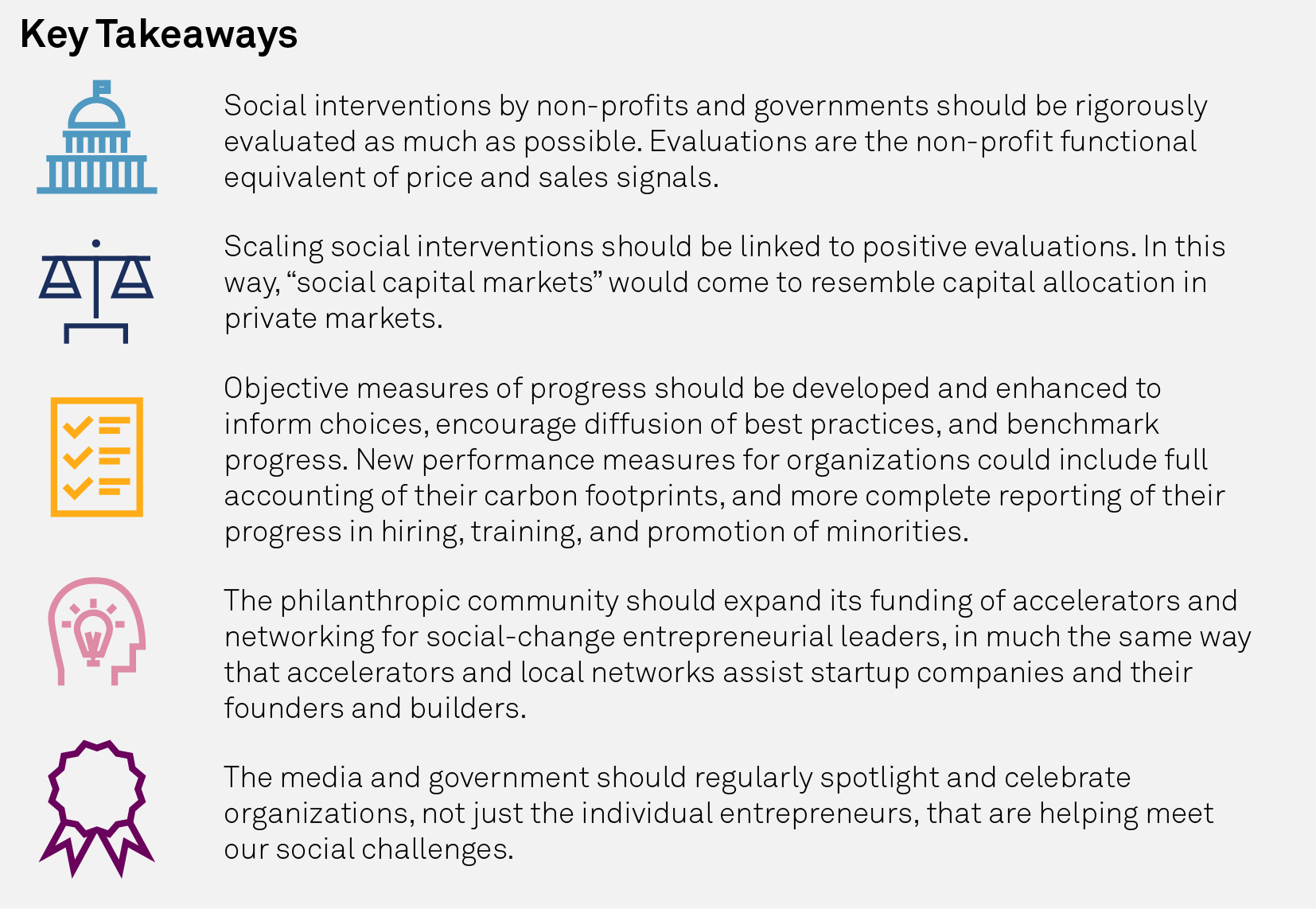 The entrepreneurial leaders in these non-federal spaces should give the nation hope that America can meet the challenges it now faces. One main purpose in this essay is to shine a national spotlight on some of the country's courageous entrepreneurial leaders and their organizations—and to thereby inspire others to prepare for what lies ahead. Separately, in a companion essay, Profiles in Entrepreneurial Leadership, we show how 12 change agents are making a difference. Each of these entrepreneurial leaders and their organizations deserve national attention because of their impact thus far and their aspirations for even greater impact tomorrow.
In addition to spotlighting entrepreneurial leaders, we also highlight ways in which the business community is helping to address America's challenges. In today's society, fraught with interconnected challenges, addressing the needs of a business's multiple stakeholders is not an alternative to maximizing shareholder value but rather is an important means of doing so. Where individuals choose to work, where consumers choose to spend their money, where investors choose to deploy their capital: these decisions are increasingly driven by not just financial considerations but by the challenges of class, climate, race, and concerns about democracy.
A central challenge facing non-federal efforts to meet major social problems is scaling—and often replicating—the successes. Scaling is typically not a problem in the for-profit business sector, where profits drive the allocation of people, capital, and other resources. But signals of success are weaker, and funding constraints are stronger, for state and local governments and non-profits. As for corporations and other businesses, because they are profit-making organizations, the balancing of the diverse interests of their multiple stakeholders cannot always be expected to help meet important social goals.
Considering these challenges in the non-profit arena, a second main purpose of this essay is to identify several ways to lower barriers to the scaling of successful non-profit change efforts.
Social interventions by non-profits and governments should be rigorously evaluated as much as possible. Evaluations are the non-profit functional equivalent of price and sales signals.
Scaling social interventions should be linked to positive evaluations. In this way, "social capital markets" would come to resemble capital allocation in private markets.
Objective measures of progress should be developed and enhanced to inform choices, encourage diffusion of best practices, and benchmark progress. New performance measures for organizations could include full accounting of their carbon footprints, and more complete reporting of their progress in hiring, training, and promotion of minorities.
The philanthropic community should expand its funding of accelerators and networking for social-change entrepreneurial leaders, in much the same way that accelerators and local networks assist startup companies and their founders and builders.
The media and government should regularly spotlight and celebrate organizations, not just the individual entrepreneurs, that are helping meet our social challenges.
Other private-sector initiatives would supplement these non-profit efforts to meet our central national challenges. One important initiative will be standardizing information available to investors on the impact companies are making on environmental objectives (specifically, climate change, taking into account greenhouse gas emissions throughout supply chains) and other social objectives (including the announcement of diversity goals and progress toward achieving them) and governance objectives.
In the third and final section of this essay, we discuss how effective change often requires a change in mindset, which can be especially challenging when it comes to matters of race. Social-science research has established that mindsets are more likely to change with extensive interpersonal interactions that expand people's experiences and ideas. We suggest, as one possibility, a new program in which students would perform community service in settings with people from diverse backgrounds. And to help continue long-overdue conversations about bridging racial divides, philanthropies could lead the way to help heal our deep divisions.
America has overcome severe challenges in the past. And positive change can come quickly once its foundations have been laid. We hope this essay demonstrates how much can be accomplished through the courageous entrepreneurial leaders across America who are fulfilling our Constitution's aspiration to create a more perfect union.