Senior Secured Corporate Recoveries Forecast To Average 58% As Of March 2019
May. 02 2019 —
The amount of total outstanding European senior secured rated debt has fluctuated from quarter to quarter, having fallen slightly to €414 billion at the end of Q1 2019 (see chart 1). Through 2018, the average senior secured rated debt recovery percentage was close to 56%, increasing slightly in Q1 2019 to 58%.
Senior secured debt, which makes up the majority of European leveraged finance deals, is at historically high levels, with less of a subordinated debt cushion. In addition, fixed-asset security provision is often limited, thereby constraining expected recoveries over 70%.
The vast majority of defaults are likely to result in restructurings rather than liquidations, and often only a limited number of super-senior obligations rank above the senior debt. This explains why so few expected recovery expectations are below 50%.
Over time, we aim to publish all European first-lien rated debt recovery data, which will include senior unsecured indebtedness where the issuer's debt financing is all unsecured, ranking pari passu with little or no priority ranking debt.
2017 Annual Study Of Corporate Recoveries In Europe: "A Moderation From Postcrisis Highs"
Instrument
Instrument Count
Par value (USD bn equivalent)
Average Recovery (% par)
Standard Deviation (%)
Median Recovery (% par)
First lien
906
152.1
73.4
28.8
80.1
Second lien
97
20.8
36.1
42.5
10
Mezzanine
166
23.7
33.7
43.2
1.5
Senior unsecured
78
28.2
50.7
34.2
53.8
Subordinated
39
6.2
30.4
42.2
0
Total
1,286
231
62.8
37.0
69.9
S&P Global Ratings' Annual Empirical Study shows that average first-lien recovery since 2003 has been around 73.4% (see "Leveraged Finance: 2017 Annual Study Of Corporate Recoveries In Europe: A Moderation From Postcrisis Highs, published May 1, 2018).
This figure includes many companies where ultimate recovery following a default has not yet been established. However, we believe it is still the most reliable benchmark available for evaluating future recoveries.
Comparing this 73.4% historical figure with the 58.3% forecast in chart 1 demonstrates that we are expecting recovery rates in this cycle to be materially lower than we have seen in the recent past.
New Debt Issuance: Issuance Down But Recovery Expectations Up Slightly In Q1 2019
In addition to senior secured debt, first-lien debt includes senior unsecured debt where there is no meaningful priority debt or where all debt is unsecured, ranking pari passu. New issuance includes debt from new issuers, add-ons, and new tranches raised by existing issuers.
The expected recovery percentages for first-lien new issuance since January 2018 differs only marginally for all new European senior secured issuance over the same period (see appendix 1).
In summary, a '3' recovery rating (indicating our expectation of meaningful recovery of 50%-70% in an event of payment default) remains the most common assessment for first-lien new issues in Europe, comprising 74% of all European first-lien issuance since January 2018. This outcome mirrors our findings in the U.S. and Canada (see "Leveraged Finance: U.S. Leveraged Loan Q4 Update" published Jan. 22, 2019) and is in line with S&P Global Ratings' historically rated debt outstanding for the period.
Due to the size of the data set, and the reduced new issuance activity in the market, the composition of the '3' recovery rating bucket by quarter varies significantly. It depends on the type of issuers, size, and nature of the transaction, sector, and leverage. Large, dual currency transactions (11 issuers, 34% of total issuance) with a recovery expectation of 55%-60% dominated the second half of 2018 in terms of '3' recovery rated new issuance.
The ongoing benchmarking exercise has had a more gradual, but nevertheless favorable effect on the average quarterly recovery ratings for stock rated by S&P Global Ratings, which has increased from 52.2% in Q1 last year to 58.3% for the most recent quarter.
Focus On 'Single B' Rated Issuers
Sponsor-led transactions dominated new leverage finance issuance volumes in the last quarter, both in terms of M&A-led activity and refinancing of existing debt. In this drive to reduce cost of capital, new issuance has been dominated by loans (77%) rather than notes. At one end of the spectrum was debt rated at 'BB+' or 'BB', companies issued an equal amount of this in the loan and bond capital markets. Favorable underlying interest rates, European Central Bank monetary policy, and the drive for yield have continued to underline tight spreads and strong demand for European issuers rated in the 'BB' category. On the other side of the rating spectrum, "single Bs" predominantly turned to the loan market for financing, with loans comprising 82% of the financing for 'B/B+' credits, and 70% for 'B-' rated companies. Preference for loans from the single-B rated issuers reflects the narrowing difference in documentary terms and quicker times to market for loans than bonds. It is further supported by strong demand for this paper by collateralized loan obligations, which predominantly invest in floating-rate instruments to more easily balance their portfolio exposure.
Notably, recovery rates for senior secured bonds were 19% lower if a super senior revolving credit facility is present. Albeit based on a very small sample, the estimated recovery rates for senior secured notes of the four issuers (eight tranches, €3 billion issued) was 40.6%, well below the average for their industry, leverage level, or the regional sample size overall.
Appendix 1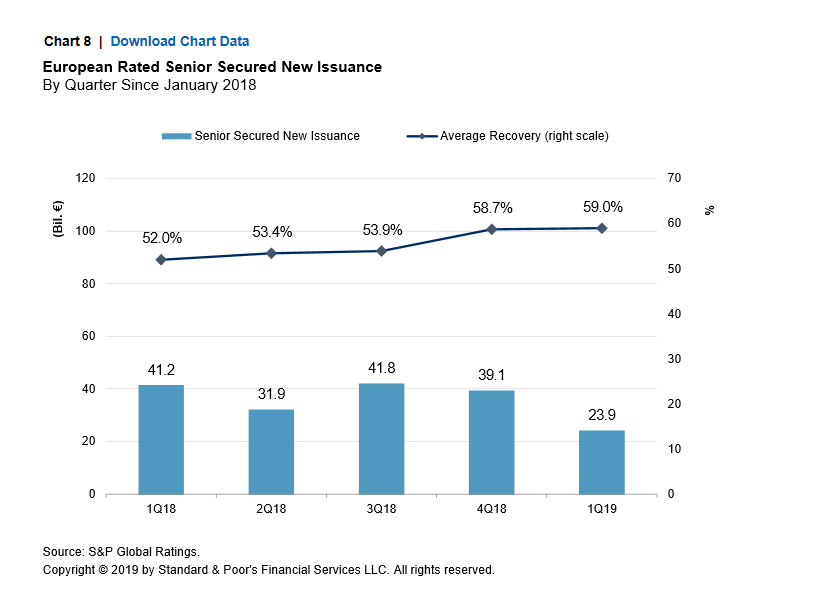 For comparison with the distribution at December 2018 is provided above.