It's well known that investors hate uncertainty, and in the run-up to the U.K.'s June 23 referendum on membership in the EU, the only certainty is uncertainty. According to a survey of infrastructure investors active in the U.K. market carried out by S&P Global Ratings, the lion's share believes that a Brexit, or U.K. exit from the EU, would zap investment for infrastructure--mostly in the two years after the vote (71%), and perhaps longer (47%). In the short term, infrastructure investors are most worried about currency volatility (71%). And about one-half of respondents cite concerns about macroeconomic turbulence and political instability. That is, if Brexit happens at all. Less than half of the respondents believe the U.K. is likely or very likely to leave the EU (44%). The survey collected opinions from 51 investors in the U.K. and abroad, representing mostly infrastructure funds, investment management companies, insurance companies, hedge funds, pension funds, and sovereign wealth funds (for the full results, see the Appendix).
Overview
Our survey of investors active in U.K. infrastructure found that the immediate consequences of a Brexit are likely to be political instability and macroeconomic turbulence that may postpone investment decisions, and currency volatility that could increase revenue volatility and raise costs.
Investors surveyed believe a Brexit would zap investment for infrastructure--mostly in the two years after the vote, and perhaps longer.
While uncertainty around Brexit poses risks for both domestic and foreign investors in the sector, the flip side is opportunities for capturing higher returns, which could ignite some unexpected activity.
From a ratings perspective, at the moment we don't see direct implications for stand-alone credit quality in the infrastructure sector from a potential vote to leave or from any volatility in the aftermath. Most of the infrastructure companies and projects we rate in the U.K. display highly stable operations, and would therefore weather the potential consequences of a Brexit in the short term. In the longer run, the impact of a Brexit on U.K. economic activity--positive or negative--depends on negotiations following the vote with the EU, whose outcome cannot be predicted.
There may be some indirect knock-on credit effects. If risk premiums increase the cost of financing, coverage metrics for some entities we rate could deteriorate, possibly increasing our view of financial risk. We nevertheless don't see that happening for regulated utilities, which are typically protected by regulatory frameworks that shield them from economic volatility and therefore provide resiliency and stability. While their stand-alone credit quality wouldn't suffer, some infrastructure companies whose credit quality is tied to that of the U.K. government could face downgrades after a Brexit vote. That's because we will likely lower the rating on the U.K., as our negative outlook on the sovereign indicates.
Most Investment Comes From Private Sources, In It For The Long Haul
Our survey shows that most infrastructure investors are concerned about the longer-term consequences of a Brexit, and differ about whether an exit from the EU would affect their investment decisions. This reflects the longer-term nature of infrastructure investment and the mixed profile of this investor base.
Infrastructure investment features high upfront investment and a long investing horizon. Furthermore, the U.K. infrastructure sector comprises a mix of private financing and public funding, specifically 64% from purely private sources, 25% from public funds, and 11% from a combination of the two according to 2015 data (source: Infrastructure Policy Briefing Paper, House Of Commons; see chart 1). Based on the U.K.'s National Infrastructure Delivery Plan 2016 to 2012 (published in March 2016), the government has committed to investment of approximately £100 billion by 2020-2021. While that amount is not insignificant, the country's overall funding need through 2021 is much larger, at £425 billion according to the latest National Infrastructure Pipeline report, published in March 2016. Absent greater government funding, it's clear the gap would have to be filled from private investment and alternative funding.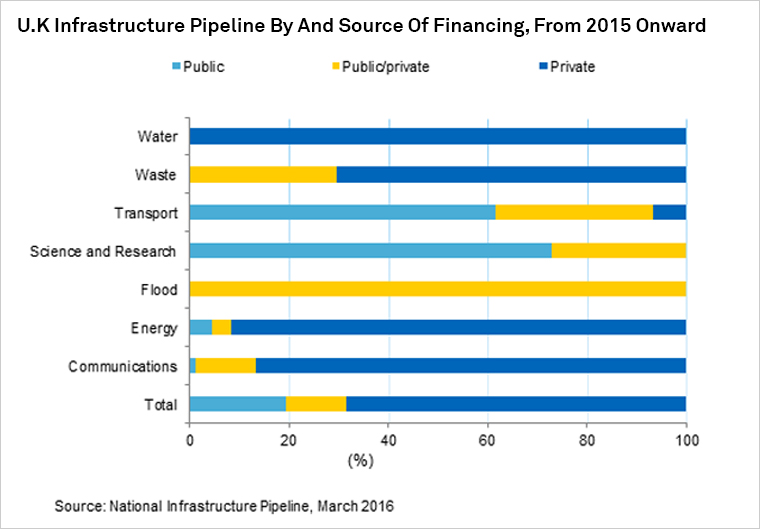 The biggest private investors in the field are currently fund management firms, pension funds (both U.K. and foreign, as well as private and public), sovereign wealth funds, insurance companies, and private equity funds (see charts 2 and 3). Between 2010 and 2016, approximately one-third of the deals involved U.K. investors, where North American investors (U.S. and Canada) accounted for 22%. EU investors represent about 20% of deals executed. What has long attracted international investors to the U.K. infrastructure market has been the long-term stability of its economy and currency. Indeed, up to 40% of U.K. infrastructure assets were under foreign ownership in 2014, which we believe accounts for the split about the impact of a Brexit on investing in the country, with 52% seeing a negative impact and 43% no impact--and 2% seeing a positive impact. A vote to exit the EU would increase currency volatility in the short term and raise questions about the economic consequences. However, if demand from overseas investors declined, domestic investors could stand to benefit from increased returns for their investments.
Typically, debt in the infrastructure sector is linked to cash flow revenue streams rather than asset values, which provide some stability buffer to the sector in comparison to some other asset classes. However, considering the uncertainties surrounding the referendum, it is not entirely surprising that investors in a position to possibly delay investments in order to gain visibility would consider doing so in the short term. According to the Bank of England, some private equity deals have been postponed due to uncertainty. Also, to lock down terms before the lack of certainty surrounding a potential leave vote starts to materialize, investors in a position to push deals forward to be finalized prior to the referendum could try and do so. Market activity seems to have remained relatively unaffected by the surrounding speculation, and these effects are most likely to materialize in the very final weeks prior to the vote. A dampening in general economic activity has already been seen in the past months, although it is hard to assess how much is due to the referendum and how much to global trends.
Funding From The EIB Might Come Into Question
As we've seen, more than one-quarter of U.K. infrastructure investment comes from public sources, and of that the European Investment Bank (EIB) is a major conduit. The bank invested more than €42 billion in the U.K. over the past eight years, of which fairly close to half or €19.1 billion went to infrastructure. Overall, the U.K. alone represented 11.2% of all EIB funding last year, or a record €7.77 billion.
What's more, the U.K. is the fourth-largest shareholder in the EIB, with about one-sixth of its equity. It is not entirely known what would happen to this relationship if the U.K. were to leave the EU. Constitutionally, EIB shareholders need to be EU member states, but funding can be granted to parties outside of the EU. It is not expected that the EIB would withdraw committed funding or call back existing loans. However, considering that EIB funding to the U.K. has been comparatively high in recent years and that future decisions would be in the hands of the remaining members states, future lending to Britain may be called into question or pared down.
It's worth noting that EIB funding to the U.K. has not ceased since the referendum was announced, and plans continue to be announced such as April's £1 billion social housing loan, and with no contingent claims regarding a potential Brexit. This could suggest that funding may not decline immediately but perhaps when existing committed facilities need to be renewed. One project that we're watching closely for movement is the Neart Na Gaoithe offshore windfarm in Scotland, with a price tag of up to £1.6 billion, under appraisal for funding from the EIB. In the utility sector, we estimate that about £9.5 billion of EIB funding has already been awarded to U.K. companies rated by S&P Global Ratings, 45% of which is currently undrawn. For the U.K. utilities we rate, EIB funding represents less than 10% of their aggregate debt, and is well spread among utilities, according to our estimates. As such, in case of a Brexit, a potential change in the EIB's financing policy regarding the U.K. isn't a material risk for U.K. utilities in terms of liquidity sources or rise in cost of debt.
Apart from traditional EIB-originated funding, the U.K. is seeking funds under the so-called Juncker plan, the €315 billion EU-driven scheme to spark investment in strategic but underinvested sectors such as infrastructure. Called the European Fund for Strategic Investments (EFSI), it falls under EIB governance. In 2015, U.K.-based projects received a total of €972 million of EFSI-originated funding, one-third of the facility's total lending during the year. It has yet to be confirmed whether funding under this plan would be withdrawn or reduced in case of a Brexit. An example of a U.K. project currently qualified for funding under both schemes is the €1.378 billion Smart Meters project, with an expected €475 million from the EFSI and €515 million from the EIB.
A Depreciating Pound Would Raise Costs For Overseas Investors
One of the top concerns about a Brexit for our respondents is currency volatility, which would most likely come in the form of a depreciating pound sterling. This could raise the cost of investment for overseas investors in two ways: through lower and more volatile revenues, and increases in funding costs for debt denominated in currencies other than the pound. There could also be higher costs for projects currently at the development phase. That's because many components included in construction come from outside the U.K., such as wind turbines in the renewables sector, which would possibly mean large increases in costs if sterling depreciated against the euro or other currencies. Upfront capital requirements for these assets are typically high, and currency depreciation could drive them higher.
To manage any currency volatility resulting from the referendum, it has been widely anticipated that the Bank of England would adjust its interest rate policy. A cut in interest rates could free up access to funds for investors, and increase long-term returns. About 33% of respondents foresee some interest rate volatility if the U.K. leaves the EU. Plus, there is speculation that the government would not refrain from introducing tax incentives to keep up foreign direct investment, or from modifying its tax regime to promote capital investment--reflected in the 6% of our respondents who see a decrease in tax rates.
The Sector Could See Changes To Policy And Regulation
Other considerations with direct consequences for infrastructure investment include changes in regulation and policy, as the sector is heavily regulated and investment is driven by EU-originated regulatory targets, especially in the energy sector under the plans for decarbonization and replacing aging generators. U.K. regulations are considered to have gone further than EU regulations in these fields, and therefore it is highly unlikely the government would reconsider this policy general objective. The removal of EU state aid legislation could also give the U.K. more flexibility in terms of public subsidies or make it more likely to develop schemes that provide investment incentives.
European directives for water quality are also a major driver for investments in the regulated water sector. It is not certain that the U.K. government would have the capacity on its own to draft these norms. There is a risk that a U.K. regulated company in the future would have to continue respecting European regulatory targets without having been part of the discussion that created them. Other major legal considerations include EU protectionist frameworks, as once removed, the U.K. could open infrastructure bidding and tendering processes to more efficient market competition.
Uncertainty Presents Clear And Present Risks
Finally, political instability and macroeconomic turbulence ranked among the top worries for U.K. infrastructure investors following a Brexit. These factors in and of themselves are unlikely to directly impinge on investment, but rather postpone decisions to make investments, as investors stay on the sidelines until the U.K.-EU relationship is renegotiated or until the economy settles down. Yet, this may be a shorter-term phenomenon, which our survey results also suggest. One explanation could be that investors may postpone investments in the short run, in the expectation that they would re-enter the market once they have more visibility or see increased opportunities for higher yields.
All in all, uncertainty introduces risks for both domestic and foreign investors, and therefore concerns for debt financing and credit quality. But these risks also mean that opportunities for capturing higher returns arise, which could ignite some unexpected activity in the sector. It is said that perception is reality, and based on what investors are telling us, the reality is that a Brexit scenario could put long-term funding for U.K. infrastructure at risk. Given the significant infrastructure investment requirements the country faces, such sentiment is hard to ignore.
Writer: Rose Marie Burke.
Appendix: Results Of Our Brexit Infrastructure Survey