Start every business day with our analyses of the most pressing developments affecting markets today, alongside a curated selection of our latest and most important insights on the global economy.

The Barometer of The U.S. Economy
This year, the U.S. economy has contracted by 1.4% in the first quarter and confronted compounding pressures from inflation, supply chain disruptions, the Russia-Ukraine war, lockdowns in China, and the Federal Reserve's sooner-and-stronger interest rate hikes. The U.S. Consumer Sentiment Index plunged to an 11-year low of 59.4 in May, and market volatility has surged on investors' concerns about the potential for a recession to materialize in the second half. The benchmark S&P 500 equities index has dramatically declined by 18% year-to-date through May 19—with the past three months alone accounting for half of those losses, according to S&P Dow Jones Indices.
Now, market participants will be watching evolving economic indicators to see whether GDP will recede or rebound in the second quarter, according to IHS Markit, now part of S&P Global.
"In April, seven of the 10 leading indicators we track sent negative or neutral signals (two were negative and five were neutral) on near-term economic growth prospects, a deterioration from November 2021, when eight out of 10 indicators were positive and the remaining three were neutral," S&P Global Ratings Chief North America Economist Beth Ann Bovino said in her latest business cycle barometer research. "In our analysis, seven out of 10 leading indicators in non-positive territory signal a weakening of economic conditions. Indeed, within one year before the previous three recessions in 2001, 2007, and 2020, the proportion of non-positive signals in our dashboard surpassed 60%."
While the two negative signals seen in S&P Global Economics' April dashboard don't independently send strong warnings of an imminent recession, the U.S. economy may be on a different path if the number of negative signals keeps increasing in the coming months, according to Dr. Bovino. If the worsening conditions seen in recent weeks turn into a trend of deteriorating U.S. economic momentum, S&P Global Economics' current outlook of a 30% chance of recession (within a range of 25%-35%) in the next 12 months could rise.
As additional economic indicators and the latest Federal Open Market Committee meeting minutes are set to be released against the backdrop of concerns about slowing growth that have cast a shadow over markets, "inflation and growth concerns remain center stage this week," according to IHS Markit. "As far as April's [Purchasing Managers' Index] PMI figures suggested, the U.S. had seen surging inflationary pressures amongst the developed economies, and the trend into May will be closely watched with the flash PMI figures. The Fed's preferred inflation gauge, the core [Personal Consumption Expenditures price index] PCE reading for April, will also be updated on Friday after the core [Consumer Price Index] CPI surprised on the upside."
Today is Monday, May 23, 2022, and here is today's essential intelligence.
Written by Molly Mintz.
Economy
---
Inflation Pressures And GDP Resilience Under Scrutiny With May Flash PMIs
Flash PMI data for the U.S., eurozone, U.K., Japan, and Australia will provide the first major clues as to the health of the world economy mid-way through the second quarter. April's data had shown economic growth slowing in the U.S. and U.K. as strong pandemic rebounds showed signs of fading. In contrast, a reopening of economies in the eurozone and Japan helped drive improvements, assisting in offsetting weakened manufacturing performances arising from fresh supply delays.
—Read the article from S&P Global Market Intelligence
Access more insights on the global economy >
Capital Markets
---
Fate Of Fla. Property Insurance Market At Stake As Special Session Looms
Reinsurance coverage for insurers and out-of-control claims litigation look to be the top concerns for Florida lawmakers when they meet in a special legislative session to address the state's property insurance crisis. Gov. Ron DeSantis in a proclamation calling for the special session, which begins May 23 and ends May 27, said four homeowners insurers either became insolvent or required midterm policy cancellations in 2021. Another three insurers this year have been placed in rehabilitation or liquidation as of April 30.
—Read the article from S&P Global Market Intelligence
Access more insights on capital markets >
Global Trade
---
China's Crude Imports From Russia Set To Rise Further After April Increase: Sources
China's crude imports from Russia recovered further in April to 1.6 million b/d, or 6.55 million mt, and the trend is expected to continue amid deep discounts, market sources told S&P Global Commodity Insights on May 20. Imports from Russia rose 6% from 1.51 million b/d in March, when it rebounded from a the nine-month-low of 1.42 million b/d in February, data from General Administration of Customs showed May 20.
—Read the article from S&P Global Commodity Insights
Access more insights on global trade >
ESG
---
Efforts To Develop Centralized Community Geothermal Heat Pumps Expand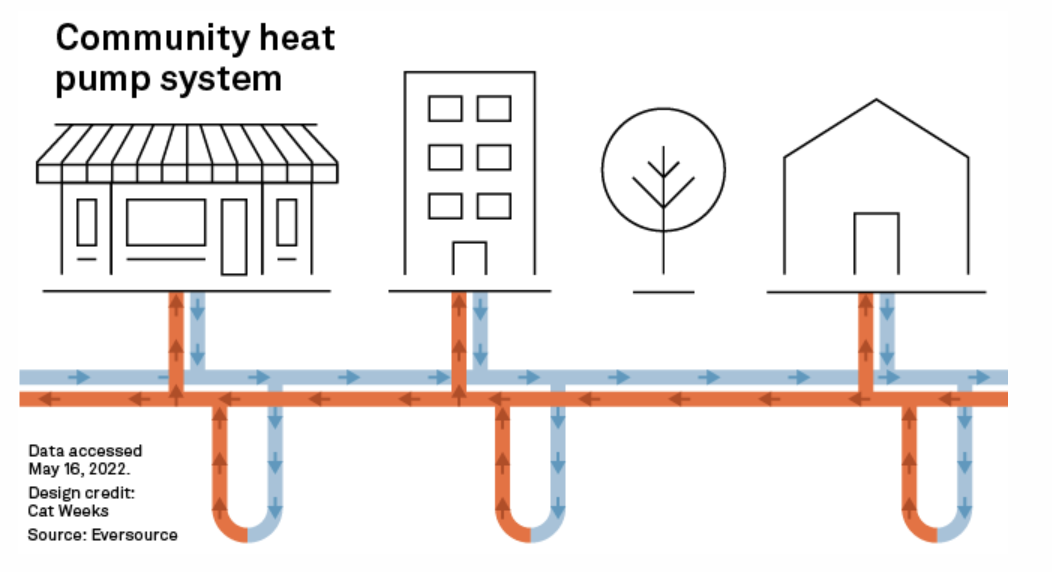 The District of Columbia is soliciting design proposals for a community heat pump system, the latest pilot project to attempt to scale a decades-old geothermal heating and cooling technology to the neighborhood level. The district's Public Service Commission asked developers May 17 to apply to construct a large community heat pump system, capable of serving multiple buildings. In doing so, Washington, D.C., joined a spate of other regional efforts to try to expand the use of a technology that the U.S. Environmental Protection Agency sees as the most energy-efficient, cost-effective, and environmentally friendly way to heat and cool a building.
—Read the article from S&P Global Market Intelligence
Energy & Commodities
---
Germany, Qatar Eye Cooperation In LNG Trade, Sign Declaration Of Intent
Germany and LNG powerhouse Qatar plan to develop bilateral LNG trade relations as part of a joint declaration of intent on energy cooperation signed May 20. The new pact, inked during a Qatari state visit to Germany, comes as Berlin looks to fast-track a number of new LNG import terminals to reduce its dependence on Russian gas imports. Germany — which currently has no LNG import infrastructure — hoped to secure LNG supply agreements with Qatar following a visit to Doha by economy minister Robert Habeck in March, but no deals have yet been announced.
—Read the article from S&P Global Commodity Insights
Access more insights on energy and commodities >
Technology & Media
---
Automotive Insights – Canadian EV Information And Analysis Q1 2022

When compared to Q1 2021, new vehicle registrations fell by 9.3% overall and the combined volume of xEV light vehicles (EV/PHEV/HEV/FCEV) increased by 20% in Q1 2022. XEVs now account for 13.8% of all new registrations, while traditional ICE vehicles account for 86.2%. Further comparison of Q1 2022, BEVs and PHEVs saw volume gains (6,748 and 1,807), while HEV and FCEV each saw volume declines.
—Read the article from S&P Global Mobility