Subscribe on LinkedIn to be notified of each new Daily Update—a curated selection of essential intelligence on financial markets and the global economy from S&P Global.
If its jobs market is any indication, the world's largest economy is embarking on a strong recovery.
Showing a powerful shift for the U.S. economy one year after the nation entered lockdown, the jobs market added 916,000 nonfarm payroll jobs last month, according to the Bureau of Labor Statistics.
"S&P Global Economics had been expecting to see a seismic shift in the U.S. economy as additional stimulus and faster vaccine rollout led to a quicker reopening and more optimism that the pandemic will soon be in our rearview mirror," S&P Global Ratings Chief U.S. Economist Beth Ann Bovino said in a report following the BLS release. "There are still 8.4 million jobs lost since February 2020, before the pandemic took hold. We need an average of monthly 700,000 job gains over the next 12 months to regain those lost jobs. Fortunately, this jobs report is one big step in the right direction."
March's jobs gain marked the greatest number of new jobs created since August, and was almost double the revised increase of 468,000 jobs in February.
The payroll gains were widespread as nearly all industries added new jobs. Leisure and hospitality sectors added 280,000 jobs; public and private education added 126,000 and 64,000 jobs, respectively; Construction added 110,000 jobs; manufacturing added 53,000 jobs; and transportation and warehousing added 48,000 jobs; among others.
The overall unemployment rate dropped by 0.2 percentage point to 6%, but the rebound is still far from returning conditions to pre-pandemic levels of 3.5% unemployment—and is still inequitable for all Americans, 9.5 million of which remain jobless.
"Even if you [add] 1 million jobs a month, we still are going to have a lot of unemployed people by Labor Day," William Spriggs, a Howard University professor and chief economist of the AFL-CIO, told S&P Global Market Intelligence.
There's a notable gap in job market conditions by race and ethnicity. "The unemployment rate for Black and Hispanic workers dropped by a hefty 0.3 points and 0.6 points to 9.6% and 7.9%, respectively. Those unemployment rates are a far cry from the 6.0% and 5.4%, respectively, for white and Asian workers, suggesting the jobs market is still far from being fully healed," Dr. Bovino said.
Today is Monday, April 5, 2021, and here is today's essential intelligence.
Technology & Media
---
T-Mobile Shutters Tvision Despite "Price For What You Get"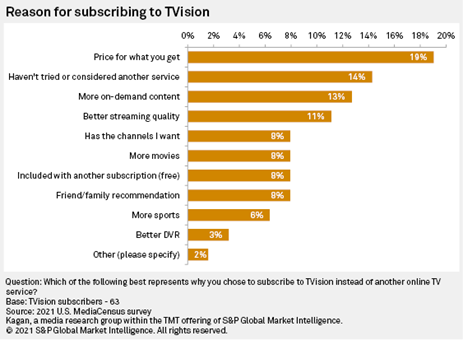 The most selected reason for subscribing to TVision instead of another virtual multichannel service was "price for what you get" at 19%, among subscribers surveyed in Kagan's February 2021 MediaCensus online consumer survey. However, with three tiered packages at incremental price points, TVision was not a budget service like Philo, which pitted the service head-to-head with more established services. In fact, T-Mobile is partnering with Alphabet Inc.'s YouTube TV by providing a $10 per month discount, which brings YouTube TV's regular monthly price down to $54.99 – a better deal than TVision Live Zone at $60. Another 14% of subscribers indicated they had not tried or considered another service, suggesting that TVision was able to bring in some new consumers to the virtual multichannel space.
—Read the full article from S&P Global Market Intelligence
ESG in the Time of COVID-19
---
China Ramps Up Efforts To Cut Carbon Emissions From Steel, Aluminum Industries
Even though China's 14th five-year plan did not outline a more aggressive target to cut carbon emissions, the country has recently implemented tougher measures to reduce greenhouse gas emissions from its top coal-consuming sectors to show its commitment to achieving carbon neutrality by 2060.
—Read the full article from S&P Global Market Intelligence
Banks Look To Solar Projects To Boost ESG Profile While Juicing Returns
Investors are paying more attention to corporations' environmental, social and governance bona fides, and several banks have turned to solar investments as a key plank. In recent years, banks have pursued a variety of renewable energy investments from building their own power plants to adding solar panels to their branches to signing agreements to purchase renewable power from off-site sources. In addition to boosting their ESG credentials, banks can also save money on electricity expenses.
—Read the full article from S&P Global Market Intelligence
What is the Impact of the EU Sustainable Finance Disclosure Regulation (SFDR)?
How do investment choices impact the planet? This is the simple question at the heart of the complex Sustainable Finance Disclosure Regulation (SFDR). There is no escaping the truth: the SFDR is complicated. It is multifaceted. It is – at times – slightly enigmatic. The goal of this article is to untangle the intricate SFDR provisions to reveal its true impact.
—Read the full article from S&P Global Market Intelligence
The Future of Energy & Commodities
---
Listen: Boosting Oil Production, Environmental Commitments Pose Dual Challenges For Mexico's Pemex
Mexico's Pemex, the state oil company, is facing challenges to increase production, as the government desires, and also internationally to meet its environmental commitments. S&P Global Platts spoke with Andrew Rudman, director of the Wilson Center's Mexico Institute, about these challenges and the relationship between Pemex and the United States under the Biden administration.
—Listen and subscribe to Commodities Focus, a podcast from S&P Global Platts
U.S. And Iran To Initiate Indirect Treaty Talks On April 6
The United States will take the first steps toward indirect treaty talks with Iran on April 6 in Vienna as formal discussions begin with other nations involved in the 2015 nuclear agreement on how Iran can return to compliance. While Iran is rejecting any direct talks for now without US concessions on lifting crude oil and other economic sanctions, the scheduled Vienna talks could lay out the road map for an eventual deal.
—Read the full article from S&P Global Platts
Written and compiled by Molly Mintz.