M ore than two months after Britain's decision to leave the European Union, we want to examine where long-term economic growth is coming from, what exposures the public companies in major countries have to those growth areas, and in light of the Brexit, how the British companies are valued vs. countries that have similar exposure to those growth areas.
We know right after Brexit, the pound hit 31-year low against U.S. dollar on June 27. On one hand, it has caused the cost of materials needed by UK manufacturers to increase 4.3% YTD through July, compared to a decrease of 0.5% from January through June 2016. On the other hand, this currency devaluation should have increased the effectiveness of the country's export business.
How will these currency shifts impact the British companies and global economy?
To begin to answer this question, we looked at revenue derived from country using the MSCI All Country World Index and how this has changed over time. Using the Geographic Segment Intelligence template available within the Excel Plug-in for the S&P Capital IQ Platform, we were able to map global revenue derived from specific countries.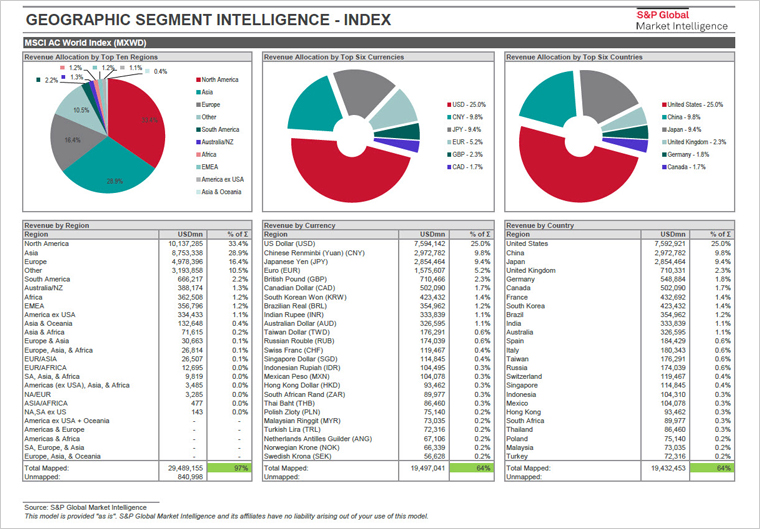 From the revenue mapped to specific countries, 70% of the revenue is derived from three countries (U.S., China, and Japan) and 11% of the revenue is derived from the next eight (UK, Germany, Canada, France, Brazil, India, South Korea, and Australia).
Next, we examined at how the revenue derived from these 11 countries has changed throughout the past 3-, 5- and 10-year periods.
The revenue derived from every country experienced decelerating growth rates, except from India (5Y = 4.9%, 3Y = 6.8%). The only countries that were able to provide positive 3-year growth rates are China (4.8%), India (6.8%) and U.S. (4.6%).
Data is from S&P Global Market intelligence as of July 23, 2016.
Now turning the focus on single countries to see which ones were still able to leverage on those shrinking regional pockets of growth. For this, we explored 9 of 11 country indexes to evaluate if the majority of revenue is derived domestically, internationally, or there is a mix of both domestic and international revenue. The Asian countries studied mainly derive their revenue from domestic sales, while the majority of the European countries derive their revenue through exporting.
Finally, we used these indexes as proxies to understand the profitability ratios and valuation multiples for the countries. Interestingly, two months after Brexit, the UK is still trading at a higher P/E multiple (55.2x) compared to France (22.0x) and Germany (23.9x) even though it has a lower return on equity (3.3%) compared to France (6.9%) and Germany (7.5%). It seems with all the uncertainties still surrounding the Brexit, at least for now investors are still willing to bestow the British companies with a higher multiple despite of the lower return when compared to its neighbors that have similar domestic vs. international revenue exposure mix.
Learn how you can perform analyses such as this one using our enhanced aggregated ratios and multiples offering. Access aggregated index information on approximately 100 Income Statement, Balance Sheet, and Cash Flow items.