Asia-Pacific is losing steam. One by one, the global growth drivers that gave us the synchronized regional upturn in 2017 have started to fall away. First to go was exceptionally easy external financing conditions, led by U.S. dollar interest rates. Second was buoyant demand growth in China as policy tightening rippled through the economy. Most recently, we saw a clear turn in the trade cycle as growth divergence returned among the major economies.
It is not a surprise that these growth factors are waning gradually. However, the impact on growth has been larger than we had expected. The bright picture painted by consensus forecasts earlier in 2018 has darkened in recent months with expectations building for a sharper slowdown in 2019. This reflects a weaker-than-expected end to this year and the prospect that some risks, especially global trade tension, have already begun to materialize.
S&P Global Ratings continues to see mainly downside risks to our Asia-Pacific growth forecasts. Global trade and investment friction remain to of mind for Asia. If friction escalates, the key casualty would be manufacturing investment.
Chart 1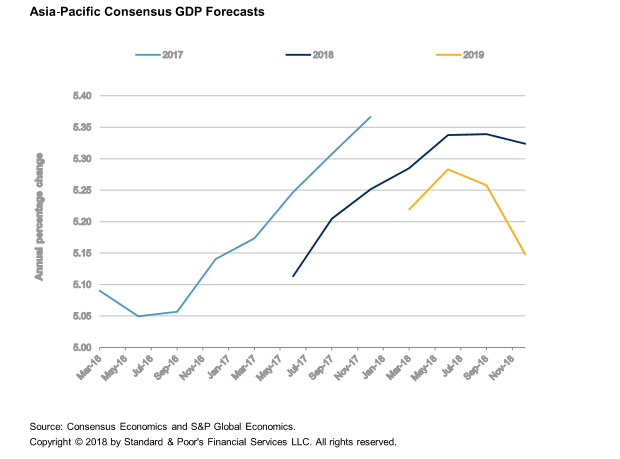 We Revised 2019 Growth Lower Slightly
We do not expect these global growth drivers to reverse in 2019 and so growth should keep slowing. We forecast that Asia-Pacific growth will edge down to 5.3 % in 2019 from 5.4 % in 2018. This is a 0.2 percentage point downward revision from our previous forecast at the end of the third quarter.
We have lowered our forecasts for almost every country in Asia-Pacific, underscoring the global nature of the slowdown. For China, we now expect 6.2% in 2019 (previously 6.3%), which assumes that the government will soften or reduce this year's 6.5% growth target. We forecast India's growth to remain steady at about 7.6 % next fiscal year whereas previously we had expected a moderate pick up. We have also trimmed our forecasts by 0.1 - 0.2 percentage point for Australia, Japan, and across ASEAN.
Table 1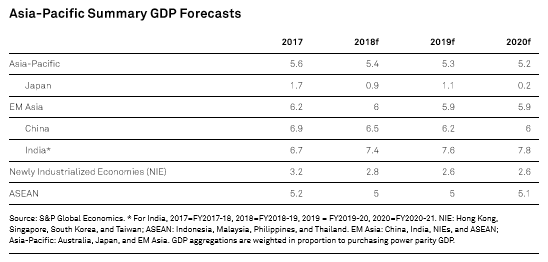 What We Assume And Where We Could Be Wrong
The question now is how deep and sustained the Asia-Pacific slowdown will be. We could be surprised if the global assumptions underlying our forecasts are wrong or if the region's economies prove more sensitive to these global factors than we think.
The global assumptions that underlie our regional forecasts include the following:
- Persistent but steady global trade and investment friction. U.S. tariff hike on the second US $200 billion tranche of Chinese exports under Section 301 but a pause after that.
- Further gradual monetary tightening in the U.S. Another four rate hikes by the U.S. Federal Reserve from now until the end of 2019, which will bring the Fed funds rate to its "steady state" of 3.00 % - 3.25 %.
- Better policy traction in China. The authorities soften the growth target and refrain from large-scale stimulus. Moderate easing already in the pipeline, including lower real market interest rates and a pickup in infrastructure approvals, cushion the slow down.
How Global Trade Risks Could Materialize—Technology Chokepoints
We still see global trade and investment friction as the key risk. We believe the direct impact of tariffs on exports and growth isn't a big concern in the short term; for China, trade alone is no longer big enough to move the growth needle much. Policymakers also have space to provide an offset. However, U.S. policies aimed at technology chokepoints in China's supply chain could disrupt activity, undermine confidence, and hit investment.
There is some excitement in the region about potential winners from U.S.-China friction. We agree that some countries could, overtime, benefit from higher inflows of foreign direct investment if multinationals relocate parts of their supply chains away from China. However, the short-term spill overs from worsening trade and investment friction would likely be damaging, through the following channels:
- Weaker Chinese currency. If the authorities allowed the renminbi to depreciate in line with market forces, we should expect to see pressures on other currencies in the region, especially those embedded in or competing with Chinese supply chains. This could lead to capital outflows.
- Higher uncertainty and delayed investment. The likely response to an escalation in friction is for companies to "wait and see" and delay their investment plans, not only in China but more broadly.
How Financial Conditions Risks Could Materialize—Rate Hikes
A second risk is that U.S. dollar financing conditions tighten more than we expect. This risk appears to have eased a bit given recent comments from Fed officials but our U.S. economics team still sees the potential for a repricing of U.S. policy rates based on the underlying strength of the economy. Such a repricing occurred in mid-2018 and Asia's economies with current account deficits (India, Indonesia, and the Philippines) were not spared. This led to monetary tightening, which has been a factor in our lower growth forecasts for these countries.
The factors leading up to currency depreciation had broadly the same result—a loss of monetary policy space. We think of monetary policy space as the ability of the central bank to set interest rates in accordance with the domestic economy's own output and inflation fundamentals, largely unhindered by external factors.
Recently, this leeway was eroded in the region's net oil-importing economies with current account deficits. A broadly stronger U.S. dollar combined with rising global oil prices to trigger a fairly rapid weakening of currencies, higher inflation expectations and, in some cases, worsening balance sheets for firms with unhedged dollar debt. Here are the outcomes in Asia:
- India's fuel and core inflation has edged higher. Good harvests boosted food supply to keep headline inflation low but the inflation and interest outlook remains sensitive to the rupee and oil prices.
- The Philippines saw rapid pass-through of oil prices and a weaker currency to inflation, adding to tax effects and weather events, which led to a one-off jump in prices of a number of items.
- Indonesia held administrative prices down in this pre-election year but these controls maybe lifted post-election to make space for the ongoing infrastructure build. Also, some firms are vulnerable to currency moves given in complete hedging.
In response, central banks in these economies intervened in foreign exchange markets and tightened monetary policy. Real policy rates (netting out inflation expectations) have risen 40-165 basis points (bps) since the end of April this year. This tightening came at a time when these economies had been experiencing largely steady growth and inflation at or near the central bank's targets. That suggested that monetary policy was tightened even though policy was initially where it needed to be given domestic fundamentals. This tightening will weigh on growth.
Chart 2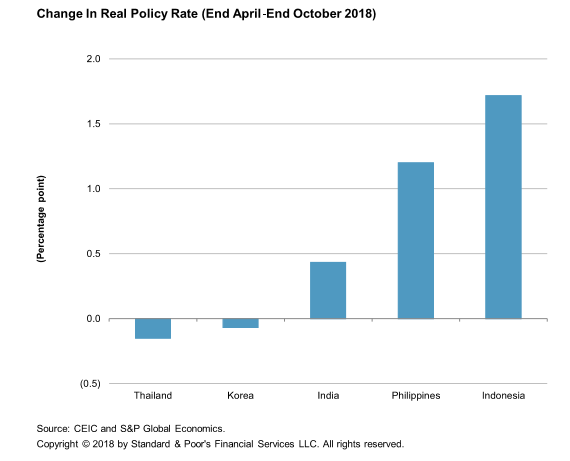 We believe the risk of further capital outflows, depreciation pressures, and rising interest rates remain for economies with current account deficits in 2019. The risks appear to have eased some what recently, due to dovish Fed comments and lower oil prices, but our interest rate and oil price forecasts suggest that risks have not fully dissipated. As such, we will also be watching the potential for policy space in India, Indonesia, and the Philippines to deteriorate further, especially if this coincides with renewed oil price increases.
Property Cycles Are Turning
The property cycle may also exert a larger-than-expected dragon growth in some economies. Following a prolonged property expansion, macro prudential policies have been tightened to either limit financial stability risks or more directly cool what had become hot housing markets. This may now be having an effect in Australia, China, Hong Kong, and Singapore. While official prices are still growing in China, there is evidence that sales conditions on the ground are weakening, particularly in lower tier cities. Weaker housing demand and falling home prices in Asia could slow residential investment growth and, through a wealth effect, dampen household spending.
Chart 3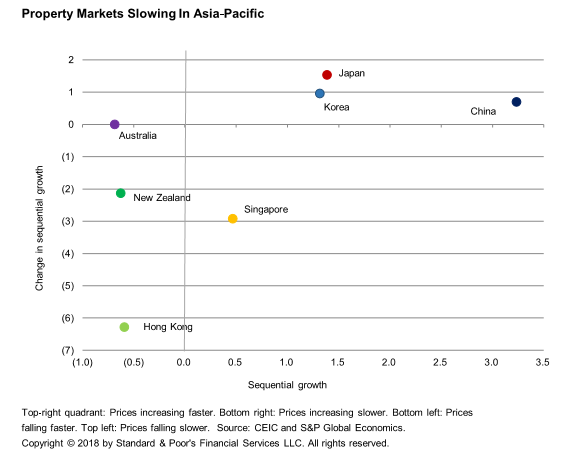 Are There Upside Risks?
Our global chief economist, Paul Gruenwald, notes that while downside risks are top of mind, we could be surprised on the upside. For short-term growth, a speedy resolution of the U.S.-China dispute is the most obvious potential surprise. This would provide greater policy clarity, lift confidence, and support investment across the region. It would also provide a fillip for the medium term because it would encourage firms to invest where capital is most efficient, raising the return on capital, and boosting productivity.
This upside surprise may not be the "big bang" variety. Even the start of a constructive dialogue between the U.S. and China, combined with incremental but decisive reforms that enhance the role of market forces in China, would be enough to put the global economy on a higher growth trajectory. The recent G20 meeting has made this outcome slightly more likely and we have learned that global politics have become more unpredictable. Hope springs eternal but, for now, we retain our cautious views on the U.S.-China relationship.
Forecasts By Country
China: We have revised our 2019 and 2020 growth forecasts 10 bps lower to 6.2% and 6.0%, respectively. We assume that the government softens the growth target and pauses, but does not reverse, the deleveraging effort. The main domestic risk is lack of policy traction due to tighter macro prudential and local government oversight policies.
Japan: Natural disasters notwithstanding, underlying demand remains buoyant. However, we have marginally lowered our growth forecasts as the runway for above-trend growth is shortening. We assume broadly unchanged and supportive monetary policy for 2019 with the key domestic risk being the impact of the planned consumption tax hike next year on household spending.
India: The pace of growth is moderating as focus shifts to the general elections due next year; that event will slow any reform agenda from the government. Weakness in the financial sector persists, although lending growth is recovering. Inflation continues to ease, helped by a normal monsoon. We assume monetary policy remains steady while fiscal policy may turn more supportive for activity. Risks include tighter credit conditions resulting from stress in the financial sector.
Australia: Growth looks to be peaking in part due to softer consumption and spillovers from China. While employment growth remains resilient, real wage grow this low. Falling home prices will cause households to cut back on consumption as they feel less confident about their financial position and economic activity. We expect little change in monetary policy. The key domestic risk remains the housing market.
Newly Industrialized Economies (South Korea, Singapore, Hong Kong, and Taiwan): Third-quarter GDP numbers were broadly weaker, driven by net exports. The global trade cycle, particularly the electronics cycle, is moderating, and the impact on the trade-oriented economies is significant.
ASEAN: While favorable demographics continue to support domestic demand in these economies, third-quarter GDP numbers were on the weaker side due to reduced external demand. We have lowered our growth forecast for the group due to the slower trade growth and weaker consumption and investment activity in some economies.
Appendix
Table 2