Revenue Exposure of the FTSE 350 Companies by Index, Industry and Company
Once Britain's vote to leave European Union became clear, the British pound dropped around 10% to its lowest level in more than 30 years compared to the US dollar. The UK stock market, as measured by the FTSE 350, also dropped 3.9% on the day and is down 10.3% for the last twelve months. We expect that uncertainty and volatility will persist as the UK and the EU work out the specifics of the exit over the next two years.
Estimates on how Brexit will affect the UK economy, by extension, UK companies, are mostly negative. However, UK companies that derive the majority of their revenues from non-UK and non-EU regions may not be as severely impacted by the uncertainty of UK's future trade terms with the EU, and could even benefit from the drop in British pound.
Using our Geographic Segment Analysis template on the FTSE 350 companies, we have measured the revenue exposure of the index, its industries, and constituents to various geographic regions, currencies, and specific countries.
For example, we were able to assign 89% of revenues of FTSE 350 companies to a specific region (e.g. Europe, North America, Asia) and found that 43% of revenues originated from Europe including UK.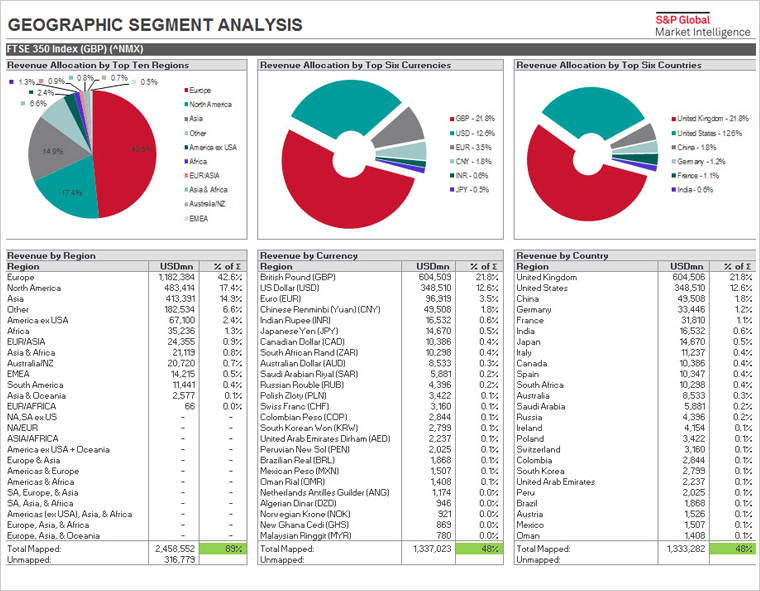 Furthermore, based on 70% (245 of the 351) of the FTSE 350 companies which disclose the currency associated with their revenues, we were able to make the following observations:
At the industry level, Basic Materials (Paper and Forest Products, Metals and Mining, Containers and Packaging) and Industrials (Machinery and Electronics) derive the lowest proportion of their revenue in GBP while Retailers, Insurance & Thrifts, and Utilities derive the highest. Click here for a list of the FTSE 350 industries in ascending order of their revenue percentage in GBP to Total Revenue.
This type of analysis can also be taken further at the constituent level. We've identified the FTSE 350 constituents with the lowest and highest revenue exposure to GBP.
Want to apply this data and analysis to your work? All of the information is now available through the "Geographic Segment Intelligence" template in our Excel Plug-in for the S&P Capital IQ Platform. With this template, you can view geographic segment data aggregated for an index, portfolio, or watchlist, and analyze region, currency, and country exposure for both growth prospects and risk management. Access this template through the "+New Templates" folder from the "Templates" dropdown within the Excel Plug-in.