The pace of change in the energy sector is accelerating, and the forces of disruption are here to stay. Indeed, topics such as the declining cost of renewables, advances in battery storage technology, and the de-carbonization of generation are increasingly on the agendas of utility board meetings--as well as S&P Global Ratings' meetings with utility management teams. These issues are no longer just fodder for esoteric discussions about some far-off future. On the contrary, we believe that disruptive factors are already influencing the direction of utilities' business strategies and, consequently, our view of credit quality.
For regulated utilities, this strategic shift is playing out with surprising speed and clarity, with more focus on grid modernization, de-carbonization to reduce emissions from generation, and developing a more-modular and adaptable approach to generation to prepare for increasingly variable load requirements. Clearly, utilities will remain focused on the regulatory relationship and the pursuit of good economic decisions for rate payers, but we believe these decisions are also increasingly influenced by the speed of technological development and a strategic desire to reduce enterprise risk inherent to the central utility business model. The latter is now more than just a back-to-basics reversion to regulated utility core operations; it's about becoming more adaptable and opportunistic in a changing business environment.
Overview
The pace of change in the power sector is accelerating, and the forces of disruption--such as battery technology, distributed generation, and renewable generation efficiency gains--are increasingly evident.
We believe that these and other disruptive factors are already influencing the direction of utility business strategies.
These strategies are playing a key role in record-high levels of capital spending, but utilities are maintaining credit quality through good strategic choices that reduce risk.
A utility's strategy--characterized by its generation fuel mix, investments in advanced technologies and grid modernization, and emissions--will likely have more of an impact on credit quality.
Utilities Embrace Renewables In Their Generation Portfolio Shift
Forward-thinking utility management teams are already aggressively transforming their portfolios in several ways. We believe that the accelerating pace of change will challenge utility boards to carefully evaluate any large-scale generation decisions. This factor together with state-level renewable portfolio standards and the sharp reduction in renewables generation costs will promote increased investments in utility-scale solar and wind projects.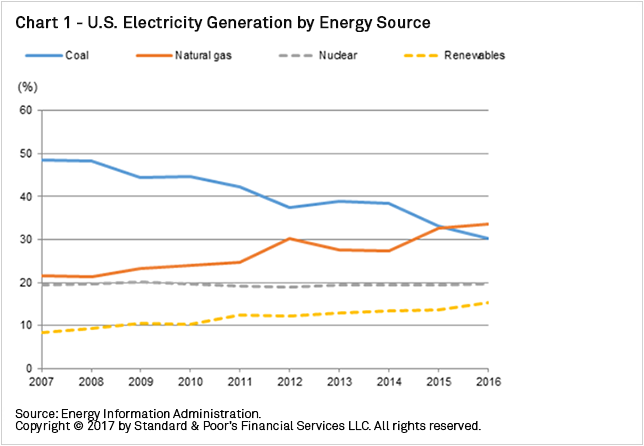 The shares of electricity generation from renewables and natural gas have increased in recent years due to economics and conversion opportunities from coal (see chart 1). We also believe nuclear power has begun a slow descent as a part of the U.S. generation picture (see "Nuclear Power And U.S. Utilities A Half-Life Of 17 Years?" Sept. 22, 2017).
For a mature industry, we think that the pace of change in terms of U.S. power generation is moving at a good pace, with clear trends favoring more investment in renewables and highly efficient natural gas-fired generation and less reliance on coal and nuclear. In fact, in contrast with prevalent concerns just a few years back, investor-owned utilities are now positioned to play an important role in this transformation. In particular, distributed residential rooftop solar is viewed as a diminished threat to the viability of the central utility business model, particularly to those that are adapting to invest in utility-scale renewable generation (see "The U.S. Regulated Utility Sector Strikes Back At Distributed Generation," Feb. 13, 2017). Improved economics associated with renewable generation support this trend, and utilities are able to benefit from scale efficiencies and by working with regulators to mitigate risk from earlier incentives favoring residential rooftop solar.
If the leading investor-owned utilities' recent pronouncements are any indicator, regulated utilities are poised to play a major role in this market. We believe this reflects the economic realities that renewables are becoming more competitive vis-à-vis conventional generation sources, but it also reflects the aforementioned strategic shift to reduce risk in generation investments.

Table: Large Renewables Investments By Selected Utility Companies
| | |
| --- | --- |
| Company | Highlights of renewable portfolio. |
| NextEra Energy Inc. | Expected to invest $22 billion-$25 billion over the next four years at NE Resources and about $2.8 billion at FPL. |
| Duke Energy Corp. | Investments of more than $5 billion over past 10 years (3 GW on-line) at Commercial Renewables. NC Utility Operations will procure 2.6 GW over four years. |
| Dominion Energy Inc. | Solar portfolio of 1,600 MW in-service or under development and over 1,000 MW of potential renewable capacity in Virginia. |
| Southern Co. | About 25% of total portfolio at Southern Power (approximately 3,000 MW) and expected to invest over $5 billion more from 2017-2021. |
| American Electric Power Co. | 10% of fuel supply is from contracted renewables. Expected to invest about $1.5 billion from 2017-2019 and planning 8,800 MW of renewable resource additions by 2033 (about 3,000 MW by 2021). |
| Exelon Corp. | Over 2,000 MW of current generation at ExGen. Currently the fourth-largest solar producer in U.S. and top 10 in the U.S. in renewable energy sales. |
| PG&E Corp. | Over 30% of generation and plans to install 7,500 EV charging stations over three years. |
| Sempra Energy | Over 40% of SDG&E's energy mix and will invest $150 million-$200 million in battery storage. |
| Edison International | About 30% of portfolio mix in 2016. |
| Consolidated Edison Inc. | Clean energy business currently has 1,500 MW. Expected to invest $1.25 billion in clean energy capital spending from 2017-2019. |
| Xcel Energy Inc. | About 20% of current fuel supply and are planning to reach at least 37% (12,300 MW of capacity) by 2021 by investing at least about $3.5 billion. |
Increasingly, management teams are of the view that disruptive factors facing generation are important to recognize and that there is risk in not moving to a lower-carbon generation portfolio. While a majority of U.S. states have established renewables portfolio regulations with mandatory standards or at least goals for renewable generation levels we believe that this trend is also about economics and risk management. For example, companies that are reshaping their generation mix are less likely to face challenges, including from future regulators, because they were too late in recognizing the potential for disruption. These risks could include the potential weakening of the regulatory relationship, the most important element of business risk in the sector, or even stranded assets in the extreme.
In our view, strategic decision-making by utilities' management teams has accelerated the investments in renewables faster than originally expected. This is because of not only economic factors but also the recognition that technological change has forced long-term decision-making by prudent management teams dealing with a different paradigm.
Modularity Is An Increasingly Attractive Concept In Generation Portfolios
Contrary to the once-irrepressible trend toward building ever-larger generation facilities, modularity is increasingly being considered prudent. While the reality is that large base-load capacity is essential for a highly efficient integrated utility, many utilities recognize that the concept of modularity of generation is also important in terms of forward planning. We believe that this is another outgrowth of the pace of disruptive change facing the industry. Essentially, if the forces of change (demand-side responses, technology advances such as storage, distributed generation, and efficiency gains for alternative generation sources) are here to stay, then it makes sense to make smaller capital bets to plan for a more dynamic future. It is increasingly possible that laggards in this regard those with a higher-than-average proportion of generation in less-efficient coal plants or with relatively unattractive emissions profiles could be in a more vulnerable position than their forward-looking peers in the future.
Major utility companies have been considering these factors for some time now, and some are now unveiling key elements of a strategy that better positions their businesses for a future when utilities cannot necessarily assume that if they build large-scale central generation, it will be absorbed by future load requirements. For example, CMS Energy's Clean and Lean initiative is a good example of such a platform, with the management team moving to an increasingly modular approach to capacity expansion, prudent investments in grid modernization, and selected replacement of older carbon-intensive coal assets with combined-cycle natural gas plants and renewables.
Other utilities are adapting in different ways. In California, investor-owned electric utilities are nominally vertically integrated. However, they are rapidly transforming into de facto transmission and distribution (T&D) utilities in the face of real and potential losses in customers taking generation service from them. These utilities are managing their portfolio of rate-based generation and power purchase contracts to match those losses, and we believe Diablo Canyon's closing in 2024/2025 is tied to that phenomenon.
These forces can drive decisions on which plants to close (primarily aging coal and nuclear plants) and what types of plants to build. Increasingly, we believe the result is a mix of highly efficient natural gas plants and utility-scale renewables to capture the benefits of modularity. This will position the most adaptable utilities so that they can be more flexible in terms of benefitting from opportunities to invest in new technologies to modernize the grid and to provide efficient generation in the future, even if change accelerates further.
Emissions Profiles Benefitting Even As Policy Implications Remain Uncertain
A few short years ago, a common question was how vertically integrated utilities would deal with stringent emissions reductions required to comply with the Clean Power Plan (CPP). President Obama's signature climate-change initiative called for the EPA to regulate carbon dioxide under the Clean Air Act. The CPP set standards that required power plants to reduce emissions by 32% from 2005 levels before year-end 2030. Now that the Trump Administration's EPA has issued a proposed rule to repeal the CPP legislation, emissions profiles of utilities might not track to CPP levels across every state, but we believe the general direction is clear and utilities are unlikely to alter course.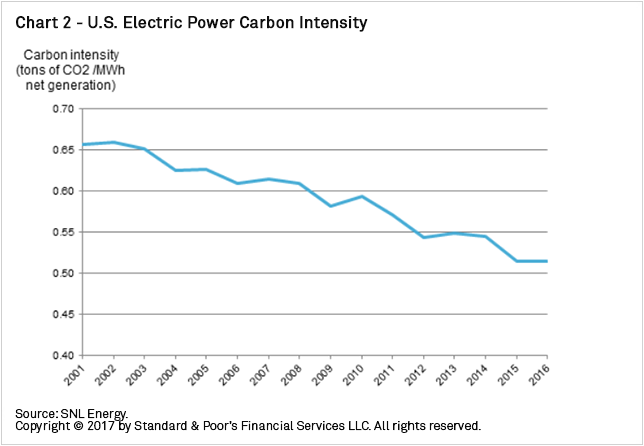 The CPP notwithstanding, we expect that prudent utility management teams will remain mindful that policy implications for this capital-intensive industry will evolve over a longer timeframe, not from election to election. For this reason, we believe management teams will adopt a longer-range approach to new investments and enterprise risk management that favors less carbon-intensive generation and improved transparency and reporting, as recommended by the FSB Task Force on Climate-Related Financial Disclosures.
Grid Modernization: Another Key Part Of The Strategic Transition
We also associate grid modernization, storm hardening, and smart meters with this strategic adaption trend. In this context, by "smart meters" we mean an advanced metering infrastructure (AMI). This is more advanced than meters that have automated meter reading (AMR) capabilities that primarily automate the collection of usage data and facilitate time-of-use rates. By contrast, AMI enhances two-way connection of the utility and its customers, making smart meters essential to the proper functioning of a modernized grid. A modernized grid is important to prepare for reliable electric service that includes increasingly intermittent and distributed sources of generation.
The rollout of smart meters is also contributing to rate-base growth for most regulated utilities. These meters continue to experience significant growth, with over 60 million installed AMI meters as of January 2017 compared with about 20 million just six years ago. In addition, the penetration rate of smart meters suggests that there is still potential headroom for low-risk rate-base growth, as smart meters constitute close to half of the approximately 125 million installed meters.
Capital Spending Boom Fueled By Change
Interestingly, the strategic initiatives above are not being pursued at the expense of credit quality of integrated utilities. On the contrary, all of this change and the related efforts to adapt utility operations for the future are playing a key role in record levels of low-risk capital spending. Capital spending provides growth of the rate base, which is important given that electricity sales are generally diminished by ongoing efficiency gains, policy efforts, distributed generation, and technology advancements. Capital spending is also necessary to accomplish strategic change, and policymakers usually welcome the economic stimulus and the benefits of safer and more energy efficient electricity for ratepayers.
We believe this is significant, and certainly not lost on utility management teams that realize they can deploy capital to increase regulated growth, generate returns, and reduce risk. From a credit perspective, this is favorable in terms of our assessments of both business risk and financial risk, assuming future load requirements support the spending without adversely impacting customer bills. According to EEI's analysis of investor-owned utility capital spending, the total 2017 capex for U.S. utilities will be broken out as follows: generation, 29%; distribution, 29%; transmission, 17%; gas-related, 16%; environment, 4%; and other, 5%.
This comports with our expectations for the future, as we expect these trends to extend into the next decade. From a credit perspective, we expect that capital spending will remain a focus of most utility managements with limited strain to credit metrics. The ability of utility companies to maintain load requirements is an important factor as is the speed with which the regulatory process turns the new spending into higher rates. Any extended lag between spending and recovery can exacerbate the negative effect on credit metrics and, ultimately, ratings.
Credit Metrics Are Declining, But The Descent Is Controlled For Now
So far, utility companies have managed to maintain credit quality. We believe that this is likely to continue, as forward-looking utilities are benefitting from a range of productive and strategic choices to pursue capital deployment. Unlike the alternative using increasingly high leverage to fuel M&A or other growth-related spending we see these strategies as less risky, so long as rate pressure is contained.
We believe that the median FFO to debt is likely to trail off slightly during the next 12-24 months (see chart 4). This relates in part to the more aggressive capital deployment, M&A activity, and the phasing out of accelerated depreciation. Nevertheless, the financial metrics are trending in a manner that we view as supportive of credit quality. Taken together with the longer-range trends that suggest gradually improving business risk profiles, we believe the median issuer credit rating for North American utilities will very likely remain well-entrenched in the 'BBB+' to 'A-' range for the next several years.
Strategic Adaptation Is Well Under Way And Likely To Influence Credit Quality
Our analysis of regulated utilities has long had a favorable view of business models at the lowest end of the utilities risk spectrum—for example, T&D companies opposed to integrated utilities. That said, in a low-risk sector characterized by constructive regulation that supports recovery of costs, prudent capital investments, and a return on equity, the distinctions are often at the margin. We believe that these distinctions are likely to become more relevant in the future as management teams take actions to position themselves to adapt to change faster. In fact, a utility's strategy could be increasingly impactful and a defining regulatory or business risk advantage in the future. By this, we mean whether the utility is a leader or a laggard versus peers in terms of generation fuel mix, investing in new technologies, and emissions. Today we look at these issues in terms of strategy and positioning of a utility's business risk profile over the medium to long term. But we are increasingly mindful of the pace of change. Failing to adapt to change could leave some utilities open to adverse regulatory scrutiny, more vulnerability to load loss due to distributed generation or battery technologies, and in the extreme, stranded investments.
So far, these risks have generally not been material for regulated utilities in constructive regulatory environments, but we do believe that adding large-scale generation carries incrementally more risk in an environment characterized by technology change and disruptive forces. We need look no further than the highly charged and now politicized issues surrounding SCANA Corp.'s subsidiary South Carolina Electric & Gas Co.'s recent decision to abandon its two nuclear units prior to completion. The South Carolina Office of Regulatory Staff (ORS) an independent state agency that represents the public interest before the South Carolina Public Service Commission (SCPSC), the courts, and the legislature has petitioned the commission to roll back rates authorized for SCE&G related to the construction of the now-abandoned Summer nuclear Units 3 and 4. If adopted by the SCPSC, the petition could result in a $445 million rate decrease. A rate decrease of that magnitude would weaken the utility's credit metrics to a degree that would likely lead to a further downgrades.
The ORS, the executive director of which is appointed by the legislature, is also asking the PSC to consider ordering refunds or rate credits for all previously collected Summer-related monies if the legislature repeals or amends the Base Load Review Act (BLRA) or if a court finds it to be unconstitutional. The BLRA is the state law that provided for the collection of the financing costs during Summer's construction and other important provisions that reduced the regulatory risk of the project. The total of all rates collected for Summer to date is about $1.76 billion. The ORS cites a recent South Carolina Attorney General (AG) opinion that the BLRA is "constitutionally suspect" to support its filing. According to the ORS, the AG's opinion is likely to lead the legislature to change or revoke the law or that a court will be asked to rule on its constitutionality.
While the BLRA or similar regulatory concepts that support investment with pre-approvals for large investment decisions are ostensibly constructive, the SCE&G and other similar situations highlight the risks related to very large capital projects with long lead times, particularly when events transpire that make alternatives more attractive to rate payers and other stakeholders, with the benefit of 20-20 hindsight.
With these events as context, and assuming the pace of change continues to accelerate, we consider strategic de-risking to be prudent and favorable for credit quality. We consider utilities to be the lowest-risk industry in our criteria for all sectors measured against our Corporate Ratings Methodology. The stability and predictability of utility operations offer creditors valuable protection compared to most businesses, which are much more subject to volatile market forces and broader economic trends than the franchise-protected, highly regulated utilities. And while we do not expect that this will change materially anytime soon, we do expect to see more differentiation along the industry risk spectrum, so that some forward-looking integrated utilities look to better positioned than those that maintain the status quo.
Regulated T&D companies benefit from business models that have less exposure to potential disruptions than integrated utility companies. These entities essentially operate their networks in deregulated power markets, procuring power from third-party generators and providing an essential service to electric customers in a cost-of-service model. For this group, the issues facing the evolution of power generation are certainly important in terms grid modernization and preparing for a world with more distributed energy sources. But future challenges are less onerous from a credit perspective when compared to integrated utilities, which face capital-intensive decisions regarding large-scale generation investments.
Integrated utilities, with owned generation and PPAs from other generators, face the additional challenge of managing large-scale generation assets that will have to compete in a more rapidly evolving world. These entities have to make capital-intensive decisions regarding power generation investments while knowing that the operating costs and emissions profiles of their assets will likely look at least somewhat less attractive at some future date when renewable generation, battery technology, efficiency gains, and even emissions standards could result in some future regulatory commission being less impressed.
Research contributed by Sloan Millman and Rebecca Ai.