Keep up with the latest ESG developments affecting business, trade, and capital investment by subscribing to the free newsletters.
SUBSCRIBE TO THE NEWSLETTERS
---
SEC Proposal
Climate Disclosures Are Increasing In The U.S. But Still Far From What The SEC Has Proposed
Mandatory climate disclosures are now on the horizon in the U.S. after the Securities and Exchange Commission unveiled a long-anticipated climate disclosure rulemaking proposal. This proposal is the first step in a process that could lead to a requirement for SEC registrants to disclose their greenhouse gas emissions and, in some cases, emissions throughout their entire value chains.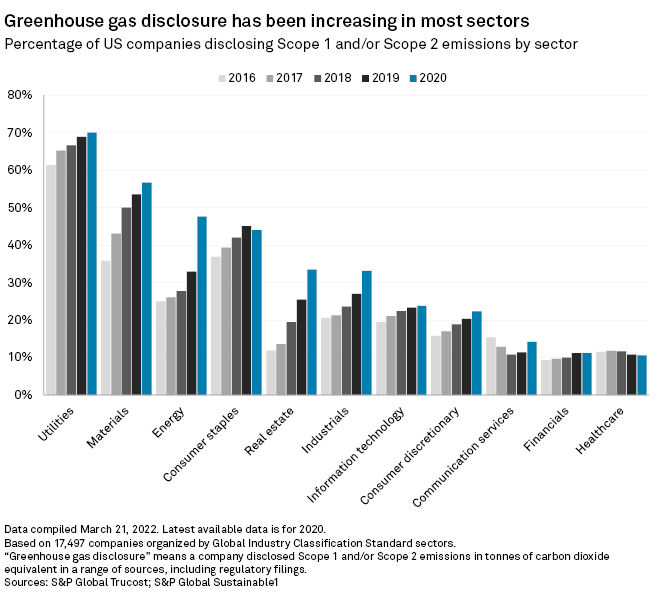 SEC Unveils Landmark Climate-Risk Disclosure Rule For Publicly Traded Companies
Publicly traded companies in the U.S. would have to annually report the greenhouse gas emissions for which they are directly responsible — known as Scope 1 and 2 emissions — under sweeping climate-risk disclosure regulations the SEC proposed March 21. The rule would also apply to international companies with operations in the U.S.

In addition, companies would be required to report so-called Scope 3 emissions if deemed "material" to their business and if they have a goal to reduce carbon pollution or take similar action. Some small companies will be exempted from the Scope 3 provisions, which would also come with safe harbor protections to shield companies from liabilities.

Scope 3 carbon pollution, for which companies are not directly responsible, is the most difficult type of emissions to account for and reduce but also tends to make up the largest share of corporate carbon footprints.
READ THE FULL ARTICLE
---
---
Corporate Impacts
U.S. Power Utilities Begin Adding Scope 3 Emissions To Climate Goals
With a supermajority of major US electric companies now working towards net-zero goals, a new set of first movers are evolving their climate ambitions to include Scope 3 – the largest portion of the power sector's total carbon emissions.


United Airlines' 2050 Carbon Neutral Target Won't Rely On Offsets: Director
United Airlines will not rely on carbon offsets in reaching its 2050 net-zero goal, the company's sustainability director said March 15, a decision that forces the airline to place a greater emphasis on nurturing the global supply of sustainable aviation fuels.
READ THE FULL ARTICLE
More Companies Calling Climate Change A 'Material Issue' As Stress Testing Gains Traction
The destructive effects of climate change have upended lives and economies for decades, and 2021 was no exception: from flooding in Europe and Canada and wildfires in the U.S. to growing water scarcity and agricultural disruption, the human and financial costs were great.
READ THE FULL ARTICLE
---
---
Global Regulation
European Banks Cut Fossil Fuel Financing, Unlike North American Peers – Report
Large European banks cut financing to fossil fuel companies by 27.6% in 2021 amid mounting shareholder pressure and the publication of new funding policies, while U.S. and Canadian peers increased their financing, according to new research.

Pressure from investors is having a "clear impact" on some banks' climate strategies, with U.K. lenders such as Barclays PLC and HSBC Holdings PLC releasing new policies after facing shareholder resolutions, said Maaike Beenes, campaign lead at BankTrack, one of the environmental advocacy organizations behind the new Banking on Climate Chaos report.

Barclays' financing to oil, gas and coal companies dropped 30.1% to $19.6 billion in 2021, and HSBC recorded a 26.8% decline to $18.0 billion, the research found.

Pressure from large investor groups will only grow further, and other banks would be wise to get ahead of the game and act before shareholders force them to, Beenes said in an interview.

Nine of the largest U.S. and Canadian lenders face climate-related shareholder proposals at their 2022 annual general meetings despite efforts by some banks to have the resolutions omitted from their proxies, according to the Interfaith Center on Corporate Responsibility, a coalition of shareholder advocates.


VCM To Slowly Transition From Mix Of Avoidance, Removals Credits To Removals Only: Carney, Antonioli
The voluntary carbon market will slowly move away from the current mix of avoidance and removal credits towards a removal credits only market, said Mark Carney -- UN special envoy for climate and finance and former governor of the Bank of England -- and David Antonioli, CEO of the world's largest certifier of carbon credits Verra.
READ THE FULL ARTICLE
ESG Regulatory Tracker — February 2022
Regulation is shaping the sustainability agenda and changing the way companies do business in different jurisdictions, but keeping pace with constant regulatory updates has become a mammoth task for businesses and investors.
READ THE FULL ARTICLE
Financial Institution Perspectives on Climate Change Measurement, Management and Reporting in New Zealand
To take a close look at the state of climate reporting today and some of the challenges financial firms face going forward, S&P Global Market Intelligence hosted a roundtable to discuss the views of the financial sector in New Zealand regarding climate change.
READ THE FULL ARTICLE
As The U.K. Targets Net Zero By 2050, The S&P UK PACT Indices Can Too
The UK set goals of reaching net zero targets by 2050; these targets include transitioning to cleaner power and a more sustainable future, securing 440,000 well-paid jobs, and protecting the British consumer from global fossil fuels price spikes.
READ THE FULL ARTICLE
---
Watch S&P Global Sustainable1's first episode of the Beyond ESG webinar series to hear thought leaders discuss the shift from climate disclosure to action.
ACCESS THE REPLAY
---