Iron ore stocks have fallen rapidly over the recent months as disruption at Vale SA operations caused total production to fall by 11.1% to 72.9 million tonnes year over year. As anticipated, production in the southern system was most reduced and fell by 36.4% year over year to 11.8 Mt as the company reported the net effect of the Brumadinho dam collapse on its operations for the March quarter.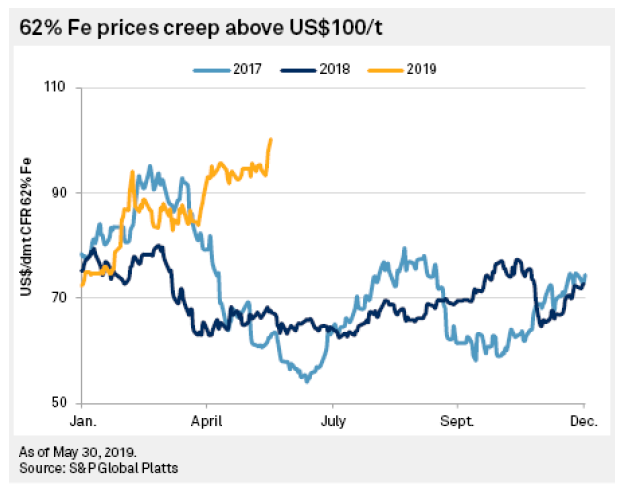 S&P Global Market Intelligence has reduced its production expectations for Australian and Brazilian miners in 2019 following widespread disruption due to dam failure and weather in particular. Rio Tinto, BHP Group and Fortescue Metals Group Ltd. reported a variety of operational challenges and cyclone damage, which have led to a total yearover- year loss of 5.4% among the Top 20 iron ore producers and 19 Mt of production removed from supply in the March quarter.
We now expect Australia to produce 892 Mt of iron ore, which is revised lower by 16 Mt and is largely due to challenges at junior iron ore producers' mines. Furthermore, we expect Brazilian net production to decrease year over year by a greater amount — 54 Mt — than we did in April — 23 Mt — due to further releases by Vale and the impact to nearby miners, such as Samarco and Minas Rio.
We therefore expect a seaborne deficit of 36 Mt in 2019 and 11 Mt in 2020 before a return to a more balanced market in 2021.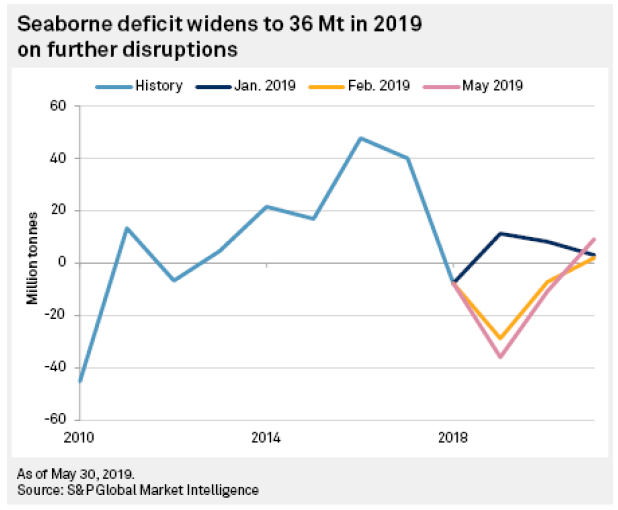 Chinese imports lower following a 50-day logistic chain
On a more granular level, trade data from S&P Panjiva is beginning to reveal the full extent of the company's turmoil since the collapse of a dam. Panjiva data shows that Vale's exports of iron ore from Brazil have fallen by 33.8% year over year in March, to their lowest — 16Mt — since at least 2014 as a consequence of the closures.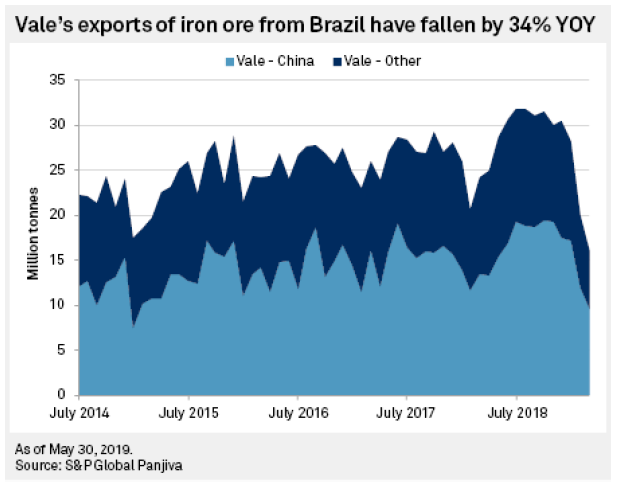 In terms of downstream impacts, buyers in China will have felt slightly less impact than average with a 29.2% year-overyear decline to 9.5 Mt of shipments in March. As a result, shipments destined for China accounted for 60.2% of exports in the March quarter of 2019, which is up from the 55.1% share a year earlier.
Finally, Vale's reduction has only been partially offset at the national level by supplies from smaller operators including Cia. Siderúrgica Nacional, or CSN, which surged 36.9% higher to export 6.5 Mt in March. However, Vale's reduction was the net effect, and total Brazilian exports still dropped 22.2% to 22.5 Mt over the same month.
Alumina levels and penalties on the rise
This visible reduction in quantity is also driving changes to the chemistry of the global seaborne blend of iron ore available to Chinese customers. With robust levels of steel production in May on attractive levels of steel margins, S&P Global Platts observed increased alumina differentials with traders and end users looking to secure seaborne cargos with lower alumina.
After the accident, alumina penalties increased to US$4.7/dmt on Jan. 31 from US$1.7/dmt on Jan. 25 before reaching a 2019-high of US$6/dmt on May 16. Aside from increased premiums for Vale's flagship Brazilian Blend fines, or BRBF, stronger trades, bids and offers were also observed for other lower-alumina midgrade alternatives like CSN's IOC6, Trafigura's Sudeste fines as well as lower-grade, lower-alumina options like BHP's Yandi fines and FMG's Kings fines.
For end users in the Tangshan region, the immediate impact on tightening supply was cushioned due to a ramp-up in production of domestic lower-alumina concentrate which was consumed by many end users as either a direct feed or for pelletizing before being used in the blast furnace. However, market sources reported doubts over the sustainability of such a trend, with lowering inventories from miners suggesting that current supply would not be able to sustain current high levels of demand over the long run as well as the threat of more stringent environmental regulations leading to curbs to production.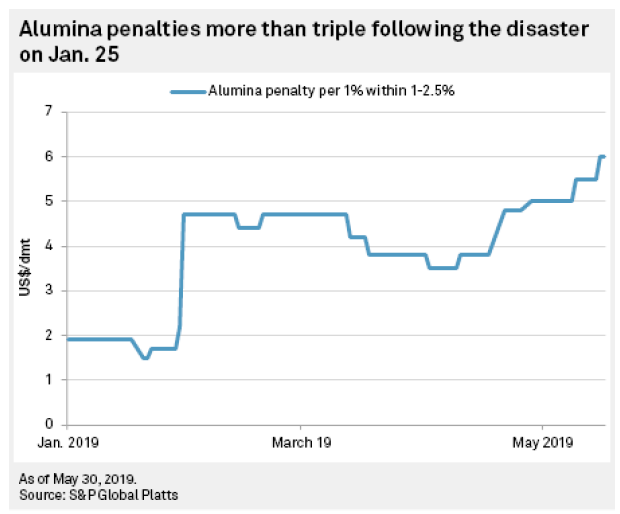 For many eastern Chinese end users without access to these domestic higher-grade, lower-alumina concentrates, stronger demand for lower-alumina iron ores at ports was observed due to a lack of other viable alternatives. Chinese end-users were also observed buying Australian lump at thin spreads to Indian pellet options due to a greater emphasis on maintaining lower-alumina levels in the blast furnace.
End users with smaller blast furnaces have more flexibility with regards to altering their feedstock ratios and have more optionality as compared with their larger counterparts. Larger blast furnaces are unable to make quick and large changes to their feedstock blends without adversely impacting their blast furnace performance rates. Smaller end users will therefore be able to capitalize on cheaper ores with lower-alumina content available at Chinese ports, while larger mills will be under pressure to secure longer-term supply alternatives due to a technical reliance on the BRBF chemistry.
S&P Global Ratings — Vale's financial position remains robust
S&P Global Ratings affirmed its BBB- ratings on Vale on March 21 after an initial assessment on the potential side effects of the Brumadinho dam collapse. S&P Global Ratings also estimate a meaningful reduction to 320 Mt of output for 2019, though the company's financials are partly compensated for by stronger prices. Vale's balance sheet is strong enough to sustain leverage ratios consistent with the BBB- rating, as long as damage costs remain below US$20 billion.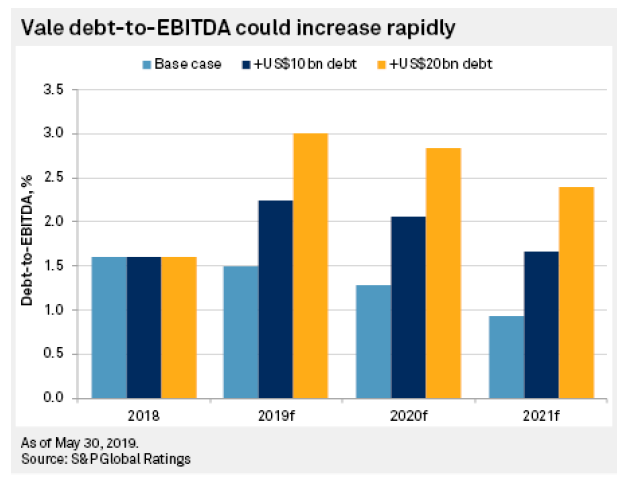 On April 16, Vale confirmed that it expects to sell between 307 Mt and 332 Mt of iron ore, and its first-quarter results included a loss relative to the accident of roughly US$4.5 billion, of which US$2.4 billion are due to remediation/compensation estimated charges and US$1.9 billion estimated for decommissioning costs of the remaining tailing dams. The volume estimations as well as the financial impact so far are consistent with our set of assumptions and sensitivity analysis. S&P Global Ratings also lowered Vale's Stand Alone Credit Profile to bbb- from bbb and reviewed the management and governance assessment on Vale to "weak," as the shortcomings in risk oversight and damage controls were obvious. Still, the company needs to secure nine more dams that bear some degree of collapse risks before being able to leave these tragedies behind.
This article is a collaborative analysis by S&P Global Market Intelligence's Maximilian Court, S&P Global Platts' Jun Kai Heng, S&P Global Panjiva's Christopher Rogers, and S&P Global Ratings' Diego Ocampo. All companies are owned by S&P Global Inc.
This article was published by S&P Global Market Intelligence and not by S&P Global Ratings, which is a separately managed division of S&P Global.