One current fear among financial markets regards the size of the U.S. bond market rated 'BBB' by
S&P Global Ratings relative to the size of the speculative-grade market ('BB' category and lower).
While the 'BBB' market is growing, this is not the first time it has been this large in comparison to
the speculative-grade market, and the relative size has been falling over the past year. At nearly
every point in the past 15 years, the total debt outstanding of our 'BBB' bond spread composite
has exceeded that of our speculative-grade composite (see chart 1). The 'BBB' composite is now
1.84 times the size of the speculative-grade composite, up from 1.62x at the end of 2008, but this
ratio has reached such a level before. It has also been declining since reaching 2.05x in January
2018.
The Speculative-Grade Bond Market Has Experienced Past 'BBB' Debt Infusions
The largest U.S. fallen angel (an issuer downgraded to speculative grade from investment grade) in
the history of S&P Global Ratings' credit ratings was General Motors (GM) in 2005, with $291
billion in outstanding debt. Compounding the shock to markets was the downgrade of Ford Motor
Co. on the same day--May 5, 2005--for a combined total of $453 billion in affected debt (including
subsidiaries). These synchronous events increased the outstanding debt amount of our
speculative-grade bond composite by 18.5% in a single day. This was by far the single largest
incidence of 'BBB' debt downgraded to speculative grade in one day within our reported history
(see charts 2 and 3). That said, not all of the debt was included in our bond composites. For more
information on our bond composite methodology.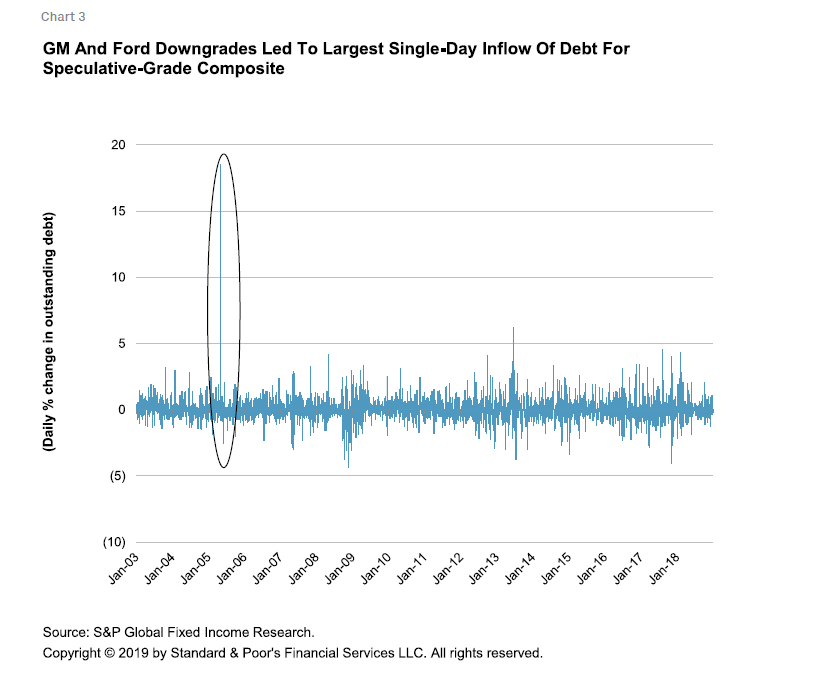 However, over a trailing-20-business-day period (used to approximate a one-month actual
period), the Ford and GM downgrades trail the expansion in speculative-grade composite debt
that occurred around the "taper tantrum" of mid-2013 (see charts 4 and 5), which also ranked
high in downgraded 'BBB' debt.
Further, it appears that very little--if any--of the downgraded 'BBB' debt of Ford and GM
experienced multinotch downgrades into speculative grade. Most, if not all, of this downgraded
debt was downgraded into the 'BB' segment (see chart 6). Meanwhile, the taper tantrum resulted
in large debt inflows across the speculative-grade segment, as well as subsequent large debt
outflows within the 'B' rating category (see charts 6 and 7).
Speculative-Grade Bond Returns Bounce Back Within Months
Whether during the aftermath of a singular, large-scale event like the downgrades of Ford and GM
or the slightly longer period in 2013, large influxes of debt in the speculative-grade composites
have yet to cause any permanent or even prolonged damage as measured by total returns (see
charts 8 and 9). Losses following both events reversed themselves within four to five months.
Aside from one-time shocks like those examined above, periods of deeper and longer losses have
occurred in the history of our bond composites, such as during the 2008 financial crisis (see chart
10). This was a period marked by broad declines in asset prices across various sectors, with both
investment-grade and speculative-grade bonds losing ground over the same period.
However, even during that recessionary period, our total returns composites rebounded to their
September 2008 levels within about nine (for investment grade) to 10 months (for speculative
grade). As seen in the charts above, the declines in the speculative-grade composites during the
financial crisis did not result from any large infusion of debt. Quite the opposite, these losses were
a result of falling prices for speculative-grade bonds, accompanied by a decline in outstanding
speculative-grade debt--itself largely a result of many bonds being removed from our composites
once they reach default.
The speculative-grade market has thus proved resilient to losses sustained during episodic
shocks as well as over the longer term. While the growing 'BBB' market does present some risk, we
expect the speculative-grade market could withstand losses associated with a large injection of
downgraded 'BBB' debt, as it has in the past.