Sales by toymaker Lego reported a 5.8% year over year growth in revenues in 2019, including an expansion of 7.3% in 2H. The privately-owned firm expects single digit growth in 2020 which it sees as being ahead of the industry average. Growth in revenues in the Americas in 2019 was more modest at 3.4%.
The brickmaker may have had a tough end to 2019 with U.S. imports by sea and from Mexico having fallen by 11.2% year over year in Q4, Panjiva's data shows. That followed a 2.2% rise in Q3, perhaps indicating earlier-than-normal shipping as the threat of tariffs overhung the sector. There has been a longer-term downturn in U.S. imports linked to Lego though with a 2.7% annualized decline in the three years to Dec. 31.
LEGO BUILT INVENTORIES EARLIER IN 2019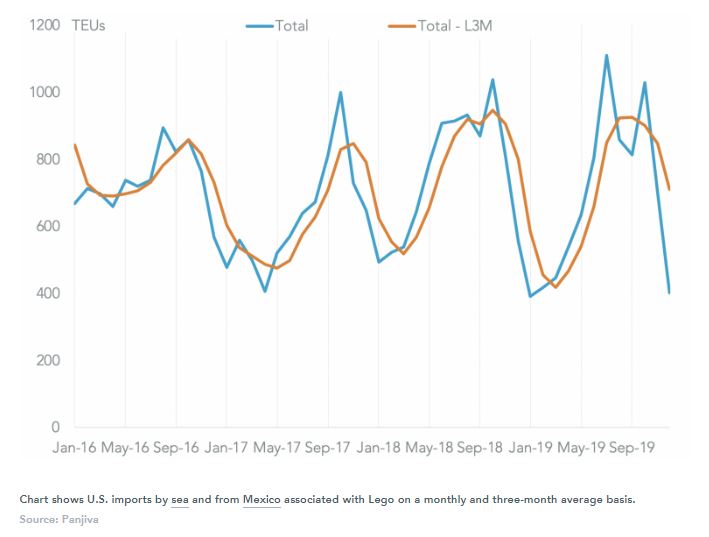 The exposure of Lego's U.S. business to China and therefore to the COVID-19 coronavirus outbreak should be minimal as China only represented 1.0% of supplies in 2019. That's a marked contrast to Hasbro and Mattel as outlined in Panjiva's research of Feb. 24.
It won't be immune though, having built up production in China for sale in China, with sales potentially facing a decline on lower retail activity. Asia represented 17.5% of Lego's sales in 2019.
Lego has instead built up dual streams of supplies for the U.S. Imports from Mexico represented 65.0% of the total in 2019 while Europe accounted for 33.2%.
LEGO'S DUAL SOURCING STRATEGY MINIMIZES CHINA EXPOSURE