Start every business day with our analyses of the most pressing developments affecting markets today, alongside a curated selection of our latest and most important insights on the global economy.

As the global energy industry accelerates toward less carbon-intensive operations, the natural gas sector faces risks and opportunities in the energy transition from fossil fuels to renewable generation.

"There's no question that natural gas is going to have to be a key part of the transition, especially in the near term," Gerard Anderson, executive chairman of Detroit-headquartered DTE Energy Co., said earlier this month at the Edison Electric Institute's 2021 annual conference, according to S&P Global Market Intelligence. "These gas assets are going to go through transitions in the way they are used. As they come in to backfill for coal and support renewables, they'll be used pretty heavily. But as we increase our investment in renewables, their use and capacity factors will decline ... then eventually, we're going to need to transition them either to carbon capture or to a different fuel, some mix of renewable and carbon capture or hydrogen."

Many market participants project that natural gas will likely play a key role in a decarbonized global economy—with an outcome that could disrupt decades of growth for the sector. As the framework for a future energy landscape evolves, current gas usage is also changing. Downstream natural gas companies in the U.S. are confronting communities' campaigns to cut the fuel out of buildings, while upstream producers worldwide are battling increased competition from clean-energy providers.

Different economies may use natural gas for different purposes as they work to control their carbon emissions, yet the viability of natural gas during the transition into a low-carbon world hinges on the industry's ability to uphold its net-zero targets. Oil and gas companies have endured mounting pressure to clean up their value chains and take meaningful action to reduce their sizable emissions. In 2019, the natural gas value chain's 45 metric tons of methane emissions accounted for the largest share from the energy sector that year, according to a study from the research nonprofit organization Energy Futures Initiative. Market participants have called for more comprehsenive policy action from governments to help deliver this change.

"We think it's [natural gas] going to have a significant role [in a low-carbon world], and yet there is an obvious tension as we get more and ambitious," Ernest Moniz, CEO and founder of the Energy Futures Initiatives and former U.S. Energy Secretary, said during an event hosted by the think tank Atlantic Council, according to S&P Global Market Intelligence. "The reality is that natural gas is a significant contributor overall to carbon emissions, and that will have to change, at least in terms of unabated natural gas combustion over time."

Today is Monday, June 28, 2021, and here is today's essential intelligence.
Uncertainty in the Global Economy
---
Economic Outlook U.S. Q3 2021: Sun, Sun, Sun, Here It Comes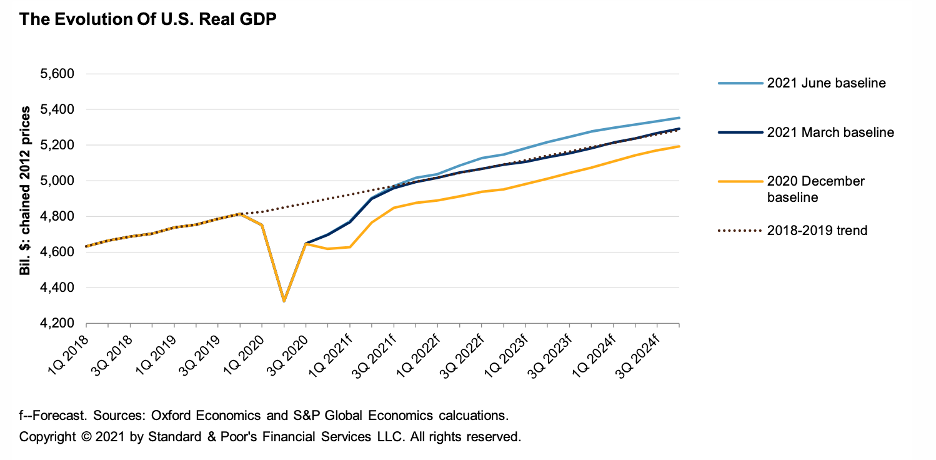 S&P Global Economics has slightly raised its real GDP growth forecasts for 2021 and 2022 to 6.7% and 3.7%, respectively, from 6.5% and 3.1% in its March report.
—Read the full report from S&P Global Ratings
Market Dynamics
---
Why Disruptive Innovation Matters to Advisors
Ric Edelman, Founder of RIA Digital Assets Council, explores the new economy, its potential sources of growth, and the importance of "future proofing" client strategies.
—Watch and share this video from S&P Dow Jones Indices
European PE's Potential for Alpha Overshadowed by Views on GDP Growth
Europe is "misunderstood from an ability to drive alpha" perspective, a private markets-focused senior investment director at Cambridge Associates LLC argued, and the European landscape has a plethora of smaller, underappreciated investment opportunities.
—Read the full article from S&P Global Market Intelligence
Banking Industry Under Pressure
---
As Near-Term Risks Ease, the Relentless Profitability Battle Lingers for European Banks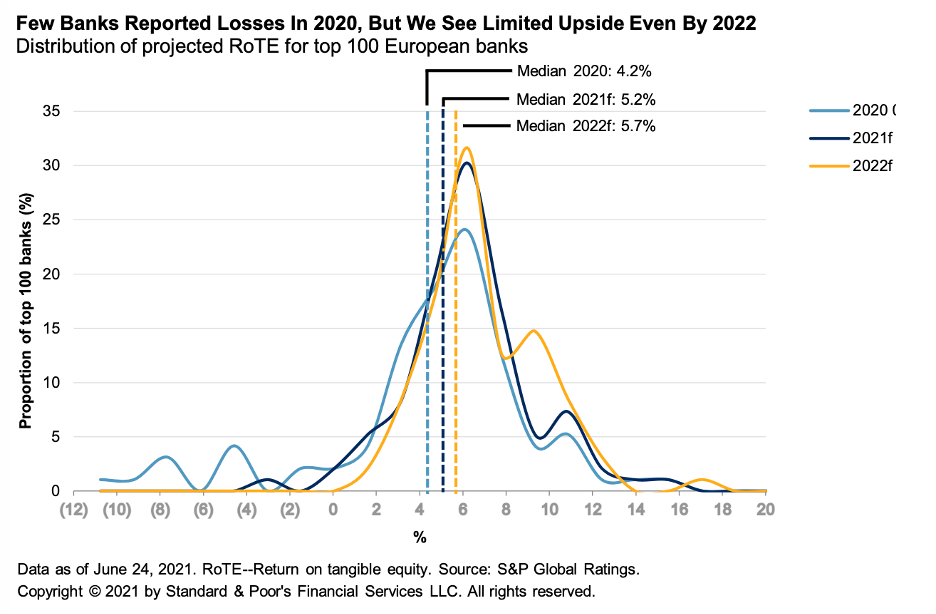 In almost every case, the ratings had been on negative outlook since spring 2020, linked to doubts about the effect of the pandemic on asset quality and capitalization, business model and profitability challenges, or both.
—Read the full report from S&P Global Ratings
A Digital Euro Must Not Become 'Too Successful' – ECB Executive
The European Central Bank wants its digital euro to become successful, "but not too successful," according to Fabio Panetta, an ECB executive board member. "If it were too successful, we could trigger instability," he said, adding that limitations on the ownership of digital euros would be "essential" in order to preserve financial stability. Panetta was speaking at a virtual conference organized by the European Banking Federation.
—Read the full article from S&P Global Market Intelligence
ESG in the Time of COVID-19
---
Congress Sends Resolution Nixing Trump Methane Rule Rollback to Biden's Desk
With a 229 to 191 vote June 25, the U.S. House of Representatives advanced a resolution invoking the Congressional Review Act to repeal the Trump administration's 2020 rules issued under the U.S. Environmental Protection Agency and to reinstate the Obama-era regulations. The Congressional Review Act, or CRA, allows lawmakers to rescind a rule within 60 days of an agency transmitting the rule to Congress through a simple majority vote in both chambers.
—Read the full article from S&P Global Market Intelligence
Coal-Fired Plant Carbon Capture Projects Face Headwinds
Carbon capture at aging U.S. coal plants has always been a long shot financially, and the outlook for such projects appears to be dimming as private investors look elsewhere and federal support for the technology wanes under the Biden administration.
—Read the full article from S&P Global Market Intelligence
Trade Group Introduces Template for Oil, Gas to Report Greenhouse Gas Emissions
Designed with input from the financial and regulatory communities, the largest oil and gas trade group in the U.S. rolled out a standardized template for member companies to report greenhouse gas emissions starting this year.
—Read the full article from S&P Global Market Intelligence
Australian Iron Ore Majors Urge Indigenous Exec Hires to Drive Social Engagement
Miners need Indigenous people in executive roles and internal "dedicated champions" who can translate cultural issues back to the board and wider company, according to experts at two of Australia's iron ore majors.
—Read the full article from S&P Global Market Intelligence
The Future of Energy & Commodities
---
U.S. Oil, Gas Rig Count Jumps 10 to 577, Amid More Signs of Oil Demand Recovery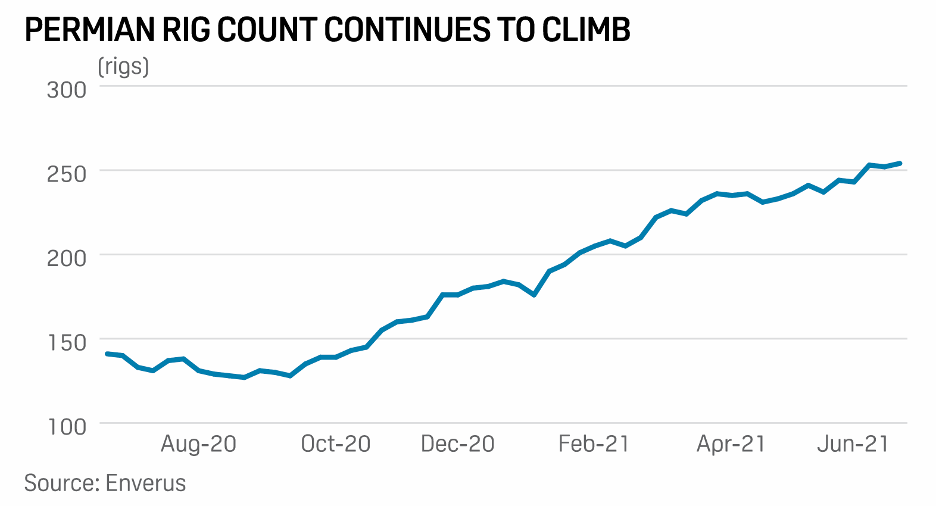 The U.S. oil and gas rig count jumped 10 to 577 in the week ending June 23, Enverus data showed, amid continued lofty oil prices, still-rising oil demand and fresh signs of recovery following the roughly 18-month pandemic.
—Read the full article from S&P Global Platts
Shipping: Agreement Reached to Release Ever Given, but Cargo Deliveries Hinge on Claims Division
The ultra large container ship Ever Given, which has been stranded in the Suez Canal for more than three months, is set to be released soon by local authorities subject to a written agreement with the owner, but the release of its cargo may take much longer, several sources with direct knowledge of the matter said June 25.
—Read the full article from S&P Global Platts
CONTAINER PREMIUMS: Red-Hot Import Market Continues, July1 Premium Increases Likely
Ocean carriers are expected next week to take increases on premium charges that could escalate trans-Pacific premium services to new highs.
—Read the full article from S&P Global Platts
Written and compiled by Molly Mintz.