Start every business day with our analyses of the most pressing developments affecting markets today, alongside a curated selection of our latest and most important insights on the global economy.

After cyberattacks proliferated during the pandemic, maintaining a strong cybersecurity defense in an increasingly risky environment is becoming a crucial component of companies' business models and operations.

"Establishing a strong organizational cybersecurity framework is becoming more critical than ever," David Koh, commissioner of cybersecurity and chief executive at the Cyber Security Agency of Singapore, and Nancy Luquette, chief risk officer of S&P Global, said in a World Economic Forum commentary this week. "To make decisions that will drive their strategies forward effectively—and securely—senior executives and Boards will depend more on savvy cybersecurity leaders to inform their organization's security in line with its risk appetite."

Cybersecurity is solidifying as a top concern among environmental, social, and governance (ESG) issues, as cyberattacks increase in frequency and severity—given the financial losses, reputational damages, risk management decision-making, and market disruptions that can follow in their wake. Government and business leaders alike are taking action to defend against escalating cyberthreats.

"We have seen more credit-relevant cyber events in the last six months than in the previous six years. Almost all recent attacks involved ransomware demands and highlighted attackers' ability to choose targets without regard for geography or sector," S&P Global Ratings said in report earlier this month detailing the credit risks that come from cyberattacks. "To help mitigate the potential negative credit impact of cyberattacks, robust cybersecurity remains vital. There remains no substitute for a robust cybersecurity system, from internal governance to IT software. Other key factors that determine how well entities manage cyber risk include: prompt remedial action, active detection, C-Suite support including budget allocation, and a better understanding of risks arising from third-party providers or supply chains."

During the depths of the coronavirus crisis, nearly half of the business leaders surveyed by 451 Research, part of S&P Global Market Intelligence, cited information security as their priority with the most urgency. Now, cybersecurity deal-making is surging. Six billion-dollar-plus cybersecurity mergers and acquisitions (M&A) deals were announced last year alongside 59 private-equity led deals.

A string of severe events—including foreign actors infiltrating U.S. agencies' systems by hacking the Texas-based software company SolarWinds late last year, the cyberattack on Microsoft that ballooned into a global security crisis earlier this year, and the cyberattack that shut down the Colonial Pipeline in May—showcase how critical infrastructure has come under attack and the additional security dangers of remote work and breaches forced organizations to speed up their digital transformation efforts.

In the U.S., utilities and pipeline operators remain increasingly at risk to cyberattacks due to in part to aging infrastructure. In response, utilities, energy companies, lawmakers, and government agencies are calling for action to define response plans and invest in mitigating the impact of such attacks. Earlier this month, the New York Public Service Commission announced that in the event of a cyberattack the state's largest gas and electric utilities would be allowed to share their assets with one another and other utilities in the U.S. and Canada. Senators as recently as this week have pushed for federal agencies to go beyond interagency coordination and do more to protect pipeline owners and operators.

Threats against government and commercial satellites and other space assets used for telecommunications, 5G networks, and defense systems technology could be the next frontier for cybersecurity.

"There is an incredible range up there in terms of what we are using them [satellites] for ... As our dependency increases on space-based systems, so does our need to protect those systems, to build out secure, defensible and resilient systems," Melissa Griffith, a public policy fellow with the Wilson Center's Science and Technology Innovation Program, told S&P Global Market Intelligence. "One of the things that we are doing is saying, 'You're worried about this, we're worried about this, here are some questions you need to start asking industry to understand risk in this space.'"

The question of when, and how severe, the world's next major cybersecurity attack will be remains unanswerable as these complex risks compound.

"I think it's more than likely we're going to end up, if we end up in a war—a real shooting war with a major power—it's going to be as a consequence of a cyber breach of great consequence and it's increasing exponentially, the capabilities," U.S. President Joe Biden said July 27 during a speech while visiting the Office of the Director of National Intelligence.

Today is Thursday, July 29, 2021, and here is today's essential intelligence.
The Credit Cycle
---
Credit Trends: Global Financing Conditions: Bond Issuance Remains Strong Despite an Expected Modest Contraction
With financing conditions still favorable across all asset classes, issuance totals in the second quarter remained robust. In total, issuance did decline relative to the same point in 2020, but last year produced unusually high issuance, and the full-year 2021 total will likely finish strong despite a decline. Investors' hunt for yield pushed speculative-grade bond, leveraged loan, and collateralized obligation totals to multiyear and in some cases record-breaking first-half totals in 2021. Some uncertainties remain as cases of the delta variant rise, but current inflation concerns are likely transitory and economic growth projections remain very strong.
—Read the full report from S&P Global Ratings
Islamic Insurers May Not Sustain Strong Profitability Throughout 2021
S&P Global Ratings expects ratings on Islamic (Takaful) insurers in the GCC to be broadly stable in 2021. However, persisting risks related to asset volatility, underwriting losses, and company-specific governance, and control failures could lead to some negative rating actions.
—Read the full report from S&P Global Ratings
Market Dynamics
---
Fears of A U.S. Market Correction Grow as Stocks Climb to New Highs
A bright economic outlook and extremely accommodative monetary policy have created one of the longest, uninterrupted rallies in U.S. equity market history, but risks from coronavirus variants, a sudden monetary policy shift, and hot inflation have raised concerns for some investors about a correction.
—Read the full article from S&P Global Market Intelligence
Spotlight: Widening Reserve Margins and Reduced Outages Offer Downside Risk for ERCOT Prices In August
ERCOT load in June set a new peak for the month, 70.2 GW, on the back of a heat wave that swept across a large share of the continental US. But temperatures over the past few weeks have remained below those recorded in mid-June, with demand topping 68.2 GW month to date and on-peak prices at the North Hub averaging $37.90/MWh.
—Read the full article from S&P Global Platts
Banking Industry Under Pressure
---
Cable Companies Challenged by New Broadband Competition, Regulation Risk
Though broadband subscriber gains buoyed cable operators through the pandemic, analysts worry that increased competition from wireless carriers and the potential for greater federal regulation could impede the industry's continued growth.
—Read the full article from S&P Global Market Intelligence
Asia-Pacific Banks to Follow Region's K-Shaped Economic Recovery from Pandemic
The recent resurgence of COVID-19 in parts of Asia-Pacific is likely to hit economic recovery, delaying the process of normalization of bank earnings in some emerging markets in the region, according to S&P Global Ratings analysts.
—Read the full article from S&P Global Market Intelligence
Technology & Media
---
Surge In Global IT Spending Prompts Reboot of Industry Forecast
S&P Global Ratings raised its global information technology (IT) spending forecast to 9.4%, up from 5.8% forecast in March 2021, as economic recovery continues to gain steam in the U.S. and elsewhere. S&P Global Ratings expects strength in most subsectors including hardware, enterprise software, and IT services. Semiconductors in particular are a standout because of very high demand offset by relatively fixed capacity. This favorable view on IT spending is likely to lead to further positive ratings actions through the second half of 2021.
—Read the full report from S&P Global Ratings
ESG in the Time of COVID-19
---
FERC Hears Lively Debate on State-Level Demand Response Bans
Public interest groups and clean energy advocates are urging the Federal Energy Regulatory Commission to eliminate a long-standing opt-out provision in its landmark demand response rule as states and grid operators seek to comply with a more recent regulation opening wholesale electricity markets to aggregations of distributed energy resources.
—Read the full article from S&P Global Market Intelligence
GOP Members Press FERC on Whether It Will Deny Gas Projects Over Climate Impact
US Federal Energy Regulatory Commission Chairman Richard Glick faced questioning from Republican House members July 27 on whether his increased attention to greenhouse gas emissions would prompt the commission to reject applications for interstate natural gas projects.
—Read the full article from S&P Global Platts
Spain's Naturgy to Reduce Gas Exposure, Spending to Seek Renewables Growth
Spain's Naturgy will reduce its gas exposure over the next five years by continuing to reduce gas procurement commitments and reducing its LNG tanker fleet, according to a strategy presentation July 28.
—Read the full article from S&P Global Platts
Jetblue Airways Stitches Sustainability Into Its Growth Strategy
As JetBlue Airways works to recover from lower air travel demand resulting from the coronavirus pandemic, it seeks to optimize operations by adding international flights, creating alliances with bigger airlines, and bolstering its commitment to energy transition.
—Read the full article from S&P Global Platts
The Future of Energy & Commodities
---
Analysis: Thailand's Crude Imports Remain Tepid but Spike In Plastics Usage Boosts Condensate Intake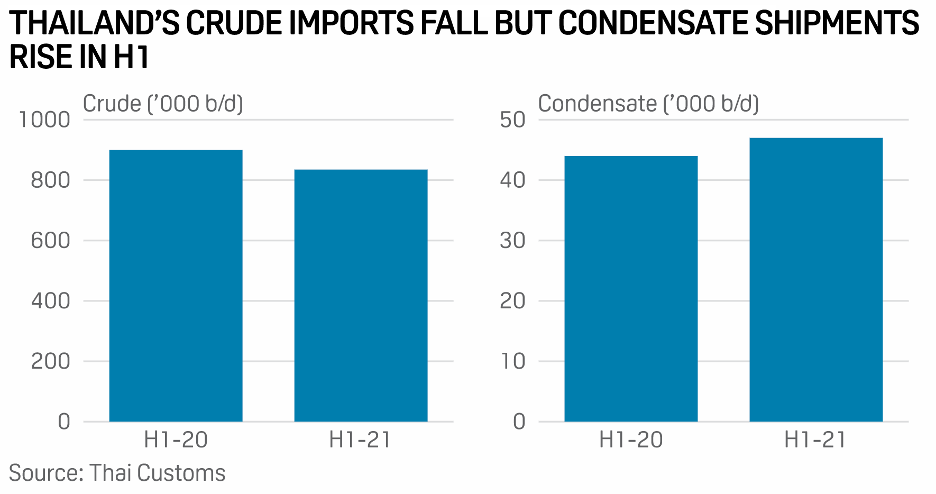 Thailand's crude oil imports fell in the first half of 2021 due to fragile domestic fuel demand amid a series of movement restriction measures, but the country's robust petrochemicals sector may continue to lift feedstock condensate purchases to supplement rising plastics usage and output.
—Read the full article from S&P Global Platts
San Juan Replacement Generation Delayed by COVID Supply Chain Issues Overseas
Replacement resources for the Public Service Company of New Mexico's coal-fired San Juan Generating Station are experiencing widespread supply chain issues and will not be available to meet summer 2022 peak loads, utility officials told state regulators July 28.
—Read the full article from S&P Global Platts
U.S. Interior Secretary Gives No Details on Restart of Lease Sales Despite Court Order
Interior Secretary Deb Haaland declined July 27 to commit to restarting oil and gas lease sales on federal lands and waters by the end of September, despite a judge ordering the Biden administration to put at least two previously scheduled sales back on the calendar.
—Read the full article from S&P Global Platts
Written and compiled by Molly Mintz.