Start every business day with our analyses of the most pressing developments affecting markets today, alongside a curated selection of our latest and most important insights on the global economy.

The global recovery across the media and telecommunications sectors is heating up—evidenced by companies' craze for more content, which is fueling consolidation.
In June, 121 media and telecom mergers and acquisitions (M&A) were announced worldwide, up notably from the 79 in the same month last year, according to S&P Global Market Intelligence. During the previous month, 104 media and telecommunication services sector deals were announced, up from the 68 in May 2020, according to another S&P Global Market Intelligence analysis. This follows a flurry of major M&A deals in the second quarter—Amazon's move to buy MGM Studios for $8.45 billion and AT&T's plans to merge its Discovery and Warner Media assets into one conglomerate for $43 billion in cash—which drove deal adviser fees higher and solidified just how rapidly technology and media are transforming.
Special purpose acquisition company (SPAC) deals are playing a pivotal role in revolutionizing the entertainment industry. Universal Music Group's deal with the SPAC Pershing Square Tontine Holdings, which is valued at $3.95 billion and implies a total enterprise value of approximately $40 billion for Universal Music, marks Universal Music's move to public markets, according to S&P Global Market Intelligence. Additionally, the legacy DVD rental kiosk company Redbox Automate Retail is going public via reverse merger with the SPAC Seaport Global Acquisition Corp. in efforts to evolve its business model for the digital age.
The content consolidation is creating more cable and streaming giants. The Spanish-language media company Grupo Televisa's announced decision to merge content units with the television network Univision for $4.8 billion is likely to result in the combined operation being the world's largest Spanish-language content producer. Set to launch a two-tiered aggregate service next year, Univision is already ramping up its streaming offering and ambitions.
Market participants don't expect regulatory risk to temper the velocity or success of such deal-making. Analysts told S&P Global Market Intelligence that the U.K. government's agenda to equalize broadcasters and video-on-demand services are unlikely to soften U.S. streaming service providers' growth in the country. In the U.S., other analysts expect the Discovery-WarnerMedia deal to survive regulatory scrutiny.
Today is Monday, July 19, 2021, and here is today's essential intelligence.
Uncertainty in the Global Economy
---
Black, Low-Income Americans Hit Hardest By Pandemic Medical Debt – Survey
Black, Hispanic and low-income Americans were disproportionately affected by medical bill and debt problems during the pandemic, according to a survey by the Commonwealth Fund, a private, nonpartisan foundation.
—Read the full report from S&P Global Market Intelligence
The Credit Cycle
---
Listen: The Upgrade, Episode 13: Rising Stars, Fallen Angels
In this episode of The Upgrade podcast, S&P Global Ratings discusses what's new with rising stars and fallen angels based on recent research, along with a detailed discussion of a recent rising star: Advanced Micro Devices.
—Listen and subscribe to CLOs Uncovered/The Upgrade, a podcast from S&P Global Ratings
Default, Transition, and Recovery: Four Defaults Push The 2021 Global Corporate Tally To 52
The 2021 corporate default tally increased to 52 after four issuers defaulted last week. The defaulters are: Virginia-based travel documentation provider KCIBT Holdings L.P. Spain-based audio-video services provider Joye Media SLU Missouri-based coal producer Peabody Energy Corp. (This issuer also defaulted on Feb. 3 and June 3, 2021.) China-based real estate developer Sichuan Languang Development Co. Ltd.
—Read the full report from S&P Global Ratings
Taking Loss Given Default Estimation to the Next Level: An Aspiration for All Creditors, Not Just Banks
Credit forms the foundation of national and international commerce. Credits range in sophistication from the ultra-complex (e.g. asset-backed securitization) through to the very simple (e.g. unregulated credit unions). Regardless of type, size, sophistication and geography, creditors can be sure of only one thing: There is no such thing as absolutely risk-free and therefore not all debtors will make repayments on time and in full.
—Read the full report from S&P Global Market Intelligence
Market Dynamics
---
Amplified By Tariffs, High US Steel Prices May Collide With Infrastructure Plans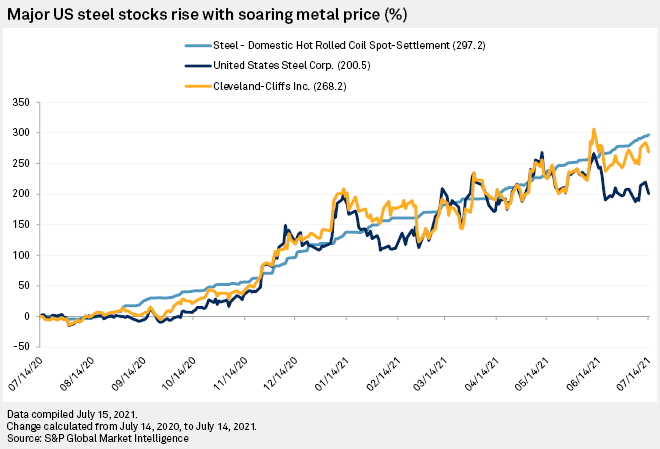 Steel prices in the U.S. are skyrocketing, at least partly because of dwindling domestic production and tariffs on steel imports enacted under former President Donald Trump. The trend could stifle any sweeping infrastructure stimulus effort.
—Read the full report from S&P Global Market Intelligence
ESG in the Time of COVID-19
---
Factbox: China Rolls Out National Carbon Market In Power Sector
China's highly anticipated national carbon market was launched July 16 and is expected to become the world's largest by volume of carbon allowances traded. The launch of China's carbon market is an early step toward the decarbonization of the country's industrial sectors, even as the government strikes a precarious balance between maintaining economic growth and putting a price on carbon.
—Read the full report from S&P Global Platts
Foreign Investors Flock To Spain's Booming Renewables Market
Spain has become the hottest ticket in town for international investors in renewable energy, with the government's green policies and a favorable power market helping to spark overseas interest.
—Read the full report from S&P Global Market Intelligence
FERC Kicks Off Major Rulemaking Effort To Help Speed Electric Grid Build-Out
The Federal Energy Regulatory Commission on July 15 took the first step in developing a major proposed electric transmission planning rule that could eventually transform the nation's energy landscape. In an advanced notice of proposed rulemaking, or ANOPR (RM21-17), the commission sought comments on how it should address obstacles that have stymied electric transmission build-out at the pace and scale needed to avoid the worst effects of climate change.
—Read the full report from S&P Global Market Intelligence
Argentina Oil Producers Put Focus On Carbon Neutralization As They Boost Output
The biggest oil producers in Argentina are taking steps to reduce or neutralize carbon emissions as they seek to boost output from the Vaca Muerta shale play before a decline in demand, as natural gas gains in the transition to zero-carbon energy, executives said.
—Read the full report from S&P Global Platts
Over 21,000 Without Power In Belgium After River Meuse Bursts Banks
Over 21,000 people in the southern Belgian region of Wallonia remained without power after devastating floods caused the River Meuse to burst its banks, local distributor Ores said July 16. The worst of the flooding in Belgium seems to be over but the Pepinster high voltage substation in the province of Liege has been severely damaged and remains inaccessible, system operator Elia told S&P Global Platts.
—Read the full report from S&P Global Platts
Western U.S. Faces Upside Risk To Gas-Fired Burns In Hot, Dry August Forecast
More record gas-fired power burns could be in store for the Western US this summer with toasty temperatures and dry conditions likely to continue for the region in August, according to an updated month-ahead outlook from the National Weather Service.
—Read the full report from S&P Global Platts
The Future of Energy & Commodities
---
China Independent Refiners Slash Crude Runs As High Oil Prices Squeeze Margins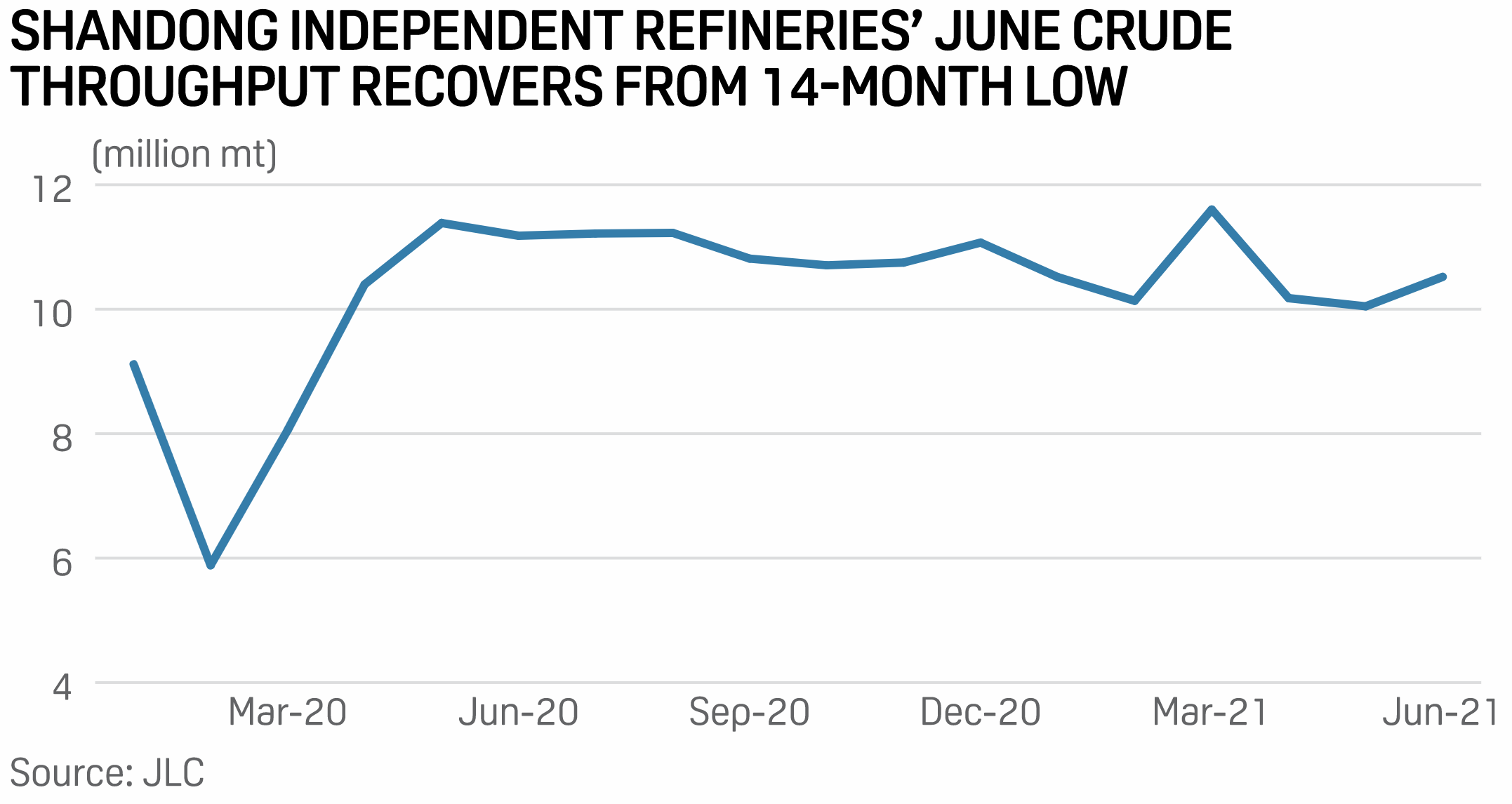 China's independent refiners are poised to slash their run rates as rising outright oil prices continue to threaten the fuel producers' domestic refining and sales margins, setting the stage for a sharp decline in the sector's crude imports in September, market and industry sources said.
—Read the full report from S&P Global Platts
Greenland Ends Decades-Long Hunt For Oil With Ban On New Licensing
Greenland has decided to cease issuing new licenses for oil and gas exploration, ending a multi-decade search for resources in its remote Arctic waters. Minister of natural resources Naaja Nathanielsen said that despite large potential oil reserves off Greenland's west coast, it now considered the price of oil extraction as "too high".
—Read the full report from S&P Global Platts
Written and compiled by Molly Mintz.