Subscribe on LinkedIn to be notified of each new Daily Update—a curated selection of essential intelligence on financial markets and the global economy from S&P Global.
The race to make efficient electric vehicles accessible and available is accelerating. Industry leaders, market participants, and policymakers increased their investments last year—identifying this year as the potential moment for mass EV adoption.
Despite the coronavirus pandemic's effect on the global economy and limitations on people's ability to travel, global EV adoption expanded in 2020. Global EV sales skyrocketed 43% to total 3.24 million vehicles sold, according to the Swedish consultancy EV Volumes. The activity was driven by Europe, which for the first time in five years passed China as the greatest source of global EV purchases. In Norway, more cars on the road were electric than not, marking a global record. Last year saw battery-electric vehicles jump to 54.3% of all new vehicles sold in the country, which exempts all EV sales from taxes, according to the Norwegian Road Federation.
The U.S.-based EV titan Tesla delivered 36% more vehicles last year than it did in 2019, according to the company's quarterly report. The total 499,550 vehicles delivered in 2020 was just shy of the carmaker's goal of 500,000 EVs. Investors were eager to back the sustainable solution to automotive transportation, as evidenced by the company's stock increasing 24.3% in December alone after Tesla debuted on the S&P 500 benchmark index on Dec. 21.
Now, "2021 is the year of the electric car," Andy Palmer, the former head of Aston Martin and previous chief operating officer of Nissan, told S&P Global Platts.
EV sales in China are likely to rise 40% this year, up to 1.8 million units sold from last year's 1.37 million, according to the China Association of Automobile Manufacturers. The organization's deputy chief engineer, Xu Haidong, correlated the anticipated growth to the country's continuing stimulus policies on vehicle consumption, sales promotion of manufacturers, and stable economic growth, according to S&P Global Platts.
Outlooks vary on how much transportation will have electrified by 2030, the first year the Paris Agreement targets ambitious emissions reductions. The International Energy Agency anticipates that by then, the world's EV fleet will displace roughly 2.5 million barrels per day of oil products. BloombergNEF forecasts that nearly 26 million EVs will be sold annually by 2030. Mr. Palmer, the former Nissan chief operating officer who is known for spearheading the first mainstream EV, told S&P Global Platts that he believes the global auto industry will be made up of 35% to 40% battery technology vehicles by 2030, when "passenger cars and buses will be predominantly pure electric, heavy duty vehicles like trucks will be powered by fuel cells, and anything bigger [will need] synthetic fuels [like for] drones [or] flying cars."
The United Kingdom's aim to end all sales of emissions-emitting vehicles by 2030 and plan to invest nearly £3 billion in electric vehicle production in the decade until then will put the country at the forefront of the world's EV market. EV sales in the U.K. are already rising—but their high prices may hinder widespread adoption rates in the near-term. Looking ahead, a lack of supply chain infrastructure to produce the batteries needed to put more EVs on roads may slow such efforts in Britain and beyond. A lack of supply chain transparency has tainted EV makers' governance measures around the world.
"Battery cell production is the fundamental rate-limiter slowing down a sustainable energy future," Tesla CEO Elon Musk tweeted on Jan. 17. "Very important problem."
To be sure, innovations are emerging at a rapid speed. Just last week, the Israeli company StoreDot announced the successful production of the first-ever lithium-ion battery capable of fully charging in five minutes. The innovation could be the breakthrough that makes EVs charging period comparable to the time it takes to refuel a petrol or diesel vehicle.
"The number one barrier to the adoption of electric vehicles is no longer cost, it is range anxiety," StoreDot CEO Doron Myersdorf told the Guardian. "You're either afraid that you're going to get stuck on the highway or you're going to need to sit in a charging station for two hours. But if the experience of the driver is exactly like fueling [a petrol car], this whole anxiety goes away."
Today is Monday, January 25, 2021, and here is today's essential intelligence.
Uncertainty in the Global Economy
---
Pfizer, COVID-19 Vaccine Makers Face Next Rollout Challenge: Hesitancy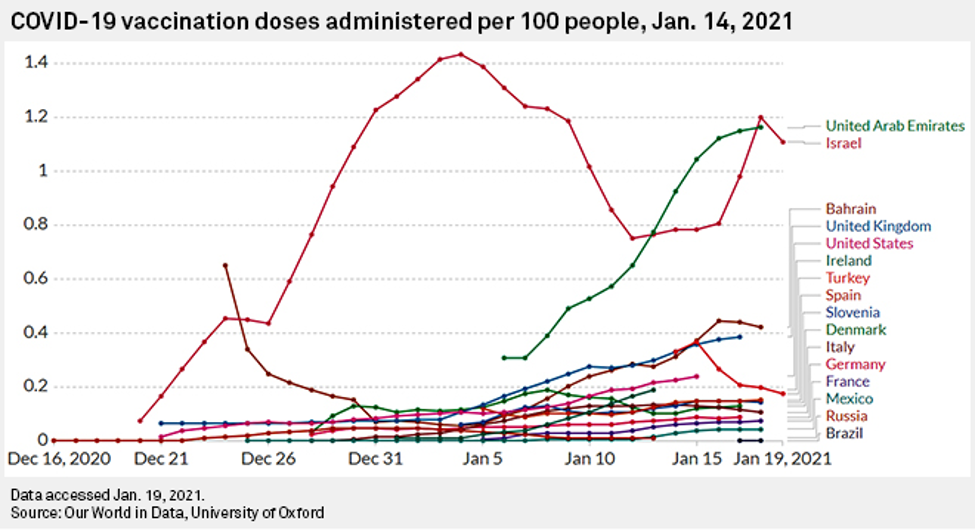 COVID-19 vaccines are now arriving slowly but surely in communities around the world, where healthcare experts are working to combat hesitancy from some to roll up their sleeves.
— Read the full article from S&P Global Market Intelligence
The Future of Credit
---
U.S. Corporate Credit Outlook 2021: Economic And Political Transition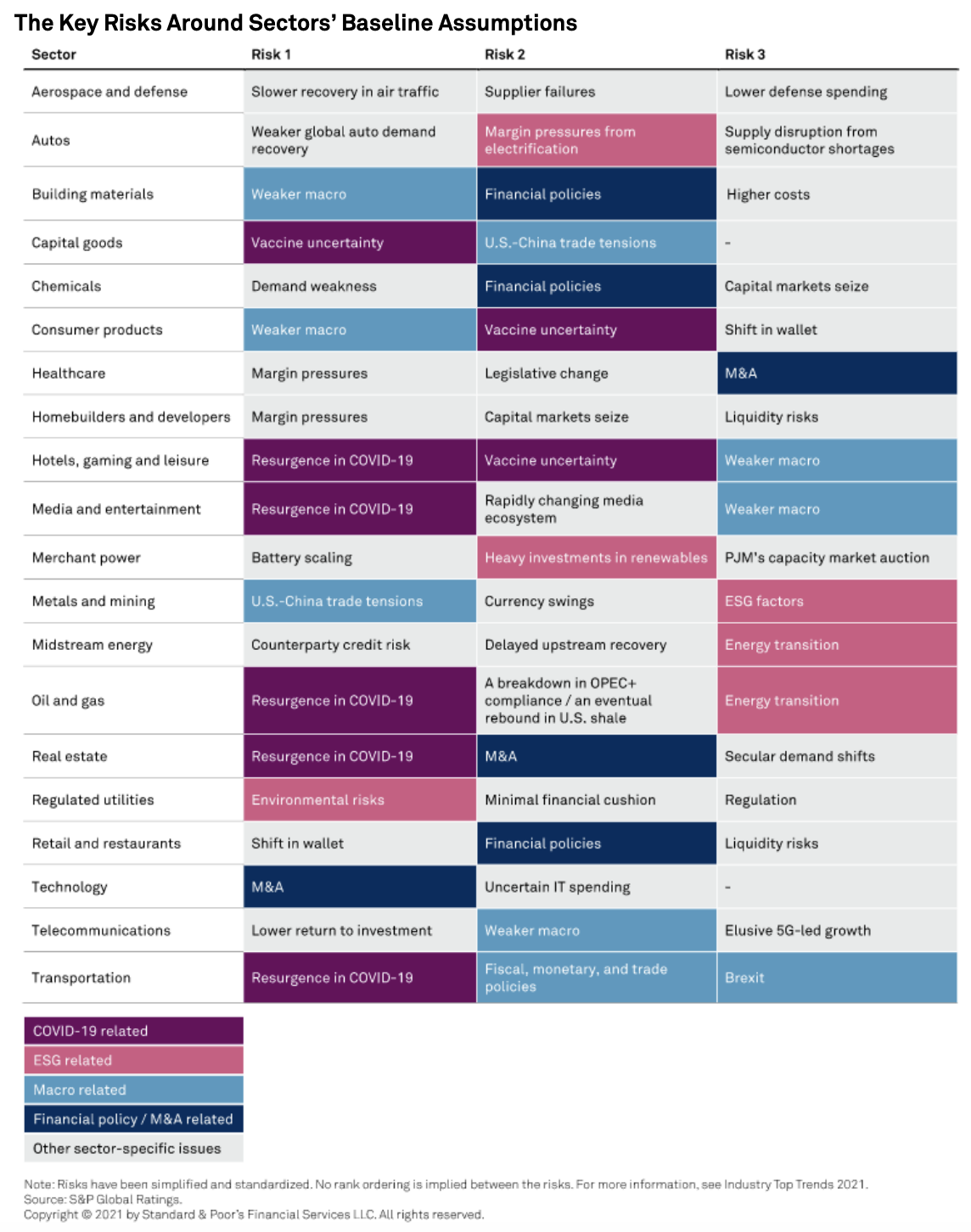 As the U.S. transitions to a new administration, in which President Joe Biden enjoys a Democratic majority in both houses of Congress, investors are betting on which of the White House's major proposed initiatives are most likely to come to fruition—and which will have the biggest ramifications for corporate America.
—Read the full report from S&P Global Ratings
New Year Brings New Surge In U.S. Corporate Bankruptcies
More companies turned to U.S. bankruptcy courts in the early days of the New Year, a sign of continuing struggles for many industries during the coronavirus era.
— Read the full article from S&P Global Market Intelligence
Oil, Gas Sector Had Few Bankruptcies In Q4'20, But Reprieve Could Be Short-Lived
The pace of bankruptcies in the oil and gas sector slowed during the fourth quarter of 2020, but some experts in the field believe that the amount of debt weighing on upstream companies makes an increase in bankruptcies in 2021 almost inevitable.
— Read the full article from S&P Global Market Intelligence
Market Volatility
---
Netflix Surges On Earnings; Investors Cheer AMC's Debt Deal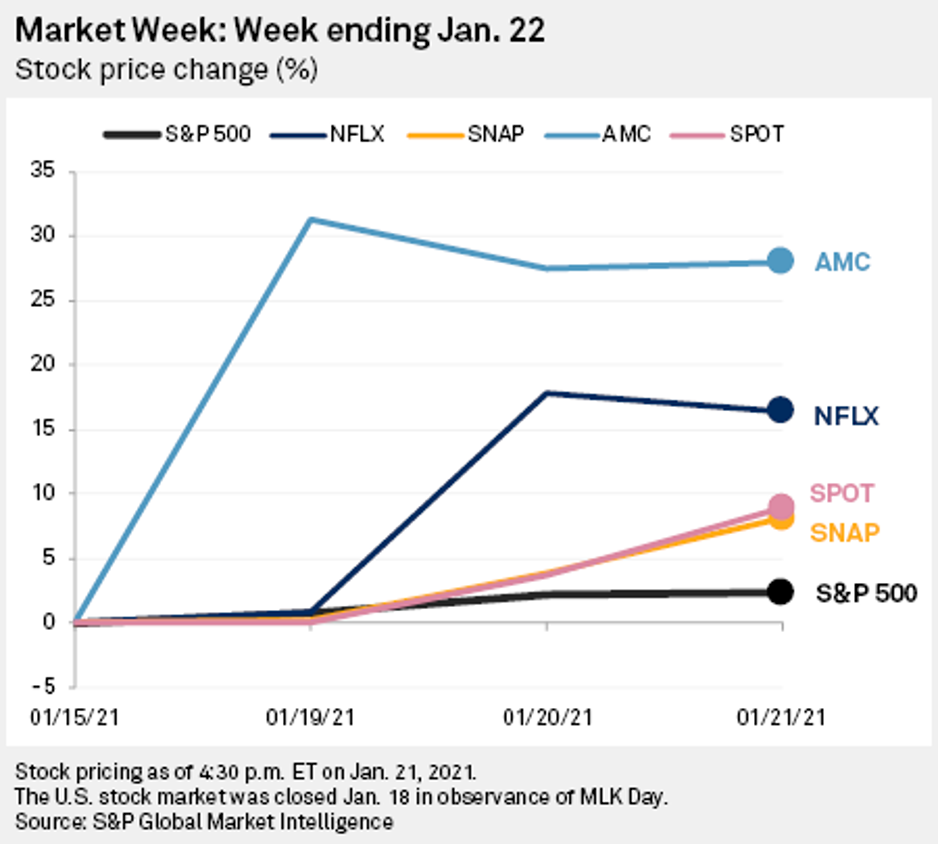 During a momentous week in Washington, earnings and other events fueled movement for technology and entertainment stocks.
— Read the full article from S&P Global Market Intelligence
Banking Sector Under Pressure
---
French Bank Outlook 2021: All About Efficiency And Asset Quality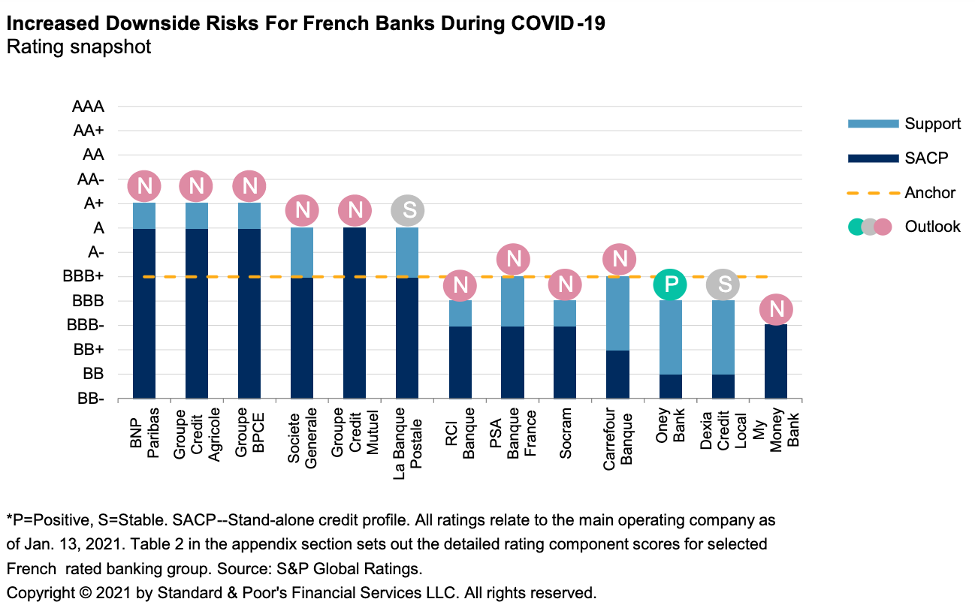 S&P Global Ratings believes that French banks are going into 2021 able to absorb COVID-19 shocks. However, a quick return to prepandemic profitability is unlikely.
—Read the full report from S&P Global Ratings
Credit Outlook Brightens At Big U.S. Banks As Loan Growth Dims
Big U.S. banks reported a cascade of credit loss reserve releases in their fourth-quarter 2020 earnings, reinforcing the case that they just might be able to move past the dizzying pandemic-induced recession with relatively minor damage.
— Read the full article from S&P Global Market Intelligence
Securities Firms Should Benefit From Global Economic Recovery In 2021 As Risks Abound
As we enter 2021, one of the main factors for global securities firms' credit quality is the economic and market fallout from the COVID-19 pandemic; how officials, markets, and firms respond to it; and, hopefully, the recovery from it.
—Read the full report from S&P Global Ratings
Technology & Innovation
---
Brexit Complicates Data Privacy Politics Between U.S., EU and UK – Legal Experts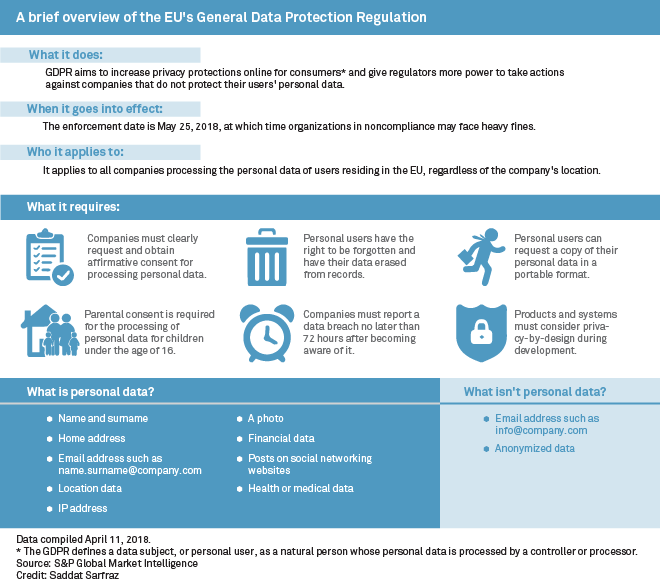 Experts say Britain may be beholden to the EU's General Data Protection Regulation, or GDPR laws, generally viewed as the most stringent data privacy regulations in the world—which in turn could impact the U.K.'s digital trading relationship with its close ally, the U.S.
— Read the full article from S&P Global Market Intelligence
AI Use, Adoption Gains Momentum With Enterprise Amid Pandemic – 451 Survey
Artificial intelligence and machine learning technology is steadily becoming more prevalent in enterprises around the globe, but its adoption rate in 2020 varied widely between regions, according to a survey conducted by 451 Research, a unit of S&P Global Market Intelligence.
— Read the full article from S&P Global Market Intelligence
ESG in the Time of COVID-19
---
After 2020 Global Hydrogen Demand Decline, Market Could Rebound by 2022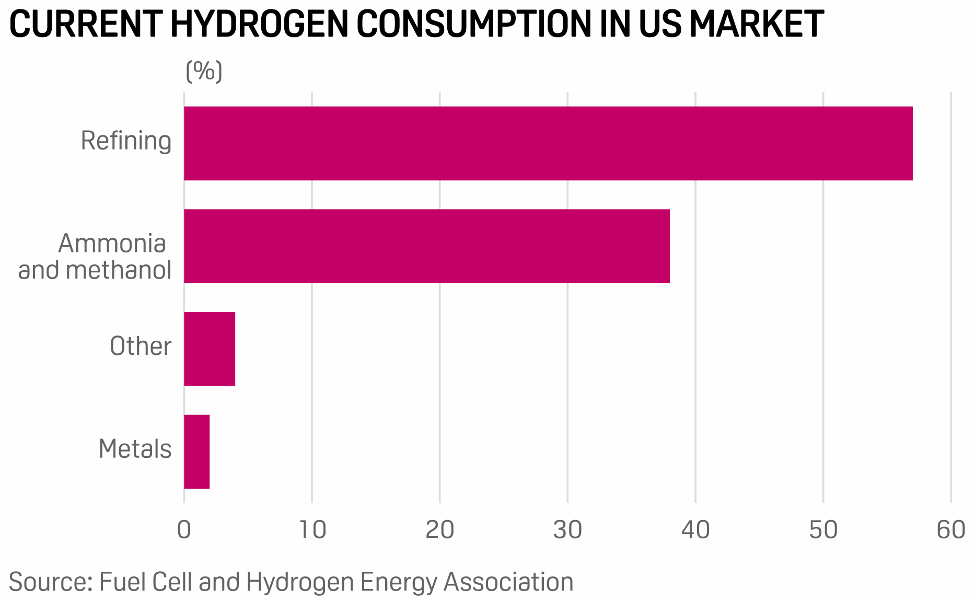 Global hydrogen demand declined in 2020 due to the coronavirus pandemic, but is expected to rebound quickly as government support increases and helps to scale up production capacity, analysts said Jan. 21.
— Read the full article from S&P Global Platts
U.S. Southeastern Wind Developers Struggle For Momentum
Scout Clean Energy LLC, a Colorado developer that specializes in unique renewable energy projects, made a bet in 2016 that a 9,000-acre slice of hilly countryside in Carroll County, Ark. could host the first wind farm in the state — and one of the few in the U.S. Southeast.
— Read the full article from S&P Global Market Intelligence
Economic Role Easing Anti-Mining Views Jeopardizing Australian Skills Pipeline
Western Australia's plethora of minerals amenable to electric vehicle production, and the role of the mining industry in "keeping the nation afloat" through COVID-19, will protect the sector from negative sentiment that has been jeopardizing its skills pipeline, according to Northern Star Resources Ltd. Executive Chair Bill Beament.
— Read the full article from S&P Global Market Intelligence
The Future of Energy & Commodities
---
EU Ethanol Producers To Ponder Q2 Production Cuts As Crush Margins Near All-Time Lows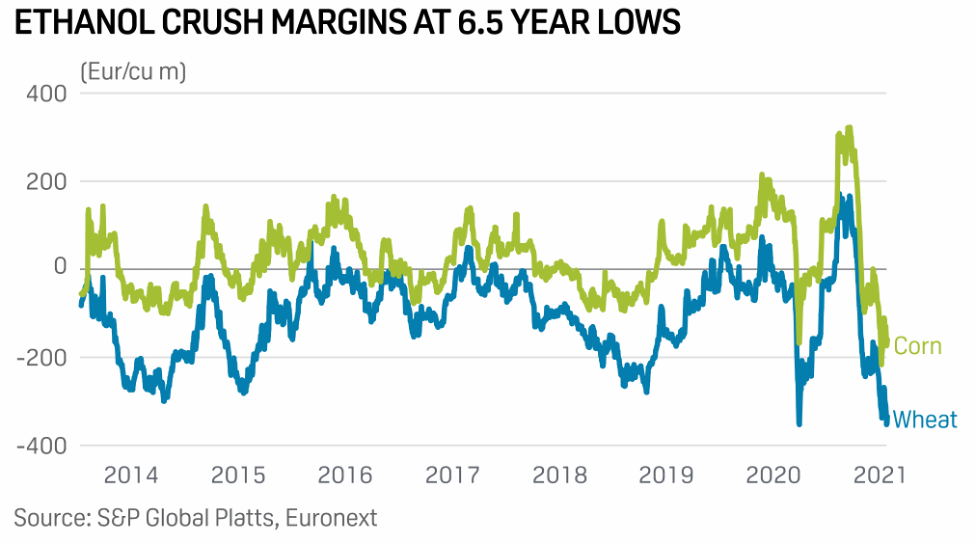 European ethanol crush margins have come under severe pressure as producers grapple with lower prices on a significant drop in demand due to coronavirus-related led mobility restrictions, as well as rallying feedstock prices.
— Read the full article from S&P Global Platts
U.S. Puts New Oil And Gas Leases, Permits On Federal Lands On Hold For 60 Days
The US Interior Department on Jan. 20 put new oil and gas lease sales and permits on federal lands and waters on hold for 60 days, according to an order signed by Acting Secretary Scott de la Vega.
— Read the full article from S&P Global Platts
Written and compiled by Molly Mintz.