Subscribe on LinkedIn to be notified of each new Daily Update—a curated selection of essential intelligence on financial markets and the global economy from S&P Global.
Twitter and Facebook banned U.S. President Donald Trump from using their platforms following the insurrection at the Capitol on Jan. 6. Amazon, Apple, and Google pulled the alternative app Parler that is popular among the president's supporters and has been criticized for spreading misinformation Facebook vowed to prohibit all content that attempts to delegitimize the 2020 presidential election using the catchphrase "stop the steal."
In a matter of days, the online ecosystem has dramatically changed as technology giants took unprecedented action to de-platform the president and his followers for actions that risk inciting immediate violence.
The bans have provoked outrage and support largely across political lines in the U.S., with conservatives and Republicans condemning the bans as infringements of free speech while liberals and Democrats herald them as long overdue. On the global stage, leaders including German Chancellor Angela Merkel described the banning of President Trump's accounts as "problematic," and Mexican President Andres Manuel Lopez Obrador said it was a "bad sign" that private companies can invoke what he characterized as "censorship." Parler filed a lawsuit against Amazon Web Services on Jan. 11 after the application went offline for alleged antitrust violations, describing the termination as "apparently motivated by political animus."
While Twitter's stock closed on Jan. 11 down more than 6%—after declining as much as 12.3% in the trading session—the long-term implications of the content moderation on tech giants' businesses is yet to be seen.
"The question for me as an investor is always: Well, is there going to be a material revenue hit on one side, and or will there be a material expense hit as they have to ramp up head count to help with any moderation that either Congress forces them to do" or that the companies themselves do, Chad Brand, the founder and president of the investment advisory firm Peridot Capital Management, told S&P Global Market Intelligence. "From a fundamental analyst perspective … I'm not going to change my earnings estimates based on any of these policies and therefore I wouldn't change my estimate of what these stocks are worth or their investment merit."
The companies' decisions may ignite stronger calls for regulation. In the U.S., some analysts believe bipartisan support for Section 230 of the Communications Decency Act may increase. Section 230 shields online platforms from civil and criminal liability over what is published and enables them to partake in good faith content moderation. Outgoing Federal Communications Commission Chairman Ajit Pai said last week that while he wouldn't conduct a review of the law before the end of his tenure on Jan. 20, there is "a bipartisan consensus" in Congress that Section 230 should be changed or updated and that he "personally would think about it more carefully in terms of the immunity provision, which under the law protects 'Good Samaritan' blocking and screening of offensive material … but those are the kinds of things that I think the next administration and Congress will think about very carefully."
In the EU, policymakers are pushing to expand the Digital Services Act and Digital Markets Act to implement broader regulation on digital platforms including Twitter and Facebook.
"The fact that a CEO can pull the plug on POTUS's loudspeaker without any checks and balances is perplexing. It is not only confirmation of the power of these platforms, but it also displays deep weaknesses in the way our society is organized in the digital space," Internal Market European Commissioner Thierry Breton said, expressing complaints about the tech companies' latest actions and signaled that they provide greater motivation for the reforms, for which he is a key player behind, in a Jan. 10 POLITICO editorial. "These last few days have made it more obvious than ever that we cannot just stand by idly and rely on these platforms' good will or artful interpretation of the law. We need to set the rules of the game and organize the digital space with clear rights, obligations, and safeguards."
Today is Tuesday, January 12, 2021, and here is today's essential intelligence.
Market Volatility
---
Asian Stocks End Turbulent Year With Strong Gains Amid Optimism For 2021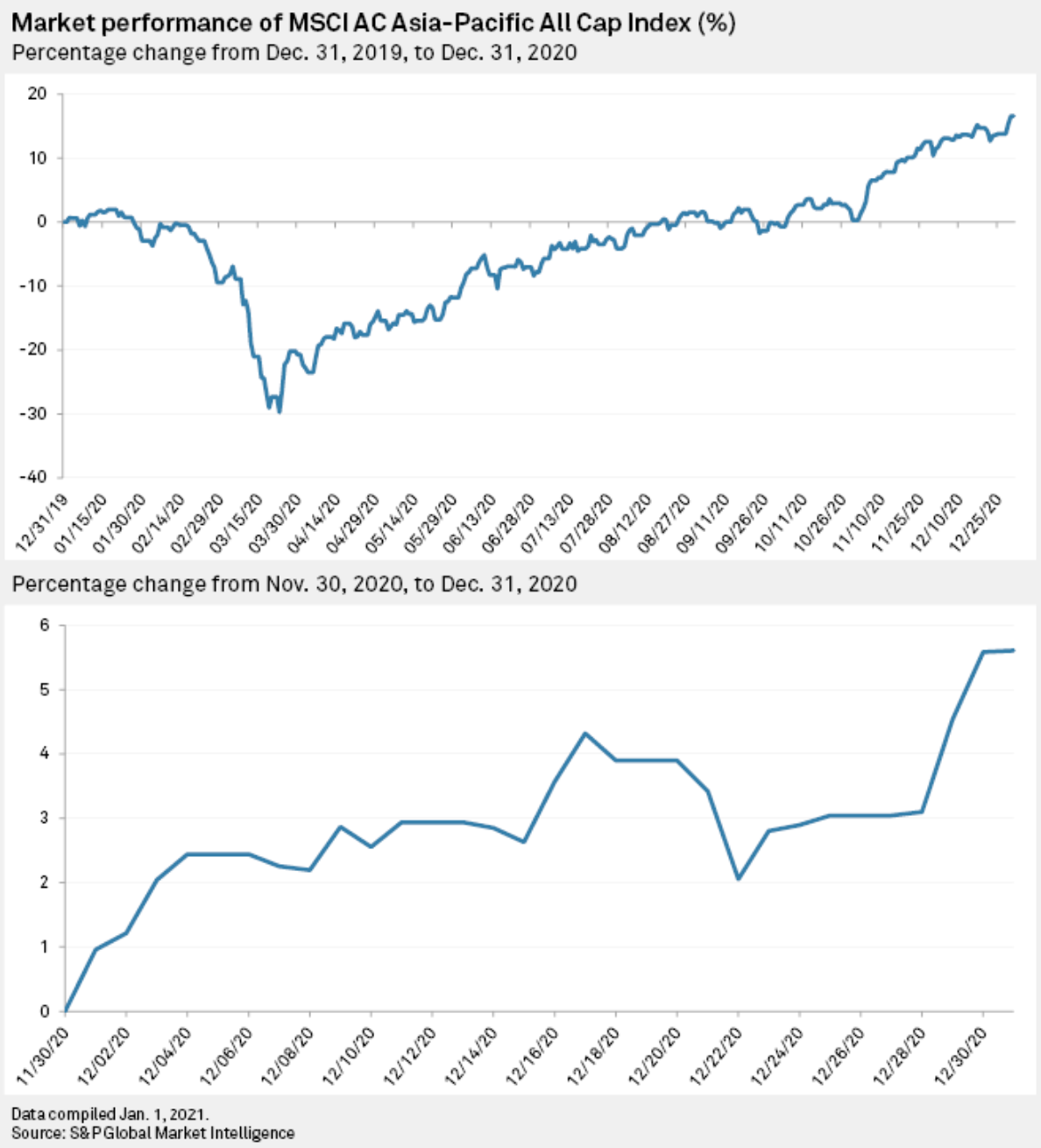 Asian equities advanced in the final month of 2020, finishing an eventful year with strong gains, amid optimism for 2021 as vaccine rollouts are expected to help boost the global economic recovery.
—Read the full article from S&P Global Market Intelligence
Banking Sector Under Pressure
---
Bad Loans, Capital May Be Key Challenges For India's State-Owned Banks In 2021
An expected surge in bad loans in India's banking sector this year could hit state-owned lenders harder than their more-nimble private-sector rivals, and they may need to lean on the government for more capital to support credit demand as the economy emerges from a pandemic-induced contraction.
—Read the full article from S&P Global Market Intelligence
Disruptors Could Dominate Brazil's Credit Market Within 5 Years, Inter CEO Says
According to Inter CEO João Vitor Menin, incumbent banks will have to accelerate their branch-culling efforts, while challenger banks must broaden the ecosystem of financial services within their platforms, as the two compete for market share in Latin America's largest economy.
—Read the full article from S&P Global Market Intelligence
New PPP Guidance Seeks to Get Loans to Borrowers Faster
Guidance issued by the U.S. Small Business Administration could help borrowers get their loans faster under the latest version of the Paycheck Protection Program.
—Read the full article from S&P Global Market Intelligence
ESG in the Time of COVID-19
---
The Evolution Of ESG Factors In Credit Risk Assessment: Corporate Governance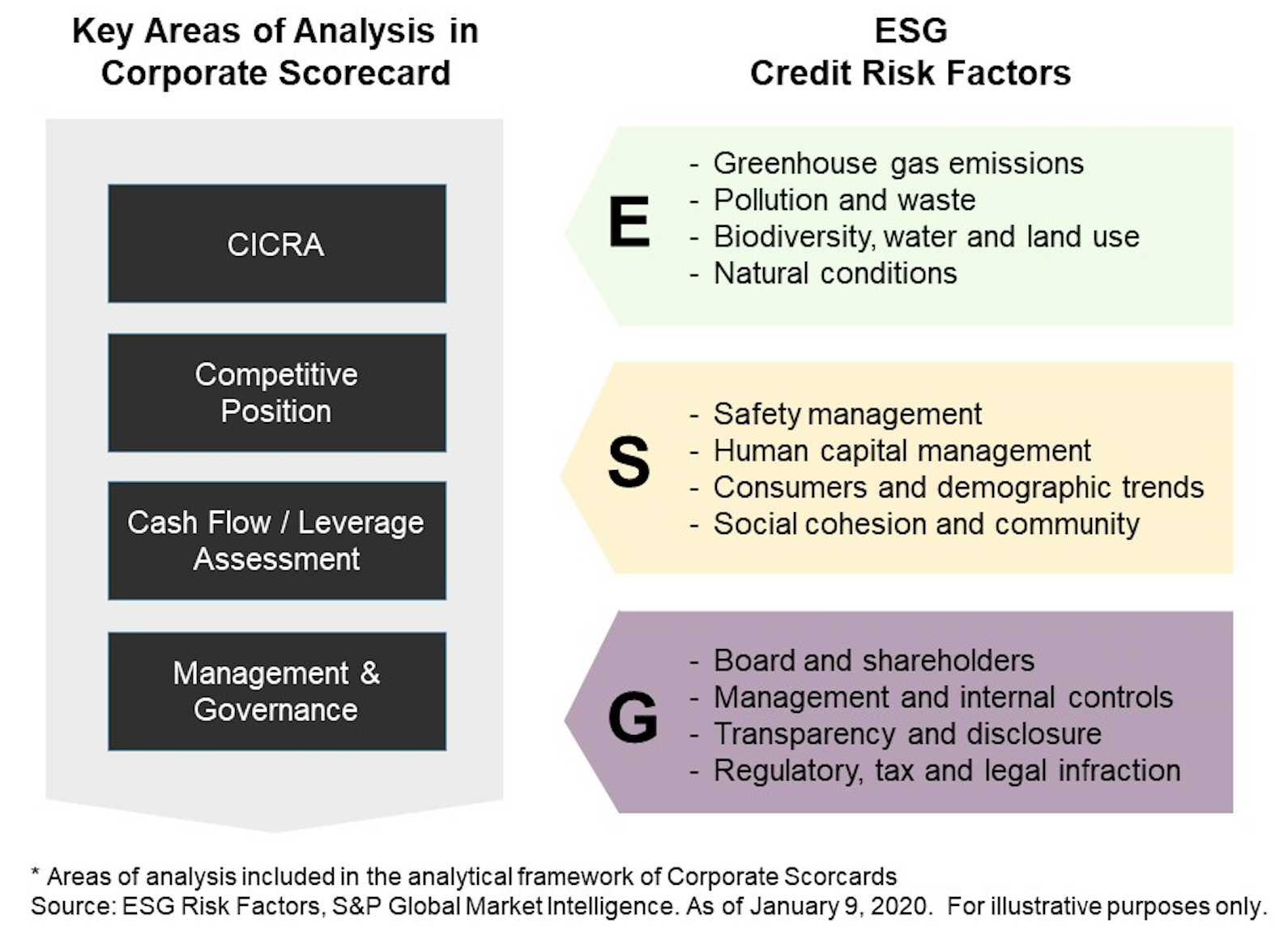 Independent and diverse boards, together with effective control systems and transparent communication, can help drive operational success and mitigate risks, including those related to fraud and conflicts of interest.
—Read the full article from S&P Global Market Intelligence
Biden Confirmations, Green Stimulus to be Early Focuses of New Congress
Following Georgia's U.S. Senate elections, the Democrat-controlled Congress is gearing up to consider President-elect Joe Biden's nominees to lead key agencies and develop additional coronavirus relief legislation that could include clean energy provisions.
—Read the full article from S&P Global Market Intelligence
Exxon Needs Less Talk, More Action On Climate Change, Analysts Say
Exxon Mobil Corp.'s first-time disclosure of greenhouse gas emissions data from its largest source is a good start but still far short of what the supermajor needs to do to convince shareholders of its commitment to the energy transition, analysts said.
—Read the full article from S&P Global Market Intelligence
The Future of Energy & Commodities
---
Watch: Market Movers Asia Jan 11-15: Energy Prices Spike In N Asia; New Coronavirus Outbreaks Weigh On Transportation Fuels
The highlights on S&P Global Platts Market Movers Asia, with Eric Yep, Asia Content Lead for Generation Fuels: LNG spot prices spike on surge in heating fuel demand, coronavirus-related restrictions dampen transport fuel demand, Japan power utilities face coal shortages and corn, soybean futures rally.
—Watch and share this Market Movers video from S&P Global Platts
INTERVIEW: Miq Eyes Role For Methane Emissions Standard In Global Gas Trade
The certification of gas supply based on its methane emissions performance could become a key component in global gas trade in the future, a senior official at a newly launched methane emissions partnership said in an interview with S&P Global Platts.
—Read the full article from S&P Global Platts
FERC Raises Maximum Civil Penalties To $1.3 Million As Part Of Annual Update
Penalties the Federal Energy Regulatory Commission may assess to gas and power companies, as well as individuals, accused of violating statutes, rules and orders within its jurisdiction will increase slightly as part of the commission's annual adjustment for inflation of the maximum civil monetary penalties it can impose.
—Read the full article from S&P Global Platts
Listen: A Look At North American LNG With Tellurian's Charif Souki
S&P Global Platts examines the outlook for new North American liquefaction projects to be sanctioned in 2021 amid a virtual standstill in 2020.
—Listen and subscribe to Capitol Crude, a podcast from S&P Global Platts
Written and compiled by Molly Mintz.