Reduce risk and improve portfolio management with a fully hosted, industry-validated portfolio valuations service
Capitalize on the industry's highest quality market data and independent valuations encompassing the widest range of OTC derivatives, private equity investments, structured notes and cash products. Manage market, portfolio and counterparty risk, as well as compliance requirements for the buy side and sell side.
We inform your trading valuations, risk analysis and collateral management with trusted data and services used by thousands of firms globally. Consensus data is calibrated from more than 70 banks, exchanges, clearing houses and dealers. Benefit from comprehensive coverage and high-quality data through a single interface with expert and timely support across all regions. Cost-effective solutions for portfolios of any size and composition with reliable same-day turnaround ensure your needs are met.
Gain the clearest view into the OTC derivatives market with S&P Global
Leading post-trade OTC valuations services for the buy side, servicers, authorities, auditors and banks.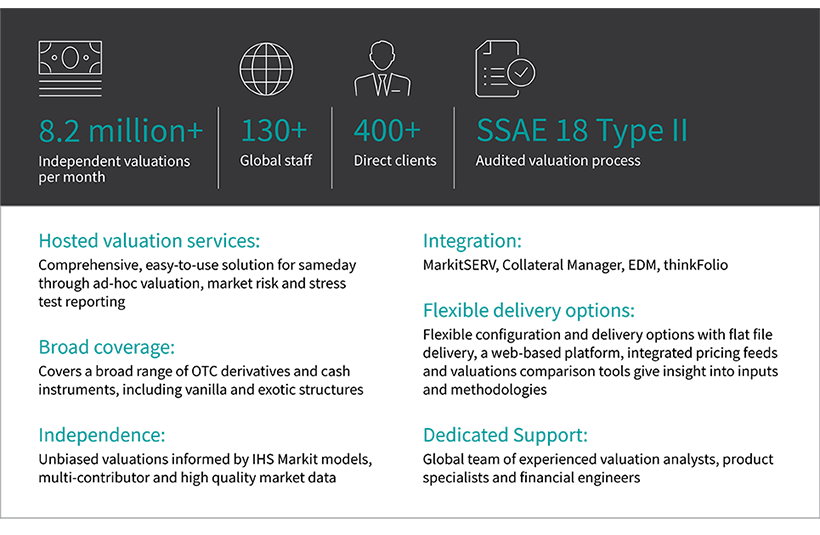 Portfolio Valuations: Overview 
Portfolio Valuations: Trade Translation
Portfolio Valuations: Trade Booking
Portfolio Valuations: Front End web based platform for OTC Derivative valuations
Best Execution for OTC Derivatives
Credit Valuations Adjustment Calculation Service
Scenario Analysis Service
Risk Analysis Service