Stay up to date with the latest news and insight from S&P Global Market Intelligence on public health, the global economy, its sectors, and commodity markets. This newsletter will be sent every Thursday.
Subscribe to the Newsletter
---
Economic Research
The escalating coronavirus shock is pushing 2020 global growth toward zero
As the spread of COVID-19 goes global, the economic effects of social-distancing measures to contain the virus, along with plummeting consumer and business confidence, have delivered a sharp blow to near-term growth prospects and roiled financial markets. In addition to the fast-rising human toll of the virus (i),we are entering a period of unprecedented rates of decline in economic activity and financial-asset prices, and equally fast and unprecedented policy responses to both combat and offset these declines.


COVID-19 Cases In 2020
Source: European CDC.
Copyright © 2020 by Standard & Poor's Financial Services LLC. All rights reserved.
The Essential Podcast, Episode 1: Closing the Confidence Interval – Economic Impacts of COVID-19
Host Nathan Hunt interviews Paul Gruenwald, Global Chief Economist at S&P Global Ratings, to understand the economic implications of the COVID-19 global health crisis, the effectiveness of fiscal and monetary policy, and the path to a recovery.
The Essential Podcast from S&P Global is dedicated to sharing essential intelligence with those working in and affected by financial markets. Host Nathan Hunt focuses on those issues of immediate importance to global financial markets – macroeconomic trends, the credit cycle, climate risk, energy transition, and global trade – in interviews with subject matter experts from around the world.
Listen to the Podcast
Credit FAQ
The Ratings process and the COVID-19 pandemic
The COVID-19 pandemic is affecting virtually all businesses globally--including ours. Below we answer some questions about the pandemic's effect on S&P Global Ratings and how our credit analysis and surveillance are proceeding during this time.

S&P Global Ratings acknowledges a high degree of uncertainty about the rate of spread and peak of the coronavirus outbreak. Some government authorities estimate the pandemic will peak about midyear, and we are using this assumption in assessing the economic and credit implications. We believe the measures adopted to contain COVID-19 have pushed the global economy into recession. As the situation evolves, we will update our assumptions and estimates accordingly.
A Credit Rating is an Informed Opinion

A credit rating is an educated opinion about an issuer's likelihood to meet its financial obligations in full and on time. It can help you gain knowledge of—and access to—new markets, enhance transparency, serve as a universal benchmark, and assess and demonstrate creditworthiness. It's not a guarantee or absolute measure, but is a crucial tool for investors in the decision-making process.
Learn more about Understanding Ratings

Global Credit Conditions: March 2020
Triple Trouble: Virus, Oil & Volatility
Containment measures to stem the COVID-19 pandemic have pushed the world's largest economies into near-hibernation. While China shows early signs of re-emerging from this, Europe and the U.S. aren't yet past the viral peak. We have also yet to see the full impact on vulnerable emerging markets. Combined with historical collapse in oil prices, and record volatility in the markets, this put significant pressure on creditworthiness around the world. Industries most exposed to the dramatic drop in global demand and much tighter financing conditions have experienced the most downgrades so far.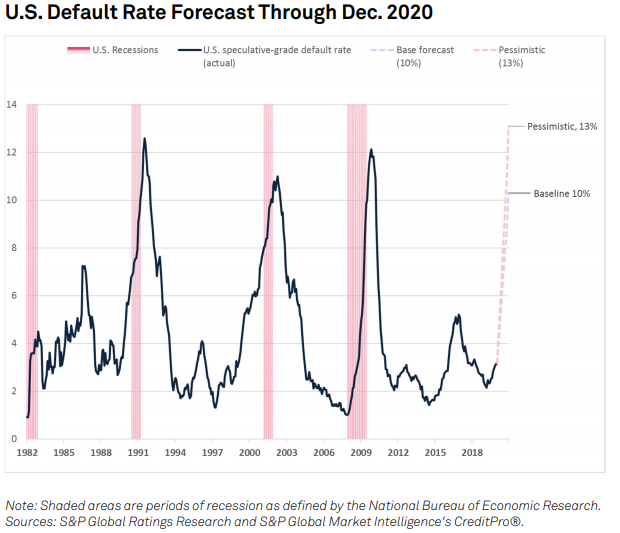 Regional Economic Research
A U.S. recession takes hold as fallout from the coronavirus spreads
Look at any empty restaurant or coffee shop (if anyone ventured out and the shop wasn't closed), and it's hard to deny that the toll on the U.S. economy from COVID-19 has been severe.

While the economic data for March has not been released, social distancing is likely to lead to a steep drop in consumer spending, which will have knockdown effects on business investment. As a result, S&P Global Economics believes that the U.S. is entering recession--if not already in one. Compared with our forecasts before the virus, the first half of the year will be weighed down by a combination of: the effects of the spread of the virus; the suspension of Boeing 737 MAX production and exports; and the recent Saudi Arabia-Russia standoff, with its drop in oil prices and knock-on effects on energy investments.

Based on government sources and public data, our economic forecast now assumes that the U.S. coronavirus outbreak peaks in May. The current trajectory of COVID-19 has led us to now project GDP growth will be down by 1% in the first quarter, with healthy growth earlier in the quarter providing some support. We expect a sharp contraction for the second quarter, around -6%.
Oil price plunge and COVID-19 deal a double blow to Canada's economy this year
A sudden-stop recession is all but certain for Canada. The unrelenting sequence of hits to the already weak economy from plummeting oil prices, rail blockades, COVID-19, and global recession has ensured that Canada will see two quarters of well below-trend growth rate, which will materially increase the unemployment rate.
Read the full article
For Latin America, the path to economic recovery from COVID-19 remains uncertain
The COVID-19 outbreak, and its associated economic and financial implications, will push Latin America into a recession in 2020, recording its weakest growth since the Global Financial Crisis (GFC). We forecast Latin America's GDP to contract 1.3% in 2020, and then, bounce back to 2.7% growth in 2021.
Read the Full Article
U.S. Public Finance
All U.S. Public Finance sector outlooks are now negative
Following mobility restrictions and closure of large segments of the economy due to COVID-19 and the swift onset of recession, all of S&P Global Ratings' sector outlooks in U.S. public finance are now negative. At the start of 2020 all sector outlooks were stable with the exception of higher education, ports, and mass transit. The shift in our outlooks to end the first quarter reflects the expectation of sharp decline in the economy through at least the second quarter and uncertainty about the rate of spread and peak of COVID-19 as well as the timing of economic recovery.


Related Webinar
Our U.S. Public Finance Sector Leads hosted a live webinar on Thursday, April 2, 2020 where they discussed our recent revision of all sector outlooks in U.S. Public Finance to negative from stable.
Watch the webinar replay
CLO
CLO Spotlight: Coronavirus Will Put U.S. CLO Diversity And Managers To The Test
Some companies with loans held in U.S. broadly syndicated collateralized loan obligations (BSL CLOs) have experienced negative rating actions largely due to coronavirus-related concerns.

Because U.S. BSL CLOs are relatively diversified across multiple speculative-grade issuers and sectors, their exposure to coronavirus-driven corporate rating actions has been modest to date.

We expect corporate ratings activity on issuers affected by the coronavirus to continue, and perhaps even accelerate, as the situation continues to evolve.

U.S. BSL CLOs have some room to absorb additional downgrades. As of early March 2020, the average transaction has 4.8% exposure to corporate issuers rated 'CCC+' and below and 3.8% of cushion in their junior overcollateralization (O/C) tests. But, if the pace of negative corporate rating actions increases, we see downgrade risk for some CLO subordinate tranche ratings and, potentially, some 'BBB' tranche ratings.
Spotlight On The Four Cs: Corporate Credit, Coronavirus, CCC Assets & CDO Monitor
Watch our Structured Finance analysts' webinar where they discussed the following topics: 
—Negative Outlooks & CLO Scenario Analysis: An in-depth focus on Idemia France SAS, Diamond BV, Merlin Entertainments and Amer Sports and their impact on CLO ratings

—The Three Cs In CLOs: Coronavirus, CCC assets and coverage tests

—CDO Monitor: A platform to assess CLO performance

—Topical Developments: What are we seeing in European CLOs?

Watch the Webinar Replay
Widespread Impact
Tracking the spread and economic impact of the coronavirus
The daily increase in confirmed cases outside China continues to grow rapidly. There are now six countries with more than 10,000 cases – Italy, Iran, Spain, Germany, the U.S. and France - and other countries are on trajectories likely to bring similar case counts soon. 62 countries already have in excess of 100 cases. Europe has now become the epicenter of the outbreak, with the U.S. on course to be similarly affected. If there is some good to be found, it is that the daily new case rate has fallen to near-zero in China, where the virus first took hold.

The social and economic consequences of COVID-19 have consequently become much more severe and we now forecast a global recession this year, with 2020 GDP rising just 1.0%-1.5%.


State Distribution of Confirmed U.S. Coronavirus COVID-19 Cases, Mar. 19, 2020
Source: John Hopkins CSSE, S&P Global Ratings.
Copyright © 2020 by Standard & Poor's Financial Services LLC. All rights reserved.
How coronavirus may impact global investment bank revenues in 2020

After a weak 2019 for trading revenues, global investment banks may see an even weaker 2020 as uncertainty about the spread and duration of the new coronavirus rattles capital markets. Concerns about COVID-19 could curb capital market issuances, and exacerbate an already predicted slowdown.
Read the full article
Distressed in Distressing Times
We have already seen how the S&P U.S. Corporate Investment Grade Corporate Bond Index, an index of 7,000+ bonds whose constituents' option-adjusted spread (OAS) topped out at 568 at the beginning of March 2020, now contains 99 bonds with an OAS greater than 1,000. Though not all are Energy sector bonds, 51 of the 99 are as the virus and the currently low price of oil take their toll on the economy and energy industry.
Read the Full Article
---
At S&P Global Ratings we are continuously assessing the economic and credit impact of the COVID-19 pandemic around the world. Subscribe to our Coronavirus Bulletin today and we will ensure you have all our latest research and forecasts as they are published.
Subscribe to the Newsletter
---
Retail & Restaurant
Coronavirus dramatically increases risk for already stressed retail and restaurant sectors
Credit risks to the global retail sector have increased dramatically as the effort to contain COVID-19 results in store closures, changes to shopping habits, and heightened risk of a broad based macroeconomic decline.

The degree of any impact on our ratings will depend on the duration of shutdowns and trajectory of a future rebound.


Coronavirus impact to U.S. retail and restaurants
S&P Global Ratings analysts from the U.S. Retail & Restaurants team held a live interactive webcast on Monday, March 23 where they provided their views on the impact of the coronavirus pandemic to the sector.
Listen to the webinar replay
Financial Institutions
The Fed's crisis actions will further bolster liquidity for U.S. banks, but earnings and asset quality are set to worsen substantially
S&P Global Ratings thinks the extraordinary moves announced by the Federal Reserve in the past several days--most notably a return to quantitative easing (QE), a fed funds rates near zero, and CP funding and primary dealer credit facilities--will support financial stability, as well as banks' liquidity, bolstering their ability and willingness to meet client demands for funding. At the same time, we expect ultra-low interest rates to cause banks' net interest income and earnings to decline meaningfully this year even before considering potential pressures from higher loan-loss provisions and lower fee income.


Where Europe's banks stand on liquidity, as coronavirus profit warnings grow

Many of Europe's major banks went into the coronavirus crisis with their liquidity positions worsening, according to research by S&P Global Market Intelligence, even as the European Central Bank resorted to paying banks to keep liquidity flowing.
Read the full article
As cash drawdowns spike, bank analysts say robust buffers in place

Measures to stop the spread of the new coronavirus are slamming the brakes on a wide range of economic activity, and firms appear to be rushing en masse to secure cash resources that would help them weather abrupt declines in revenue and missed payments.

One source of ready cash is the more than $2.5 trillion in unfunded commitments, including credit lines, that banks had extended to commercial borrowers and other financial institutions as of the end of 2019, according to data from S&P Global Market Intelligence.
Read the full article
Oil Markets
Insight from Moscow: Are Russia's war chest and fiscal setup enough to combat OPEC+, coronavirus fallout?
The first few months of 2020 saw major changes to Russia's political and energy landscape, as President Vladimir Putin proposed amendments to the constitution, the country's crude production agreement with OPEC dramatically collapsed, and the coronavirus pandemic caused chaos on global markets.

Of these factors, the latter two are having a more immediate impact on the Russian energy sector, most evidently in the recent oil price crash.

Although the Russian energy ministry has released details on how much producers can increase crude output in April, the economic impact of the spread of the coronavirus could now derail these plans.
Oil Markets in Crisis

Oil prices have collapsed by as much as 30% in response to a reduction in offered prices and increase in supplies by Saudi Arabia. Those have been launched in response to Russia's refusal to cut oil supplies in response to the drop in demand caused by the COVID-19 coronavirus outbreak.
Read the full digest of research

Long Road to Recovery
Coronavirus Lessons from Supply Chain and Financial Data
COVID-19 continues to disrupt global supply chains in unprecedented ways. Leveraging maritime shipping data from Panjiva, this report includes a review of trade and financial data to analyze the impact of the SARS-CoV-2 / COVID-19 coronavirus outbreak.

This report takes two approaches to analyzing the fallout from the SARS-CoV-2 / COVID-19 coronavirus outbreak on global trade and corporate supply chains. The first part of the report identifies 11 themes emerging on an event-driven basis from over 50 Panjiva Research reports. The second section considers the impact of exposures to Asia in firms' U.S. supply chains on sector-neutral stock returns since the start of 2020.
Coronavirus: The Global Impact

Stay up to date with the latest news and insight from S&P Global Market Intelligence on public health, the global economy, its sectors, and commodity markets. This newsletter will be sent every Thursday.
Subscribe to Market Intelligence's coronavirus newsletter