At S&P Global Ratings we are continuously assessing the economic and credit impact of the COVID-19 pandemic around the world. Subscribe to our Coronavirus Bulletin today and we will ensure you have all our latest research and forecasts as they are published.
Subscribe to the Newsletter
---
Daily Update
July 2, 2020
Here is today's essential intelligence.

The benchmark S&P 500 equity index had its best quarter in two decades across April and June—even as the dire outlook for the U.S. economy continues to thwart hopes of a near-term recovery.

"Financing conditions for U.S. corporations have improved even faster than economic data have," S&P Global Ratings said in its North America Credit Conditions report. "Equity and fixed-income markets are showing exceptional optimism even as new cases of the virus have risen in some areas and the full reopening of the economy is some way off," as evidenced by the premier U.S. equity index skyrocketing to finish up almost 20% in the past three months.
Global Coronavirus Coverage
Access our global coronavirus coverage
Americas Coronavirus Coverage
Access our Americas coronavirus coverage
EMEA Coronavirus Coverage
Access our EMEA coronavirus coverage
APAC Coronavirus Coverage
Access our APAC coronavirus coverage
Credit Trends
Risky Credits: The Drop-Off To The 'CCC' Rating Category From 'B-' Still Looms Large
After peaking in late March, the number of negative rating actions both globally and in North America has slowed as S&P Global Ratings has reviewed many of its ratings. The percentage of U.S. and Canadian companies downgraded to the 'CCC' rating category from 'B-' decreased in May to 3.1%, but the three-month average remains at an all-time high of 10.3%, and the number of companies in the 'CCC' rating category has nearly doubled since the beginning of February 2020, when the COVID-19 pandemic and rapid deterioration in oil prices began.

Issuers in the 'CCC' category have an unsustainable capital structure and therefore are particularly vulnerable to default; their historical default rates from 1981 through first-quarter 2020 are 11x higher than those in the 'B' category. Now, as social distancing measures aimed at curbing the spread of COVID-19 allow economies to begin reopening, we think the recovery will likely be slow and vary by sector.


Global Corporate Debt Market: State Of Play In 2020
As of the end of first quarter 2020, S&P Global Ratings rates $20.6 trillion in corporate debt instruments outstanding, (including bonds, notes, loans, revolving credit facilities, and preferred securities from financial and nonfinancial corporate issuers). Amid unprecedented challenges faced globally in response to the COVID-19 pandemic, global corporate debt issuance surged to new highs after central banks announced extraordinary monetary policy actions that followed a temporary slowdown in issuance volume.



 As the surge in issuance volume escalated after March, some investors and policymakers are questioning the amount of leverage that's coming into the system, and what this means for future corporate credit quality. Credit markets have shown renewed demand for corporate credit as monetary policy is expected to remain easy for the foreseeable future while countries deal with the fallout from the pandemic.
Read the Full Article
---
Read our latest analyses and insights on oil markets, as the global oil production cut agreed upon by OPEC and OPEC+ nations takes effect and the coronavirus crisis continues to hamper global demand.
READ MORE ON THIS TOPIC
---
North America Economic Research
The U.S. Faces A Longer And Slower Climb From The Bottom
The good news for the U.S. economy is that the recession may have ended as fast as it started, with a bottom likely recorded in May. The bad news is that the recovery will be slow.

As states across the U.S. begin to loosen lockdowns in an effort to bring back economic activity, the world's biggest economy has a long way to go to return to pre-pandemic heights. S&P Global Economics estimates that it will take about two years for U.S. GDP to regain its year-end 2019 level, with unemployment remaining high, consumer spending depressed, and business demand recovering only slowly.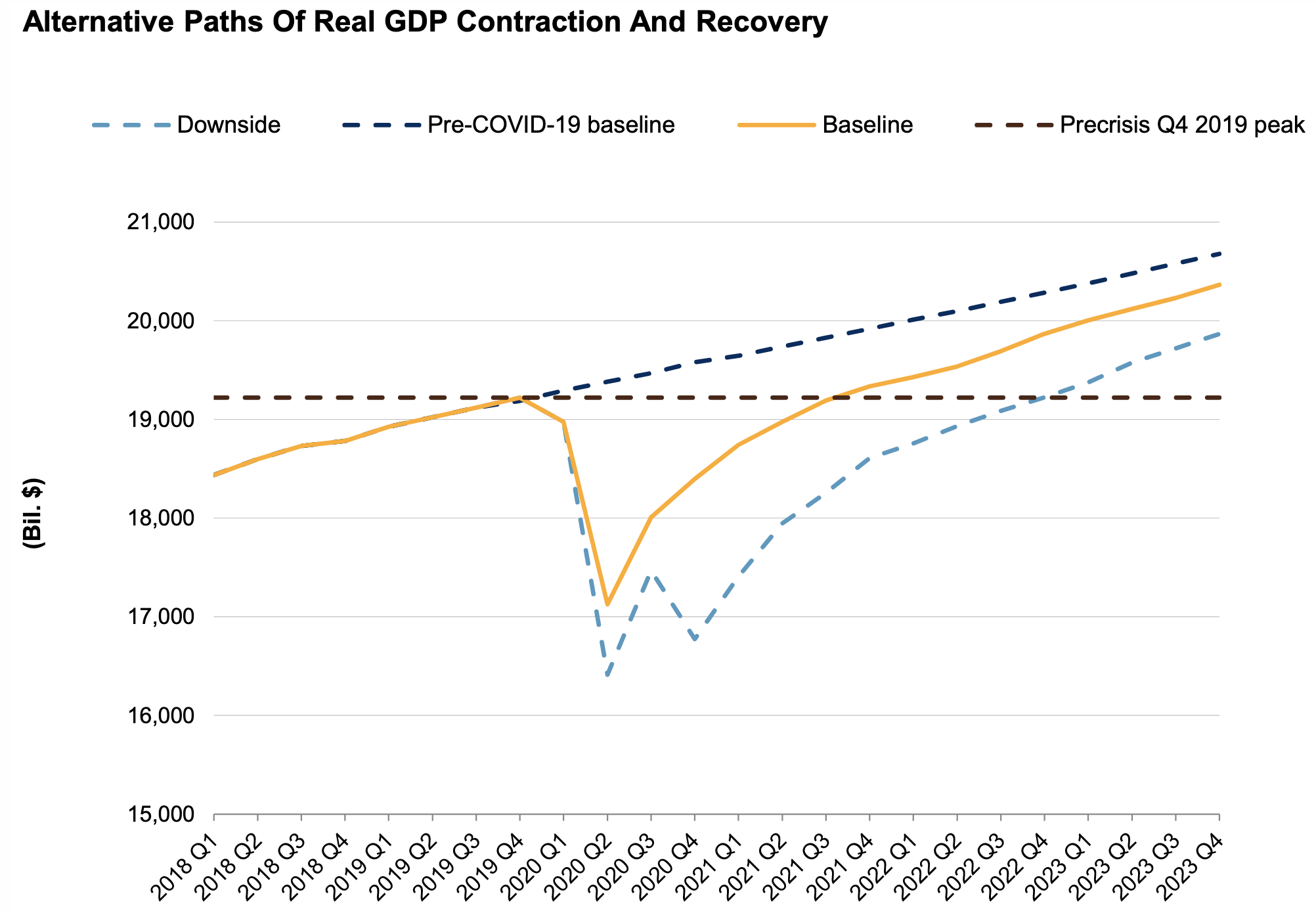 Canada's Economy Faces A Patchy Recovery
In Canada, the data currently support that the spread of COVID-19 has been largely contained and a tentative recovery has begun. Real time mobility and activity data have started to rise, and more important, the labor market added 290,000 jobs in May, when shutdowns were initially eased, recouping about 10% of the 3 million jobs lost in March and April.

The rise in jobs and hours worked in May likely means the economy troughed in April, after contracting more than 8% in the first quarter (quarter-over-quarter annualized). The first-quarter decline was slightly more than we had forecast but showed how even two weeks of shutdown could bring the economy to its knees.
Read the Full Article

Latin America Economic Research
Latin American Economies Are Last In and Last Out of the Pandemic
Latin America is now the global epicenter of the COVID-19 pandemic, with the number of new daily reported infections increasing, or remaining close to recent peaks, in most major countries. In some countries, this has meant the extension of stringent lockdowns, and in others, it has meant a slower relaxation of those measures. Across the board, households and businesses are more cautious. As a result, S&P Global Economics has lowered its GDP projection for Latin America by just over 2 percentage points to a contraction of roughly 7.5% in 2020. We expect growth to be just shy of 4% in 2021. Risks are mostly to the downside and tied to the evolution of the pandemic.
Key Takeaways
The worsening COVID-19 pandemic in Latin America has extended stringent lockdowns in some countries and slowed the relaxation of such measures in others--prompting us to reduce our growth expectations for the major economies in the region.


We've lowered our 2020 GDP forecast for Latin America by just over 2 percentage points to a contraction of roughly 7.5%. We expect growth to be just shy of 4% in 2021. Risks are mostly to the downside.


Our projected economic recoveries have worsened across the board, and we now expect permanent GDP losses of 6%-7% for most major Latin America countries compared with their pre-COVID-19 projected GDP, about 1% worse than in our previous baseline forecast.


We still see economies with stronger policy support, such as Chile and Peru, having smaller permanent GDP losses than those where support has been limited or ineffective, such as Mexico.
APAC Economic Research
Asia-Pacific Losses Near $3 Trillion As Balance Sheet Recession Looms
S&P Global Ratings now expects a steeper decline of economic growth in Asia-Pacific in 2020. We forecast a 1.3% contraction this year before growth of 6.9% in 2021, compared with our previous projection of 0.9% and 6.7%. This means our GDP forecast for the region for 2020 and 2021 is about $2.7 trillion lower than before the pandemic began.

Asia-Pacific has shown some success in containing COVID-19 and, by and large, responded with effective macroeconomic policies. This can help cushion the blow and provide a bridge to the recovery. Still, by the end of 2023, we expect permanent damage to the level of output of between 2% and 3%. Risks are more balanced as pandemic curves flatten but remain prominent.
The China Confidence Game
China's economic data for May were a disappointment. S&P Global Ratings thinks the economy is healing and most indicators are moving in the right direction. What struck us, though, were signs that private sector confidence remains exceptionally fragile, at best.

This is crucial for the recovery because stimulus-related demand driven by local governments must hand over to the private sector if the recovery is to pick up steam and sustain through 2021. This is what we assume in our current growth forecast of 1.2% for 2020 and and 7.4% for 2021.
Read the Full Article
EU Economic Research
Bank of England sees UK Economy Picking Up but Increases QE by £100B
Green shoots are appearing in the U.K. economy with consumer spending and services picking up following a disastrous 20% contraction of GDP in April, according to the Bank of England.

In a widely expected move, the Bank of England's monetary policy committee, or MPC, voted in favor of increasing its Asset Purchase Facility, or APF, by £100 billion, taking the total size of the bank's quantitative easing program to buy U.K. government and nonfinancial investment-grade bonds to £745 billion.

Despite the prospect of extra money printing, sterling rallied toward $1.26 in the aftermath of the announcement, almost wiping out the 0.5% fall in the morning trading, as the bank expressed a degree of confidence in the recovery of the economy.

Moving Forward in Moments of Crisis — European Integration and COVID-19
The Essential Podcast: Episode 12
A widespread recession in Europe has triggered familiar flash points in the European Union. Just as it looks like the eurozone project may be on the verge of collapse, an agreement struck between France and Germany seems to offer a way forward, a proposed 750 billion Euro recovery fund to help member states weather the downturn. What are the implications of this unprecedented action for the future of the EU? Sylvain Broyer, Chief EMEA Economist at S&P Global Ratings, joins The Essential Podcast to discuss.
Subscribe to this Podcast Series
Default, Transition, and Recovery
2020 Corporate Defaults Surpass The Full-Year 2019 Tally
The 2020 global corporate default tally has jumped to 119 after 10 issuers defaulted since our last report. In just over five months, the 2020 corporate default tally has surpassed the full-year 2019 total of 118 defaults, led by the U.S. with 78 defaults so far this year. Both Europe and other developed regions have seen a considerable increase in defaults compared with previous years and have either matched or surpassed their full-year tallies in 2017, 2018, and 2019



A Credit Rating is an Informed Opinion

A credit rating is an educated opinion about an issuer's likelihood to meet its financial obligations in full and on time. It can help you gain knowledge of—and access to—new markets, enhance transparency, serve as a universal benchmark, and assess and demonstrate creditworthiness. It's not a guarantee or absolute measure, but is a crucial tool for investors in the decision-making process.
Learn more about Understanding Ratings
COVID-19 Heat Map
Post-Crisis Credit Recovery Could Take To 2022 And Beyond For Some Sectors
While businesses around the world are starting to reopen, albeit unevenly, after coronavirus-driven lockdowns, S&P Global Ratings expects credit measures for some sectors to take until 2022, 2023, and beyond, to fully recover. Credit measures were weak prior to the pandemic, as demonstrated by the proliferation of low-speculative-grade ratings in non-financial corporates. The global pandemic and oil & gas price collapse and resulting economic recession have led to significant downgrade actions, particularly in the most affected sectors.

In this article, we share our regional recovery estimates by sector for 2020-2021 compared to 2019. In the coming month, we intend to provide an additional Industry Top Trends update for each sector, with more insights on the progress of recovery and what could derail it.
Key Takeaways
The credit downturn caused by COVID-19 has been abrupt and severe, with a tremendous variance of impact across different corporate sectors.


Even though the health effects of the pandemic may dissipate sometime in 2021, S&P Global Ratings expects credit measures for some sectors will take longer to fully recover. Part of the reason is a massive increase in new debt issuance, with the year-to-date total of $1.6 trillion, rising 60% over the same period in 2019. Incremental debt used to finance operations could delay the recovery of credit metrics for some sectors beyond simply a recovery in revenue and earnings into 2022, 2023, and beyond.


In addition, some segments, such as airlines, non-essential retail, and hotels, also face potential longer-term disruption effects, which could impede a recovery. Other sectors, such as pharmaceuticals, telecom, and essential retail, are much less affected.


The pandemic occurred against a backdrop of already-weak credit measures for most sectors. Ratings remain under pressure, especially in the transportation, media & entertainment, and automotive sectors, which now have 17%, 19% and 30% of ratings, respectively, on CreditWatch with negative implications.
Energy Sector
Energy-Sector Stress Boosts the 2020 Corporate Default Tally to 109
The 2020 global corporate default tally has reached 109 after eight issuers defaulted since our last report. With three defaults this week, the oil and gas sector now leads the default tally with 18, compared with the 2019 year-end total of 20 (see chart 1). Of these, the U.S. leads with 12, followed by Europe and the emerging markets, with three each. The pace of defaults has risen considerably as many firms, particularly at the low end of the ratings spectrum, struggle to refinance debt given substantive weakness in revenues due to COVID-19 and the subsequent weak economic environment.
Oil, Fossil Fuel Demand May Have Peaked in 2019 Thanks to COVID-19: Report
Both crude oil and overall fossil fuel demand may have permanently peaked in 2019 if a slower economic recovery from the coronavirus pandemic becomes reality, hastening the arrival of peak oil demand by more than a decade, according to a new report from the Boston Consulting Group.
Read the Full Article
Global Credit Conditions: April 2020
Rising Credit Pressures Amid Deeper Recession, Uncertain Recovery Path
Government measures to stem the spread of coronavirus have escalated in the past three weeks amid a tripling of confirmed cases globally, to more than 2.5 million. These measures, together with business and consumer behavioral changes, are resulting in wider and deeper economic effects— and worse credit conditions—than we estimated our previous report, "Global Credit Conditions: Triple Trouble: Virus, Oil, Volatility," published April 1. We also see the post-pandemic recovery taking longer, based on the experience of China, the first major economy to emerge from the crisis.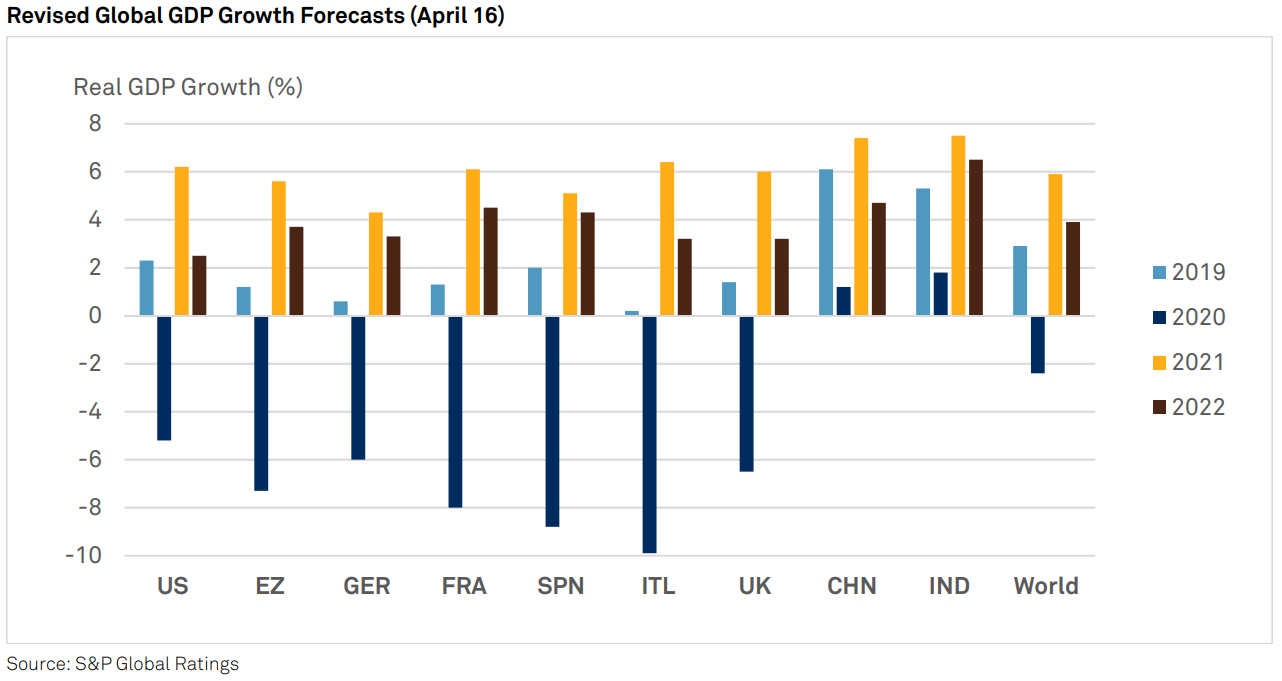 Risky Credits: Hanging On The Edge
U.S. speculative-grade composite spread narrowed by over 13% in April. Spreads remain elevated in 2020 amid investors' risk aversion, and some think they could return to March highs. Default risk is high, up to 3.5% as of March 31, 2020, and more so among the lowest rated companies. There were 21 defaults in April among companies previously rated in the 'CCC' category, but we expect far more.

Although companies do not immediately resort to bankruptcy, some already faced challenges before the COVID-19 shock. Of the U.S. corporate defaults in April, 52% were due to missed interest payments and only 14% filed for bankruptcy.
Read the Full Article
---
Stay up to date with the latest news and insight from S&P Global Market Intelligence on public health, the global economy, its sectors, and commodity markets. This newsletter will be sent every Thursday.
Subscribe to the Newsletter
---