At S&P Global Ratings we are continuously assessing the economic and credit impact of the COVID-19 pandemic around the world. Subscribe to our Coronavirus Bulletin today and we will ensure you have all our latest research and forecasts as they are published.
Subscribe to the Newsletter
---
COVID-19 Daily Update
May 22, 2020
Here is today's essential intelligence.

As all 50 U.S. have relaxed their coronavirus-containment measures—to varying degrees—the international community is watching the world's biggest economy as it reignites activity.

In nine weeks, a total of 38.6 million Americans filed for unemployment benefits—with 2.4 million people submitting applications in the week ended May 16, according to the U.S Labor Department. The unemployment rate in April skyrocketed to 14.7%, up 11 percentage points, while the eurozone's rose only 0.1 point, to 7.4%. S&P Global Ratings believes that Europe's unemployment level during the pandemic has been contained by the deployment of extensive short-time work programs in the region's largest economies as an alternative to massive layoffs. Comparatively, the U.S. government's Coronavirus Aid, Relief, and Economic Security (CARES) Act aims to provide additional support to unemployed Americans through insurance and one-time payments.
Global Coronavirus Coverage
Access our global coronavirus coverage
Americas Coronavirus Coverage
Access our Americas coronavirus coverage
EMEA Coronavirus Coverage
Access our EMEA coronavirus coverage
APAC Coronavirus Coverage
Access our APAC coronavirus coverage
Sector Impact
Shakeout In Retail, Restaurant Sectors Begins With J. Crew
For an industry that's been ailing for years, the coronavirus pandemic is a body blow many retailers won't survive. J. Crew Group Inc.'s announcement today that it filed for bankruptcy should not come as a surprise. (S&P Global Ratings lowered the rating to 'CCC-' last September). In their view, this is the first of many that will likely restructure in- or out-of-court in the next one to two years.

Of the approximately 125 issuers S&P Global Ratings rate in the retail and restaurant sectors, about 30% are now rated 'CCC+' or lower, implying at least a 1-in-2 chance they will eventually default. Which retailers will survive the coronavirus pandemic in some shape or form is the big question.

S&P Global Ratings believes the economic shutdown and lingering social distancing behaviors will trigger a broad shakeout of retail as the industry will be forced to meaningfully reduce its physical footprint and rapidly evolve to reach the post-pandemic consumer. In particular, if there were any doubts about the eventual demise of many American malls, the impact of the pandemic will likely dispel them. In addition to J. Crew's filing, missed interest payments by both J.C. Penney Co. Inc. and Neiman Marcus Group Ltd. LLC in April is further evidence that iconic brands are also at risk with onerous, legacy capital structures and dated, traditional retail models in need of change.
The Essential Podcast, Episode 7: Vegetarian Nation – Supply Chain Disruption and the Coming Meat Shortage
On April 26, John Tyson the Chairman of Tyson Foods gave a stark warning that meat processing plant closures resulting from the COVID-19 crisis may soon lead to meat shortages in supermarkets across the United States. Meanwhile, restaurant closures have also upended supply chains as food service companies struggle to adapt to a new and radically different distribution model. In this episode, host Nathan Hunt interviews S&P Global Market Intelligence reporters Alex Bitter and Michael O'Connor to understand supply chains, the restaurant industry, and the damage wrought by a global pandemic.
Listen to the Podcast
Global Credit Conditions: April 2020
Rising Credit Pressures Amid Deeper Recession, Uncertain Recovery Path
Government measures to stem the spread of coronavirus have escalated in the past three weeks amid a tripling of confirmed cases globally, to more than 2.5 million. These measures, together with business and consumer behavioral changes, are resulting in wider and deeper economic effects— and worse credit conditions—than we estimated our previous report, "Global Credit Conditions: Triple Trouble: Virus, Oil, Volatility," published April 1. We also see the post-pandemic recovery taking longer, based on the experience of China, the first major economy to emerge from the crisis.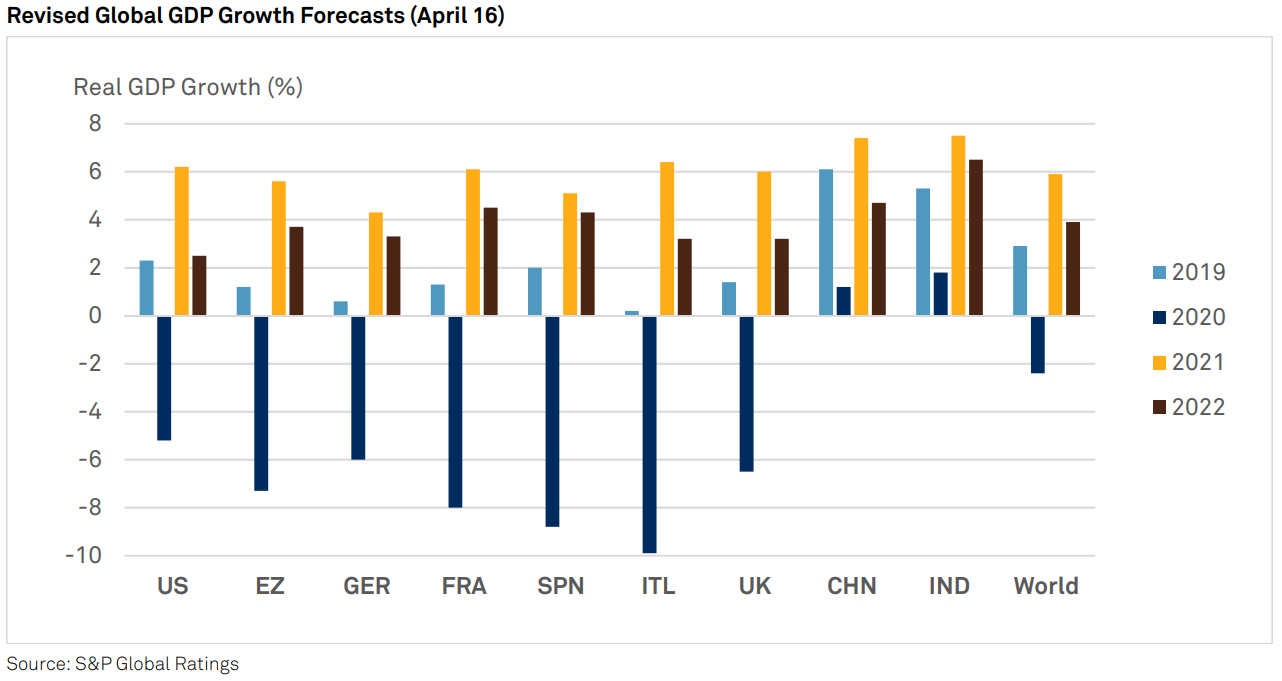 Credit Trends: Global Financing Conditions: Bond Issuance Will Likely Contract 9% In 2020
After starting the year on solid footing following the signing of phase 1 of the U.S.-China trade agreement, financing conditions had collapsed globally with the outbreak of COVID-19 and the economically harsh containment measures enacted to stem the growth of the virus.
This, when combined with the recent surge in oil supplies, has pushed the global economy into a recession, which S&P Global economists expect to last through the second quarter. Given its depth and the potential for the exit trajectory to be slower than the descent, global bond issuance will likely decline to the high-single digits for 2020.
After seeing issuance freeze and borrowing costs rise at their fastest pace in history, the Fed and European Central Bank (ECB) reacted by lowering interest rates and providing trillions in relief facilities across various segments of the economy.
Read the Full Article
Global Economic Research
COVID-19 deals a larger, longer hit to global GDP
The economic impact of COVID-19 is longer and more intense than thought, and we have again lowered our macro forecasts. We now see global GDP falling 2.4% this year, with the U.S. and eurozone contracting 5.2% and 7.3%, respectively. We expect global growth to rebound to 5.9% in 2021.

While the very near term looks bleak, infection curves are flattening and the focus has turned to the recovery. Its length and pace will depend on the combination of health and economic policy, the response of people and firms, and the condition of the labor market and small and medium enterprises.

The balance of risks remains on the downside, as much can go wrong with our baseline path on the health, economic, and policy fronts.

Global Purchasing Manager Indices
Source: IHS Markit.
Copyright © 2020 by Standard & Poor's Financial Services LLC. All rights reserved.
Economic Research: Jobs and the climb back from COVID-19
Jobs are at the core of the current economic crisis. Measures designed to limit viral spread are striking at the heart of the engine of job creation across Asia-Pacific--the service sector. The unfortunate truth about jobs in almost every economy in the world is that they are easily lost but hard to win back. The more jobs that are lost today, the slower will be the recovery. Surging unemployment would not only be terrible news for those out of work, it would have major credit implications across sectors.
Read the Full Article
U.S. Economic Research
An already historic U.S. downturn now looks even worse
Look at any empty restaurant or coffee shop (if anyone ventured out and the shop wasn't closed), and it's hard to deny that the toll on the U.S. economy from COVID-19 has been severe.

While the economic data for March has not been released, social distancing is likely to lead to a steep drop in consumer spending, which will have knockdown effects on business investment. As a result, S&P Global Economics believes that the U.S. is entering recession--if not already in one. Compared with our forecasts before the virus, the first half of the year will be weighed down by a combination of: the effects of the spread of the virus; the suspension of Boeing 737 MAX production and exports; and the recent Saudi Arabia-Russia standoff, with its drop in oil prices and knock-on effects on energy investments.

Google Search Intensity Has Risen For Unemployment Benefits And Furlough
Note: The number of searches for a particular topic are scaled on a range of 0 to 100, based on a topic's proportion relative to all searches on all topics. Literature on correlation between Google searches and unemployment benefits shows Google Trends' search intensity explains a statistically large share of variance in states' reports for unemployment insurance in the subsequent week. Sources: S&P Global Ratings and Google Trends.
Copyright © 2020 by Standard & Poor's Financial Services LLC. All rights reserved.
Coronavirus Insights: Friday Credit Focus
Join S&P Global Ratings' Head of Practices, Craig Parmelee, for this week's live coronavirus webinar.
Every Friday, we will provide you with regular updates on our view of how the current unprecedented circumstances are affecting credit risk and ratings across asset classes. We will define the agenda and speakers each week based on the events, most notable rating actions, and the questions we receive from market participants. Remember to submit your questions in advance on the registration page. We will do our best to answer as many as possible.
Register for the Webinar

APAC Economic Research
Up Next: The Complicated Transition From COVID-19 Lockdown
There are no short cuts, no silver bullets to help us understand what the human and economic price of the COVID-19 pandemic will be. Only with experience and data can we learn the key lessons, among them: how long lockdowns need to last, how economies can reopen before a lasting medical solution is found, and what lasting imprint this episode will leave across the global economy. Tracking this crisis requires constant updating of our assumptions and models to help us understand what the broad contours of pandemic will look like over the coming years.

Asia-Pacific's Forecast Climb Back From COVID-19
Distribution of real GDP forecasts relative to trend across 14 Asia-Pacific economies
Note: Output relative to the long-run pre-COVID-19 trend. Forecasts for 2024 and 2025 are illustrative. Source: S&P Global Economics.
Copyright © 2020 by Standard & Poor's Financial Services LLC. All rights reserved.
Key Takeaways
As the COVID-19 pandemic endures, we are learning more about its human, economic, and financial costs.


An initial one-month lockdown appears to pull full-year GDP lower by about 3% in Asia-Pacific. The next lesson will be about the cost of transition between lockdown and vaccine. As to the long-run supply-side impact, this we will learn only gradually, over time.


We have revised Asia-Pacific growth in 2020 to 0.3% with China at 1.2%, India at 1.8%, and Japan at -3.6%. Our recovery is a flattish U-shape with activity returning to pre-outbreak levels, if at all, in 2023. If unemployment surges, we may be facing an elongated L-shape.
Latin America Economic Research
Economic recovery from the COVID-19 pandemic will be uneven across Latin America
S&P Global Ratings has made another round of global downward GDP growth revisions as social distancing policies have been extended and data emerges, showing the severity of the economic impact of the COVID-19 pandemic. We now forecast Latin American GDP to contract by a little more than 5% for 2020, expanding by a bit more than 3% in 2021.

Post-Pandemic Projected GDP Path
As a percent of pre-pandemic projected GDP trends
Source: Oxford Economics, S&P Global Ratings.
Copyright © 2020 by Standard & Poor's Financial Services LLC. All rights reserved.
Key Takeaways
S&P Global Ratings expects an uneven recovery across Latin America, with stronger recoveries in Chile and Peru, where more-effective viral outbreak containment policies and robust economic responses will help more rapidly repair the damage to the labor market and investment dynamics.


On the other hand, S&P Global Ratings sees weaker recoveries in Mexico, where pre-existing economic weakness, delays in virus containment measures that risk prolonging the health crisis, and limited economic policy responses will mean it will take longer to repair the damage done to labor market and investment dynamics.

EU Economic Research
Large Risks To Growth Ahead
We expect GDP to fall by about 7.3% in the eurozone and 6.5% in the U.K. this year, with a gradual rebound of 5.6% and 6% in 2021.

We assume a lockdown of eight weeks with a very gradual exit. We see larger economic risks, as outbreaks could resurge when lockdowns are loosened across the globe.

Central banks and governments have deployed large fiscal and monetary policy packages to help workers and companies bridge the gap to recovery.
EU leaders agree to build massive coronavirus recovery fund
European Union leaders agreed to work on a massive recovery fund aimed at lifting the economic bloc from the coronavirus crisis, European Council President Charles Michel said after a virtual summit of EU leaders.
Read the full article
Default, Transition, and Recovery
April Accounts For Half Of Defaults So Far In 2020
The 2020 global corporate default tally has reached 62--half of which were in April including five defaults this week. Three of these defaults were U.S.-based. The defaulters were Canadian-based diamond company Northwest Acquisitions ULC, Houston-based contract drilling service provider Diamond Offshore Drilling Inc., Chilean-based casino operator Enjoy S.A., Tennessee-based health care service provider Envision Healthcare Corp., and Kansas-based bakery products producer CSM Bakery Solutions LLC.

With the month coming to a close, April has now seen just as many defaults as the first three months of the year combined (31 in total). The sectors with the most defaults in April have been the media and entertainment, and oil and gas sectors with six defaults each as extended coronavirus-containment measures have had a major effect on corporations, especially for issuers in the industries at the lower end of the rating scale most exposed to COVID-19-related risk. These sectors also experienced a large number of issuers with downgrades in April due to COVID-19 and the collapse of oil prices.
A Credit Rating is an Informed Opinion

A credit rating is an educated opinion about an issuer's likelihood to meet its financial obligations in full and on time. It can help you gain knowledge of—and access to—new markets, enhance transparency, serve as a universal benchmark, and assess and demonstrate creditworthiness. It's not a guarantee or absolute measure, but is a crucial tool for investors in the decision-making process.
Learn more about Understanding Ratings
---
Stay up to date with the latest news and insight from S&P Global Market Intelligence on public health, the global economy, its sectors, and commodity markets. This newsletter will be sent every Thursday.
Subscribe to the Newsletter
---
CLO Scenario Analysis
How Credit Distress Due To COVID-19 Could Affect U.S. CLO Ratings
The combined impact of COVID-19 and the collapse in oil prices present speculative-grade debt issuers (those rated 'BB+' and lower) with a challenge unlike anything seen in the history of the leveraged lending market. The deterioration of ratings assigned to corporate loan issuers has repercussions in the ratings mix of obligors found within U.S. CLO collateral pools. In the space of less than two months, since early March, U.S. CLOs have seen their average collateral credit quality drop to below 'B', and their average 'CCC' bucket increase to nearly 12% from about 4%. These changes are putting pressure on CLO ratings, especially for lower mezzanine and subordinate tranches. For U.S. CLOs, rating stress scenarios we have generated across our rated book suggest that even under dire circumstances, 'AAA' rated CLO notes are well protected and can withstand upward of 60% of their collateral loans downgraded (40% to 'CCC', and 20% to default at an average recovery rate of 45%) without suffering a loss. Under more plausible (but still harsh) stress scenarios, a large majority of senior U.S. CLO notes maintain current ratings, while tranches rated 'BBB' and lower bear the brunt of the downgrades and defaults.
Leveraged loan downgrades continue threat to Europe's CLO investor base
A credit rating downgrade wave of historical proportions is following in the wake of economic disruption caused by COVID-19, swelling the ranks of riskier debt issues (those rated B-minus and triple-C), and potentially challenging Europe's all-important CLO investor base in a way not seen since the global financial crisis more than a decade ago.
Read the full article
Oil Markets
The Essential Podcast, Episode 6: Oil Demand Part Deux – Prices Under Water
S&P Global Platts' Global Director of Analytics Chris Midgley returns to The Essential Podcast to explain how expiring contracts, paper traders, full storage capacity, and a collapse in demand conspired to send oil prices into negative territory for the first time ever.

The Essential Podcast from S&P Global is dedicated to sharing essential intelligence with those working in and affected by financial markets. Host Nathan Hunt focuses on those issues of immediate importance to global financial markets – macroeconomic trends, the credit cycle, climate risk, energy transition, and global trade – in interviews with subject matter experts from around the world.
Oil Markets in Crisis

Oil prices have collapsed by as much as 30% in response to a reduction in offered prices and increase in supplies by Saudi Arabia. Those have been launched in response to Russia's refusal to cut oil supplies in response to the drop in demand caused by the COVID-19 coronavirus outbreak.
Read the full digest of research