Subscribe on LinkedIn to be notified of each new Daily Update—a curated selection of essential intelligence on financial markets and the global economy from S&P Global.
Faced with a series of scandals and impending antitrust action, the world's largest technology companies are looking to innovate against a backdrop of heightened risk.
As the coronavirus pandemic pushed consumers to stay home and spend more time online and engaged with their digital devices, Alphabet, Facebook, Microsoft, and Apple reported record revenue growth last year—while also suffering slowdowns in their core businesses. U.S. and European regulators turned up the heat on the tech giants for alleged anti-competitive behavior. Separately, the firms themselves pivoted in their practices, hoping to curtail violence and extremism across their platforms.
The resulting environment has created the opportunity to expand emerging growth areas while paying more consideration to societal concerns over equity in the workplace and data privacy.
"These companies have so much cash on hand and they're so powerful," Daniel Morgan, a senior portfolio manager at the financial service firm Synovus, told S&P Global Market Intelligence. "But they're all trying to find that next big thing."
Apple, for example, is deepening its vertical integration by insourcing its processors to replace Intel microchips in its machines, branching out into the electric-vehicle market, and honing in on its vision to create autonomous systems.
Disruption is coming from other tech conglomerates, too. Under the incoming leadership of cloud computing division CEO Andy Jassy, Amazon hopes to expand its advertising and healthcare offerings.
"If anybody can change this legacy archaic way of doing things [in the healthcare space], it's Amazon," Mark Shmulik, a vice president and senior analyst at the investment management firm AB Bernstein, told S&P Global Market Intelligence. "But we should level-set expectations on that pace of change."
The company's capacity for innovation may evolve more rapidly from the bottom up. Amazon has hired thousands of new employees to keep up with the exponentially expanding demand for delivery due to the pandemic, which has increased the importance of safe and equitable workplace conditions.
On Feb. 2, the U.S. Federal Trade Commission settled a lawsuit against Amazon regarding the company's withholding of tips for its contract delivery drivers for $61.7 million. The regulatory action "speaks to the brighter spotlight on these issues for Big Tech going forward," Daniel Ives, an analyst with the investment firm Wedbush Securities, told S&P Global Market Intelligence.
In the coming weeks, a coalition of workers employed at an Amazon fulfillment center in Alabama will vote on whether to unionize. If the action is successful, "it could have a tremendous domino effect … [and] could have a huge impact, not just on Amazon but across the whole industry," Joshua Freeman, a distinguished professor of history at Queens College and the Graduate Center of the City University of New York, told S&P Global Market Intelligence.
Today is Thursday, February 11, 2021, and here is today's essential intelligence.
Banking Sector Under Pressure
---
Commerzbank Must Preserve Revenues to Succeed With New Strategy – Analysts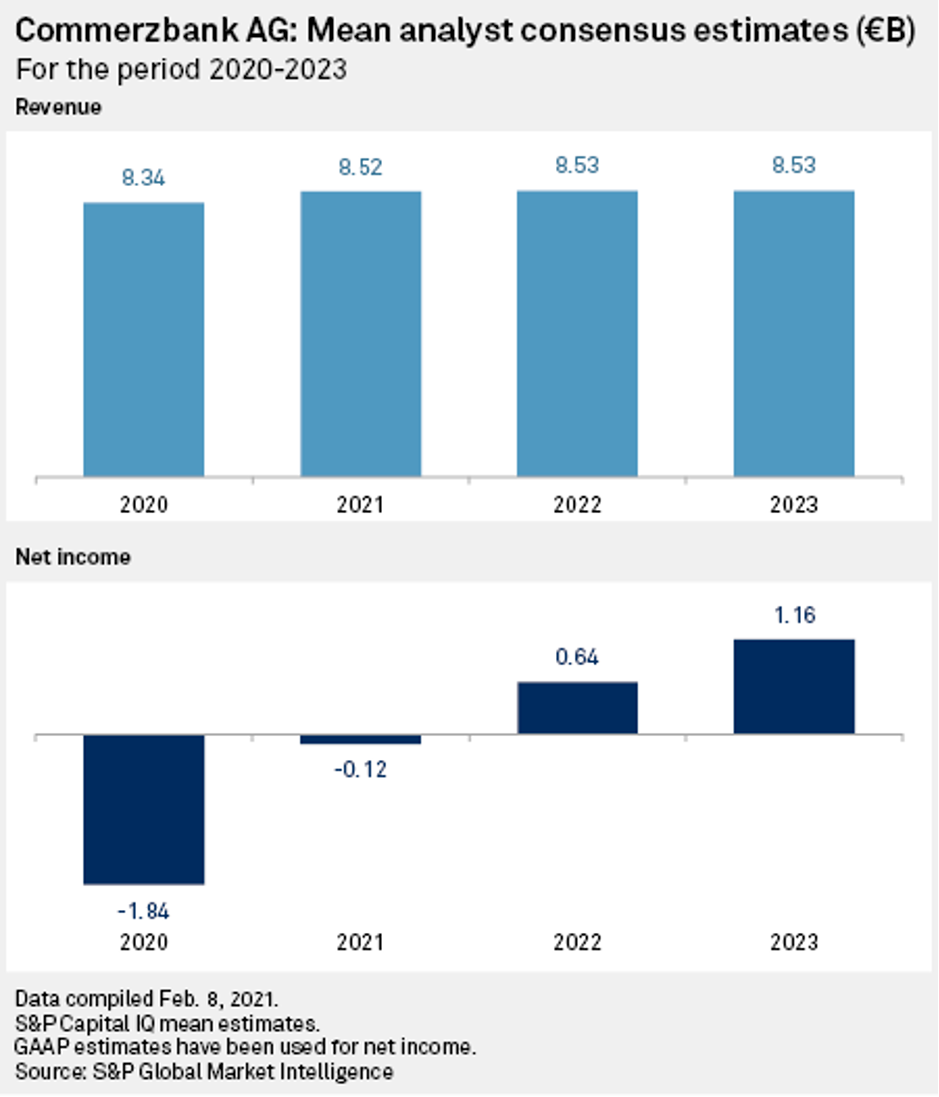 Commerzbank AG's new plan to cut 10,000 jobs and close 340 branches by 2024 will lower its cost base but may not lead to sustainable profits if the bank cannot preserve revenues in the current challenging economic environment, analysts said.
—Read the full article from S&P Global Market Intelligence
ESG in the Time of COVID-19
---
Biofuel's Thirst for Green Hydrogen Opens New Market for Utilities
Rising demand for cleaner fuels across Europe's roads and skies is opening market opportunities for utilities and renewables developers eyeing a stake in the green hydrogen economy.
—Read the full article from S&P Global Market Intelligence
Japan Keeps Auto Industry's Hydrogen Dreams Alive
Toyota Motor Corp.'s newly relaunched Mirai sedan signals its ongoing commitment to hydrogen fuel cell vehicles, but the technology will need more government backing along the lines of that provided in Japan if it is to gain mass appeal, analysts say.
—Read the full article from S&P Global Market Intelligence
Satellites Flag Deforestation From Illegal Gold Mines In Amazon Rainforest
Nearly real-time satellite imagery analysis has been spotting and stymying illegal gold mining activity in the Amazon rainforest.
—Read the full article from S&P Global Market Intelligence
Listen: Biden Administration: A New Dawn for Battery Metals In The U.S.?
During the Trump years, the US issued an Executive Order to ensure the local development of critical minerals, but no material production was established after that. During his campaign, President Joe Biden stressed the importance of promoting clean energy, which is directly linked to the supply of key battery metals.
—Listen and subscribe to Platts Future Energy, a podcast from S&P Global Platts
The Future of Energy & Commodities
---
Oil, Gas Deal Tracker: 2021 Starts with Billion-Dollar M&A
Large-scale oil and gas M&A deal-making got a boost in January from a pair of billion-dollar acquisitions by New Fortress Energy Inc., according to S&P Global Market Intelligence data.
—Read the full article from S&P Global Market Intelligence
INTERVIEW: Hang on For Wild Oil, Copper Ride In Commodity Supercycle: Goldman's Currie
The oil market is being swept up in a commodity supercycle, with huge upside risk to a target price of $65/b, according to Jeff Currie, head of commodity research at Goldman Sachs, who added key metals such as copper are already at supercycle levels and that the story has only just begun.
—Read the full article from S&P Global Platts
Watch: Market Movers Europe, Feb 8–12: Heating Demand and Financial Results to Dominate The Week
In this week's highlights: The European gas market will be facing cold winter temperatures this week; maintenance in French reactors will challenge utilities; and plastics converters will see a hike in production costs.
—Watch and share this Market Movers video from S&P Global Platts
Written and compiled by Molly Mintz.