While the Eastern Interconnect is mostly well-supplied, ERCOT and the West look tighter.
Spark spreads move lower and mild summer demand
While the summer of 2018 featured strong wholesale electricity prices and robust spark spreads, this past summer mostly reverted to form, with milder weather across most of the country reducing spark spreads year-over-year. New York, New England and the U.S. West Coast saw the largest declines while Midwest declines were more modest. The Gulf Coast saw greater cooling demand, driving ERCOT to new peak demand records, and spark spreads to their highest levels in eight years. Overall, spark spreads fell below investment thresholds in New York and New England but remained adequate during the 2019 summer across remaining U.S. markets. ERCOT spark spreads, driven by scarcity pricing, led all markets.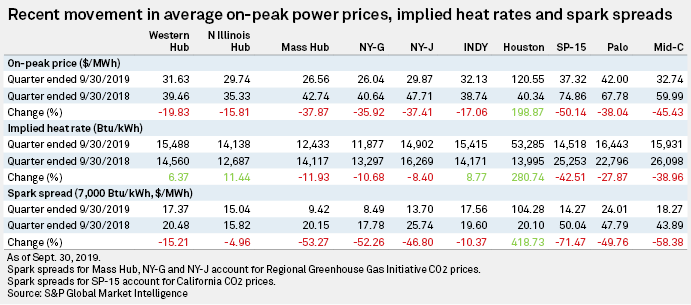 Natural gas price pullback provides little support
Natural gas supply expanded rapidly during the summer, overwhelming generator demand and driving spot prices close to $2 per MMBtu through the peak demand season. While low natural gas prices may have supported spark spreads in some markets, the support overall was more than offset by lower electricity demand.
Reserve shortages developing in ERCOT and the West
While renewable energy projects have expanded rapidly in ERCOT and the West, retirement of legacy generation may still create a squeeze in these regions. Of the 10 regions covered by the Market Intelligence Power Forecast, five are projected to have immediate needs for conventional generation and five have sufficient generation. Through 2023, Market Intelligence forecasts 49 GW of conventional peak capability will be added, along with 61 GW wind and solar plants, contributing 11 GW to reserves, against 46 GW of retired capacity. Of these 61 GW, Market Intelligence estimates 25 GW are already in flight, and an additional 36 GW will be added to meet state RPS. The expansion of these targets over the last year, with a focus on "zero carbon" generation, will impact both investment and wholesale electricity prices.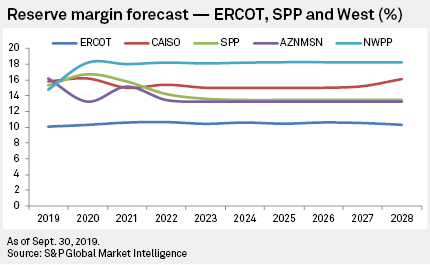 As Market Fault Lines Emerge, Where Could Stranded Costs Develop?
Learn More