Start every business day with our analyses of the most pressing developments affecting markets today, alongside a curated selection of our latest and most important insights on the global economy.

France's Nuclear Ambitions Face Skilled Labor, Corrosion Issues
Long one of the world's leaders in producing electricity from nuclear power, France has embarked on an ambitious plan to expand its nuclear fleet over the next decade. Standing in its way are a shortage of skilled labor (exacerbated by widespread strikes this spring), corrosion problems and the EU's focus on renewable sources, such as wind and solar, over zero-carbon power from nuclear plants.
In mid-May, France placed a tricolor in the sand, halting talks on new renewable energy targets for EU countries in protest against the bloc's treatment of nuclear power. France said it would refuse to support an agreement on EU-wide renewable energy standards that did not allow for so-called green hydrogen generated with electricity from nuclear power plants.
The dispute comes as France embarks on a major push to expand its nuclear fleet, aiming to add at least six new reactors in the coming years in an audacious program to reduce its carbon emissions to net-zero by mid-century. That push has been plagued by a lack of skilled workers — exacerbated by strikes that rippled across the country earlier this year in response to the Macron administration's plan to limit pension benefits — and by unplanned outages caused by an epidemic of "stress corrosion" that affected nuclear plants across the country.
The French strikes have also slowed the country's fossil fuel industry, with both LNG ports and refineries shut down during March and April.
France's nuclear power output declined in March as state-owned operator Électricité de France (EDF) delayed the return of multiple reactors from maintenance outages due to labor shortages. "Average output fell 4.7% on the year to 34.4 GW, system data showed," as the strikes reached their fifth week, reported Andreas Franke of S&P Global Commodity Insights. Analysts at S&P Global Commodity Insights had forecast March to average 38.7 GW, already sharply below earlier projections.
EDF CEO Luc Rémont, who took over the top spot in November 2022, in February reaffirmed the nuclear giant's 2023 output target of 300 TWh to 330 TWh. S&P Global Commodity Insights analysts have revised their forecast downward to 308 TWh from 318 TWh, still within the company's target range.
That follows a decline of 23% in output in 2022, to 279 TWh — the lowest since 1988. EDF posted a net loss of €3.6 billion for 2022. The new CEO aims to return the company to profitability in 2023, focusing on a "gradual exit from the crisis of stress corrosion," Rémont said during a call to report the company's full-year 2022 results.
The labor and corrosion issues have highlighted the challenges ahead for France's new nuclear era. Detractors of nuclear power have long insisted the technology is too expensive, too complex and too dangerous to solve the problem of decarbonizing the world's energy systems. Those objections have lessened in recent years as the magnitude of that task becomes more apparent. France, which has never had a major nuclear accident and which has an electricity price of €0.21 per kWh (below the EU average of €0.25/kWh), will be a proving ground for nuclear power in the 21st century.
Today is Friday, May 26, 2023, and here is today's essential intelligence.
Written by Richard Martin.
The next edition of the Daily Update will be published Tuesday, May 30.
Economy
---
Economic Research: Thirty Years Of The EU Single Market: Why Cross-Border Capital Flows Remain Sluggish, Despite Positive Developments
In the first 30 years of the EU's single market, while the movement of goods and workers between EU member states has increased, capital flows have continued to lag. They have stagnated since the 2008-2009 global financial crisis, and their geographic scope has narrowed, moving from the east and south of the EU to the core and north. One encouraging development is that the COVID-19 pandemic has not led to a decrease in capital flows between EU countries. The bold and coordinated policy response to the pandemic has helped maintain private risk sharing.
—Read the report from S&P Global Ratings
Access more insights on the global economy >
Capital Markets
---
Progressive Out Front On Commercial Auto Rate Hikes In Q1 2023
The Progressive Corp. continued to increase commercial auto insurance rates during the first quarter of 2023, according to an S&P Global Market Intelligence analysis. Overall, Progressive and its subsidiaries received approvals for 17 rate hikes across 15 different states during the quarter. The aggregate of the calculated premium change for the filings is $102.5 million. Progressive County Mutual Insurance Co. received the most significant increase during the quarter with a $68.1 million calculated premium change after a 5.3% bump in Texas. This rate increase went into effect Dec. 21, 2022, for new businesses and Jan. 27, 2023, for renewals and is expected to affect nearly 130,000 policyholders.
—Read the article from S&P Global Market Intelligence
Access more insights on capital markets >
Global Trade
---
Oil Product Stockpiles Fall For First Time In 3 Weeks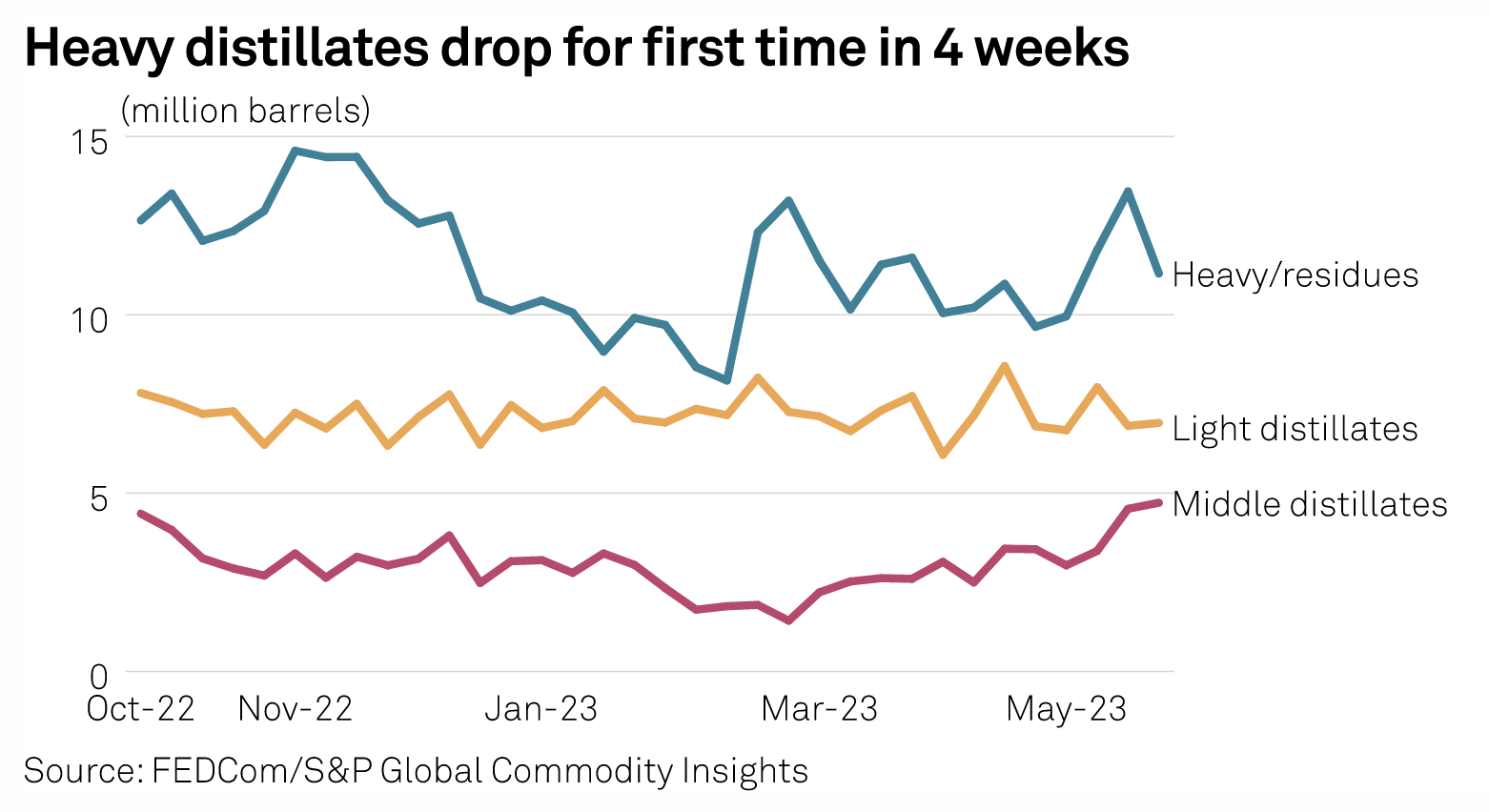 Stockpiles of oil products at the UAE's Port of Fujairah dropped for the first time in three weeks in the seven days ended May 22 as exports for fuel oils used in power generation and shipping picked up, according to the latest shipping and port data. Total inventories fell 8.2% on the week to 22.851 million barrels as of May 22, after reaching a five-month high a week earlier, according to data from the port's Fujairah Oil Industry Zone provided exclusively to S&P Global Commodity Insights on May 24. Total inventories were up 11% since the end of 2022.
—Read the article from S&P Global Commodity Insights
Access more insights on global trade >
Sustainability
---
Listen: PPAs As A Key Driver To Meet Europe's Climate Targets
Power Purchase Agreements (PPAs) were born out of Europe's desire to wean itself off renewable energy subsidies. PPAs are now becoming more common across the region as more companies use them as a key risk hedging and decarbonization tool. From a very niche industry, PPAs are becoming mainstream, with companies now having entire PPA departments, which would have been unthinkable a few years ago. Henry Edwardes-Evans, head of gas and power news, discusses the fundamentals and potential of the European PPA market with Kira Savcenko, senior power edditor, and Diego Ortíz, principal research analyst in the gas, power and climate solutions team.
—Listen and subscribe to Future Energy, a podcast from S&P Global Commodity Insights
Access more insights on sustainability >
Energy & Commodities
---
European Thermal Coal Buyers Eye Reselling In Asia Amid Sufficient Stockpile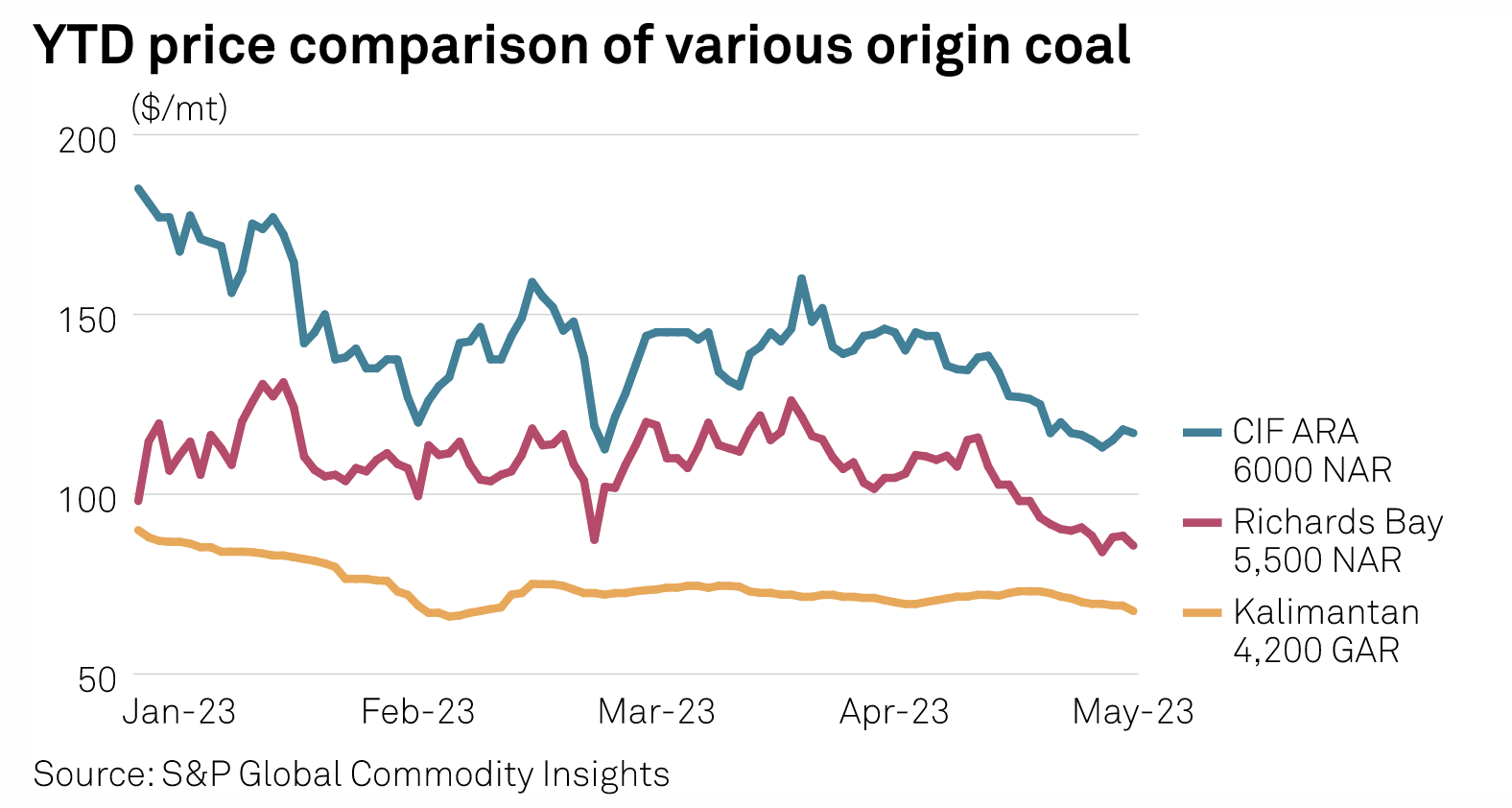 With decent thermal coal stockpile at European ports, along with lower coal demand due to strong natural gas storage levels and renewable energy generation, market participants in Europe are looking to tap the Asian market to resell their products, sources told S&P Global Commodity Insights. The development comes at a time when thermal coal demand in Asia is lackluster due to strong domestic production and lower-than-expected temperatures, even as prices have fallen to levels not seen at least in the last three months.
—Read the article from S&P Global Commodity Insights
Access more insights on energy and commodities >
Technology & Media
---
Growing Inventories And Falling Prices, But US Auto Sales Growth Still Progressing Slowly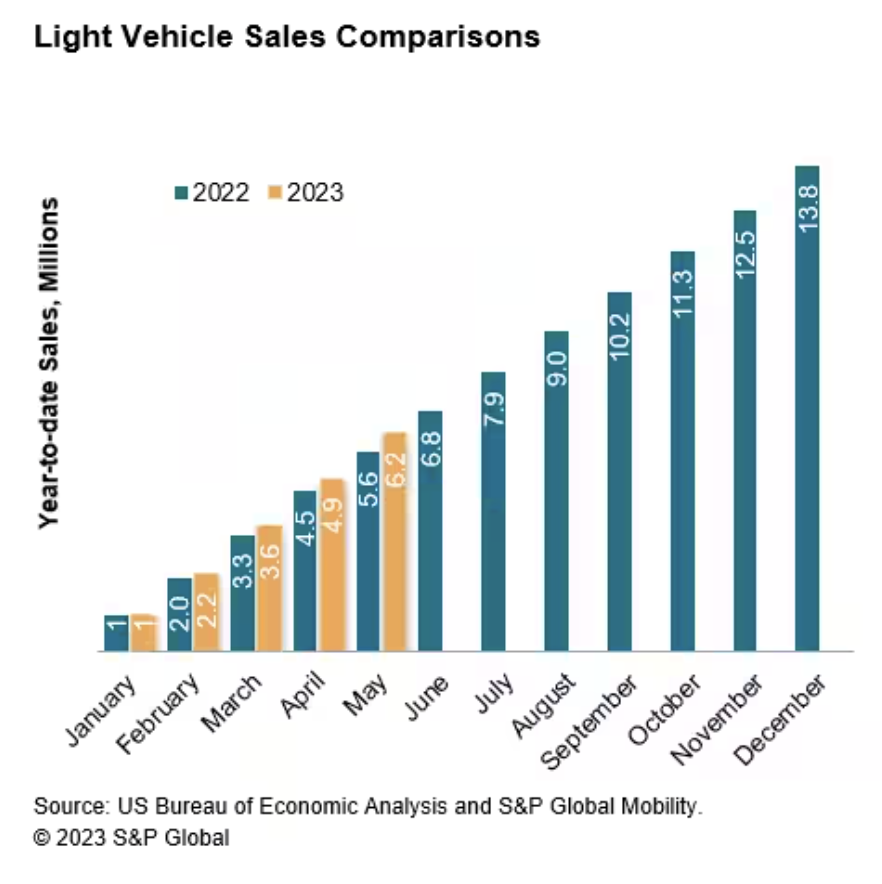 As the market awaits a clear signal that either growing new-vehicle inventories or consumer affordability issues will emerge as the main determinant of auto sales trends in the immediate term, new U.S. light vehicle demand in May is expected to soldier on uneventfully and maintain its unsteady climb. S&P Global Mobility projects new light vehicle sales volume in May 2023 to reach 1.31 million units, up 18% year over year, and representing the 10th consecutive month in which volume has improved from the year-prior level. This volume would translate to an estimated sales pace of 14.5 million units (seasonally adjusted annual rate: SAAR), a step down from the month-prior result, but reminiscent of ongoing monthly patterns in this metric.
—Read the article from S&P Global Mobility