This year's Mobile World Congress felt like its pre-pandemic version, in terms of packed halls, busy stands and overall energy. Total attendance was nearly 90,000 — a big jump from the 60,000 that attended in 2022. This year, S&P Global Market Intelligence's TMT research analysts were back on the ground at MWC after three years away. Over four days, our analysts had more than 80 meetings with attendees addressing a range of topics. This report summarizes high-level themes and takeaways.
The Take
Mobile World Congress got back on its feet with full stands and extensive crowds. Discussions on the floor felt more pragmatic than years past, especially on topics like Open-RAN or Open Radio Access Network technology. Although O-RAN barnstormed the event last year, time has shown it is not yet ready to replace proprietary systems. A common refrain was that although consumer 5G has largely been underwhelming, a more interesting B2B focus is now the real opportunity. While we think this is true, success will require 5G operators to execute a complex network and business model transformation. To that end, the concept of monetizing network APIs with app developers roared back, with both GSMA and Ericsson/Nokia fanning the flames. The biggest change from years past was the ubiquity of messaging around sustainability and ESG, from both suppliers and telecom operators, and the emergence of the metaverse as a common use case for advanced networks.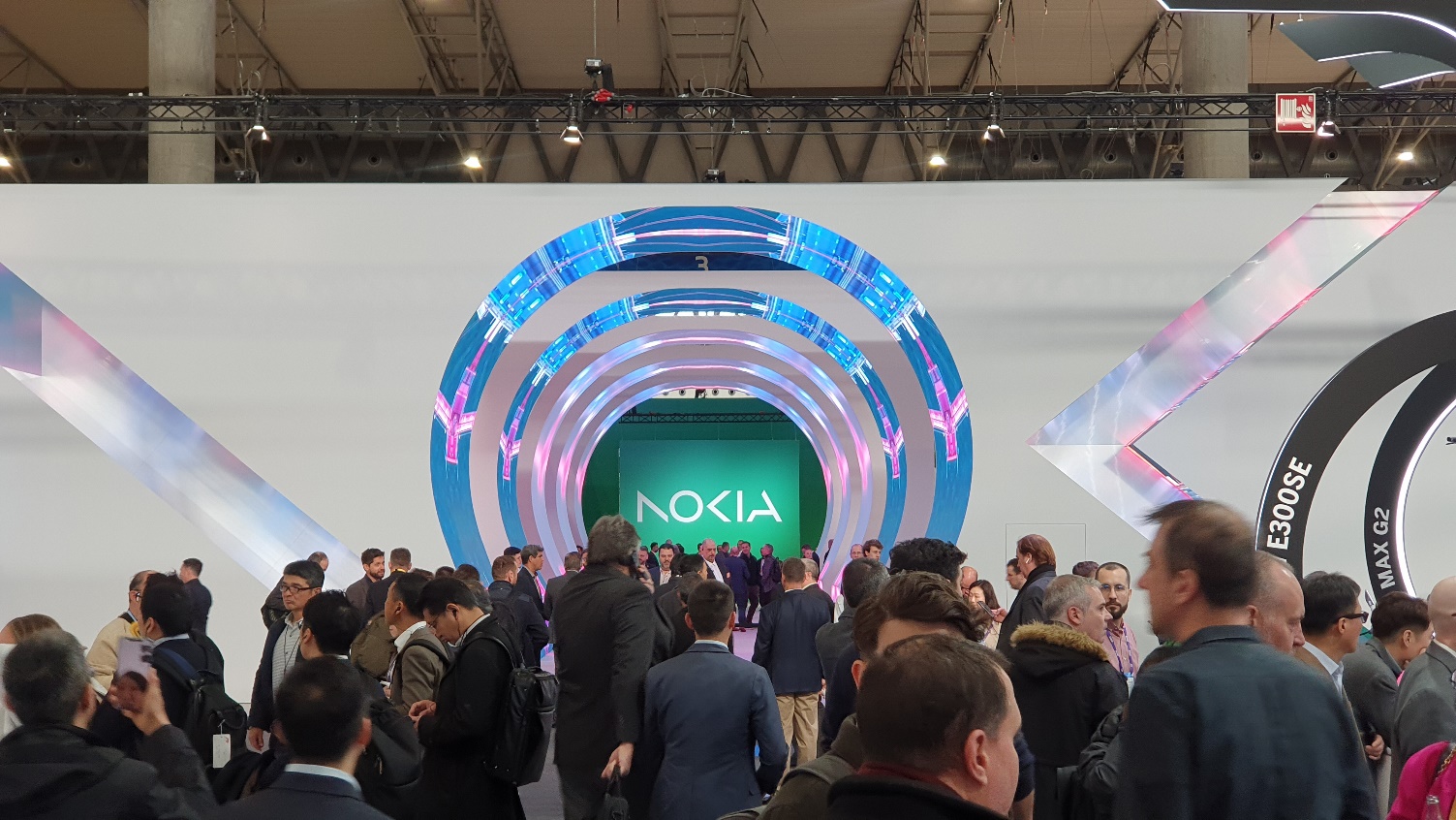 Nokia's presence at MWC 2023. Source: S&P Global Market Intelligence
Mobile World Congress 2023: Analyst Observations
Mobile World Congress is back to nearly full strength, with attendance reaching 88,500, up from the 60,000 that made it last year. This year, the conference was organized around five major themes.
5G acceleration: Debating the key issues around building and monetizing 5G networks (and preparing for 6G).
Reality+: Addressing the development of AR/VR/MR, and metaverse ecosystems and opportunities.
OpenNet: Open network topics ranging from O-RAN to open APIs and programmable edge computing.
Fintech: Exploring the latest disruptions and opportunities in decentralized and embedded finance, mobile money and banking.
Digital Everything: A catch-all that included industrial enterprise topics like the future of transportation and manufacturing, which encompassed how 5G will impact technologies like digital twins and connected cars.


Below, we discuss our observations by grouping them into three categories: network cloudification, monetization and sustainability.
Network cloudification
The O-RAN train is plodding along
The discussions around O-RAN were high, but there was a notable downturn in the hype compared to previous MWCs. Most RAN and IT vendors admitted behind closed doors that the key challenges remain cost/complexity, performance and power efficiency — all areas where O-RAN lags proprietary, appliance-based systems. Questions also remain about exploring and quantifying the benefits of a truly open RAN ecosystem.
The power efficiency issue is further elevated by the secular focus on network energy efficiency and sustainability by all global telcos. A consensus held that O-RAN was at least two years from being good enough to deploy at scale. But some vendors were still bullish on brownfield deployments at scale in 2024; and universally, the operator community wants O-RAN to be viable. The question is whether it can be.
Hyperscalers/public cloud providers eyeing telecom
Every global tier 1 operator is in the early-to-middle stages of a cloudification journey that inevitably includes a multipronged engagement with at least one of the big three major public cloud providers (though operators often have engagements with two or three). For hyperscalers, telco operators have been relatively underpenetrated, but they are moving fast to change that, as evidenced by their heavy presence at MWC, especially AWS.
The crown jewels in the telecom environment are the broadband core and edge network workloads, and all the hyperscalers are going after them. As workloads get farther from the mobile core, you reach process-intensive and edge-centric systems like RAN. Porting those functions to public cloud networks is still a distant dream for most. And for some of the digital leaders like Verizon Inc. and Vodafone Plc, these hyperscale partner engagements started in earnest a few years ago. The benefits of collaboration have not always materialized due to lower-than-expected demand for services like public multi-access edge compute (MEC). However, our survey data points to the demand increasing.
Edge/MEC
The emphasis on edge computing has been growing exponentially over the past three years. Latency issues and high data egress costs have made on-premises or edge locations highly important as OT meets IT. Data residency and sovereignty has also made some cloud services difficult to adopt. At MWC, hardware and software vendors were stressing their capabilities to address the growing demand for edge computing with their MEC and orchestration services, which are still in a nascent stage of adoption.
One persistent question is whether GPUs will be the sole method of running artificial intelligence inference models at the edge. The chip vendors say very few use cases require the processing power of GPUs over CPUs, suggesting that lower-powered, easier-to-cool compute should be suitable at the edge, negating the need for expensive power infrastructure and HVAC. Finally, we looked at the actual software and code being used at the edge. Large applications will require more compute, whereas simpler, targeted code will manage to keep up with performance requirements, without needing the infrastructure associated with modern HCI systems.
The video streaming experience
There are energy-related efforts in video distribution via codecs and standards that can drive lower energy streaming. The recent media industry initiative Greening for Streaming is establishing a minimum or default video quality and an end-to-end low latency model, where content is only processed as it streams. Long-tail processing and disaster recovery are all in the cloud.
As IP video takes over broadcast, there is a need to manage the quality of video required on demand or by use case, as well as cloud agility, to reduce the cost of running platforms and to deliver ad revenue localization. All this comes with a cautionary note that operators and broadcasters must consider carefully what goes in the cloud, and what does not. A new video compression standard, the Versatile Video Codec, is in the works, offering adaptive streaming, immersive 360-degree video, and optimal delivery of high-resolution 4K/8K. Namely, it can cut 8K streaming from 80 Mbps to 40 Mbps.
Monetization
Open API
A hot topic at the event was the GSMA's Open Gateway effort — a framework of network APIs designed to give developers universal access to mobile networks. The GSMA attempted something similar in 2012 with the OneAPI Exchange, which failed. This new effort already has one important thing going for it — it is backed by 21 operators worldwide, providing the scale that developers want. This was lacking in past initiatives. It also has the implicit backing of suppliers like Nokia Corp., Ericsson ADR and Huawei.
A thriving open API environment will take time, given the GSMA has only provided building blocks. However, the effort is also a realization that innovation will continue over 5G networks without operators seeing any of that revenue, so they might as well be contributors to the process and make money from APIs.
However, APIs must be useful. The Quality on Demand (QoD) API to enable applications that require consistent service levels made an impression. Operators and vendors demonstrated use cases for network slicing, enabled by stand-alone 5G networks, which included varying QoS service plans and video that is backed by a service guarantee even in times of heavy network congestion. These are some promising ways to differentiate services in ways that were not possible before.
Embedded finance
The most talked-about fintech business model at MWC 2023 was undoubtedly embedded finance. This involves "embedding" financial products and services such as debit cards, insurance or consumer loans in the customer journey of nonfinancial companies. When most people think embedded finance, "buy now, pay later" is top of mind.
But the scope of embedded finance is much greater. For example, the financial services arms of telcos in Africa and the Middle East may offer loans to the unbanked owners of microenterprises, using existing customer data as a way to score customer creditworthiness. A major focus of MWC 2023 was forms of digital money, whether stablecoins, cryptocurrency or central bank digital currencies (a digital form of fiat money, replacing or complementing coins and banknotes). It was very much attuned to how these can be used for everyday consumer transactions like remittances and other cross-border payments.
Metaverse
The consumer focus of MWC lent itself to conversations about the B2C opportunity of the metaverse, with many exhibitors incorporating a virtual experience or referencing it. However, a bigger influence was that of the industrial metaverse. A digital-first and simulation-based approach to everything, from bolts to machinery to full industrial plants to entire greenfield smart cities, was addressed by both IT and OT large enterprises. In our metaverse coverage, we have segmented industrial, enterprise and social use cases to help clarify the differences in evolution, and the perception of the metaverse. Industrial metaverse use cases often have solid and obvious quantitative financial and ESG advantages.
Sign up for our March 16 Metaverse webinar to hear from our experts
Click Here
Private 5G
The private 5G market is actually still 4G. One of the running jokes in the telco industry is that while everyone markets their dedicated, on-premises cellular technology as "private 5G" systems, the vast majority are 4G. The reason is that 5G systems are still immature when it comes to enterprise features like URLLC, and devices are either nonexistent or too expensive. In addition, 4G is good enough for the majority of workloads.
At MWC, it was clear that despite the sluggish start, the major IT providers are lining up to support private 5G networks with their own core software or via curating ecosystems that run on top of their IT infrastructure. Although private wireless for the enterprise is a dynamic and growing ecosystem, today's private cellular projects are actually LTE, and often merely branded by both suppliers and enterprises as 5G, in a bit of marketing fluff.
Sustainability
Telcos stood out in their demonstration of ESG credentials at the show this year: whole stands were dedicated to sustainability and social responsibility. Given the broad showcase of vendors' green tech, it was clear the challenge is for telcos to navigate the most effective and sound investments in making their networks green. Network planning and data mining are critical in terms of energy efficiency. Massive MIMO is an example of a 30%-50% energy reduction that can be achieved on outdoor fixed wireless networks.
Comprehensive ESG value chain strategies have emerged to reduce waste, as well as direct and indirect emissions (from scopes 1, 2 and 3). Telcos are committing billions to social responsibility programs that can close the digital divide. The ecosystem is geared to lifecycle assessments, looking at lower energy devices, AI-computed efficiencies and sensors (IoT) to monitor and manage the network. The benefits of cost reduction and establishing renewables for future energy security are clear, given the energy supply and cost crisis.
Looking for more? Explore the top TMT trends of 2023 in our exclusive report series.
451 Research is part of S&P Global Market Intelligence.
5G's vision comes into focus: Mobile World Congress 2023
Read More
Breaking into Europe's Digital Infrastructure Markets: Drivers & Trends
Read More