An analysis of 2019 State of the State addresses given by U.S. governors, and related legislative efforts, reveals growing political momentum toward lower greenhouse gas emitting power generation and a "clean energy economy."
A number of states have proposed new or increase renewable portfolio standards that are making their way through respective legislatures. New Mexico and the District of Columbia have already enacted such legislation this year.
The impact of the 2018 general elections has started to play out across the country, particularly in states with new gubernatorial leadership.
The idea that technological advancements, innovation and a broader push for less carbon-intense energy sources are set to transform the global landscape is one that has gradually become accepted as truth within the U.S. energy industry, which continues to evolve and transition toward cleaner and more energy efficient ways of providing electric and gas services.
Consensus among politicians on how to either support — or in some cases fight against — the so-called energy transformation has historically been more difficult to discern, but an analysis of State of the State addresses given by U.S. governors and state legislation proposed thus far in 2019 suggests the country is approaching a tipping point.
Out of 47 reviewable 2019 State of the State addresses, energy was mentioned, however briefly, by the governors of 28 states. The governors of 19 states — Alabama, Arizona, Arkansas, Florida, Georgia, Illinois, Indiana, Iowa, Kansas, Minnesota, Mississippi, Missouri, Montana, Pennsylvania, Rhode Island, South Dakota, Tennessee, West Virginia and Wisconsin — did not make any notable mention of energy in their respective addresses.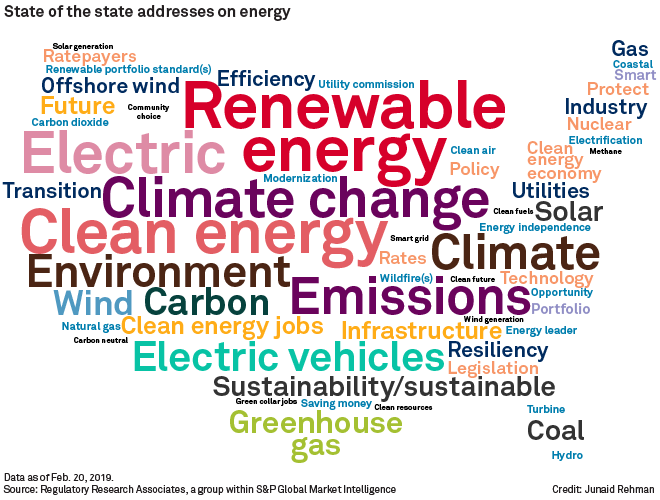 Of those 28 governors that broached the topic, the great majority did so in the context of the transition to cleaner fuel sources and an effort to embrace new energy technologies. Many called on lawmakers to introduce legislation aimed at supporting those goals, resulting in a record amount of renewable energy bills, including several to increase renewable portfolio standards, being proposed in 2019 sessions.
Electric vehicles are another area of focus, as several governors announced efforts to increase the number of EVs being used at state agencies and by consumers. Technology is another: In Idaho, Gov. Brad Little praised the nuclear energy research efforts of the state's "Leadership in Nuclear Energy Commission," which is part of the Idaho National Lab in Idaho Falls, where NuScale Power is hoping to build its design for small modular nuclear reactors, and in Maine, Gov. Janet Mills praised Efficiency Maine Trust's work with the University of Maine in the research and development of offshore wind power; to promote energy efficiency and weatherization; and to increase the use of heat pumps.
This momentum follows a wave of activism at the state and local levels of government around climate change, and demand from U.S. and global corporations for renewable energy as they work toward corporate renewable energy and emissions reduction targets. The 2018 midterm elections also offer context: In 20 of the 36 gubernatorial races in 2018, a new governor was elected, with Democrats picking up control in seven states: Illinois, Kansas, Maine, Michigan, Nevada, New Mexico and Wisconsin.
U.S. State Lawmakers Seek To Accelerate Renewable Energy Shift In 2019
Learn more
Renewable Energy Takes Charge During 2018 US State Legislative Sessions
Learn more