Institutional loans with financial covenants have officially become a minority.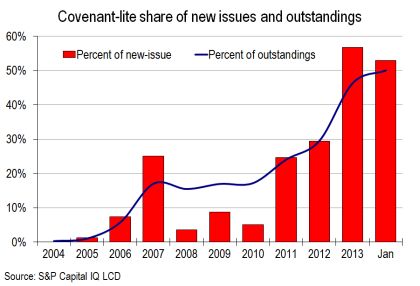 As of Jan. 31, the share of loans in the S&P/LSTA Leveraged Loan Index without maintenance covenants grew to a record 50.04%, from 46% at the end of 2013.
Clearly, financial covenants – once a hallmark of secured loans – haven't been the norm for the new-issue market for some time. In January, 53% of new-issue institutional volume launched was covenant-lite, down from 68% in December. New issuance aside, issuers have also been refinancing or amending existing deals into covenant-lite structures: A recent example is Community Health Systems' multifaceted M&A-related execution last month, which entailed stripping covenants from the borrower's existing institutional loans.
You can read about how covenant-lite loans work here, in LCD's online Loan Market Primer. The Primer is free, and includes sections detailing pretty much every important segment of the leveraged loan market. Charts on 2013 activity, too, including: