The Federal Reserve is poised to lower interest rates again Sept. 18 and keep the door open to additional policy easing should trade tensions escalate further.
The Fed's expected 25-basis-point rate cut would be its second of the year, but the decision will likely highlight a divide among Fed officials over how worried they should be about a potential U.S. economic slowdown, analysts say.
"It seems that the Fed is rather fragmented, and there's probably good reason [for that]," said Beth Ann Bovino, U.S chief economist for S&P Global Ratings, a separately managed division of S&P Global.
On the one hand, growth in Europe and China is decelerating, and the lingering trade war between the U.S. and China threatens to crimp momentum further. Those headwinds are beginning to surface in U.S. economic data, which show a reduction in business investment and a contraction in the manufacturing sector.
But U.S. consumers, who make up about 70% of the economy, are continuing to boost retail purchases, and they remain generally confident about their economic prospects. In August, for example, U.S. retail and food services sales rose 0.4%, beating the Econoday consensus forecast of a 0.2% monthly gain.
"To the extent that consumers remain fairly confident and willing to spend in the face of that uncertainty, I think we'll be in good shape overall," said Mike Schenk, chief economist at the Credit Union National Association.
Fed officials remain divided by the "two distinctively different narratives" surrounding the U.S. economic outlook, Lindsey Piegza, chief economist at Stifel, wrote in a research note.
Boston Fed President Eric Rosengren and Kansas City Fed President Esther George voted against the July 31 rate cut and could dissent again Sept. 18 in the likely case that the Fed cuts rates. Other Fed officials who do not vote on the Federal Open Market Committee this year have also opposed easing policy.
On the dovish side, St. Louis Fed President James Bullard has said the Fed should consider cutting rates by 50 basis points at the meeting, a more aggressive action than the Fed's typical 25-basis-point moves. Bullard could also vote against the Fed rate cut and advocate for a more significant action.
Although analysts generally expect Fed Chairman Jerome Powell to strike a dovish tone at his post-meeting press conference, divisions could prevent the Fed chief from presenting a united front on future rate moves.
"If the Committee fails to deliver both a rate cut and a further opening of the proverbial door of further stimulus, the lack of resolve will no doubt weigh on the market and provide further downward pressure on yields," Piegza wrote.
Possible clues over the Fed's future actions will come via its quarterly "dot plot" projections. But analysts are split on whether the median projection from Fed officials will show they are leaning toward one more rate cut this year, instead of keeping rates flat after the Sept. 18 action.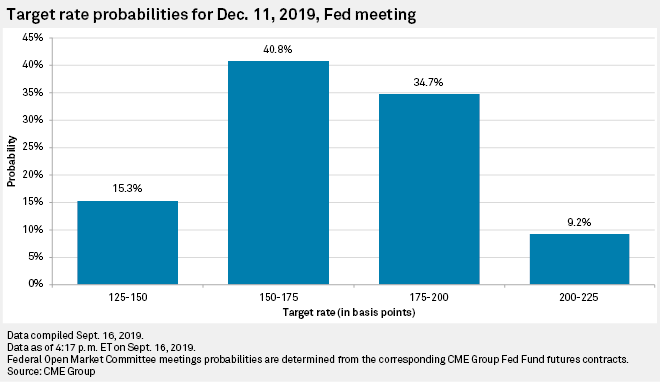 As of Sept. 16, the CME Group's FedWatch tool showed futures markets projecting a 46.8% chance that the Fed will cut rates at least once more after September, though the probability tool may have been understating those chances given recent volatility in short-term funding markets.
Investors' views of the U.S. growth and inflation outlook have been generally more pessimistic than the Fed's outlook. While the Fed expects inflation to gradually return to the central bank's 2% target, its preferred inflation gauge remains below that mark, having risen by just 1.6% year over year in July.
One gauge of bond markets' inflation expectations over the next five years has picked up but remains below 2%. The 5-year breakeven inflation rate — the difference between the yield on a nominal fixed-rate bond and the real yield on an inflation-linked bond — stood at 1.43% as of Sept. 12, according to data from the Federal Reserve Bank of St. Louis. The measure hit a low of 1.29% on Sept. 3.
The consumer price index excluding food and energy prices rose to 2.4% year over year in August, its strongest increase since July 2018. The Fed focuses on a separate inflation gauge, the personal consumption expenditures price index, but analysts say the core CPI increases point to strengthening inflation.
Inflation may also see some upside pressure due to recent news from Saudi Arabia, where crude oil production has been cut by about half after an attack on Saudi Arabian Oil Co.'s Abqaiq and Khurais oil processing plants.
But the bigger worry for the Fed would likely be the potential for higher oil prices to slow spending and economic growth, said Bovino of S&P Global Ratings.
"If people are paying more money at the gas tank, that's less money to spend on themselves," she said.