Start every business day with our analyses of the most pressing developments affecting markets today, alongside a curated selection of our latest and most important insights on the global economy.

The Push for Green Marine Fuels
For decades, the shipping industry has been powered by what oil veterans describe as residues and dirty fuels. But this could be changing as the EU and International Maritime Organization set regulatory targets through 2050 to promote greener fuels, reduce emissions and fight climate change.
The International Maritime Organization intends to reduce the carbon intensity of international shipping by 40% by 2030 and to halve emissions by 2050 from 2008 levels, but environmentalists and shipping industry participants said these goals do not go far enough to align with the goals of the Paris Agreement on climate change.
Oil trading firm Trafigura has made several early investments in low-emission fuels. Rasmus Bach Nielsen, Trafigura's global head of fuel decarbonization, is skeptical of these regulations. "If it's only a 2050 target, then people won't have the pressure and incentive to decarbonize by 2030, and that's what is required now," Nielsen said.
S&P Global analysts expect low-carbon supplies to make up only 2.2% of the world's marine fuel consumption of 328 million metric tons by 2030.
The biggest challenge to decarbonization is uncertainty over which sustainable marine fuel and associated infrastructure will become dominant. According to the International Chamber of Shipping, opinions are divided over the future refueling, or bunker, landscape.
Some industry estimates suggest that liquefied natural gas can reduce emissions by 20%-30% compared with oil-based fuels. Biofuels can be formulated to be carbon neutral depending on their blending proportions. Additionally, hydrogen, ammonia and methanol can be used as zero-emission fuels when produced from renewable energy.
According to the International Chamber of Shipping, "there is also a paradox in play, with ports holding off on decisions about specific infrastructure ahead of confirmed market demand by shipowners. The fuel landscape is incredibly fragmented."
Maritime industry adviser DNV expects global production capacity of sustainable biofuels to grow from 11 MMt of oil equivalent currently to 23 MMtoe by 2026. The shipping industry would need to consume 250 MMtoe per year by 2050 if it is to fully decarbonize primarily using biofuels, according to DNV.
Singapore, the world's largest bunkering port, reported more bio-blended bunker fuel sales than LNG last year. The country's bunker sales in 2022 included about 140,000 metric tons of biofuel blends for more than 90 biofuel bunkering operations, which surpassed 16,000 metric tons in LNG bunker sales.
The significant decline in 2022 LNG marine fuel sales was due to skyrocketing prices related to the war in Ukraine. However, because LNG prices have fallen in 2023, there will likely be an increase in LNG supplies at major ports this year.
For now, there is a "green premium" for biofuels, particularly for hydrotreated vegetable oil — which currently costs about double the value of very low sulfur fuel oil, the most used marine fuel with 0.5% sulfur — while fatty acid methyl ester prices are about 30%-50% higher than very low sulfur fuel oil depending on the blending proportion, according to industry sources.
S&P Global Commodity Insights only expects ammonia and hydrogen to account for 20.7% of global bunker consumption of 300 MMt in 2050, even if the public and private sectors accelerate decarbonization initiatives.
Methanol as a bunker fuel can provide environmental benefits. However, some industry players have cited an absence of ample green methanol supply, uncertainty related to its availability for the shipping sector, its high price and a lack of operational standards as impediments to its widespread uptake.
Some shippers are even looking at wind and electric solutions to help with decarbonization. Agribusiness company Cargill completed the installation of large wind sails on one of its chartered dry bulk carriers to cut fuel consumption and greenhouse gas emissions. And Finnish technology firm Wärtsilä is designing the world's largest fully electric marine propulsion system for a ferry under construction in Australia.
Electrification may not be a viable decarbonization option for deep-sea trades, but docked container and passenger ships will be required to use onshore electric power or adopt zero-emission technologies at major EU ports starting in 2030.
Today is Wednesday, September 27, 2023, and here is today's essential intelligence.
Written by Ken Fredman.
Economy
---
Economic Outlook Emerging Markets Q4 2023: The Lagged Effects Of Monetary Policy Will Test Resilience
S&P Global Ratings continues to expect most emerging markets (EMs) to grow below trend in the remainder of 2023 and into 2024. Second quarter GDP reports were, in many cases, stronger than expected, though largely owing to factors we expect to be transitory. Domestic demand is benefiting from improving labor dynamics, fiscal support and excess private sector savings since the pandemic. These factors are cushioning the impact of tight monetary policy. But as these dynamics unwind in the coming quarters, S&P Global Ratings expects high interest rates to have a more noticeable impact on activity.
—Read the report from S&P Global Ratings
Access more insights on the global economy >
Capital Markets
---
Credit Conditions: Credit Conditions North America Q4 2023: Shift To Low Gear
Overall: Higher-for-longer interest rates, the possibility of recession and lingering inflation suggest credit conditions for borrowers in North America will likely deteriorate. Risks: As the maturity wall approaches, the costs to service or refinance debt could be overly burdensome, especially for lower-rated borrowers, in the current interest-rate environment. Commercial real estate (CRE) loan losses could rise amid higher financing costs, declining demand and volatile market conditions for US regional banks.
—Read the report from S&P Global Ratings
Access more insights on capital markets >
Global Trade
---
ZEMBA RfP Adds To Increased Options For Decarbonization For Containers
Shippers and carriers are beginning to show their hand in their long-term decarbonization plans, with a recent Request for Proposal (RfP) offered by the Zero Emission Maritime Buyers Alliance propelling the acceleration of decarbonization efforts on a wider scale. Over the past few months, carriers have submitted their blueprints for "green shipping," in which they have promoted sustainable methods of cargo transportation in ocean freight at a premium in what is known as a book-and-claim system. Hapag-Lloyd's "Ship Green" and Maersk's "ECO Delivery" services stand out as verifiable green shipping products underpinned by the usage of biofuels.
—Read the article from S&P Global Commodity Insights
Access more insights on global trade >
Sustainability
---
Listen: American Steelmakers Lead In Clean Production Amid Global Decarbonization Efforts
Against the backdrop of Europe's Carbon Border Adjustment Mechanism and a self-imposed deadline for a US Global Arrangement on Sustainable Steel and Aluminum, American steelmakers are stepping up investments in clean energy and working to ensure efforts to produce lower-emissions steel are recognized on the global stage. So how will policymakers view their initiatives, and will end-users be willing to pay more for material with a reduced-CO2 profile? S&P Global Commodity Insights' Christopher Davis, regional pricing director for metals in the Americas, talks with head of Americas metals news Justine Coyne and low-carbon electricity analyst Danylo Babkov about these topics and more.
—Listen and subscribe to Platts Future Energy, a podcast S&P Global Commodity Insights
Access more insights on sustainability >
Energy & Commodities
---
Electricity To Emerge As The 'New Oil' Of The Global Energy System: IEA
The International Energy Agency urged governments Sept. 26 to keep geopolitics out of climate change talks while underlining the significance of electrification in the global pursuit of reaching net zero by 2050. In its updated 2023 Net Zero Roadmap, the IEA marginally softened its stance on upstream projects, saying no "no new long-lead-time upstream oil and gas projects" were needed. This compared to its first May 2021 net zero roadmap, which called for "no new oil and natural gas fields" in outright terms.
—Read the article from S&P Global Commodity Insights
Access more insights on energy and commodities >
Technology & Media
---
Fiber Connect 2023: ISPs Discuss Challenges, Opportunities With BEAD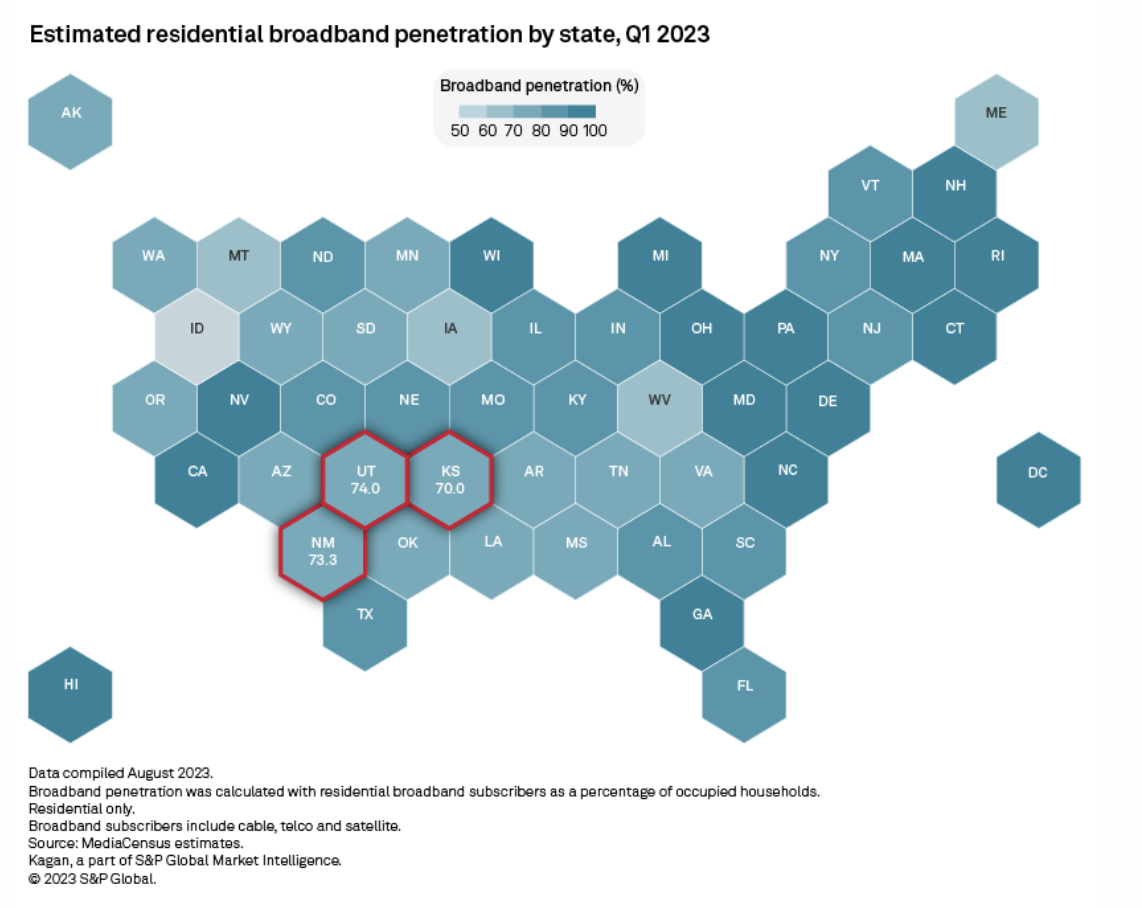 Unsurprisingly, the Broadband Equity, Access and Deployment (BEAD) federal program was the star of the Fiber Connect 2023 conference held in Orlando, Florida, on Aug. 20–23. The buzz for the $42.45 billion program highlighted the upcoming opportunities and challenges that internet service providers (ISPs) will have to effectively navigate as soon as dollars flow down to broadband operators. Much of the advice centered on ensuring high adoption levels and not just passing a home with fiber.
—Read the article from S&P Global Market Intelligence