A proposition that would have established a climate change policy for El Paso, Texas, suffered a crushing defeat after roughly 82% of voters voted against the proposal in a special election May 6.

➤ Despite garnering enough support to be placed on the ballot in the special election, El Paso voters soundly rejected Proposition K, effectively thwarting the potential attempt of the municipalization of El Paso Electric Co. (EPE).
➤ The rejection of the proposition is a significant win for EPE, in which the utility can continue moving forward with its goal to achieve 80% carbon-free energy by 2035 in pursuit of a 100-by-2045 goal.
➤ Supporters of the failed proposition remain hopeful that the El Paso City Council will take up some of the renewable energy provisions within Proposition K in future deliberations.

According to state law, to place a citizen-initiated charter amendment on the ballot, 20,000 signatures or 5% of voters in the municipality, whichever is smaller, is required. While supporters of the proposal had roughly 24,000 verified signatures, unofficial results indicate that only 9,190 votes were cast in support, while over 40,600 voted against the proposition.
Proposition K included various clean energy provisions, such as establishing a renewable portfolio standard requiring that 80% of the energy used within the city be sourced from renewables by 2030 and 100% be sourced from renewables by 2045. It would have also authorized the City Council to pursue the acquisition and municipalization of investor-owned electric utility EPE.
EPE's stance on Proposition K
Following the proposition's defeat, EPE President and CEO Kelly Tomblin released a statement saying, "We want to thank the voters who cast their ballot in this election that was so important to the people of El Paso. We appreciate the confidence that you have demonstrated in our plan to deliver carbon-free resources to our community. ... We remain focused on delivering on our commitment of 80% carbon-free energy by 2035 and 100% by 2045. We look forward to growing our partnerships with our customers and the communities we serve to ensure all El Paso Electric customers receive the reliable, affordable and sustainable power they deserve."
EPE had previously characterized Proposition K as unnecessary, noting that as part of a strategic planning initiative, the company had announced initiatives designed to increase the use of renewables and improve reliability simultaneously. To meet these goals, the company is building a 228-MW gas-fired generation unit at its existing Newman Power Plant site. The plant, known as Newman East CT (Newman Unit 6), is expected to come online in June.
In addition, EPE indicated that it plans to purchase energy and capacity from a 100-MW solar facility to be built in Santa Teresa, NM; a 100-MW solar facility combined with 50 MW of battery storage to be built in Otero County, NM; and a 50-MW stand-alone battery storage facility to be built in Canutillo, Texas. EPE has also said it plans to implement new technologies and customer programs, including advanced metering systems, predictive maintenance technology, electric vehicle infrastructure and more self-service customer tools.
More recently, EPE announced its VISION 2045 campaign, under which the utility plans to produce 715 MW of renewable energy by 2026, with a goal to achieve 80% carbon-free energy by 2035 in pursuit of a 100-by-2045 goal. The company also cited its Texas Community Solar Program, which allows customers to reduce their carbon footprint by receiving the majority of their energy from EPE's solar facilities.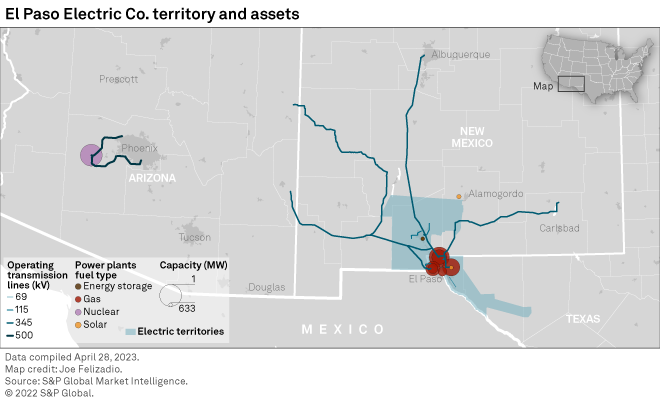 The utility noted that the proposal would have created two utilities: one that would serve customers within the El Paso city limits and another that would serve those EPE customers outside of El Paso in both Texas and New Mexico. EPE questioned how customers in El Paso would be served, given that the majority of the company's generation assets are outside the city. EPE contended that oversight by the city of a small municipal utility with limited generation assets could result in higher rates and uncertainty around providing safe and reliable service.
In a financial impact report regarding the now-failed proposition, the proposal would have cost the city roughly $155 million through 2045. The estimates did not include the potential municipalization of EPE, in which the estimated costs were unknown; however, it did include roughly $12 million for the city to conduct a study to determine the feasibility and an estimated cost for the municipalization.
Additionally, since the municipalization would not have been consensual, the city would have been forced to acquire the targeted assets through a condemnation proceeding. The related valuation of the assets to be acquired would have likely been drawn out and contentious.
According to the financial impact report, EPE stated the estimated value of the utility at roughly $8 billion, while a study by the El Paso Chamber of Commerce estimated the cost at $9 billion. In 2020, Sun Jupiter Holdings LLC, which has ties to J.P. Morgan Investment Management Inc., purchased EPE for $4.37 billion after the Public Utility Commission of Texas adopted a settlement approving the acquisition.
Opponents outspent supporters
Local reports indicated that opponents of the proposition, including the El Paso Chamber of Commerce and the Consumer Energy Alliance, spent over $1 million over the last month campaigning against Proposition K, whereas supporters for the measure donated over $40,000 to the Ground Game Texas PAC.
The El Paso Chamber established the political action committee called El Pasoans for Prosperity. According to campaign finance reports, EPE donated about $200,000 and Marathon Petroleum Corp. donated around $150,000 to the political action committee. Prior to the special election, EPE indicated that it would oppose efforts to municipalize its operations in the city.
If Proposition K had been approved, it would have required the city to track the region's air pollution and produce an annual report, effectively targeting an oil refinery outside of downtown El Paso, which Marathon Petroleum owns.
Many opponents of the proposition claimed the measure was overly vague and did not clearly state what kinds of investments the city would need to make in order to reach the proposed renewable goals. Additionally, opponents noted that El Paso voters passed Proposition C during the November 2022 general election, which issued $5 million in bonds for renewable energy and resource-use efficiency improvements and planning as well as established an Office of Climate and Sustainability, which is required to produce a climate action plan.
Although Proposition K failed at the ballot box, supporters have remained optimistic that this is only the beginning of passing climate policies within the city. According to reports, Ground Game Texas, which helped author the proposition, hopes that the El Paso City Council will push forward some of the proposition's initiatives and vote them into law.
Existing statewide renewable portfolio requirements less stringent than city's goals
In 1999, in conjunction with the implementation of retail competition for generation in Electric Reliability Council of Texas Inc., the Texas Legislature enacted a goal requiring 2,000 MW of renewable generation capacity to be installed by 2009 and established a renewable energy credit trading program.
In 2005, the Legislature expanded the goal for renewable energy to 5,880 MW by 2015, set an "aspirational" goal of 10,000 MW of renewable generating capacity by 2025, and set a target of 500 MW of nonwind renewable generating capacity. Just within ERCOT, which accounts for about 90% of the electricity sold in the state, combined operating and planned solar and wind projects aggregate to about 150 GW. Solar and wind generation served 28% of the load across the region in 2021 and 30% in 2022.
Regulatory Research Associates is a group within S&P Global Commodity Insights.
This article was published by S&P Global Market Intelligence and not by S&P Global Ratings, which is a separately managed division of S&P Global.
More
Gain access to our full news & research coverage and the industry-specific data that informs our insights.
Request Follow Up