5G networks have been on air since 2019, and the technology's monetization potential is expected to once again be a central topic for telecom leaders at this year's Mobile World Congress. Here we review our proprietary global mobile network operator executive survey on 5G use cases, the delay in stand-alone 5G networks hindering some of 5G's promise, and mobile network congestion by country.
Each iteration of air interface technology has had a clear killer application. 2G was about better voice, 3G enabled web browsing, and 4G gave us mobile broadband and allowed for the rise of convenience applications, such as ride sharing and food delivery.
5G was designed for 1-Gbps download speeds and near zero latency, enabling multiple use cases that are truly differentiated when carriers have larger amounts of mid-band spectrum and/or incorporate stand-alone 5G. A stand-alone 5G network is sometimes referred to as "true 5G" as it does not utilize any 4G network elements and is therefore capable of delivering both higher throughput speeds and lower latency while providing the related benefit of lower operational costs. It is taking some time to realize those benefits, however, due to complexity and cost.
5G consumer use cases
That is not to say that carriers do not have plans to execute more advanced services. Of the 82 mobile network operator, or MNO, executives we surveyed late in 2022, 82% cited the connected home, including smart devices and home security, as the leading 5G driver across the globe. Fixed wireless broadband ranked second at 68% of the surveyed base.
Keen interest in smart home applications makes sense for operators and overlaps with fixed wireless access, or FWA. As operators expand their fixed wireless footprints, they can begin to bundle smart home services, making the case that a combination of 5G and artificial intelligence offers faster and more reliable response times for alarms, thermostats and connected appliances because they operate on a seamless network. These synergies will develop as networks move to stand-alone 5G and hardware-makers see the benefits of 5G networks to drive economies of scale.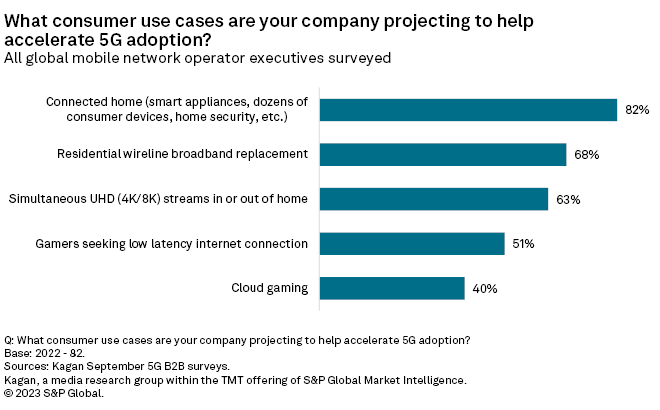 FWA has become the low-hanging fruit for all 5G operators. Among the 82 global mobile operators surveyed, 29% had already deployed 5G-based FWA services or had planned to before the end of 2022. Another 40% planned to deploy FWA in 2023. In the U.S., AT&T Inc., Verizon Communications Inc., T-Mobile US Inc. and United States Cellular Corp. have deployed fixed wireless services, which became the bright spot for the U.S. broadband market in 2022. Most respondents said their strategy in deploying 5G-based FWA is to expand their company's 5G footprint and leverage existing 5G services to enable additional revenue.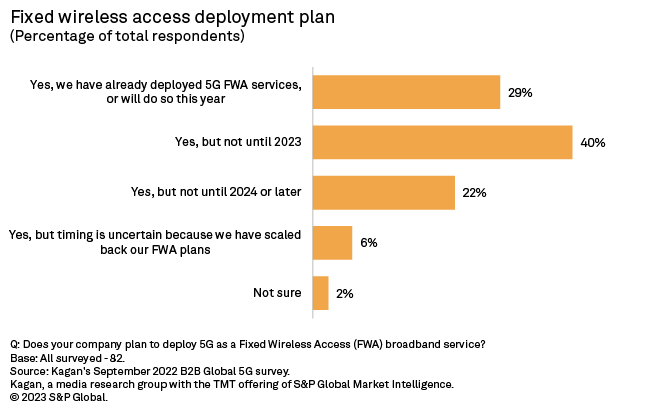 The only regional cohort that did not rank the connected home as the leading 5G driver was Latin American MNO execs, who thought low-latency gaming would be the primary 5G adoption driver.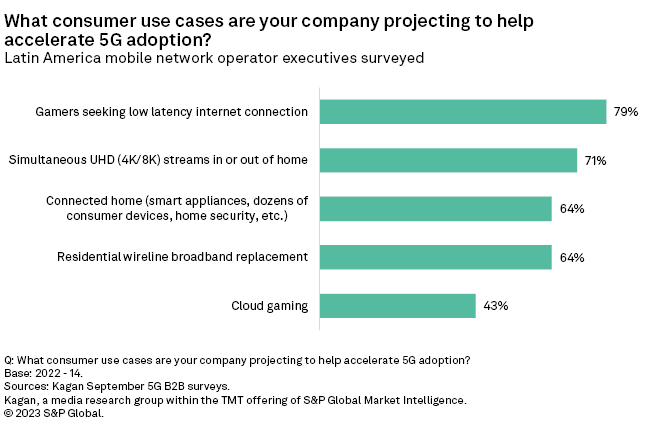 Surveyed North American MNO executives ranked cloud and low-latency gaming toward the bottom of their 5G driver list. Video-streaming-hungry North Americans also ranked simultaneous HD streaming at a higher rate than international cohorts in terms driving 5G at 70% versus 63% globally.
Among Asia Pacific MNO experts surveyed, low-latency game connections tied for first with the connected home as the leading 5G driver at 68%.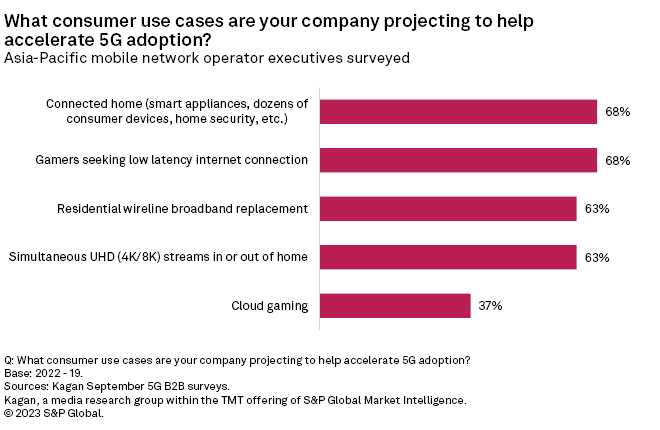 Mobile capacity by market
Mobile networks' capacity to offer 5G services, such as low-latency gaming, virtual reality and simultaneous ultra-HD streaming, varies across markets. Each regulator has its own unique strategy toward commercial spectrum management.
Among our six sample markets — China, Brazil, Germany, India, South Korea and the United Kingdom — South Korea had the most MHz of spectrum and active towers relative to mobile subscriptions, enabling mobile subscribers in the market to be at the forefront of what 5G can offer.
South Korea was early in deploying small cell systems, starting its 4G roll out over a decade ago, and we estimate the country has over 1.5 million active towers and small cells. Of our six sample markets, South Korea also has the most spectrum available for commercial mobile services at 3,090 MHz including low-, mid- and high-band frequencies. These large infrastructure investments enable averages of 49 mobile subscriptions per tower and 24,291 subscribers per MHz of spectrum in South Korea. For perspective, Brazil averages to 3,318 subs per tower and 414,297 subscribers per MHz of mobile spectrum. Like on a freeway, congestion limits speed, and populations with relatively weaker mobile infrastructure will always struggle to manage the data-intense traffic that many 5G services require.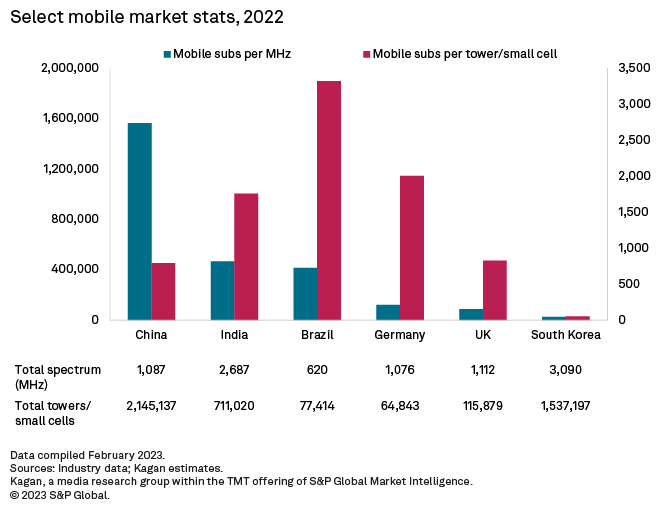 5G spectrum dynamics
The realization of these 5G use cases rests on the timely allocation of spectrum to operators and industry verticals. Spectrum for 5G ranges across different bands that can be grouped into three: low-band (below 1 GHz), mid-band (between 1 GHz and 6 GHz) and high-band or millimeter wave (above 24 GHz).
Low-band and mid-band spectrums are adjacent to existing spectrum allocations of 4G and earlier technologies, which makes them easy to be repurposed for 5G. Mid-band, specifically 3.5 GHz to 3.7 GHz, has emerged as the most popular spectrum for 5G, with at least 180 operators using it for their commercial 5G network.
Due to their adjacency to existing spectrum for earlier mobile technologies, low-band and mid-band spectrum 5G best serves enhanced mobile broadband, or eMBB, use cases. Ultra-reliable low-latency communications, or URLLC, and massive machine-type communications, or mMTC, use cases are better served by millimeter wave 5G due to the high-capacity characteristics of higher frequencies.
As most 5G networks worldwide are based on mid-band spectrum, eMBB use cases are currently the most popular offerings of many operators. But to an average consumer, eMBB 5G is indistinguishable from current 4G. In fact, some demonstrations of 4G LTE-A breach 1 Gbps speed — almost as fast as current 5G speeds. For some, 5G is just "faster 4G," and these consumers do not see the need to jump to the new technology when 4G can already serve their needs.
Operators wanting to offer URLLC and mMTC use cases face several hurdles. Spectrum availability is at the top of the list, with regulators in many markets not yet releasing millimeter wave spectrum. While the U.S. has been the most prominent advocate of millimeter wave, or mmWave, most of Europe and Asia-Pacific are sticking to mid-band spectrum. Second, the lack of demand for consumer eMBB 5G has caused some operators hold back on their 5G investments, which makes the expansion to URLLC and mMTC use cases even a harder business case to defend. Lastly, the use of mmWave spectrum requires building dense networks, which ultimately drive up cost for operators.
These headwinds might explain why several auctions for mmWave spectrum received little interest from operators in several markets, such as Brazil, Chile, Cyprus, Hong Kong, Poland and Russia. While South Korea successfully auctioned 28 GHz in June 2018, operators waited until December 2020 before turning on their mmWave 5G due to concerns with the cost of power. China, despite multiple announcements of interest, has not even allocated mmWave spectrum to operators.
5G today
At least 238 mobile operators from 94 markets worldwide have launched commercial 5G services as of December 2022, according to our latest 5G tracker. Of these, 48 operators in 30 markets worldwide have launched a commercial stand-alone 5G network.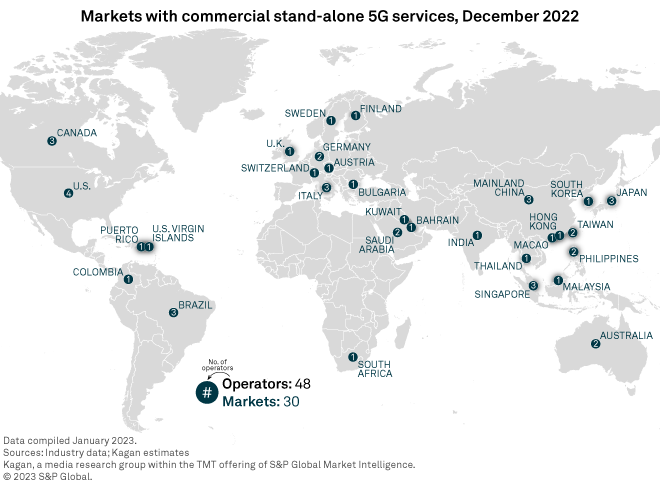 At the moment, 5G is in a somewhat quiet period in terms of new services and applications. The industry is stuck on the rhetoric of private networks, the metaverse and a myriad low-latency applications as it waits for the widespread arrival of stand-alone 5G.
As Karri Kuoppamaki, senior vice president of network technology development and strategy for T-Mobile USA, said at the 5G Americas analyst conference in late 2022, "The industry is good at selling the vision but not good at selling the journey of these networks."
In the U.S., T-Mobile is in a superior position with 5G. It has both a plethora of mid-band spectrum and has deployed a stand-alone network. Mid-band spectrum (1 GHz to 6 GHz) has emerged as a critical and globally harmonized component of 5G networks as it offers optimal speed and coverage needed for more advanced wireless capabilities. However, T-Mobile does not have an ecosystem behind it, namely devices, thanks to the fact that the world's operators have been slow to move to stand-alone 5G. It is a difficult endeavor, given that many networks will rely on challenging new deployments, such as edge compute and virtualized RAN, and more expensive capital expenditure requirements.
While non-stand-alone 5G has enabled carriers to get to market quicker, this deployment is supposed to be temporary. However, according to our survey of decision-makers well versed in their companies' 5G deployment plans, the number of carriers planning to deploy stand-alone 5G services has dropped, from 21% in 2021 to 18% in 2022.