Commercial 5G launches rebounded in the second half of 2022 as operators in developing markets turned on their networks. Kagan's 5G Tracker lists at least 238 mobile operators serving 94 markets worldwide that had launched commercial 5G services as of year-end 2022.
* Developing markets, especially in Africa, took the spotlight for recent commercial 5G launches as operators in many developed regions had already launched 5G in previous years. The switch from non-stand-alone to stand-alone 5G is slowly picking up, but the lack of demand for 5G itself has caused some operators to be tentative on making the switch.
* Ericsson and Nokia remained the leading 5G infrastructure vendors in terms of total customers and associated network deployments, while Huawei Technologies was still the leading vendor in terms of total 5G small cell unit shipments and related deployments, thanks to its massive home market, where more than 2.31 million 5G small cells were active at the end of December 2022.
Twenty-four new operators were added to this list in the second half of 2022. Africa had nine new launches in this period, the most since we began tracking 5G launches in 2018. These included Orange SA in Botswana, Safaricom PLC in Kenya, Société Française de Radiotéléphone (SFR) SA in Réunion, MTN Group Ltd. in Nigeria and Zambia, Telkom SA SOC Ltd. in South Africa, Vodacom Group Ltd. in Tanzania and Unitel SA in Angola.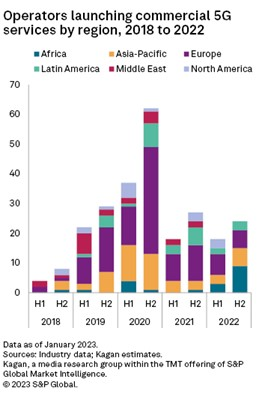 Clients: Access data in Excel format here.
Unlike other regions, Africa has been lagging in 5G deployment due to poor existing infrastructure, late 4G adoption, ambiguous regulatory oversight and a variety of economic factors that have precluded companies from investing in the new technology. The African markets that have already launched commercial 5G services have done so with strong government support, especially in the release of spectrum and fostering a clear, forward-looking regulatory environment.
As most operators in developed markets have already deployed commercial 5G services, we can expect launches in the succeeding months to come from developing markets in Africa, Asia-Pacific, Eastern Europe and Latin America.
Vodafone Group PLC remains the leading 5G operator worldwide as its recent launch in Tanzania brought its worldwide 5G footprint to 15 markets. Vodafone, together with other multinational operators such as CK Hutchison Holdings Ltd. and Orange SA, are shifting gears from initial non-stand-alone, or NSA, to stand-alone, or SA, deployments.
Stand-alone 5G highlights
At least 48 operators in 30 markets worldwide had launched commercial SA 5G networks as of year-end 2022. Major operators in the USA — AT&T Inc., DISH Network Corp., T-Mobile US Inc. and Verizon Communications Inc. — and in mainland China — China Mobile Ltd., China Unicom and China Telecom Corp. Ltd. — have already launched SA 5G. Other markets where major operators have deployed SA 5G include Brazil, Canada, Italy, Japan and Singapore.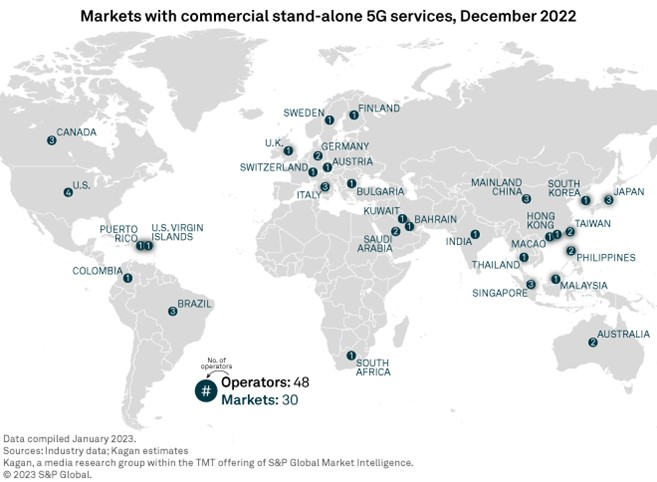 The ultimate drivers for the choice of NSA 5G over SA are cost and ease of deployment. NSA is cheaper and easier to deploy since it can utilize an existing 4G core network to connect to the 5G radio access network, or RAN. In contrast, SA 5G uses a dedicated 5G core network, which requires heftier investments in new infrastructure and equipment.
Deploying NSA 5G is a strategy for some operators to gauge initial demand for 5G before spending money on building an SA network. This is, however, a particular concern for many operators in developing markets where 4G adoption is still low. Deploying NSA 5G allows for backward compatibility, which means users with existing 4G devices will be able to connect to the network.
The lack of availability of spectrum specifically dedicated for 5G also contributed to the decisions made by those that deployed NSA 5G. We especially saw this in 2020 when the onset of the COVID-19 pandemic canceled most spectrum auctions and awards worldwide, which forced some operators to launch 5G using 4G spectrum through Dynamic Spectrum Sharing.
The 3GPP, the organization responsible for developing the 5G standard, has defined a timeline for the deployment of SA 5G with an overly optimistic expectation that "most operators" worldwide will have deployed SA 5G by 2023. The transition from NSA to SA 5G, however, remains an operator-led endeavor worldwide, with each operator working on its own, slower timeline with no specific mandate from regulators.
Spectrum harmonization
Millimeter wave, or mmWave, 5G is still proving to be unpopular in many markets that have launched commercial 5G services, except for the U.S. As of December 2022, only 33 operators worldwide were using mmWave spectrum for their commercial 5G networks, most of which are in the U.S. and its overseas territories. One key outlier is Australia, where the National Broadband Network, NBN Co Ltd., is investing substantially in mmWave 5G technology.
Markets outside the U.S. that have adopted mmWave, such as South Korea, have been burdened with the hefty capital and operating expense of dense mobile networks. Demand for 5G use cases best served by mmWave, such as low latency applications, remains low and still fails to make a compelling business case for using higher frequency bands. Even mainland China, the world's largest 5G market, has not yet deployed mmWave 5G.
In contrast, at least 180 operators worldwide are using mid-band spectrum for 5G. Mid-band spectrum, specifically 3.5 GHz to 3.7 GHz, remains the initial spectrum of choice for many operators launching their first commercial 5G networks. Even some of those that initially launched with dynamic spectrum sharing 4G spectrum, such as operators in Eastern Europe and Latin America, have shifted their networks to 3.5 GHz to align with global standards.
The popularity of mid-band spectrum frequencies is mainly due to their adjacency to existing spectrum for 4G and later technologies, which makes them more amenable for mobile technology use as opposed to mmWave bands, which were only officially sanctioned by the International Telecommunication Union for mobile use in November 2019. On top of this, mid-band 5G has a mature ecosystem due to support from China and most European Union markets.
U.S. operators have been aligning themselves with this trend following the successful auctions of mid-band spectrum by the FCC, namely Auction 105 (3.5 GHz CBRS) in August 2020, Auction 107 (3.7 GHz C-band) in February 2021 and Auction 110 (3.45 GHz) in January 2022. These auctions allowed AT&T and Verizon to beef up their mid-band 5G to compete with T-Mobile, which had a head start with its 2.5 GHz deployment for 5G.
5G systems vendor highlights
As showcased in our previous 5G Tracker covering the first half of 2022, Telefonaktiebolaget LM Ericsson (publ) and Nokia Oyj remain well ahead of all other vendors in terms of 5G operator trials, contract wins and commercial deployments. To be clear, the single most important indicator of success, in our view, continues to be the number of 5G live networks supported.
Ericsson and Nokia are well over the 200 mark in total 5G "relationships," i.e., trials, wins and network deployments. To this end, each vendor has provided extensive details illustrating their respective 5G presence worldwide.
Both Nordic-based vendors continue to provide data points distinguishing 5G live networks, commercial 5G contracts/deals, and 5G wins and/or deployments with mobile network operators, as well as enterprise/private network and other 5G technology implementations.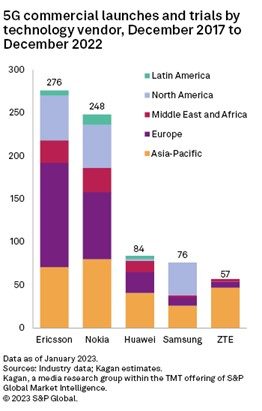 Huawei and the market in China
Huawei Technologies Co. Ltd. remains the overall 5G/small cell infrastructure market leader, almost entirely due to the company's success in its home market in China, where total 5G/small cell shipments dwarf those of other markets and regions. China Mobile Communications Group Co. Ltd., more popularly known as China Mobile, is the single largest mobile operator worldwide by any measure: subscribers, base stations, etc. At the end of the third quarter of 2022, China Mobile indicated it had 974 million total subscribers.
Along with China Telecom (390 million subscribers) and China Unicom (320 million subscribers), the "Big Three" operators in China had almost 1.7 billion total mobile subscribers as of the end of 2022.
In January 2023, the Chinese Ministry of Industry and Information Technology reported that more than 2.3 million 5G base stations, including 887,000 built in 2022 alone, have been deployed in mainland China to date. Approximately half of these base stations were deployed by China Mobile.
The ministry also said the number of 5G network users in China reached 561 million by the end of 2022, representing approximately one-third of its total mobile users. Further reports from the ministry indicated that "gigabit" 5G can be delivered in 110 cities in China and that in the Shanghai area, there are more than 68,000 5G base stations.
As reported previously, at Huawei's April 2022 Global Analyst Summit, the vendor cited 90 commercial 5G contracts and more than 1,000 corporate 5G contracts across 20 industries, i.e., enterprise/private wireless networks. We expect Huawei's total customer count to surpass the 100 mark fairly easily, if and when Huawei chooses to disclose its total customer count.
But with Huawei and other vendors based in China banned by the U.S. and other governments based on national security concerns and their networking gear being "ripped and replaced," these systems vendors announced only a handful of 5G operator wins during 2022. As such, the total customer count for Huawei, ZTE Corp. and others appears to be net attrition.
The flip side of the various government bans on some 5G gear is that vendors headquartered outside of China selling into the Chinese market have also been restricted, some to the point of being considered de facto equivalent bans.
Ericsson
At the time of this publication, Ericsson claimed 192 commercial 5G contracts, most notably 143 live 5G networks in 62 countries, and 21 live 5G stand-alone networks. Ericsson was the first vendor to reach and surpass the 100 5G live network benchmark more than a year ago, in December 2021. This was no surprise since Ericsson was also the first vendor to garner 100 commercial 5G contracts, in August 2020.
On the customer front, the second half of 2022 saw Ericsson once again generate solid incremental traction in the global 5G market. Key mobile operator wins, or contract enhancements/expansions announced by Ericsson, included the following: Telstra Group Ltd. and NBN Co Ltd. in Australia, Elisa Oyj in Estonia, Telecom Italia Mobile S.p.A. in Italy, EE Ltd. in the United Kingdom, Empresa Nacional de Telecomunicaciones SA in Chile, Reliance Jio Infocomm Ltd. in India, Singapore Telecommunications Ltd. in Singapore, Swisscom AG in Switzerland, MTN Group Ltd. in Nigeria, SkyMax Network in sub-Saharan Africa, Far EasTone Telecommunications Co. Ltd. in Taiwan, Wind Tre Italia SpA in Italy and SK Telecom Co. Ltd. in South Korea.
Nokia
Nokia Corp. also continued to generate increasing traction in the global 5G infrastructure market. As of this article's publication, Nokia indicated it had 266 commercial 5G deals, up from 233 in our previous tracker updated in September 2022, and it had 96 live 5G networks supported, up from 77. This includes well over 100 5G operator contracts with service providers: 17 in the Americas, 47 in Europe, 28 in Asia-Pacific and 10 in the Middle East/Africa.
Key 5G customer wins or contract enhancements for Nokia in the second half of 2022 included: Dedicado Telecomunicaciones in Uruguay, TPG Telecom Ltd. and NBN Co. in Australia, Reliance Jio Infocomm Ltd. in India, Vodafone New Zealand Ltd., Telia Finland Oy, Safaricom in Kenya, Bharti Airtel Ltd. in India, AST SpaceMobile Inc. (U.S.-based but for global 5G service via satellite), and Ice Communication Norge AS.
Nokia's customer wins with Bharti Airtel and Reliance Jio in India were particularly important for the company as Nokia has a 45% share in both 5G deployment contracts and both operators are massive. Bharti Airtel is the second-largest mobile operator worldwide in terms of subscribers — about 497 million — with 240,000 base stations deployed as of the end of 2022, and it plans to deploy 12,000 base stations per month in 2023. Reliance Jio is the third-largest mobile operator in the world with 421 million subscribers and 300,000 base stations and with its own ambitious plan for 5G network upgrades and deployment.
ZTE and Samsung
After Ericsson, Nokia and Huawei, ZTE Corp. and Samsung Electronics Co. Ltd. round out the top five vendor list worldwide. Together they account for approximately 95% of the global 5G RAN market revenues and unit shipments. As the second-largest China-based telecom equipment vendor, ZTE faces the same geopolitical obstacles and outright bans as Huawei and other vendors.
Nevertheless, ZTE did manage to generate some customer traction outside of mainland China in the second half of 2022, with True Corp. and Advanced Info Service PCL in Thailand, and several network enhancements with China Mobile Beijing and China Mobile Hunan.
While Samsung is gaining traction worldwide due to the backlash against certain vendors, the South Korea-based vendor is also winning customer accounts with its Open virtual RAN proposition.
Customer highlights announced by Samsung in the second half of 2022 included NTT Docomo Inc. and Nippon Telegraph and Telephone East Corp. in Japan, NBN Co. in Australia, Comcast Corp. in the U.S., and five private networks in South Korea for both public government agencies and medical facilities.
Wireless Investor is a regular feature from Kagan, a part of S&P Global Market Intelligence, providing exclusive research and commentary.
This article was published by S&P Global Market Intelligence and not by S&P Global Ratings, which is a separately managed division of S&P Global.
5G's vision comes into focus: Mobile World Congress 2023
Read Now
5G tracker: 85 markets worldwide have commercial 5G services
Read Now