in-person Market Intelligence /marketintelligence/en/events/in-person/the-changing-landscape-of-insurance-london events-detail__hero js-detail-hero
In Person
The Changing Landscape of Insurance: London
Thursday, May 30, 2019 | 8:00 am to 10:00 am
Lloyd's of London, The Old Library

The Changing Landscape of Insurance: London
Join S&P Global Market Intelligence at Lloyd's of London on 30th May for a panel discussion focusing on the European Insurance Landscape. Discover the views and insights of thought leaders on threats to the industry, opportunities on the horizon and risks to be wary of, including M&A, cyber risk, natural disasters and innovation and tech disruptors.
Featuring speakers from S&P Global Ratings and S&P Global Market Intelligence alongside fellow industry experts.
Register your place now to join us for a complimentary breakfast with other insurance professionals, as we deep dive into trends affecting the industry in 2019 and beyond.
This breakfast briefing is provided free of cost to you. Please register to ensure you have a spot at the table.
Register Now
The Changing Landscape for Insurance: London
Venue
The Old Library, Lloyd's of London, One Lime Street, London EC3M 7HA
Alex, please download the S&P Networking App
The Platts Events mobile app puts conference navigation and networking at your fingertips. Available one week before the event, the mobile app gives delegates :
Advance access to the attendee list
Live agenda updates and networking activities
Immediate access to speaker presentations
Essesntial, real-time event details and notifications
Upload a profile photo, set up a meeting, amd more
* Platts attempts to secure as many speaker presentations as possible, however some speakers choose not to share their materials. Therefore some presentations may not become available. Additionally speaker presentations for this event are only available for download from the networking mobile app and web link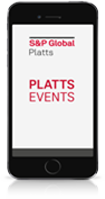 Don't miss out. Reserve your spot now for this complimentary event.
Register Now
This event has ended.